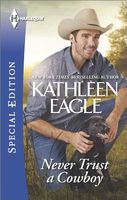 Newest Release
About the Author
Kathleen Eagle was born in Virginia and raised "on the road" as an Air Force brat. Ms. Eagle earned her BA in English literature, from Mount Holyoke College in 1970, and taught at Standing Rock High School in North Dakota for 17 years. Also in 1970, Kathleen married Clyde Spencer Eagle, who is Lakota Sioux, and a public school teacher. They raised three children.
Kathleen published her first book, Someday Soon, a Romance Writers of America Golden Heart Award winner, with Silhouette Books in 1984. She has since won numerous awards including the Romance Writers of America's RITA award.
Full Series List in Order
1 - Candles in the Night (Feb-1988)
2 - More Than a Miracle (Jun-1988)
3 - Paintbox Morning (Apr-1989)
1 - In Care Of Sam Beaudry (May-2009)
2 - One Cowboy, One Christmas (Dec-2009)
3 - Cool Hand Hank (Feb-2010)
4 - Once a Father (Sep-2010)
1 - The Last Good Man (Aug-2000)
2 - You Never Can Tell (Aug-2001)
0.5 - The Twelfth Moon (Nov-1988)
1 - Bad Moon Rising (Dec-1991)
2 - Black Tree Moon (Oct-1992)
1 - The Night Remembers (Jun-1997)
2 - Night Falls Like Silk (Oct-2003)
1 - Ride A Painted Pony (Nov-2006)
2 - Mystic Horseman (Mar-2008)
1 - To Each His Own (Apr-1992)
2 - Diamond Willow (Feb-1993)
1 - In Care Of Sam Beaudry (May-2009)
2 - One Cowboy, One Christmas (Dec-2009)
3 - Cool Hand Hank (Feb-2010)
4 - Once a Father (Sep-2010)
5 - Cowboy, Take Me Away (May-2011)
6 - One Brave Cowboy (Oct-2011)
7 - The Prodigal Cowboy (Sep-2012)
Multi-Author Series List
2 -
Black Tree Moon
(Oct-1992)
24 -
Defender
(Sep-1994)
Heat Lightning
(Feb-1989)
Book List in Order:
52

titles
---

Someday Soon

Amanda Caron told herself that she would finish her article on the rodeo and head home to her blue-blooded Boston family. But Amanda hadn't counted on falling under the spell of rodeo cowboy Sean Brannigan. In his quest to be the year's all-arou...

---

A Class Act

A CLASS ACT... that was Carly Austin. High class all the way. She'd been out of Rafe Strongheart's reach in high school, and as far as he was concerned nothing had changed. He was still the Indian boy from the wrong side of the tracks, and she was...

---

Georgia Nights

When the band "Georgia Nights" made a swing through Massachusetts. Connor Ryan took time for a personal visit that would change his life in ways he'd never dreamed. How could he have been prepared for Sarah Benedict, a dark-haired, dark-eyed encha...

---

For Old Times' Sake

Twelve years ago, Erin O'Neill had left South Dakota and Hunter Brave Wolf. Though she loved him, she had seen no future for them, but her heart had never been the same. The death of her sister under mysterious circumstances brought her back ...

---

Something Worth Keeping

SOMETHING WORTH KEEPING Brenna Sinclair wasn't quite sure what she was looking for when she returned to the Black Hills, but what she found was a challenge of the heart: Cord O'Brien. Cord was a mountain man, as untamed as the mustangs he swore...

---

Carved in Stone

Sky Hunter left Hollywood and headed for the hills. The serenity of the Rockies would clear his mind and help him make some hard decisions. He didn't expect to run head-on into the only woman for him. Author Elaina Delacourte went to the mountai...

---

Candles in the Night

Mikal Romanov was a dreamer, an idealist, a man who'd dedicated himself to making the world a better place. But idealism was no recommendation to sensible Morgan Kramer. Her father had been a dreamer, too, and his dreams hadn't left him time for anyo...

---

More Than a Miracle

THE THINGS WE DO FOR LOVE . . . For the love of her son, Elizabeth Donnelly was going to sneak back to De Colores, an island paradise to the eye and a horror to the soul. There she would find her boy, a prisoner of the regime just as she had once ...

---

Private Treaty

Swept away . . . The storm that lashed the trees was nothing to the storm that swept through Carolina Hammond on the day Jacob Black Hawk first drew her into his embrace. The desires he awakened in her were dangerous, and made more so because they...

---

---

But That Was Yesterday

LIFE WAS FOR THE LIVING Sage Parker knew what life at the bottom looked like - alcohol had seen to that. Now he was living day to day, rebuilding his ranch and teaching his people that life on the reservation had a value all its own...Then into hi...

---

The Twelfth Moon

Sergeant Luke Tracker had come home for Christmas expecting to find the prejudice and poverty that had always characterized reservation life. Instead he found lope Spencer, who spent her days teaching the tribe's children the ways of the white man's ...

---

Heat Lightning

When Diana Peters drove out west to visit her old college friend, she was looking forward to the quiet peace of rural North Dakota. She never expected to fall under the spell of the West--the powerful thunder of horses galloping across the open prair...

---

Paintbox Morning

SWEET VENGEANCE ... Miguel Hidalgo had been left for dead by the minions of De Colores's evil dictator, but he was very much alive--and determined to exact revenge and return his country to freedom. But even a man of Miguel's determination and tal...

---

Medicine Woman

HE HAD COME TO HER IN A DREAM When Kezawin met James Garrett, a strange white man with powerful magic that he called "science," she knew she had seen him before ... in a mystic dream. Because of such visions, Kezawin's people called her Double Woman...

---

'Til There Was You

For Mariah Crawford, the consequences of her brief, impulsive interlude with a captivating stranger were undeniable: her career was over before it had even begun. A pregnant skier didn't stand a chance of making the Olympics. For Seth Cantrell, a...

---

Heaven and Earth

Blinded by the light Katherine Fairfield and her missionary husband were traveling to Oregon Country to bring God to the 'savages.' Then the young minister was struck down by fever, leaving Katherine alone with a deathbed promise to carry out her ...

---

Sentimental Journey

After fifteen years, they had come back to Bartlett College, three roommates about to rediscover their friendship -- and open their hearts to love. They'd been the kind of couple everyone thought would last forever -- but they hadn't. Now Keeley w...

---

Bad Moon Rising

WAS IT AN OMEN? Trey Latimer lived just a stone's throw away from the reservation on the Missouri River -- just a stone's throw away from Frances "Frankie" Tracker, his old buddy's kid sister. Trey had returned to the Dakotas to rebuild his life a...

---

To Each His Own

Witchcraft! The townspeople of Glover, North Dakota, had little doubt that was what was happening at the old schoolhouse! They believed Lavender Holland, with her Gypsy clothing, herbal potions and black cat, must be some kind of witch. Wyatt Archer,...

---

---

Black Tree Moon

SOUTH DAKOTA'S BLACK HILLS, WHERE FIRES RAGED--AND WHERE ONE WOMAN HAD A FIRE FIGHTER BURNING UP Race Latimer: One of the Forest Service's elite smoke jumpers. Part owner of the Plugged Nickel casino. Half Chippewa Indian. Full-time hell-raiser. ...

---

This Time Forever

EVEN SHATTERED HEARTS CAN CAPTURE A DREAM Seeking refuge in a world not her own, a beautiful nurse follows her conscience to the reservation of the Lakota Sioux -- hoping to heal the wounds of her ravaged heart. Condemned for a crime he did not co...

---

Diamond Willow

SOMETHING WORTH FIGHTING FOR His name was John Tiger, but the few who truly knew him called him the Cat. The Indian rancher was locked in a bitter struggle to save the land that was his birthright, standing his ground against outsiders who cared n...

---

The Sharing Spoon

It's a time that brings friends, families and lovers together -- and it's a time that can tear them apart... She's "society," from a wealthy family. He's Indian -- Lakota Sioux -- a man whose family is wealthy in ways that ...

---

Broomstick Cowboy

Enchanting Amy Becker was smart, sexy-and his best buddy's woman. So Tate Harrison had cut his losses and lit out for the rodeo, exorcising his unseemly hankering on wild horses and wilder women. But now Amy was a widow, with a fatherless child, a...

---

Fire and Rain

Priscilla came to the Dakota territories to help her missionary father "civilize" the Indians. But the Minnesota-bred beauty was enchanged by the ways of the Lakota Sioux ... and by a proud warrior called Whirlwind Rider, who awakened a magnificent p...

---

Defender

GIDEON'S SECRET Chief Gideon Defender: A man whose painful choices had now come full circle. Raina McKenny: A woman whose maternal instincts warred with a never-ending passion. When Raina McKenny returned home, widowed and a single parent, G...

---

The Wolf and the Lamb

As the Christmas season approaches, a spinster, her two stepdaughters and a Metis Indian scout discover they have become a family....

---

Reason to Believe

Young lovers from starkly different lives and worlds, Clara and Ben Pipestone came together in passion and in tenderness. But their marriage could not endure deception -- or the betrayals of a tormented, searching soul. And now, though time and pain ...

---

Sunrise Song

IN THE DARKNESS OF YESTERDAY'S SHADOWS SHINES A GOLDEN PROMISE FOR TOMORROW A mixed-blood Lakota Sioux, Zane Lone Bull spent long years fighting -- on a distant foreign battlefield and in his own country -- and has vowed to fight no more. Now a t...

---

---

All-Around Cowboy Blues

The best-looking cowboy in South Dakota has marriage on his mind in bestselling author Kathleen Eagle's wonderful story, All-Around Cowboy Blues....

---

Daddy's Girl

A hospital bound single mother-to-be jumped into a taxicab and guessed she was in for the ride of her life with the man of her dreams in Kathleen Eagle's DADDY'S GIRL....

---

The Night Remembers

When Angela Prescott fled halfway across the country to escape her heartbreaking past, she expected to stand on her own, never dreaming she'd find a safe haven in the strong arms of a man like Jesse Brown Wolf. He helped her, protected her...and his ...

---

Waiting For Mom

When a man and woman marry, they create dreams of a lifetime together and share the hope that their house will be filled with the proof of their love--in the laughter of their children. But the path to motherhood isn't always an easy one... . It w...

---

The Last True Cowboy

The sudden death of her brother brings Julia Weslin home to the High Horse, the family's sprawling yet cash-strapped Wyoming cattle ranch. A burnt-out member of the urban jungle, Julia is spiritually rejuvenated by the wild, still untamed land and re...

---

What the Heart Knows

Helen Ketterling thought she had left the Bad River Sioux Reservation in South Dakota behind her thirteen years ago. Once an idealistic and spirited schoolteacher, Helen was swept into the lives of the Sioux people and the arms of Reese Blue Sky. The...

---

The Last Good Man

WHO SAYS THERE ARE NO GOOD MEN ANYMORE? ALTHOUGH A GOOD MAN IS HARD TO FIND, HE'S OUT THERE ... IF YOU REALLY WANT HIM After years of living the glamourous life, one far different from the one she was born into, Savannah Stephens has finally cm...

---

You Never Can Tell

How can you find a man who doesn't want to be found? "Where is he now?" That's the question on everyone's lips about strong, sexy Native American Kole Kills Crow. He was once a media darling -- men wanted to be him ... women wanted to be with him....

---

Once upon a Wedding

How do you feel about weddings? 1) Love them 2) Hate them 3) Terrific as long as I'm not wearing blue taffeta with a bow butt For Camille, her daughter Jordan's announcement that she's getting married brings about a mixture of pure excitement a...

---

Night Falls Like Silk

To everyone who sees her, Cassandra Westbrook exudes a cool beauty and an aloofness borne of wealth and privilege. A connoisseur of exquisite objects, she collects whatever catches her eye. While attending an auction, her interest is captivated by a ...

---

---

Cowboy Days and Indian Nights

Meredith Woodward had emptied her nest. She didn't need a scruffy rodeo cowboy moving into her home -- or her world. But Ryder Red Hawk was a man prepared to face his past and discover his future -- with her....

---

A View of the River

If you look closely enough, you can find love everywhere. A descendant of a courageous band of Ojibwe, Birch Trueblood is now a local shaman doing a booming business with the New Age believers and tourists. With a young daughter to care for, he ma...

---

Ride A Painted Pony

On a dark, lonely stretch of Midwest interstate, Nick Red Shield swerves his pickup and empty horse trailer to avoid a pair of terrified eyes. They belong to a woman -- battered, bruised and barely conscious -- in desperate need of a lift. Lauren...

---

Mystic Horseman

Mystic Warriors Horse Camp, where wayward Lakota youth can connect with the Lakota spirit. He has the land, the horses and the history. Now all he needs is the money--and any help he can get. Dillon's ex-wife, Monica, thinks he could use an ...

---

In Care Of Sam Beaudry

Keeping the people of his Rocky Mountain hometown safe was Sheriff Sam Beaudry's top priority. But his quiet life suddenly came under scrutiny when a young stranger came to town, claiming to be Sam's secret daughter...upsetting his very existence, no...

---

One Cowboy, One Christmas

HIS VERY OWN CHRISTMAS ANGEL... Stranded and half-frozen in a South Dakota snowstorm, bull rider Zach Beaudry reached out for help at the nearest house he could find. And the beautiful rancher-schoolteacher who answered the door was a vision. Zach t...

---

Cool Hand Hank

MUSTANG SALLY HAD NOTHING ON HER... Sally Drexler was always running. The proprietor of the Double D Ranch and wild mustang sanctuary had her hands full keeping health, hearth and horses on an even keel. And though she approached every challenge wit...

---

Once a Father

WHERE WISHES ARE HORSES, LOVERS WILL RIDE... Logan Wolf Track had horses in his blood. For this "Indian cowboy," teaming up with army sergeant Mary Tutan to enter the Double D's wild mustang training competition was a win-win proposition. This tough...

---

Cowboy, Take Me Away

HER CAMERA DIDN'T LIE When photographer Skyler Quinn first fixed her lens on gorgeous cowboy Trace Wolf Track, she liked what she saw but didn't give it much thought. Until everywhere she went -- the rodeo, the Double D Wild Horse Sanctuary -- th...

---

One Brave Cowboy

"THE NAME'S COUGAR. JUST COUGAR. ONE NAME IS ENOUGH." Behind the bravado was a complex man. War hero. "Indian cowboy." Walking wounded in search of answers. Cougar needed to build a new life, and he'd start with what he loved most. Horses. Which bro...

---

---

The Prodigal Cowboy

HE'S PROVING HOW GOOD A BAD BOY CAN BE... A brewing political scandal in her South Dakota hometown could make TV reporter Bella Primeaux's career and save her from the human interest beat. Then she uncovers a possible connection between her breaki...

---

One Less Lonely Cowboy

HE'S READY AND ABLE... Jack McKenzie is an old-school cowboy. A loner making a good living at a Missouri ranch, he just wants to collect his pay, keep to himself and-most important-forget the past. But the return of his boss's daughter changes ev...

---

Never Trust a Cowboy

When a Cowboy Comes Calling… The last thing harried Lila Flynn needed was another cowboy to deal with. But new hire Del Fox was different than most sweet-talking wranglers. The hard worker had a gentle touch and eyes that spoke of a past he did...

---
Award-Winning Books by Kathleen Eagle
Heaven and Earth
1990 RT Reviewers Choice Award -- Indian Historical Romance
This Time Forever
1993 Rita Award -- Contemporary Single Title
Frequently Asked Questions (FAQ)
Kathleen Eagle has published 52 books.
Kathleen Eagle does not have a new book coming out soon. The latest book, Never Trust a Cowboy, was published in January 2015.
The first book by Kathleen Eagle, Someday Soon, was published in November 1984.
Yes. Kathleen Eagle has 8 series.