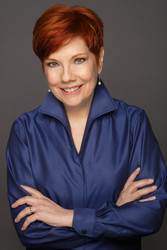 About the Author
Jayne Ann Castle was born on March 28, 1948 in Borrego Springs, California. She obtained a B.A in History and a Masters degree in Library Science. After her graduation, she married with Frank Krentz, an engineer. She worked in the Duke University, when she published her first novels in 1979.

Now, Jayne Ann Castle Krentz with her seven pennames is considered a pillar in the contemporary romance genre. For some years, she only uses three pennames for each of three different periods from time: "Jayne Ann Krentz" (her married name) from the present, "Jayne Castle" (her birth name) from the future and her most famous penname: "Amanda Quick" from the past. She is famous for her work ethic, beginning her writing by 7 am six days a week. Her heroines never are damsels in hardships, they are often heroes. Her novels also contain mystery or paranormal elements.
Full Series List in Order
1 - Second Sight (May-2006)
2 - The Third Circle (May-2008)
3 - The Perfect Poison (May-2009)
4 - Burning Lamp (Apr-2010)
5 - Quicksilver (Apr-2011)
1 - The Girl Who Knew Too Much (May-2017)
2 - The Other Lady Vanishes (May-2018)
3 - Tightrope (May-2019)
4 - Close Up (May-2020)
5 - The Lady Has a Past (May-2021)
6 - When She Dreams (May-2022)
7 - The Bride Wore White (May-2023)
1 - Crystal Gardens (Apr-2012)
2 - The Mystery Woman (Apr-2013)
1 - Slightly Shady (Apr-2001)
2 - Don't Look Back (Jun-2002)
3 - Late for the Wedding (Apr-2003)
1 - With This Ring (Mar-1998)
2 - I Thee Wed (Apr-1999)
3 - Wicked Widow (Apr-2000)
4 - Lie By Moonlight (Jun-2005)
Multi-Author Series List
1 -
Second Sight
(May-2006)
4 -
The Third Circle
(May-2008)
6 -
The Perfect Poison
(May-2009)
8 -
Burning Lamp
(Apr-2010)
11 -
Quicksilver
(Apr-2011)
2 -
Burning Lamp
(Apr-2010)
2 -
Quicksilver
(Apr-2011)
Book List in Order:
40

titles
---

---

---

Scandal

With her reputation forever tarnished by a youthful indiscretion, lovely Emily Faringdon is resigned to a life of spinsterhood, until she embarks on an unusual correspondence and finds herself falling head over heals in love. Sensitive, intelligent, ...

---

Rendezvous

From the elegantly appointed drawing rooms of London's most exclusive club to an imposing country estate in the heart of Dorset comes a provocative tale of a free-thinking beauty, a dignified lord, and a mad impetuous love that defied all logic.... ...

---

Ravished

From the cozy confines of a tiny seaside village to the glittering crush of a fashionable London soiree comes an enthralling tale of a thoroughly mismatched couple...poised to discover the rapture of love. There was no doubt about it. What Miss Ha...

---

---

---

---

---

---

---

---

---

---

With This Ring

Leo Drake, the "Mad Monk of Monkcrest", is notoriously eccentric and unquestionably reclusive. But he is also a noted antiquities expert, which is why Beatrice Poole has demanded his reluctant assistance. The freethinking authoress of "horrid novels,...

---

I Thee Wed

It isn't easy making a living as a lady's companion when one possesses a sharp tongue and an original mind. That's why Emma Greyson has gone through three such positions in six months. Her current post at a tiresome country house party has her bored ...

---

Wicked Widow

Madeline Deveridge is aware of the whispers behind her back, the rumors that she dispatched her husband to the next world and concealed her crime. But she has a far more pressing problem than her reputation as the Wicked Widow. It's impossible to be...

---

Slightly Shady

An enterprising woman allies herself with a mysterious spy, only to be caught up in a torrid brew of treachery--and temptation.... From the moment the stranger burst into her antiquities shop in Rome, Lavinia Lake knew he was nothing but trouble. ...

---

Don't Look Back

As if a head for business and a nose for trouble aren't enough to distinguish Lavinia Lake from other women, Lavinia is also well versed in the practice of mesmerism. Nobody knows this better than Tobias March, who has fallen hopelessly under her spe...

---

Late for the Wedding

An invitation to a country house party at Beaumont Castle provides a perfect solution to Tobias and Lavinia's most exasperating challenge: how to escape the chaos of London for a remote, relaxing--and above all romantic--retreat from prying eyes and ...

---

---

The Paid Companion

The Earl of St. Merryn needs a woman. His intentions are purely practical--he simply wants someone sensible and suitably lovely to pose as his betrothed for a few weeks among polite society. He has his own agenda to pursue, and a false fiancee will k...

---

Wait Until Midnight

Gentle Reader, It could have been a scene from one of my novels. As a rule, respectable ladies do not accept calls from Mysterious Gentlemen on business of the most grave importance--but I confess that I was possessed of a lively curiosity. The pa...

---

Lie By Moonlight

"Hired to tutor four orphaned girls at remote, ramshackle Aldwick Castle, Miss Concordia Glade is pleased to find her pupils both eager and bright. Indeed, they are bright enough to have noticed some oddities about their situation. Provided for by an...

---

Second Sight

Venetia Milton's memories of a romantic night with Gabriel Jones--an alchemist's descendant--are shattered soon thereafter by news of his death. Adopting the guise of his respectable widow, she embarks on a new career as a fashionable photographer in...

---

The River Knows

The first kiss occurred in a dimly lit hallway on the upper floor of Elwin Hastings's grand house. Louisa never saw it coming.... Of course, Anthony Stalbridge couldn't possibly have had romantic intentions. The kiss was an act of desperation me...

---

The Third Circle

Attempting to recover a relic stolen from her family years ago, gifted crystal worker Leona Hewitt secretly makes her way into Lord Delbridge's private museum. But the man she finds there is more entrancing than the crystal she seeks .. . Thaddeus...

---

The Perfect Poison

In her suspenseful new novel, New York Times bestselling author Amanda Quick delves into the underworld of passion, geed and powers that lie beyond this realm. Victorian botanist Lucinda Bromley has a rare talent: the ability to detect almost any ty...

---

Burning Lamp

In this second novel of the Dreamlight Trilogy from New York Times-bestselling author Amanda Quick, psychic power and passion collide as a legendary curse comes to a burn... The Arcane Society was born in turmoil when the friendship of its two fou...

---

Quicksilver

In the New York Times-bestselling author's latest Arcane Society novel, a paranormal killer pushes an unlikely duo's powers and passions to the limit. Virginia Dean wakes at midnight beside a dead body, with a bloody knife in her hand and no memor...

---

Crystal Gardens

Evangeline Ames has rented a country cottage far from the London streets where she was recently attacked. Fascinated by the paranormal energy of nearby Crystal Gardens, she finds pleasure in sneaking past the wall to explore the grounds. And when her...

---

---

The Mystery Woman

Under the plain gray skirts of Miss Beatrice Lockwood's gown, a pistol waits at the ready. For Beatrice is a paid companion on a secret mission -- and with a secret past -- and she must be prepared to fight for her life at any moment. Yet she is...

---

Otherwise Engaged

Miss Amity Doncaster, world traveler, is accustomed to adventure and risk. Benedict Stanbridge, a man of science and a spy for the Crown, has faced danger in the darker corners of foreign lands. But they are about to face a threat that...

---

Garden of Lies

The New York Times bestselling author of Otherwise Engaged and The Mystery Woman presents an all-new novel of intrigue and murder set against the backdrop of Victorian London… The Kern Secretarial Agency provides reliable professional services ...

---

Til Death Do Us Part

The author of the New York Times bestseller Garden of Lies returns to Victorian London in an all-new novel of deadly obsession. Calista Langley operates an exclusive "introduction" agency in Victorian London, catering to respectable ladies a...

---

The Girl Who Knew Too Much

Amanda Quick transports readers to 1930s California, where glamour and seduction spawn a multitude of sins. When Hollywood moguls and stars want privacy, they head to an idyllic small town on the coast, where the exclusive Burning Cove Hotel cater...

---

The Other Lady Vanishes

The New York Times bestselling author of The Girl Who Knew Too Much sweeps readers back to 1930s California--where the most dazzling of illusions can't hide the darkest secrets... After escaping from a private sanitarium, Adelaide Blake arrives in...

---

Tightrope

An unconventional woman and a man shrouded in mystery walk a tightrope of desire as they race against a killer to find a top secret invention before it's too late. Former trapeze artist Amalie Vaughn moved to Burning Cove to reinvent herself, bu...

---

Close Up

Welcome to Burning Cove, California where 1930s Hollywood glamour conceals a ruthless killer… Vivian Brazier never thought life as an art photographer would include nightly wake-up calls to snap photos of grisly crime scenes or headshots for as...

---

The Lady Has a Past

Beauty and glamour meet deception and revenge in this electrifying novel by New York Times bestselling author Amanda Quick. Investigative apprentice Lyra Brazier, the newest resident of Burning Cove, is unsettled when her boss suddenly goes on a ...

---

When She Dreams

Return to 1930s Burning Cove, California, the glamorous seaside playground for Hollywood stars, mobsters, spies, and a host of others who find more than they bargain for in this mysterious town. Maggie Lodge, assistant to the reclusive advice col...

---

---

The Bride Wore White

Amanda Quick returns to the 1930's glamour of Burning Cove, California, where everyone has a secret they would kill to hide… A psychic desperate to escape her destiny - and a killer - finds her future in the coastal town of Burning Cove. . . ...

---
Award-Winning Books by Amanda Quick
Scandal
1991 RT Reviewers Choice Award -- Regency Historical Romance
Seduction
1990 RT Reviewers Choice Award -- Historical Romance
Frequently Asked Questions (FAQ)
Amanda Quick has published 40 books.
Amanda Quick does not have a new book coming out soon. The latest book, The Bride Wore White, was published in May 2023.
The first book by Amanda Quick, Seduction, was published in February 1990.
Yes. Amanda Quick has 5 series.