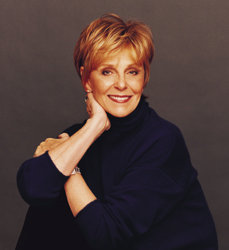 Judith McNaught was born on May 10, 1944 in San Luis Obispo, California. She majored in Business at Northwestern University and held many jobs before becoming a writer. Besides being an assistant director for a film, and comptroller for a trucking company, she was also the first female executive producer at a CBS radio station.

Her second husband, Michael McNaught, encouraged her to become a writer. Her first manuscript, Whitney, My Love, was published in 1986 after she had proven her worth with two successfully published novels. Those early novels did not adhere to the rules of Regency romances and she is credited with inventing the Regency Historical genre. McNaught was one of the first romance writers to receive a multi-million dollar contract. Her books have been on the NYT Bestseller List since 1988.

She lives in Texas and is actively involved in literacy, children's and breast cancer charities.

Book List in Order:
17

titles
The Sweetest Thing

In a sweeping and enchanting tale of romance and second chances, Judith McNaught shows us yet again that love is the greatest gift of all and that she truly "is in a class by herself" (USA TODAY). From the sensational #1 New York Times bestsellin...

---

Every Breath You Take

They met in paradise: Kate Donovan, the beautiful, self-made Chicago restaurateur, and Mitchell Wyatt, ruthless businessman, scion of the fabulously wealthy Wyatt family -- and, as Kate soon learns, a man who won't take no for an answer. During their...

---

Someone to Watch Over Me

Leigh Kendall reveled in her stellar Broadway acting career and in her marriage to Logan Manning, scion of an old New York family. When her husband finds the perfect mountain property for their dream house, he decides to surprise Leigh with her first...

---

Night Whispers

A policewoman in a small Florida community, Sloan Reynolds knows that her modest upbringing was a long way from the social whirl of Palm Beach, the world inhabited by her father and her sister, Paris. Total strangers to Sloan, they have never tried t...

---

Remember When

Alone on a moonlit balcony at Houston's White Orchid Charity Ball, Diana Foster had no inkling of the extraordinary journey that would begin that night. Recently jilted by her fiance for a blonde Italian heiress--an insult delivered via a sleazy tabl...

---

Double Exposure

in A Gift of Love

Double Exposure, A Novella Stepsisters Corey and Diana Foster run Foster's Beautiful Living magazine -- Diana handles the business side of things, and Corey organizes the gorgeous photo layouts that the magazine is known for. When Diana arranges a...

---

Miracles

in A Holiday of Love

When the weather outside is frightful, what better way to warm up than with four tales of love and adventure from your favorite romance writers. Slip into a bubble bath or curl up in front of a roaring fire - and let Jude Deveraux, Judith McNaught, A...

---

Until You

Returning to the story of the Westmoreland family, #1 New York Times bestselling author Judith McNaught has written the novel her fans have been clamoring for since Whitney, My Love--a marvelous tale that sweeps from the wilds of America to the elega...

---

Perfect

From bestselling, beloved author Judith McNaught comes the dramatic story of a woman who, out of childhood chaos, has created the perfect life...a man convicted of a heinous crime, who stubbornly protests his innocence...their journey together into l...

---






---

Paradise

Meredith Bancroft, a serenely beautiful blonde, and Matthew Farrell, an intense, magnetic tycoon, are both haunted by their once-in-a-lifetime love ...betrayed in a conflict of heartache and pain. When the Bancroft family empire is threatened by a ho...

---

Almost Heaven

No bounty in England could outshine Elizabeth Cameron, Countess of Havenhurst. But beneath her exquisite emerald eyes and cloud of golden hair lived a girl of rare gentleness, pride and splendid, even ferocious courage. In Ian Thornton's powerful e...

---

A Kingdom of Dreams

Judith McNaught has written her most tender, most tempestuous romance yet... the story of Jennifer Merrick a feisty Scottish beauty, and the fierce English warrior she defies -- and desires. Abducted from her convent school, headstrong Jennifer does ...

---

Something Wonderful

This is the story of Alexandra Lawrence, an artless country girl, and her tempestuous marriage to Jordan Townsende, the rich and powerful Duke of Hawthorne. Swept into the endlessly fascinating world of London society, free-spirited Alexandra becomes...

---

Once and Always

Across the vast ocean sailed Victoria Seaton, a free-spirited American beauty left suddenly orphaned and alone. Eager to claim her long-lost heritage, she was amazed at the formal elegance of Wakefield, the sumptuous English estate of her distant cou...

---

Whitney, My Love

NEVER BEFORE HAD A WOMAN CAPTURED HIM BODY AND SOUL! NEVER WOULD SHE SURRENDER TO A MAN WHO BOUGHT HER LOVE! Under the dark, dangerous eyes of Clayton Westmoreland, the Duke of Claymore, Whitney Stone grew from a saucy hoyden into a ravishingly se...

---

Double Standards

His sexy smile held tempting promises Lauren Danner wasn't usually impetuous with men. But Nick Sinclair was incredibly attractive, and she acted on impulse-asking him out to lunch, accepting his counteroffer for the weekend. Everything she'd ...

---

Tender Triumph

LIGHTNING CAN'T STRIKE TWICE! Or could it? What did Katie Connelly really know about Ramon Galverra? There was so much to learn and so little time... They were exact opposites in every way. Katie - independent, contemporary, successful career-...

---
Complete Series List in Order
Foster Family
0.5) Double Exposure (Nov-1995)
1) Remember When (Nov-1996)
2) The Sweetest Thing (Aug-2019)
Second Opportunities
1) Paradise (Jul-1991)
2) Perfect (May-1993)
3) Night Whispers (Nov-1998)
4) Every Breath You Take (Dec-2005)
Sequels
1) Once and Always (Jan-1987)
2) Something Wonderful (Apr-1988)
3) Almost Heaven (Apr-1990)
Westmoreland Dynasty
1) A Kingdom of Dreams (Mar-1989)
2) Whitney, My Love (Jan-1985)
3) Until You (Sep-1994)
4) Miracles (Nov-1994)
Award-Winning Books by Judith McNaught
A Kingdom of Dreams
1989 RT Reviewers Choice Award -- Medieval Romance
Something Wonderful
1988 RT Reviewers Choice Award -- Historical Romance