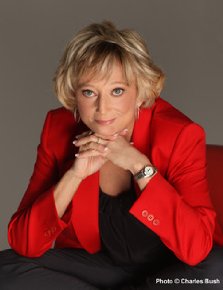 About the Author
Jean Catherine Coulter was born on 26 December 1942 in Cameron County, Texas, USA, where she grew up in a horse ranch. She graduated from the University of Texas and earned a degree at Boston College in early 19th-century European History.

Catherine married Anton Pogany, a medical student, and she took a job as a speech writer for a Wall Street company president. She spent many of her evenings alone, reading romance novels. One night when they were home together, she found herself in the middle of a particularly bad book and threw it across room, asserting that even she could do better. Her husband challenged her to prove herself, and the two spent the weekend plotting out a storyline for a gothic romance. Catherine wrote the novel in the evenings, and when she finish it, she sent it to an editor at Signet. Her novel "The Autumn Countess" was published in 1978. She says that chose a Regency romance for her debut because: "as any published author will tell you, it's best to limit the unknowns in a first book, and not only had I grown up reading Georgette Heyer, but I earned my M.A. degree in 19th century European History.". She became a bestseller novelist, and she earned her reputation writing historical romances, but now also writes contemporary romances. Catherine lives in Marin County, California with her husband, Anton Pogany, now a physician.
Full Series List in Order
1 - Aftershocks (Dec-1985)
2 - Afterglow (May-1987)
1 - The Wild Baron (Apr-1997)
2 - The Offer (Oct-1997)
3 - The Deception (Oct-1998)
1 - False Pretenses (Oct-1988)
2 - Impulse (May-1990)
3 - Beyond Eden (Jan-1992)
4 - Born To Be Wild (Jul-2006)
1 - Devil's Embrace (Aug-1982)
2 - Devil's Daughter (May-1985)
1 - The Cove (Apr-1996)
2 - The Maze (Jun-1997)
3 - The Target (Apr-1998)
4 - The Edge (Aug-1999)
5 - Riptide (Jul-2000)
6 - Hemlock Bay (Aug-2001)
7 - Eleventh Hour (Jul-2002)
8 - Blindside (Jul-2003)
9 - Blowout (Jun-2004)
10 - Point Blank (Sep-2005)
11 - Double Take (Jun-2007)
12 - TailSpin (Jul-2008)
13 - Knock Out (Jun-2009)
14 - Whiplash (Jun-2010)
15 - Split Second (Jul-2011)
16 - Backfire (Jul-2012)
17 - Bombshell (Jul-2013)
18 - Power Play (Jul-2014)
19 - Nemesis (Jul-2015)
20 - Insidious (Jul-2016)
21 - Enigma (Sep-2017)
22 - Paradox (Aug-2018)
23 - Labyrinth (Aug-2019)
24 - Deadlock (Aug-2020)
25 - Vortex (Aug-2021)
26 - Reckoning (Aug-2022)
1 - The Strange Visitation at Wolffe Hall (Aug-2015)
2 - The Resident Evil at Blackthorn Manor (Dec-2016)
3 - The Ancient Spirits of Sedgwick House (Nov-2018)
4 - The Virgin Bride of Northcliffe Hall (Aug-2020)
5 - The Red Witch of Ravenstone Folly (Oct-2021)
6 - The Alarming Disturbance at Holyroodhouse (Oct-2022)
1 - The Wyndham Legacy (Jan-1994)
2 - The Nightingale Legacy (Dec-1994)
3 - The Valentine Legacy (Aug-1995)
1 - Midsummer Magic (Dec-1987)
2 - Calypso Magic (Apr-1988)
3 - Moonspun Magic (Aug-1988)
1 - Chandra (Jan-1984)
1 - Warrior's Song (Mar-2001)
2 - Fire Song (Dec-1985)
3 - Earth Song (Sep-1990)
4 - Secret Song (Feb-1991)
5 - Rosehaven (Jul-1996)
6 - The Penwyth Curse (Jan-2003)
7 - The Valcourt Heiress (Oct-2010)
1 - Night Fire (Feb-1989)
2 - Night Shadow (Aug-1989)
3 - Night Storm (Feb-1990)
1 - The Rebel Bride (Dec-1979)
2 - Lord Harry's Folly (Dec-1980)
2 - Lord Harry (Jan-1995)
1 - The Sherbrooke Bride (Apr-1992)
2 - The Hellion Bride (Nov-1992)
3 - The Heiress Bride (Jan-1993)
4 - Mad Jack (Feb-1999)
5 - The Courtship (Jan-2000)
6 - The Scottish Bride (Jan-2001)
7 - Pendragon (Jan-2002)
8 - The Sherbrooke Twins (Feb-2004)
9 - Lyon's Gate (Jul-2005)
10 - Wizard's Daughter (Dec-2007)
11 - Prince of Ravenscar (Oct-2011)
1 - Sweet Surrender // Evening Star (Oct-1984)
2 - Midnight Star (Jun-1986)
3 - Jade Star (May-1987)
4 - Wild Star (Nov-1986)
1 - Season of the Sun (Oct-1991)
2 - Lord of Hawkfell Island (Nov-1993)
3 - Lord of Raven's Peak (Apr-1994)
4 - Lord of Falcon Ridge (Apr-1995)
Book List in Order:
91

titles
---

The Autumn Countess

A HARD BARGAIN Romantic dreams held no charm for lonely young Miss Andrea James. What Andrea wanted in a husband was the elegant, elderly Earl of Devbridge and the safety he promised from the world of base behavior that Andrea's rakish father ...

---

The Rebel Bride

THE UNLIKELY YOUNG LADY Clearly young Lady Katharine Brandon was a beauty, with her rich auburn hair, striking green eyes, flawless face and form. But a beauty was one thing Katharine clearly had no interest in being. She dressed in a young man...

---

Lord Deverill's Heir

AN UTTERLY SHOCKING HUSBAND The first time that captivating, quick-tempered Arabella Deverill saw Justin, she thought this arrogantly handsome stranger to be a vagabond adventurer trespassing on her family lands. The next time she saw him was...

---

Lord Harry's Folly

Lord Harry Monteith was the most dashing young rake that London had seen in years, unbeatable at the gaming table, irresistible to the ladies, and indifferent to danger from dueling pistols or swords. Miss Henrietta Rolland was the dazzling young...

---

The Generous Earl

A HEARTFELT REBELLION An English duke to become a Scottish noble! The very idea was scandalous! That this odious man should also be her new guardian was completely intolerable to spirited young Brandy Robertson. But at least she wouldn't have to ...

---

An Honorable Offer

MEN WERE ALL BEASTS THAT SABRINA WAS DETERMINED TO BEST Lovely young Sabrina Eversleigh, granddaughter of the esteemed Earl of Monmouth first learned of the disreputable desires of men when her dissolute brother-in-law attempted to force himself u...

---

Devil's Embrace

CITY OF SIN For beautiful young Cassandra Brougham, the seething city of Genoa, Italy, seemed a world away from the great 18th-century English estate where she was raised--and the closest she had ever come to purgatory. Cassie was no longer an ...

---

An Intimate Deception

THE DANGER OF DESIRE From the moment beautiful and innocent Evangeline de Beauchamps entered the household of Richard Clarendon, Duke of Portsmouth, she felt herself falling under the spell of this man who had conquered so many women with his looks...

---

Chandra

SHE WAS WED TO ONE STRONG MAN -- AND DESPERATELY WANTED BY ANOTHER Lovely, golden-haired Chandra, raised by her noble father to handle weapons as well as any man, was prepared to defend herself against everything but love. Too proud to be slave ...

---

---

Sweet Surrender // Evening Star

HIS DARK DESIRES CLAIMED HER He was the highest bidder for her beauty. And now Giana was the property of the handsome, hot-blooded American who had paid heavily to possess her exquisite body, who hungered to initiate her innocent flesh into the fla...

---

Devil's Daughter

ENSLAVING PASSION His imperious blue eyes raked over her trembling body. She had never imagined that Kamal the savage sultan who dared make her a harem slave, would look so like a blond Nordic god. She had never dreamed that the warm, exploring t...

---

Fire Song

Dear Reader: Lord Graelam de Moreten is a warrior, a man both hard and ruthless, a man who takes what he wants and never looks back. Kassia de Lorris of Brittany is gentle yielding, untested in the ways of men. She cheats death only to find her...

---

Aftershocks

RIGHT PLACE, WRONG TIME When Dr. Elliot Mallory met Georgina "George" Hathaway, almost everything seemed to be right. They liked the same jokes, shared a love of sports, and the chemistry that drew them together was the most powerful he'd ever kno...

---

Midnight Star

She fought brazenly against his manly strength and power...but when her lips touched his in a stormy, rapturous kiss, the fire of her desire could no longer be denied... Young British heiress Chauncey FitzHugh held out her arms to the man she had co...

---

The Aristocrat

What would an American football star do if he suddenly found himself an English lord? It wasn't something pro quarterback Brant Asher had ever bothered to think about --until the day he learned of his inheritance. He was now Viscount Asherwood, h...

---

---

---

Afterglow

MATCHMAKER'S VICTIMS . . . What were their friends thinking of? Chelsea Lattimer and David Winter couldn't have been more different. Chelsea was a writer. She lost herself in the past to make up for the inadequacies of the present. David was a doc...

---

Midsummer Magic

Philip Hawksbury, the Earl of Rothermere, obeying his father's dying wish, hies himself to Scotland to offer for one of the daughters of Alexander Kilbracken, the Earl of Ruthven. Frances Kilbracken, informed of the earl's arrival and his mission...

---

---

Calypso Magic

His hungry lips met hers and the sensation built like raging fire... She wanted more... She wanted... Diana Savarol vowed to stay away from her cousin, the rakish and hot-tempered Lyonel Ashton, during her visit to London -- for she knew that ...

---

Moonspun Magic

She felt his tongue gently stroke her lips...and his hands, caressing her shoulders, moved downward to mold her hips. "No, please," she said, sobbing with desire... Beautiful Victoria Abermarle feared and fled the imperious desires of handsome Dam...

---

False Pretenses

Elizabeth Carleton. A beautiful and dazzling concert pianist. She seemed to have it all. But when her fabulously wealthy husband is murdered, Elizabeth stands accused--and not even her surprise acquittal in a cliffhanger trial can quiet the whispers ...

---

Night Fire

ONLY HIS BURNING LOVE COULD SAVE HER Trapped into a loveless marriage, Arielle Leslie knew a life of shame and degradation. Even after the death of her brutal husband, she was unable to free herself from the shackles of humiliation. Only Burke Dru...

---

Night Shadow

LOVES MAGIC COULD SAVE HER... OR DESTROY THEM BOTH! The brutal murder of her benefactor left Lily Tremaine penniless and responsible for the care of his three children. In desperation, she presented herself at the door of his cousin, Knight Winthr...

---

Night Storm

THE UNTAMED DESIRE OF, TWO WILD HEARTS... Fiery, free-spirited Eugenia Paxton swore she'd make a pact with the devil himself if it meant saving her father's shipyard from destitution. But a partnership with the wealthy British sea captain Alec Car...

---

Impulse

When wealthy, beautiful Rafaella Holland puts her dazzling newspaper career on hold to care for her ailing mother, she learns of a long-held family secret; the true identity of her real father, whom she never knew. Wanting to exact revenge upon this ...

---

Earth Song

Philippa de Beauchamp, as impulsive as she is beautiful, flees her father's castle when she hears she'd to be wed to the repellent Baron de Bridgeport. But her daring escape in a wool wagon quickly becomes a misadventure and she winds up in the arms ...

---

Secret Song

You met Roland de Tournay in Earth Song - a handsome rogue with a subtle wit and quick tongue who was variously an actor, and adventurer, a master of disguise. Now in Secret Song he meets his destiny when he must rescue from a Welsh stronghold Dar...

---

Season of the Sun

Zarabeth, with hair as red as an Irish sunset, is chosen by Magnus Haraldsson, a Viking on a trading visit to York, to be his wife. She is both stunned and fascinated by his bluntness, but is soon won over by this man who makes her laugh, brings her ...

---

---

Beyond Eden

Lindsay Foxe is a successful model, a beautiful woman who hides behind a new name to protect herself from a past of betrayal and treachery and a present filled with sinister shadows. The product of old San Francisco wealth, the daughter of a man who ...

---

The Sherbrooke Bride

Douglas Sherbrooke, Earl of Northcliffe, is a man besieged. He must have an heir. Thus, he must first provide himself with the requisite bride. Alexandra Chambers, youngest daughter of the Duke of Beresford, has loved Douglas Sherbrooke since she was...

---

The Hellion Bride

Ryder Sherbrooke is a fun-loving rake with a secret. When he travels to Jamaica to solve the mystery of the supernatural goings-on at Sherbrooke sugar plantation, he finds another mystery as well - a sophisticated nineteen-year-old girl, Sophia Stant...

---

The Heiress Bride

Dear Reader: Welcome to the exciting conclusion of the English Regency Bride Trilogy, The Heiress Bride. You met Sinjun Sherbrooke in the The Sherbrooke Bride and in The Hellion Bride, a delightful, quite endearing fifteen-year-old who, I hope,...

---

Lord of Hawkfell Island

Rorik is a Viking warrior, as fierce and savage as the North Sea during the winter solstice. Mirana is a Viking woman who loves birds, is more ingenious than most men, and loyal down to her toes. Her life changes utterly one fateful day when Rorik an...

---

The Wyndham Legacy

Marcus Wyndham never asked to become the Earl of Chase. The Duchess never asked to be illegitimate. And neither of these two asked that their fates become so entwined. Marcus is passionate, quick to rage, just as quick to laughter. He's tough,...

---

Lord of Raven's Peak

Merrick Haraldsson, the younger brother of Rorik, the Lord of Hawkfell Island, begins his journey in Kiev where he comes away with two slaves, but they're not who or what he thinks they are, not by a long shot. Then the question arises: Can a woma...

---

The Nightingale Legacy

Caroline Derwent-Jones is at the eve of her nineteenth birthday. She's chomping at the bit to get out from under the control of her smarmy guardian, the frighteningly obsessive Roland Ffalkes. But Ffalkes has other plans for Caroline. She manages to ...

---

Lord Harry

Lord Harry, one of my first novels, was originally titled Lord Harry's Folly. I've rewritten the story extensively, adding to and changing dialogue, actions and descriptions, yet the original plot is still here. I'm convinced-and I'm sure your will b...

---

Lord of Falcon Ridge

Cleve of Lord of Raven's Peak and Chessa of Lord of Hawkfell Island first meet when Chessa is the princess of Ireland and Cleve has no memory of the time before he was a slave. When vivid dreams kindle memories of his native Scotland, Cleve's goal be...

---

---

The Valentine Legacy

In the early 1820s, horse racing was a down and dirty sport. James Wyndham, who owns racing stables in both England and America, finds his racing nemesis in red-haired Jessie Warfield, renowned hoyden and champion jockey, who knows as many dirty raci...

---

---

---

Rosehaven

Dear Reader: Come back to England in the year 1277 and meet Hastings of Trent and Severin of Langthorne, two strangers joined in marriage. Hastings is an heiress and Severin is the warrior whom the dying Earl of Oxborough has selected to assume ...

---

---

The Wild Baron

Dear Reader: Rohan Carrington, Baron Mountvale, proud scion of a family renowned for its philandering and charm, is bewildered. He has received a letter stating that his late, younger brother, George, ruined a young lady. But how could this be pos...

---

---

The Offer

Dear Reader: Phillip Mercerault and Sabrina Eversleigh first appeared in AN HONORABLE OFFER, a Regency romance published in 1981. The title has been changed to THE OFFER to reflect its new status as an historical romance, and the novel has been re...

---

The Target

Dear Reader: You're about to enter a labyrinth where the unthinkable happens and the unimaginable becomes terrifyingly real. Escaping unwanted media attention after a notorious incident, Ramsey Hunt retreats into the solitude of a cabin high in t...

---

The Deception

Dear Reader: THE DECEPTION first appeared in April 1983 as a Signet Regency with the title AN INTIMATE DECEPTION. The story has been rewritten as a full-bodied historical romance. The Duke of Portsmouth offers an impecunious half-French relativ...

---

---

Mad Jack

Dear Reader: Mad Jack is brand-new and lots of fun. You're going to meet two of the neatest people in 1811 London. In addition, you'll revisit the Sherbrookes--Douglas and Ryder, and see what's going on with them eight years after you first met th...

---

---

The Countess

DEAR READER: The Countess was my very first novel, published in 1978 under the title The Autumn Countess. Even at that amazingly young age, I still realized that I should write about something I knew. Since I'd grown up reading Georgette Heyer...

---

The Courtship

Dear Reader: You met Heatherington in The Sherbrooke Bride and Helen Mayberry in Mad Jack. Now the two get together to track down a mystical treasure that Helen calls King Edward's Lamp. Helen is a big girl -- only two inches shorter than Heath...

---

---

The Scottish Bride

Dear Reader ... All the Sherbrooke clan are alive, well, and in rip-roaring spirits in August of 1815. Two months after Napoleon's defeat at Waterloo, Tysen Sherbrooke, the youngest of the three brothers, now thirty-one years old, a vicar, a widow...

---

Warrior's Song

Dear Reader: Chandra first appeared in 1984. I've rewritten it extensively and changed the title to Warrior's Song, as this book rightfully belongs in the Song series. Chandra de Avenell might look like a golden princess, but she fights like a ...

---

Hemlock Bay

Dear Reader: Hemlock Bay is the sixth novel in the FBI series, and I'm hoping it will make your hair stand on end. Meet Tammy Tuttle and start praying. She becomes the nemesis of FBI agent Dillon Savich. If this isn't enough, Savich learns that hi...

---

Pendragon

Dear Reader: It's time for a bit of cat racing, a sinister mystery, and a light touch of gothic menace. Add the signature Sherbrooke grit and wit and voila, you have Pendragon. Here's to the next generation--Tysen Sherbrooke now has four sons a...

---

Eleventh Hour

When Father Michael Joseph is viciously murdered in his San Francisco church, his identical twin brother, FBI agent Dane Carver, along with husband-and-wife team, Savich and Sherlock, is determined to find the monster responsible. There is a witness,...

---

The Penwyth Curse

Dear Reader: How would you like to be eighteen and four times a widow? If you live with a curse, sometimes things like this happen. And so they did. We have two sets of heroes/heroines; one set is in the present (1278 A.D.) and the other set is...

---

---

The Sherbrooke Twins

The Sherbrooke family saga continues with James and Jason Sherbrooke, identical male twins who look exactly like their beautiful Aunt Melissande, and not at all like their father, the earl, which riles him to no end. James, twenty-eight minutes ol...

---

---

Lyon's Gate

Dear Reader: Five years after Jason Sherbrooke leaves England for Baltimore and the Wyndhams (The Valentine Legacy), one of the premiere racing families in the area, he wakes up early one morning with Horace's ugly pug face staring him down, and k...

---

Point Blank

FBI agents Lacey Sherlock and Dillon Savich face the most dangerous case of their careers in Catherine Coulter's explosive new thriller. Point Blank's propulsive story takes off when FBI agents Dillon Savich and Dane Carver are nearly killed whil...

---

Born To Be Wild

Dear Reader: Get yourself ready for Mary Lisa Beverly - a soap-opera phenom who's just won her third Daytime Emmy for her role as Sunday Cavendish on Born to Be Wild. She's fun and lovable and has lots of crazy friends, most of whom hang out at he...

---

Double Take

It's been more than six months since her husband's brutal death, and Julia Ransom is just beginning to breathe again. She loved her husband, renowned psychic August Ransom, but the media frenzy that followed his murder sapped what little strength she...

---

Wizard's Daughter

Dear Reader: When Ryder Sherbrooke finds a child nearly beaten to death in an alley in Eastbourne, he takes her home to Brandon House. She doesn't speak for six months. Her first words, oddly enough, are a haunting song: I dream of beauty and sight...

---

TailSpin

FBI Special Agent Jackson Crowne is flying his Cessna over the Appalachians, with a very important passenger: renowned psychiatrist Dr. Timothy MacLean; their destination is Washington, D.C. Upon their arrival, the FBI will protect the doctor--and as...

---

Knock Out

Seven-year-old Autumn Backman has a gift: She can communicate telepathically with others. Not everyone, mind you, but with a select few with whom she shares a special kinship. When Autumn and her mother, Joanna, take her father's ashes to be buried i...

---

Whiplash

When Yale professor Dr. Edward Kender's father undergoes chemotherapy for colon cancer and the supply of the critical drug Culovort suddenly runs short, Kender hires P.I. Erin Pulaski to prove that something more sinister is going on at Schiffer Hart...

---

The Valcourt Heiress

When Garron of Kersey returns home from the king's service to claim his title as Baron Wareham, he's shocked to find Wareham Castle very nearly destroyed by a man called the Black Demon. According to the last starving servants still clinging to life...

---

Split Second

A serial killer is on the loose, and it's up to FBI agents Dillon Savich and Lacey Sherlock to bring him down. They soon discover that the killer has blood ties to the infamous and now long-dead monster Ted Bundy. Savich and Sherlock are joined by ag...

---

Prince of Ravenscar

In April 1831, her grace Corinne Monroe wants her widowed son, Lord Julian, to marry her best friend's daughter, Miss Sophie Wilkie. Julian last saw Sophie when she was twelve years old, silent, skinny, and always staring at him. However, his mother ...

---

Backfire

San Francisco Judge Ramsey Hunt, longtime friend to FBI agents Lacey Sherlock and Dillon Savich, is presiding over the trial of Clive and Cindy Cahill -- accused in a string of murders -- when the proceedings take a radical turn. Federal prosecutor M...

---

---

Power Play

Natalie Black, the U.S. ambassador to the Court of St. James, has returned to Washington, her job in jeopardy. Her fiancé, George McCallum, Viscount Lockenby, has died in a car accident, and mysterious rumors begin that she's responsible begin to ...

---

---

The Strange Visitation at Wolffe Hall

The year is 1841 and Grayson Sherbrooke, a popular author of gothic paranormal mysteries, lives on the coast of Northern England with his 4-year-old-son, Pip. He's asked by a neighboring little girl, P.C., to come to Wolffe Hall because something ter...

---

---

The Resident Evil at Blackthorn Manor

/ Paranormal Romance

In Grayson Sherbrooke's second Otherworldly Adventure, he goes to Scotland to Vere Castle, the home of his aunt and uncle, the Earl and Countess of Ashburnam. His aunt Sinjun had written to him that her resident ghost, Pearlin' Jane, warned that evil...

---

---

---

The Ancient Spirits of Sedgwick House

/ Paranormal Romance

When Grayson Sherbrooke takes his son Pip (nearly five), Miranda (his love interest), her daughter, P.C. (a precocious eight-year-old), and Barnaby (an orphan who calls himself a barn cat) to Lake Windemere to the home of Lord Lyle for a month of fun...

---

---

---

The Virgin Bride of Northcliffe Hall

New novella based on #1 New York Times author, Catherine Coulter's bestselling Sherbrooke Bride series. Grayson has dealt with demons and spirits, and now he meets a kelpie. What's a kelpie? If you don't know you can find out in The Virgin Bride of N...

---

---

The Red Witch of Ravenstone Folly

/ Paranormal Romance

---

---

The Alarming Disturbance at Holyroodhouse

/ Historical

New novella based on #1 New York Times author, Catherine Coulter's bestselling Sherbrooke Bride series.Cibalto Turduck, Commendator for Holyroodhouse, Queen Victoria's palace in Edinburgh, has a big problem with otherworldly presences wreaking havoc....

---
Frequently Asked Questions (FAQ)
Catherine Coulter has published 91 books.
Catherine Coulter does not have a new book coming out soon. The latest book, The Alarming Disturbance at Holyroodhouse, was published in October 2022.
The first book by Catherine Coulter, The Autumn Countess, was published in January 1979.
Yes. Catherine Coulter has 14 series.