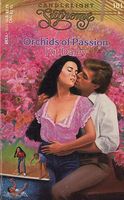 Newest Release
Bibliography:

10 Books - 1 Series

First Book:

January 1984

Latest Book:

August 1987

Rating:
Full Series List in Order
1 - Danger in Paradise (Jan-1987)
2 - Dangerous Hideaway (May-1987)
3 - Orchids of Passion (Aug-1987)
Book List in Order:
10

titles
Dance for Two

One moment she stood triumphant before an adoring New York audience, a principal ballerina with a skyrocketing career ahead of her, the next she was shaking with uncontrollable emotion in Drake Taylor's powerful arms. Why had he come now, just as ...

---

And One Makes Five

Their meeting was electric, shocking Elly Jackson into painful sensual awareness for the first time since her husband's sudden death Matt Thompson commanded her attention immediately, but it was more than casual interest that drove the beautiful Ariz...

---

In Defense of Passion

As a lobbyist for one of the most powerful defense contractors in America, Maggie Summers thrived on the challenge and excitement of Capitol Hill--and couldn't wait for a little time away from it all every year. But this summer the peaceful anonymity...

---

Sweeter Tomorrows

One look in his smoky gray eyes and Sarah Phillips knew: To have such a man fall in love with her would be exhilarating, exciting--and dangerous. Lord Justin Steele was a renowned English horse breeder. Thoroughbred racer. and bloodstock agent. They ...

---

Midnight Secrets

She was a mystery writer and the creator of a female detective with ESP. But Meredith Ryan had never envisioned Simon Hunter. The private eye broke all the rules--from his snazzy red T-bird to his elusive charm. He provoked conflict and chemistry at ...

---

This Night and Always

It wasn't easy for Beth Phillips to come home to Kentucky--not when the last man on earth she wanted to see was there! But Daniel Reynolds, her ex-husband. was suspected of sabotaging her father's business. She had to confront him to find out if he w...

---

Danger in Paradise

It was one thing to read about adventure, another to live it! A desperate phone call sent Samantha Prince flying from the safety of her New Orleans bookstore to Rio and into the wilds of the Amazon. Her mission: to find her brother and a hidden treas...

---

Dangerous Hideaway

Christmas in Austria--the dream of a lifetime! Anna Stanfield had won the trip from a radio DJ's call-in contest. She had to go. Still, it was lonely so far from her young son. But soon Anna was a guest at Mark Prince's elegant chateau. Or was she a ...

---

Orchids of Passion

An element of mystery and danger surrounded him. Michael Rutledge was a loner. Years of "delicate" government work had made him all too familiar with violence and betrayal. Here in Hawaii, Mei Li's life had centered around her big, warm family and he...

---

---

---
Frequently Asked Questions (FAQ)
Kit Daley has published 10 books.
Kit Daley does not have a new book coming out soon. The latest book, Orchids of Passion, was published in August 1987.
The first book by Kit Daley, Dance for Two, was published in January 1984.
Yes. Kit Daley has 1 series.