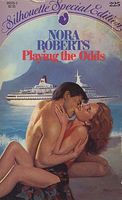 Length:

11 Books

First Book:

March 1985

Latest Book:

March 1999

Genres:

Contemporary Romance

Series Rating:
The MacGregors Series in Order (11 Books)
Book Descriptions for series: The MacGregors
---

In from the Cold

in Harlequin Historical Christmas Stories 1990

Book - 0.2


Christmas was Allanna Flynn's favorite time of year--but when injured Minuteman Ian MacGregor sought refuge in her New England home, Allanna found herself caught in a war of hearts with the handsome rebel. Could this become the season of peace on ear...

---

Playing the Odds

Book - 1


The cards were stacked, though neither of them knew it. Serena MacGregor's father left nothing to chance when he sent Justin Blade -- part Comanche and all gambler -- on a Caribbean cruise. His daughter was evading her responsibility to produce grand...

---

Tempting Fate

Book - 2


The MacGregor clan was closely knit. Caine MacGregor's sister had married Diana Blade's brother, but the emotions Caine felt meeting Diana had nothing to do with family -- everything to do with desire. Caine was something of a ladies' man, a demo...

---

All the Possibilities

Book - 3


There could be nothing between Shelby Campbell and Senator Alan MacGregor. Alan's father had said a MacGregor would as soon have a badger in the house as a Campbell. Shelby's response was that given the family's idea of housekeeping, a badger wouldn'...

---

One Man's Art

Book - 4


Her car had stalled on an isolated road in Maine, and Genevieve Grandeau found herself pounding on the door of an old lighthouse. But the man who answered the door wasn't the old seafaring gent she'd expected... Grant Campbell was a loner--rude, ...

---

For Now, Forever

Book - 5


Anna -- Daniel's wife of forty years -- relives her remarkable courtship, when meddlesome matchmaking patriarch and self-made millionaire Daniel MacGregor faced his biggest challenge: to convince the love of his life to marry him! Here at last is the...

---

The MacGregor Brides

Book - 6


DANIEL MAC GREGOR IS AT IT AGAIN! The MacGregor clan's patriarch is powerful, rich and determined to see his three career-minded granddaughters married. So he hand-picked three unsuspecting candidates as worthy consorts...Now all he has to do is se...

---

The Winning Hand

Book - 7


THE MOUSY MILLIONAIRE In one extraordinary moment, Darcy Wallace was transformed from being down on her luck into a millionaire sharing candlelight dinners with Robert MacGregor Blade. Mac was the most seductive man she'd ever met -- though he ce...

---

---

The MacGregor Grooms

Book - 8


THE MATCHMAKING MACGREGOR He'll stop at nothing to get what he wants. And Daniel MacGregor, powerful patriarch of the MacGregor clan, wants to see his three handsome, eligible--but stubbornly single--grandsons married. So he's found just the women...

---

The Perfect Neighbor

Book - 9


THE MYSTERY MAN NEXT DOOR Brooding loner Preston McQuinn's new apartment, like his life, was just the way he wanted it -- dark and empty. But when sunny Cybil Campbell came barging into his well-ordered gloom, he couldn't deny a grudging fascinati...

---
Awards
Rebellion
1988 RT Reviewers Choice Award -- Historical Romance Set in Scotland
Frequently Asked Questions (FAQ)
There are 11 books in The MacGregors series.
The MacGregors series does not have a new book coming out soon. The latest book, The Perfect Neighbor (Book 9), was published in March 1999.
The first book in The MacGregors series, Playing the Odds, was published in March 1985.
The MacGregors series primarily falls into the Contemporary Romance genre.