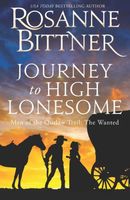 Newest Release
Bibliography:

70 Books - 12 Series

First Book:

January 1983

Latest Book:

September 2022

Rating:
Full Series List in Order
1 - Into the Wilderness: The Long Hunters (Apr-2002)
2 - Into the Valley: The Settlers (Mar-2003)
3 - Into the Prairie: The Pioneers (Jul-2004)
1 - Arizona Bride (Apr-1985)
2 - Arizona Ecstasy (Nov-1989)
1 - Savage Horizons (Feb-1987)
2 - Frontier Fires (Jun-1987)
3 - Destiny's Dawn (Oct-1987)
1 - Tennessee Bride (Jun-1988)
2 - Texas Bride (Nov-1988)
3 - Oregon Bride (Jun-1990)
1 - Capture My Heart (Feb-2017)
2 - A Warrior's Promise (Feb-2018)
1 - Full Circle (Sep-1994)
1.5 - Indian Summer: A Novella (May-1994)
1 - Ride the High Lonesome (Nov-2019)
2 - Lawman in the High Lonesome (Jun-2020)
3 - Journey to High Lonesome (Dec-2020)
1 - Mystic Dreamers (Apr-1999)
2 - Mystic Visions (May-2000)
3 - Mystic Warriors (May-2001)
1 - Outlaw Hearts (Mar-1993)
2 - Do Not Forsake Me (Jul-2015)
3 - Love's Sweet Revenge (Sep-2016)
4 - The Last Outlaw (Sep-2017)
5 - Blaze of Glory (Nov-2021)
1 - Sweet Prairie Passion (1983)
2 - Ride the Free Wind (1984)
3 - River of Love (1984)
4 - Embrace the Wild Land (Dec-1984)
5 - Climb the Highest Mountain (Dec-1985)
6 - Meet the New Dawn (Apr-1986)
7 - Eagle's Song (Jun-1996)
1 - Montana Woman (Mar-1990)
2 - Embers of the Heart (Aug-1990)
1 - Texas Embrace (Apr-1997)
2 - Texas Passions (Mar-1999)
Book List in Order:
70

titles
Sweet Prairie Passion

Where the mountains reared up to kiss the sky, where the land stretched out to a vast, distant sea -- that's where Abigail Trent was heading. But the moment the spirited lovely girl set eyes on the handsome Cheyenne brave, she instantly knew that no ...

---

Ride the Free Wind

Abandoning everything she had ever known, Abigail Trent left her family and chose her fate: to ride with Zeke Monroe, half-breed Cheyenne scout, into the unexplored west. Together they faced peril; together they tasted rapture. Until Zeke found his m...

---

River of Love

Abigail Monroe had been pierced by an arrow as a young girl...and pierced even more deeply by the love of a half-breed Cheyenne brave named Lone Eagle. But now Abigail and Lone Eagle could lose everything--and each other. Trouble was coming across th...

---

Embrace the Wild Land

Pioneers poured into the West; Civil War ravaged the East. But as upheaval racked the continent, the Cheyenne brave Lone Eagle and his courageous white woman Abigail Trent rediscovered their desire in the peaceful New Mexico territory. Their family g...

---

Arizona Bride

SOUTHERN VIXEN When he gazed into Shannon Fitzgerald's emerald eyes, Bryce Edwards was lost in their shimmering green depths. Instantly the Army captain felt afire with desire and he resolved not to leave the Virginia belle until she completely su...

---

Lawless Love

RULED BY HIS GUN When Moss Tucker smelled danger he shot it, when he needed shelter he grabbed it--and when he wanted a woman's touch he bought it. Then he saw Amanda Boone's sparkling azure eyes and the tough, steely outlaw couldn't get her out o...

---

Climb the Highest Mountain

Ever since her gaze locked with Lone Eagle's over a crimson campfire, young Abigail Trent knew her fate lay with the virile Cheyenne scout. She had married him, borne him children, and endured all the hardships of the rugged frontier. But even though...

---

Meet the New Dawn

As railroads etched the earth and fence-stringers carved the range, the Plains Indians fought desperately in their last days of freedom. Each day, the Cheyenne warrior Lone Eagle and his white woman Abigail Trent felt the pain of change - but each ni...

---

Rapture's Gold

A YOUNG WOMAN'S FEAR At seventeen, strong-willed Harmony Jones had made it to Cripple Creek all by herself. Now all she needed to reach her inherited claim was a guide--but the only one she could find was the devastatingly handsome Buck Hanner. H...

---

---

Savage Horizons

UNTAMED PASSIONS AND A WARRIOR'S BLOOD Before the white man walked the land, it belonged to the Sioux, Cheyenne, and Chippewa. But as trappers and pioneers pushed West, the days of innocence ended--and the nights of blood began. Left behind as...

---

Prairie Embrace

RAPTURE ON THE RANGE As the hot sun sparked the fiery highlights of her auburn hair, all Katie Russell could see was the monotonous horizon of Southwest Nebraska. Then, out of the blue, she met the heated gaze of a bronze-skinned, jet-...

---

Frontier Fires

AN INDOMITABLE CLAN IN A MIGHTY LAND TEXAS ... it was where Caleb Sax, the half-breed Indian many knew as Blue Hawk, dared to love a white woman, take her for his own, and with her raise a dynasty in a territory torn by conflict. TEXAS ... where t...

---

Destiny's Dawn

A Magnificent Epic of the Frontier -- And a Man Torn Between His Heritage and His Heart The civilized world called him Caleb Sax, but among the proud Cheyenne he was known as Blue Hawk, the warrior destined to conquer new lands in his search for...

---

Heart's Surrender

FORBIDDEN LOVE When young, blond Andrea Sanders moved to the hills of Georgia, she was terrified that she lived next door to the Cherokee. But when she first saw the muscular, handsome warrior Adam, she was even more afraid of the turbulent passions...

---

Tennessee Bride

ONLY THE WHITE INDIAN COULD SAVE HER FROM A LIFE OF SHAME... Raised in the harsh poverty of the Tennessee hills, Emma Simms hoped that one day she would escape to the excitement of Knoxville. Then her ma died, leaving her alone with her stepfather...

---

Texas Bride

Tell Me You Don't Love Me. Tell Me You Don't Want Me... The Texas sun kissed her hair with gold; the Western sky gave its luminous blue to her eyes. Rachel Rivers was the most beautiful woman Brand Selby had ever met. He noticed her tremb...

---

Ecstasy's Chains

PASSION'S BONDS Rugged Lance Raines rescued Cassandra Elliot from her Cheyenne captor--but he didn't know how long she'd be safe in his hands! Her long, loose hair flowed against his bare chest as they rode his horse; her sumptuous figure fit snug...

---

This Time Forever

LILLY.... IN A LAND FILLED WITH PROMISES SHE REACHED FOR THE RAINBOW AND THE STARS Yearning to leave an impoverished life in Scotland, beautiful, bewitching Lilly Brannigan took a desperate passage to America: sailing with a group of Mormon conve...

---

Arizona Ecstasy

Arizona Bride Lovely Lisa Powers hated the Indian who captured her. He had killed her mother, ransacked her wagon and now planned to plunder her virtue. But as days in the arid Southwest became weeks and months, the fair-skinned Illinois beauty tu...

---

---

Montana Woman

In a Nation Divided, One Woman Would Conquer the Land with Unbridled Spirit, The cruel tides of the Civil War leave young Joline Masters widowed, with a vast Kansas farm to manage on her own. She learns to accept her loneliness, and she's not afra...

---

Sweet Mountain Magic

RAPTURE IN THE ROCKIES Sage MacKenzie had been alone in the mountains too long when he came upon the gorgeous woman who claimed she'd lost her memory. Even though she gazed at him through innocent violet eyes, he convinced himself that no decent l...

---

Oregon Bride

ON A TRAIL OF DANGER, THEIR LOVE KNEW NO BOUNDS In a land of raw winds and merciless sun, Marybeth MacKinder was a quiet, raven-haired young widow traveling westward with her former husband's family and the memories of a loveless marriage. Her...

---

Embers of the Heart

A Land Ravaged by War... A Woman Torn by Divided Passions For more than three long and lonely years, beautiful Anna Kelley waited... never knowing whether her beloved husband, Darryl, was dead or alive, wondering if the bloody Civil War that was d...

---

Sioux Splendor

SHY AS A DOE s a preacher's daughter in Deadwood, South Dakota, blonde and innocent Cynthia Wells rarely left the safety of her father's home. But when the kind-hearted girl heard an Indian boy was to hang the next day in revenge for some miners' de...

---

In the Shadow of the Mountains

DENVER: CITY OF GOLD--CITY OF DREAMS In one magnificent family burned the vision that built a great American city. They were the Kirklands: David--the brave, big-hearted mountain dreamer who risked his life to stake a claim to a new life in the ru...

---

Comanche Sunset

HE SAVED HER LIFE Mail order bride Jennifer Andrews headed for Texas ready for adventure. But when her stagecoach was attacked by Comanche warriors, the auburn-haired beauty wished she'd never left St. Louis. Then all at once the renegades were go...

---

Thunder on the Plains

Lovely young heiress Sunny Landers was utterly devoted to her father's great dream -- a transcontinental railroad that would run from Chicago across the Great Plains to the Pacific. Accompanying Bo Landers on a wagon train west, she discovered for he...

---

Song of the Wolf

AS THE WINDS OF CHANGE SWEPT ACROSS THE VAST WESTERN PLAINS, HER NAME WAS A CRY OF HOPE, FREEDOM -- AND DESIRE They called her Medicine Wolf, and she was born at a time when buffalo herds stretched farther than the sharpest eye could see-a time ...

---

---

---

---

Outlaw Hearts

From the author of Thunder on the Plains comes the sweeping, heart-stirring saga of a man who lived by the gun--and the daring young woman who taught him how to love .... At twenty, Miranda Hayes had known more than her share of heartache and loss...

---

Tender Betrayal

BELOVED ENEMIES Beautiful proud Audra Brennan felt like a stranger in a foreign land when she came north from Louisiana to study music the summer she was seventeen. But when she savored her first forbidden taste of desire in the arms of handsome law...

---

Unforgettable

Orphaned at a tender age, sassy, street-wise Ally Mills fought her way to the dusty plains of Oklahoma. No one was going to keep her from her dreams of independence, not even tall, rugged Ethan Temple. The Cheyenne half-breed stirred feelings deep in...

---

Indian Summer: A Novella

in Cherished Moments

Join three of your favorite storytellers on a tender journey of the heart... Cherished Moments is an extraordinary collection of breathtaking novellas woven around the theme of motherhood. Before you turn the last page you will have been swept fro...

---

Wildest Dreams

Lettie MacBride knew that joining a wagon train heading west was her only chance to begin anew, far from the devastating memories of the night that had changed her forever. But though she might leave the past behind, she never believed she would esca...

---

Full Circle

Some loves are forbidden...and some cannot be stopped. When sheltered missionary Evelyn Gibbons arrived at the South Dakota reservation, the last thing she wanted was to fall in love. Yet from the moment she clashed with the man they called Black ...

---

Until Tomorrow

Tonight, they had passion. But love would have to wait ... UNTIL TOMORROW Addy Kane couldn't wait to leave her small Illinois hometown to take a teaching job in the gold-rich Colorado hills. Then robbers burst into the bank where she was withdrawi...

---

Chase the Sun

ALL HE LIVED FOR WAS VENGEANCE... Just a boy when he saw his family massacred, Captain Zack Myers had joined the army for one purpose only -- to take revenge against the Indians who'd destroyed his world. Even the peerless beauty of a colonel's daug...

---

The Forever Tree

THEY CAME FROM TWO DIFFERENT WORLDS... Will Lassater had come to California to build a logging empire, never expecting to fall in love with this golden land. Then he beheld the exotic Spanish beauty called Santana, and the rugged New Englander was f...

---

---

Eagle's Song

Warriors and dreamers, pathfinders and rebels, the Monroes are a family divided between their Indian heritage and their white blood. At their head is the indomitable Abigail Trent Monroe, whose love for Cheyenne warrior Lone Eagle became a legend. No...

---

Tame the Wild Wind

A MAN HAUNTED BY VENGEANCE Half-breed Gabe Beaumont had had to choose between the Sioux tribe of his mother and the white family of his father, and his choice had cost him everything. Settlers had murdered his Indian wife and child, and now reveng...

---

Miss Chocolate and the Law

in Love By Chocolate

Chocolate is the ultimate aphrodisiac. And these four enchanting stories of love, passion, and chocolate are guaranteed to melt your heart. Each story features a decadent chocolate dessert recipe to satisfy your sweet tooth and your hunger for romanc...

---

Texas Embrace

With her father murdered by renegade Apaches, Tessa Reeves feared she'd be their captive forever - that no one would ever find her. And even if she were found, she'd be scorned by those who called Indians savages...and their woman prisoners forever u...

---

For the Sake of Love

in Cherished Love

Beautiful Sandra Brooks, a widowed schoolteacher whose husband was murdered by Indians, must question her beliefs when her son befriends a handsome half-breed who wants an education and her heart....

---

Love Me Tomorrow

Connecticut socialite Maggie Dumont's marriage begins with a grand wedding and great dreams. But her hopes for a happy life are soon shattered by her new husband, the bitter son of a wealthy New York businessman, who catches gold fever and insists th...

---

Texas Passions

When old enemies of ex-Texas Ranger John Hawkins seek revenge against him and his beloved wife, they steal a treasure beyond price: their young son. Texas, and his little sister, Honor, John and Tess have become pawns in a cruel game meant to lure th...

---

Mystic Dreamers

For over a decade, Rosanne Bittner has enchanted her readers with tales of adventure and romance in the times before the White Man settled the West. Now, in the tradition of Kathleen O'Neal Gear and W. Michael Gear, the bestselling author of Song of ...

---

Love's Bounty

LOVE'S SWEET REWARD Bent on revenge, Callie Hobbs hires a bounty hunter to chase down the outlaws who took her mother's life, stole her means of survival and destroyed her innocent trust in the good of mankind. She does not know that the m...

---

Mystic Visions

In Mystic Dreamers, best-selling author Rosanne Bittner began a compelling saga with the meeting of Buffalo Dreamer, a holy woman, and Rising Eagle, a warrior whose powers were unmatched, for he had been blessed by the Feathered One. Now, in a new st...

---

---

Mystic Warriors

The white buffalo is a sacred and holy creature to the Lakota. Buffalo Dreamer, a holy woman, and her husband, Rising Eagle, have not only been blessed to see the white buffalo, they have eaten of its heart and have been told by the sacred beast that...

---

Into the Wilderness: The Long Hunters

Set in I 750s Pennsylvania. Into the Wilderness depicts life in the Allegheny Mountains and the Northeast at the beginning of the French and Indian War. When sixteen-year-old Jessica Matthews is attacked by Ottawa Indians, she is saved by the darkle ...

---

Into the Valley: The Settlers

Into the Valley is the moving story of one woman torn between two brothers who have drastically different visions of the future of their country. In 1780, during the turbulent days of the American Revolution, Annie Barnes is engaged to stable, loving...

---

Where Heaven Begins

With rough miners stampeding to the Klondike's golden hills as her shipmates, Elizabeth Breckenridge sets sail for Alaska to find her brother in Dawson. But when Elizabeth falls overboard midjourney, she is rescued by a man very unlike her minister b...

---

Into the Prairie: The Pioneers

Into the Prairie continues Rosanne Bittner's retelling of the growth of America through the descendants of Noah and Jess Wilde, featured in the first book of this series, Into the Wilderness. Grandson Jonah Wilde, his wife Sadie, and their three-year...

---

Walk By Faith

AN UPLIFTING ROMANCE SET DURING THE 1860s LAND RUSH ABOUT THE POWER OF FORGIVENESS... To provide a better life for her young daughter, Clarissa Graham joins a wagon train headed west. But as the trail turns increasingly dangerous, Clarissa fears her...

---

Follow Your Heart

Devastated by the droughts and plagues that have ravaged her family's homestead on the Nebraska Plains in the 1870s, settler Ingrid Svensson regards wealthy Jude Kingman as her sworn enemy. But Ingrid gradually sees that Jude shares her commitment...

---

Paradise Valley

"Stop Or I'll shoot your hat off." Maggie Tucker has just gone through hell. Outlaws murdered her husband, looted their camp, and terrorized Maggie before leaving her lost and alone in the wilds of Wyoming. She isn't about to let another strange ...

---

Desperate Hearts

RT Book Reviews Career Achievement Award-winning and USA Today Bestselling author Rosanne Bittner pens a historical Western romance filled with dangerous cowboys, capable heroines, and an epic love story that sweeps across the Old West. SHE'S A WO...

---

Do Not Forsake Me

FATE BROUGHT THEM TOGETHER. HIS PAST MAY TEAR THEM APART. Miranda Hayes' life was changed the day she faced down infamous gunslinger Jake Harkner...and walked away with his heart. Their fates have been intertwined ever since. Hunted by the law, fl...

---

Love's Sweet Revenge

Their Passion Shaped a Nation Over the years, Jake and Miranda Harkner have endured all the dangers a wild and brutal West could throw at them. Now, settled on their ranch in the beautiful Colorado hill country, they've finally found peace. But fo...

---

Capture My Heart

Claire Stewart has inherited her father's freighting business based in 1864 Denver, Colorado. Determined to prove she is capable of running the business on her own, Claire must compete against a wealthy businessman who wants to bring her down.Two ...

---

The Last Outlaw

True Love Never Dies Times have changed, and the old Wild West is a thing of the past. Nestled in his beautiful Colorado ranch, surrounded by family, infamous former outlaw Jake Harkner's hung up his guns for good and finally found a measure of peac...

---

A Warrior's Promise

Claire Matthews is carrying the child of Cheyenne half-breed, Two Wolves, who promised in marriage to live his life in the white world under the name his white mother gave him â€" Peter James Matthews. Peter is educated and can conduct himself as whi...

---

Logan's Lady

Two worlds in conflict Two hearts intertwined One love worth fighting for Wealthy Englishwoman Lady Elizabeth Baylor longs for adventure. She leaves for America full of hope, only to lose everything to a villain hiding treachery behind his smile...

---

Christmas in Paradise

in Longing for a Cowboy Christmas

Find your very own cowboy to keep warm these long, wintry nights as you cozy up with six sweeping, epic tales of heroism, passion, family and celebration from bestselling authors Leigh Greenwood, Rosanne Bittner, Linda Broday, Margaret Brownley, Anna...

---

Ride the High Lonesome

A man bent on revenge A woman determined to survive A land that knows no mercy Meet the Men of the Outlaw Trail When Kate Winters is left stranded and defenseless in outlaw country, she knows there's little chance she'll make it out ali...

---

Lawman in the High Lonesome

Civil War widow Elly Lowe is heading for California after losing everything in a prairie fire. She and her family need a new start. On the way, fate interrupts Elly's plans in a horrifying way, leaving her desperate for help. In a small Nebraska...

---

Journey to High Lonesome

In 1868 Gainesville, Texas, Ashley Vale, 22, welcomes home Nick Calhoun, the man she loves and who has been missing for six years after marching off to war. But events involving an escape from a Union prison have left Nick a wanted man, and he has co...

---

Blaze of Glory

A man haunted by his outlaw past. The woman who loves him. A tight-knit family he holds dear. Old enemies out to kill him. Jake Harkner loves hard. He fights hard, too, determined to protect the woman and family he believes he doesn't...

---

Dancing Beneath You

One Wolf. One Warrior. One Woman. Three Lives that Will Change Forever. Finally divorced from a violently abusive man, Carmen Wolfe is ready to enjoy life again, but not ready to love again. During a performance of Native American song and da...

---
Award-Winning Books by Rosanne Bittner
Embers of the Heart
1990 RT Reviewers Choice Award -- American Historical Romance
This Time Forever
1989 RT Reviewers Choice Award -- Fictionalized Biography
Frequently Asked Questions (FAQ)
Rosanne Bittner has published 70 books.
Rosanne Bittner does not have a new book coming out soon. The latest book, Dancing Beneath You, was published in September 2022.
The first book by Rosanne Bittner, Sweet Prairie Passion, was published in January 1983.
Yes. Rosanne Bittner has 12 series.