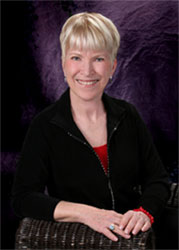 About the Author
Bestselling author Vicki Lewis Thompson has written over seventy romance novels. After earning her Bachelors and Masters Degrees in English, Thompson has been both a journalist and high school teacher. It was her husband who encouraged her to write a romance. She sold her first book in 1984 to the Harlequin Temptation line. Her steamy writing led her to be one of the launch authors for the Harlequin Blaze and Harlequin duets lines. She is also the author of "Nerd in Shining Armor" which was a 2003 Reading with Ripa selection. She lives in Arizona with her husband where they share the hobbies of travel and laughter.
Full Series List in Order
1 - Blonde With a Wand (Feb-2010)
2 - Chick with a Charm (Mar-2010)
1 - Sweet-Talking Cowboy (Feb-2020)
2 - Big-Hearted Cowboy (Apr-2020)
3 - Baby-Daddy Cowboy (Jun-2020)
4 - True-Blue Cowboy (Aug-2020)
5 - Strong-Willed Cowboy (Oct-2020)
6 - Secret-Santa Cowboy (Dec-2020)
7 - Stand-Up Cowboy (Feb-2021)
8 - Single-Dad Cowboy (May-2021)
9 - Marriage-Minded Cowboy (Aug-2021)
10 - Gift-Giving Cowboy (Nov-2021)
1 - Mystery Lover (Jul-2001)
2 - Notorious (Aug-2001)
1 - Over Hexed (Oct-2007)
2 - Wild & Hexy (Jun-2008)
3 - Casual Hex (Mar-2009)
1 - A Cowboy's Strength (Feb-2017)
2 - A Cowboy's Honor (Apr-2017)
3 - A Cowboy's Return (May-2017)
4 - A Cowboy's Heart (Sep-2017)
5 - A Cowboy's Courage (Nov-2017)
6 - A Cowboy's Christmas (Dec-2017)
7 - A Cowboy's Kiss (Jan-2018)
8 - A Cowboy's Luck (Mar-2018)
9 - A Cowboy's Charm (Jun-2018)
10 - A Cowboy's Challenge (Jun-2018)
11 - A Cowboy's Baby (Nov-2018)
12 - A Cowboy's Holiday (Nov-2018)
13 - A Cowboy's Choice (Feb-2019)
14 - A Cowboy's Worth (Apr-2019)
15 - A Cowboy's Destiny (Jul-2019)
16 - A Cowboy's Secret (Oct-2019)
17 - A Cowboy's Homecoming (Dec-2019)
1 - Nerd in Shining Armor (Apr-2003)
2 - The Nerd Who Loved Me (Aug-2004)
3 - Nerd Gone Wild (Feb-2005)
4 - Gone with the Nerd (Aug-2005)
5 - Talk Nerdy to Me (Feb-2006)
6 - Nerds Like It Hot (Aug-2006)
7 - My Nerdy Valentine (Jan-2007)
8 - Nerds Are From Mars (Nov-2013)
1 - One Night With a Billionaire (May-2013)
2 - Tempted By a Cowboy (Jun-2013)
3 - Safe in His Arms (Jul-2013)
1 - Having the Cowboy's Baby (Feb-2022)
2 - Stoking the Cowboy's Fire (May-2022)
3 - Testing the Cowboy's Resolve (Aug-2022)
4 - Rocking the Cowboy's Christmas (Feb-2023)
5 - Roping the Cowboy's Heart (Feb-2023)
6 - Tempting the Cowboy's Sister (May-2023)
1 - Crazy for the Cowboy (May-2015)
2 - Wild about the Wrangler (Nov-2015)
1 - Wanted! // What a Cowboy Wants (Jun-2010)
2 - Ambushed! // A Cowboy's Temptation (Jul-2010)
3 - Claimed! // Claimed by the Cowboy (Aug-2010)
4 - Should've Been a Cowboy (Jun-2011)
5 - Cowboy Up (Jul-2011)
6 - Cowboys Like Us (Aug-2011)
6.1 - Merry Christmas, Baby: It's Christmas, Cowboy! (Dec-2011)
6.2 - Already Home // It's About Time, Cowboy (May-2012)
7 - Long Road Home // Count on a Cowboy (Jun-2012)
8 - Lead Me Home // The Way to a Cowboy's Heart (Jul-2012)
9 - Feels Like Home // Trust in a Cowboy (Aug-2012)
10 - I Cross My Heart // Only a Cowboy Will Do (Jun-2013)
11 - Wild at Heart // Wild About the Cowboy (Jul-2013)
12 - The Heart Won't Lie // Cowboys and Angels (Aug-2013)
13 - Cowboys & Angels (Dec-2013)
14 - Riding High (Jun-2014)
15 - Riding Hard (Jul-2014)
16 - Riding Home (Aug-2014)
17 - A Last Chance Christmas (Dec-2014)
17.5 - It's Christmas, Cowboy (Nov-2021)
1 - The Colorado Kid (Apr-2000)
2 - Two in the Saddle (May-2000)
3 - Boone's Bounty (Jun-2000)
4 - That's My Baby (Sep-2000)
1 - Midnight Thunder (Jun-2015)
2 - Thunderstruck (Jul-2015)
3 - Rolling Like Thunder (Aug-2015)
4 - A Cowboy Under the Mistletoe (Dec-2015)
5 - Cowboy All Night (Jun-2016)
6 - Cowboy Untamed (Aug-2016)
7 - Cowboy After Dark (Jul-2016)
8 - Cowboy Unwrapped (Dec-2016)
9 - In the Cowboy's Arms (Jun-2017)
10 - Say Yes to the Cowboy (Jul-2017)
11 - Do You Take This Cowboy? (Aug-2017)
1 - The Trailblazer (Sep-1995)
2 - The Drifter (Oct-1995)
3 - The Lawman (Nov-1995)
1 - Be Mine, Valentine (Feb-1989)
2 - Forever Mine, Valentine (Feb-1990)
1 - A Werewolf in Manhattan (Jan-2011)
1.5 - Werewolf in Greenwich Village (Sep-2011)
2 - Werewolf in the North Woods (Oct-2011)
3 - Werewolf in Seattle (Apr-2012)
4 - Werewolf in Denver (Oct-2012)
5 - Werewolf in Alaska (Jul-2013)
6 - Werewolf in Las Vegas (Mar-2014)
Multi-Author Series List
Single, Sexy...and Sold!
(Mar-1999)
Pure Temptation
(Aug-1999)
Double Exposure
(Jun-2002)
She Used to Be Mine
(Jul-2002)
71 -
A Calculated Risk
(Feb-2010)
The Nights Before Christmas
(Nov-2001)
Drive Me Wild
(Apr-2003)
Illicit Dreams
(Jul-2003)
Santa in a Stetson
(Dec-1997)
Your Place or Mine
(Apr-1991)
13 -
Her Best Friend's Baby
(Apr-2001)
3 -
Manhunting in Montana
(Apr-1998)
One Mom Too Many
(Apr-1997)
Acting on Impulse
(Jan-2002)
Impulse
(Sep-1988)
Adam Then and Now
(Mar-1995)
Holding Out for a Hero
(Aug-1996)
Single in the Saddle
(Aug-1998)
Every Woman's Fantasy
(Apr-2001)
17 -
Truly, Madly, Deeply
(Aug-2002)
Hero in Disguise
(Dec-1996)
Wedding Song
(Aug-1994)
Book List in Order:
173

titles
---

Mingled Hearts

Sharing an apartment was only the beginning Faced with financial pressures, Stephanie Collier was forced to share her oceanfront apartment. But she soon realized that living with Lloyd Barclay wouldn't be easy. They had opposite views on almost ever...

---

Promise Me Sunshine

The choice was hers: love or loyalty Single parent Nell Richards had no time for romance. Every moment was taken -- working in her barbershop, raising a growing daughter, leading a Girl Scout troop. Then Barry Jackson arrived at her door. Warm, at...

---

When Angels Dance

BOTH OF THEM HAD A LOT TO LEARN... Angie Nichols, public-relations consultant, needed Ben Sheaffer to make her promotional campaign a success. She was prepared to do almost anything. Ben Sheaffer, computer jock, devoted himself to his floppy di...

---

An Impractical Passion

Mother Nature was working overtime Friday the thirteenth, and a hurricane was blowing Sydney Blake's cottages away. Not the best day to meet the love of her life! Yet when Colin Lassiter emerged from the rubble, smiling wickedly, Sydney was charme...

---

Butterflies in the Sun

LIFE WAS FINALLY HERS FOR THE TAKING! Meredith Logan was just about to pay off the last debt left over from a no-good husband. She could almost taste the freedom. A fun-filled trip to Arizona was first on the agenda . . . . For thirty-six-year-...

---

The Fix-It Man

He fixed everything that mattered When Diana Thatcher, widowed mother of two, advertised for a live-in handyman, she expected a history scholar in tweeds and horn-rims. Not this suntanned fraud in cutoffs, who grinned easily and complained of the ...

---

As Time Goes By

Youthful infatuation couldn't compare to this If only Cliff Hamilton had opened his eyes ten years ago! In high school Sarah Melton had been crazy about this warm, sensitive guy, though she'd hidden her feelings. She and Cliff had been fellow hist...

---

Cupid's Caper

His handwriting gave him away Letter carrier Cassie Larue couldn't help drooling over the mail Andrew Bennett sent out. A student of handwriting analysis, she was intrigued by his penmanship . . . and by him. His dotted i's revealed a loyal nature...

---

Golden Girl

CYCLING WAS HER ONLY PASSION For eleven years Rachel York had struggled and sacrificed to be the very best. Now she was going for the gold--literally--aiming for a spot on the Olympic team. Yet the road to glory was fraught with difficulty. The...

---

---

The Flip Side

So much was at stake . . . Amy Hobson had invested in a piece of Hawaii, and she was dying to see it. Entering a radio station's hula contest didn't win her the first-prize trip, but it did renew her friendship with dynamic deejay Jack Bond. When...

---

Impulse

The Montclair Emeralds and Impulse April Foster had always been offbeat. She'd almost married Dan Butler once, but his cautious nature had gotten in the way. Eight years later nothing had changed; she still found him maddeningly attractive ... and...

---

Sparks

HE SPARKED HER ANGER--AND HER PASSION Jeb Stratton's fire prevention program for juveniles was controversial. Nobody in Melwood Park believed kids started fires for attention, least of all Denny Galloway's mother, Liza. Yet the boy had torched hi...

---

Be Mine, Valentine

There was nothing predictable about her love life If it hadn't been for a freak snowstorm, Roxie Lowell wouldn't have felt compelled to take eccentric Charlie Hartman under her wing--only to become the object of his matchmaking zeal. He claimed he...

---

Full Coverage

She wasn't covered for heartbreak Giving away teddy bears was a crazy way for Max Armstrong to attract customers--or so insurance agent Clare Pemberton thought. She figured she'd have no trouble, wiping out his cuddly brand of competition ... unti...

---

'Tis the Season

She had interior motives Anna Tilford's Connecticut farmhouse was the perfect weekend escape from the pressures of designing interiors for New York's elite. But her peace was shattered when her country neighbor, Sam Garrison, announced that his ev...

---

Connections

It started as a ruse Sociology prof Emily Johnson had done some unusual things in the name of research. But waitressing in a Tucson watering hole beat all! She'd taken the summer job in order to study ironworkers who frequented the bar.... Ned ...

---

Forever Mine, Valentine

Hartman strikes again! Old Charlie Hartman was out of his mind! To insist that Spence Jegger would marry the first woman he saw on Valentine's Day was pure madness, given Spence's opinion of marriage. And an aging vagabond playing St. Valentine wa...

---

Your Place or Mine

Lila Kedge: Divorced mother of two with an all-consuming real-estate business--and no room for romance. Bill Windsor: A daredevil type with Paul Newman looks, and a passion for race-car driving. He lived hard and fast. A shipboard fling with Bi...

---

It Happened One Weekend

Weekend from hell! Nowhere in stockbroker Adrienne Burnham's appointment hook was there room for rugged, devil-may-care Matt Kirkland! He lived for adventure and spontaneity. She color coded her panty hose. She never should have accepted His of...

---

---

Valentine Mischief

When Reid Halstead appeared in Jessie Neal's photography studio, it wasn't to order one of her Valentine glamour shots. Yet Jessie couldn't resist teasing the conservative C.E.O. with a naughty picture of herself in a negligee - not the kind of visua...

---

Critical Moves

From wrestling coach to baby-sitter Advertising executive Ginny Westerfelt needed someone to supervise her son during the summer. Thirteen-year-old Arnold had a brilliant idea. Why not hire the wrestling coach? So Mitch Adamson moved in, traini...

---

Anything Goes

If she only knew... Laura Rhodes had dreamed of striking out on her own. But strange men started following her the minute she arrived in San Francisco. Then, the man she planned to marry hightailed it out of town. Laura was stranded! Until ex bike...

---

Ask Dr. Kate

A SEXUAL REVOLUTION Dr. Kate Newberry couldn't believe the outcry when her self-help book hit the stands! Okay, the title--Getting the Sex You Need From Your Man--was bound to receive some reaction. On tour, Kate had grateful women mobbing her and...

---

Fools Rush in

A BAD MOVE When Kyla Finnegan threw herself at Pete Beckett and demanded they make love, she had only one thing on her mind--help! Hiding from two thugs in Pete's arms seemed like a good idea at the time. But now she wished she'd kept her troubles...

---

Only in the Moonlight

LOVER ...OR LIAR The note, typed on plain bond paper, and addressed to the author, contained a single quote from her latest book. "She searched frantically for a way to save her child, knowing it would be hopeless to try. " Dani Goodwin was ...

---

Loverboy

HE WAS EVERY WOMAN'S FANTASY! Luke Bannister swore he'd never return to his hometown of Chandler, Arizona. He was sick of being labelled a delinquent and sick of his father's constant abuse. But most of all, he was sick of hearing that he wasn't g...

---

Wedding Song

KEEP YOUR LOVE FOR ETERNITY For generations, couples have been coming to Eternity, Massachusetts, to exchange wedding vows. Legend has it that those married in Eternity's chapel are destined for a lifetime of happiness. And the townsfolk are more ...

---

The Bounty Hunter

HOT ON HER TRAIL Being a drifter suited Gabe Escalante. Tough and independent, he roamed the country working as a bounty hunter. But the man of justice had a vendetta against a certain dangerous criminal. So when Gabe heard the creep was on the lo...

---

Adam Then and Now

WHAT GOES AROUND... Loren Stanfield hadn't seen Adam Riordan in twenty-three years. Yet the moment he stepped off the plane, she felt like a teenager again. Until she noticed Adam's sophisticated eighteen-year-old daughter, Daphne, flirting with L...

---

---

The Trailblazer

THE TRAILBLAZER T R. McGuinnes: A Manhattan businessman. Intelligent. Decisive. And a little wild. He's come out West looking for adventure. But he doesn't expect his greatest challenge to be a sexy spitfire named Freddy. HIS WOMAN Freddy Single...

---

The Drifter

The Drifter Chase Lavette - A New York trucker turned cowboy. A loner, who avoids commitment of any kind. But when his one-time lover, Amanda Drake, comes out to visit the True Love ranch, Chase knows his roamin' days are over... His Lady Amand...

---

The Lawman

The Lawman Joe Gilardini--A New York cop. Burned oust and cynical. He's investigating the "accidents" occurring at the True Love ranch. His primary suspect is sexy Leigh Singleton--the one woman Joe wouldn't mind keeping under surveillance... day an...

---

Holding Out for a Hero

TEXAS MEN MAGAZINE PRESENTS: Bachelor of the month--Tanner Jones: Six feet tall, drop-dead gorgeous and filthy rich to boot, this rugged construction worker is looking for a woman who can love him for himself-- not his money. Through Texas Men ...

---

Stuck With You

He wasn't about to be hog-tied! Wyatt Logan, champion bull rider, isn't ready to settle down. But from the moment he spots Charity Webster's cute little behind stuck in his aunt Nora's doggy door, he knows he's going to end up eating dust. Then...

---

Hero in Disguise

When Sauk warriors pitched wigwams at Timberlake Lodge and started reenacting the wars of 1832, manager Sheila Lawson didn't blink an eye, until she caught sight of their magnificent leader. She got to play his tent mate and wanted to make it auth...

---

Mr. Valentine

He's the perfect lover--on paper Jack Killigan has just sold his first book, a steamy romance novel, under the pen name of Candy Valentine. Now, if only he could convince his inspiration, Krysta Lueckenhoff, to see him as a man, not a brother. So,...

---

One Mom Too Many

The Game of Matchmaking The players--Maureen O'Malley and Bridget Kingsford Two mothers with marriage on their minds--for their kids. Little do they suspect that they have done their work too well.... The pawns--Daniel O'Malley and Rose Kingsf...

---

The Heartbreaker

He left a trail of broken hearts behind him... Mike Tremayne had come home. After eight years of drifting, he was finally ready to face beautiful Beth Nightingale, the woman who'd haunted his dreams since the night he left her. But running into Be...

---

Going Overboard

A Cruise on the Titanic, anyone? A holiday on a houseboat. To Andi Lombard, it sounded like the perfect way to spend some time with her pregnant little sister Nicole, before the big day. She hadn't counted on getting stuck on the Moby Dock of houseb...

---

---

Santa in a Stetson

Santa never looked so good! Jo Cassidy had always had a weakness for cowboys - especially strapping, sexy devils like Russ Gibson. In one short night, he'd done more than make her weak - he'd love every inch of her...and then walked out. That was ...

---

Manhunting in Montana

The chase Photographer Cleo Griffin was frustrated. She'd become famous for her calendar shots of sexy, sweaty, muscle-bound hunks--but she was taking more cold showers than she was photos! She needed a man! So, on her upcoming shoot in Montana, Cle...

---

Operation Gigolo

Objective--To stop Lynn Morgan's feuding parents from filing for divorce. Approach--Introduce a tattooed, leather-wearing hell-raiser as their prospective son-in-law. The man for the job--Lawyer Tony Russo. Lynn's parents would join forces t...

---

Single in the Saddle

Bachelor of the Month--Stony Arnett This strong, sexy cowboy loves his ranch, his dog and, most of all ... his freedom! Too bad he doesn't know his roamin' days are about to be cut short.... Daphne Proctor wanted a husband and through Texas Men m...

---

Once Upon a Mattress

Amelia Townsend's Bedroom Fantasies store is a tremendous hit, but being the boss has definite drawbacks. Though she feels a bit awkward indicating any personal interest in her deliveryman, Will Murdoch, the guy makes her salivate every time he muscl...

---

Single, Sexy...and Sold!

BACHELOR AUCTION And you're invited... Fifty fabulous heroes are up for sale-- Including Bachelor #27 Jonah Hayes This shy, hunky firefighter performs heroic acts every day. But little did he guess that rescuing a runaway puppy would land him...

---

With a Stetson and a Smile

COWBOY IN TRAINING? New York investment banker Quinn Monroe has never been the knight-in-shining-armor type. But then again, he's never been propositioned by the likes of gorgeous Jo Fletcher before. She desperately needs a cowboy to help her sav...

---

Pure Temptation

Summer Projects 1) Get in shape 2) Prepare for NY move 3) Lose virginity LOSIN' IT... Tess Blakely's innocence is getting downright embarrassing. But growing up in a small town with four very big brothers ...well, she might as well have bee...

---

Bachelor Father

Every Man Has His Price! Lost Springs Ranch was famous for turning young mavericks into good men. So word that the ranch was in financial trouble sent a herd of loyal bachelors stampeding back to Wyoming--to put themselves on the auction block! ...

---

Bringing Up Baby New Year

It's a wonderful life... Bachelor Joe Northwood had it made. He came home every night to find the pillows fluffed, his sheets drawn back.. .and his libido in overdrive, courtesy of his sexy housekeeper. As the New Year approached, Joe's only resol...

---

---

The Colorado Kid

THE RANCHER Smart, sexy, and very, very conservative, Sebastian Daniels prides himself on always doing the right thing. So why didn't he know he had a child? HIS WOMAN Spunky Matty Lang has been hopelessly, secretly, in love with Sebastian for years...

---

Two in the Saddle

THE WRANGLER Travis Evans loved beautiful women-and Gwen Hawthorne was defintely a beauty. But before he could make Gwen his, another tiny female stole his heart. HIS WOMAN Gwen Hawthorne had a weakness for cowboys-especially hunky. Travis Evans. Sh...

---

Boone's Bounty

The Blacksmith Boone Connor liked being a loner, plain and simple. In his estimation, women just got a guy into trouble. And he had enough of that already.... His Woman Shelby McFarland and her young nephew were on the run. When a freak snowstor...

---

That's My Baby

Daddy knows last... Nat Grady is finally home -- older and wiser. A year and a half ago, when the woman he'd loved had hinted at commitment, Nat had run far and fast. But now he knows he can't live without her. So he's back, hoping they'll be able...

---

Every Woman's Fantasy

Bachelor of the Month -- Mark O'Grady This charming rogue has been looking for love,,,and finding it far too easily! But now he's ready to settle down. And he's looking for a woman who will make him happy -- day and night... Sexy stockbroker Mark...

---

Her Best Friend's Baby

She was having his baby... Mary Jane Potter owed her best friend for practically raising her, so having a child for Arielle didn't seem like such a sacrifice -- until Arielle's husband arrived with news that would change their lives forever.... ...

---

Mystery Lover

When an unexpected storm hits, rancher Jonas Garfield takes cover in a nearby cave ...and finds himself seduced senseless by an enigmatic temptress who refuses to tell him her name. All he knows is that this sexy woman wants him. And for Jonas, that'...

---

---

---

The Nights Before Christmas

THE NIGHTS BEFORE CHRISTMAS WEREN'T MEANT FOR SLEEPING... All Suzanne Talbot wants for Christmas is Greg Stone. She's fantasized about the sexy handyman for months. And she's recently heard from other women in her building that leaky pipes aren't al...

---

---

Double Exposure

HE WAS THE BEST MAN... It should have been simple. But when Kate Cooper offered to pick up Harry Armstrong, the best man at her sister's upcoming wedding, at the airport, she never dreamed what she was getting into. How could she have guessed that Ha...

---

She Used to Be Mine

Nothing much has changed in Crystal Creek... till now. The mysterious Nick Belyle has shown up in town, and what he's up to is anyone's guess. But one thing is certain. Something big is going down in Crystal Creek, and folks aren't going to rest t...

---

---

Door #1: Heaven Scent

Jamie Ruskin never considered using her knowledge of aromatherapy to help her attract men -- until now. This Valentine's Day, she's going to get the guy she's lusted after for years -- rugged Dev Sherman. Armed with essential, sensual oils, Jamie's p...

---

Nerd in Shining Armor

Beauty and the Geek For Genevieve Terrence it seemed like a dream come true: a weekend alone on Maui with her sexy boss, Nick Brogan. But little did she know that Nick had dreams of his own--a nefarious scheme that nearly got her killed on the fli...

---

Drive Me Wild

SHE'S LIVING LIFE IN THE FAST LANE... Aspiring novelist Molly Drake wants only two things out of life -- a book contract...and one sizzling night with her driver, Alec Masterson. The contract seems unlikely, especially since, according to her agen...

---

Illicit Dreams

Lindsay Scott has a bad case of the hots for her sexy neighbor Hunter Jordan. And hearing his nightly activities through the apartment walls is only making her hotter. That is, until she discovers Sexcapades, a book of erotic invitations, and decides...

---

---

Fooling Around

This April 1, anything is possible... Dare to desire... When Lena Walsh is handed a challenge to find the hottest guy she knows and take him out for an unusual date, she sets her sights on the office Adonis, Andre Dumont. But when silly turns to ...

---

Old Enough To Know Better

New York Times bestselling author Vicki Lewis Thompson proves that things aren't always better with age... When twenty-year-old PR exec Kasey Braddock accepts her coworkers' dare to hit on the gorgeous new landscaper, she's excited. Finally here's...

---

The Nerd Who Loved Me

She's got the high-kicks... Lainie Terrell is no ordinary single mother. With feathers in all the right places, she's one of the hottest showgirls in Vegas. Aside from a hot-tempered ex-boyfriend on her sequined tail, Lainie's biggest problem is fin...

---

Killer Cowboy Charm

TV talk-show host Meg Delaney needs a surefire way to boost ratings. Her solution? To introduce her viewers to "The Hottest Cowboy in the West" -- once she finds him, that is. Luckily, after one trip to the Circle W Ranch, Meg finds her man...because...

---

Surviving Sarah

Financial planner Luke Richards has entered a battle-of-the-brawn reality TV show for one reason. He wants the "prize" -- Sarah Donovan, former teen star and Luke's high-school fantasy. Only fantasy has nothing to do with Reality TV......

---

Nerd Gone Wild

THE HEIRESS WITH A HOT FORTUNE AND LOOKS TO MATCH... Inheriting a fortune means less to Ally Jarrett than fulfilling her real dream: to take off for the wilds of Alaska and photograph animals. Unfortunately she's also inherited her grandmother's per...

---

A Spell of C.R.A.F.T.

Welcome to Brokenoggin Falls, population 567 (sometimes) where: - The housewives are not only desperate, they're Witches - The skeletons in the closet are as real as the bodies in the cellars - The spells cast by moonlight frequently go awry -...

---

Gone with the Nerd

A beauty looking for her inner nerd. Movie star Zoe Tarleton has everything but respect. Now she's determined to get it by snagging the coveted role of a plain-Jane chemist. All she needs is for her decidedly un cool attorney, Flynn Granger, to teac...

---

---

Talk Nerdy to Me

Fashion model Eve Dupree is fed up with being labeled "the pretty one" while her sister's called a genius. Eve's got loads of brilliant ideas, not the least of which is the invention she's building in her garage. But when she turns to the nerd next d...

---

Just Whistle

There's no way jaded Zachary Evans will help new grad Hannah Robertson land a swishy publishing gig. What's the point? She can't even hail a cab! But Hannah knows what Zach needs to find his inner optimism. It's called S-E-X...in NYC....

---

Nerds Like It Hot

She's unleashed her inner vixen... Hollywood makeup artist Gillian McCormick wouldn't normally be caught dead on a cruise aimed at single geeks. But as the sole witness to a murder, hiding out may be her only chance at staying alive. With P.I. Lex M...

---

My Nerdy Valentine

WHEN A NERDY BEAUTY... Aspiring psychologist Amanda Rykowsky's schedule is certifiable. Between study, bartending, and an internship with a sex therapist whose techniques would make a Playboy bunny blush, there's zero time for romance. Still, Amanda...

---

Drive Me Crazy

/ Contemporary Romance

Drive Me Crazy by Vicki Lewis Thompson released on Apr 01, 2007 is available now for purchase....

---

Over Hexed

The key to finding true love... Banished. Until their unconventional techniques land them in hot water, Dorcas and Ambrose are the matchmaking sex therapists for lovelorn witches and wizards. The Grand High Wizard has exiled them to the very convent...

---

Wild & Hexy

When the bewitched... After gaining twenty pounds, former Dairy Queen Annie Winston dreads going back to Big Knob, Indiana. But Annie hasn't changed half as much as her hometown has ever since Dorcas and Ambrose Lowell moved in. Former matchmakers f...

---

Weekend Fling

Unforgettable For two cynical best friends who believe beginning an affair would be too much of a cliche...until they decide to share a vacation--and a bed! Unbelievable For a schoolteacher eager to exchange her schoolmarm nature for that of...

---

Casual Hex

Gwen Dubois lives in Indiana, but her heart is in France with Marc Chevalier, a man she met online. Now he's come to Big Knob to show Gwen the meaning of amour and spirit her back to Paris. But stiff competition is coming from another part of the wor...

---

---

Blonde With a Wand

From the wild and hexy imagination of Vicki Lewis Thompson comes an engaging new series of bewitching temptation, mortal consequences, and a witch who shouldn't be toyed with.... Never cross a witch in love. Sexy witch Anica Revere has one absolute...

---

A Calculated Risk

She's plotted the course Car chief Roni Kenway has a plan. She'll save her racing team and (hopefully) convince her crew chief, Judd Timmons, that she's the perfect mix of business and pleasure. But will she coast down Victory Lane...or crash into...

---

Chick with a Charm

Lily Revere is free-spirited and fun-loving-two dangerous qualities in a witch. Lily needs a date for her sister Anica's engagement party, and she's determined to bring hot Griffin Taylor. But the jaded divorce lawyer claims his job has warned him of...

---

---

A Cat's Game

From New York Times bestselling authors Katie Macalister, Vicki Lewis Thompson and National bestselling author Connie Brockway: Stories full of magic, love-and cats. This one-of-a-kind-all-original anthology features stories by three bestsell...

---

---

---

A Werewolf in Manhattan

A FANTASY COME TO LIFE -- LITERALLY. Emma Gavin writes bestselling novels about werewolves, but that doesn't mean she believes in them -- and she certainly doesn't think she'll meet one. But that's exactly what happens when her books catch the atten...

---

---

---

---

Werewolf in Greenwich Village

/ Paranormal Romance

Quentin Wallace has it all. He's got money in the bank from his lucrative job as a Manhattan contractor, and he runs with the big dogs of his were pack. But when he meets and falls for Nadia -- who's soon to be named the leader of New York's Henderso...

---

Werewolf in the North Woods

When Abby Maddox's grandfather swears he saw Bigfoot in the woods behind his Portland, Oregon, home, his neighbors decide to bring in a prominent anthropologist to prove him wrong. Rather than see her grandpa made a laughing stock, Abby sets out to s...

---

The Thanksgiving Fix

Finding Mr. Right is the furthest thing from Beth Davis's mind when the Reno professor takes Thanksgiving break at a colleague's Lake Tahoe cabin. Until Coinneach McFarland arrives to fix a suspicious leak. It looks like somebody's playing matchmaker...

---

---

Werewolf in Seattle

The last thing Colin McDowell wants is to inherit his Aunt Geraldine's mansion in the San Juan islands off the coast of Washington. AS the pack leader of the Trevelyans in Scotland, he had little time to travel halfway around the world to take care o...

---

Already Home // It's About Time, Cowboy

/ Contemporary Romance

From New York Times bestselling author Vicki Lewis Thompson, a Sons of Chance series novella!Daredevil videographer Langford "Hutch" Hutchinson has put his career on hold to help his widowed father run their family store in Wyoming. He doesn't mean t...

---

---

---

---

Werewolf in Denver

Love at first woof. When Denver-based Were blogger and founder of Honoring of Werewolf Legacy (HOWL) Kate Stillman agrees to take on political "bad boy" Duncan MacDowell in a public debate about werewolf segregation, she's confident she'll s...

---

Holiday Haven

All Ben Rhodes wants for Christmas is to be left alone. And yet, in a fit of Christmas-cheer-induced insanity, he agrees to help beautiful shelter director Tansy Dexter find homes for all her rambunctious animals. Little does he know that the one tru...

---

One Night With a Billionaire

/ Contemporary Romance

Melanie, Astrid, and Valerie may be best friends, but they have very different ideas of what kind of man is more fun -- one with a pocket full of cash or a guy with spurs on his boots? Growing up on a ranch, Melanie Shaw always assumed she'd en...

---

Tempted By a Cowboy

/ Contemporary Romance

The sisters of Gamma Delta Rho just can't agree whether the perfect man is rich or rugged. But can a cowboy ever prove he's worth his weight in gold? Billionaire Astrid Lindberg may have grown up with a silver spoon in her mouth, but she's ...

---

---

Safe in His Arms

/ Contemporary Romance

After nearly being trampled at a concert hall when a fire broke out, Valerie Wolitzky went from confident and self-assured to scared and skittish. And when a ringing fire alarm sends Valerie into a full-out panic, her friends convince her to seek som...

---

Werewolf in Alaska

He's a lone wolf--for now. In Polecat, Alaska, Rachel Miller and Jake Hunter have a mutual admiration for each other--from across a lake. There's nothing Rachel likes more than spying on the very fit wilderness guide when he skinny-dips each nig...

---

---

---

Nerds Are From Mars

/ Contemporary Romance

Darcie Ingram was Nolan Bradbury's secret high school crush, but back then he was a short, skinny nerd and Darcie ran with the popular crowd. He's no longer short or skinny, and billionaire Fagan Harcourt has tapped the talented astrophysicist to...

---

---

Werewolf in Las Vegas

Win it all, or lose it all... Giselle Landry is in Las Vegas to haul her wayward brother back home. But casino owner Luke Dalton is also looking for her brother, who has run off with his little sister. The two should join forces, but Luke is unaw...

---

---

---

---

The Perfect Man

New York Times Bestselling Author Vicki Lewis Thompson presents a sweet, sexy novel about saddling up, getting lucky, and finding love.... Sorority sisters Melanie, Astrid, and Valerie have been inseparable since college. Even years after graduati...

---

Jingle Spells: Naughty or Nice?

To protect Christmas, this family of wizards will have to use a whole different kind of magic… Part of the Winter clan, the Evergreen family is considered magical nobility. While Evergreen Industries in picturesque Gingerbread, Colorado, might ...

---

---

Crazy for the Cowboy

The New York Times bestselling author of the Wild About You series delivers the first in a brand-new series that takes readers on the wild ride that comes with loving a cowboy.... When Vince Durant left Bickford, Texas, he was a rowdy cowboy just...

---

---

---

---

Wild about the Wrangler

The New York Times bestselling author of Crazy for the Cowboy ropes another sexy Texan in a novel of untamed, passion-filled romance in the Panhandle.… Expert rider Mac Foster's got it bad for Anastasia Bickford, but he's fighting it. Not o...

---

---

Cowboy All Night

Blame it on the Stetson… Brant Ellison's easygoing nature makes him one of the most sought-after horse trainers in Wyoming. His powerful muscles don't hurt, either. Nothing makes Brant happier than training a new colt at his foster home, Thunde...

---

Cowboy After Dark

Hotter when the sun goes down White-water rafting guide Liam Magee is a cowboy at heart -- happy to return to his country roots at Thunder Mountain Ranch for his foster brother's wedding. And when Hope Caldwell shows up as a guest…well, the occ...

---

Cowboy Untamed

A cowboy…and so much more Potter Sapphire Ferguson had one rule: no more artists. There have been too many disappointments and too many heartbreaks. That is, until she sees wildlife metal artist Grady Magee welding a sculpture of wolves, and Sa...

---

Cowboy Unwrapped

This cowboy can handle the heat… For cowboy and firefighter Jake Ramsay, Christmas at Thunder Mountain Ranch is all about family, food and celebration. Okay, and maybe a chance to run into his high school sweetheart, singer Amethyst Ferguson. S...

---

A Cowboy's Strength

When friendship ends, passion begins... Zane McGavin is fit to be tied. His childhood friend Mandy Fielding has waltzed into town and announced she's moving her mother to New York. Never mind that her mom loves Eagles Nest, Montana and would be mi...

---

A Cowboy's Honor

She was one of the guys until he kissed her... Cody McGavin is thrown for a loop. Faith Underwood has announced she has a vexing condition. Virginity. And she wants him to remedy the situation. He hasn't been involved with a virgin since he was on...

---

A Cowboy's Return

Sometimes first love deserves a second chance... Former Air Force pilot Ryker McGavin would rather face enemy fire than fly April Harris to Kalispell, Montana. Eleven years ago she broke his heart, and the wound still aches. But when her sister go...

---

In the Cowboy's Arms

Return to Thunder Mountain Matt Forrest was born to be an actor, but grew up a cowboy. That's why, when things go haywire after he shoots his first Hollywood movie, he retreats to Thunder Mountain Ranch. Because it's home -- where his parents and...

---

Say Yes to the Cowboy

From lone wolf to family man When trick roper Zeke Rafferty sees Tess Irwin standing on his front porch, memories of two unforgettable days -- and nights -- come flooding back. But when the pretty schoolteacher reveals that one plus one will soon...

---

Do You Take This Cowboy?

A Marriage-Minded Cowboy Orphaned at a young age, Austin Teague found a loving foster home at Thunder Mountain Ranch. After four years away, he's back in Wyoming for a family wedding…with hopes to plan his own nuptials once he finds his ideal b...

---

A Cowboy's Heart

His muse just strolled in... Getting left at the altar killed the music in Bryce McGavin's soul. But when a guitar-toting redhead with the voice of an angel walks into the Guzzling Grizzly and asks for an audition, his toe starts tapping. Maybe th...

---

A Cowboy's Courage

How can he compete with a memory?

Firefighting cowboy Trevor McGavin is blindsided by his unexpected attraction to Olivia Shaw, the least flirtatious woman he's ever met. But when her house is threatened by a wildfire in the middle of the ni...

---

A Cowboy's Christmas

All she wants for Christmas is a fake fiancé... Just once Hayley Bennett would like to spend the holidays at her parents' house without feeling as if she's stepped onto the set of The Bachelorette. Her mom's been planning her wedding since the da...

---

A Cowboy's Kiss

Cowboy to the rescue!When big-hearted Luke Bennett spots a dog stranded on the highway in a snowstorm, he leaps into action. Saving the day is what this sexy cowboy does. Whether it's a stray animal in peril or a business going down the tubes, Luke...

---

A Cowboy's Luck

Never underestimate a cowboy…Hiring graphic artist Roxanne Sawyer to design a logo for his bar might be the most brilliant decision Michael Murphy ever made. Every time she comes through the door of the Guzzling Grizzly, his heart dances a two-step...

---

A Cowboy's Charm

This can't be love... Quinn Sawyer has no business getting involved with Kendra McGavin. He has a thriving horse-breeding operation in Spokane, and she owns a ranch in Eagles Nest, Montana, seven hours away. But when his vintage Harley breaks down...

---

A Cowboy's Challenge

Bad timing never felt so good... Wes Sawyer knows a risky proposition when he sees one. Pursuing a woman fresh from a breakup who happens to be his sister Roxanne's best friend? Definitely a bad idea. But how's he supposed to ignore the beautiful ...

---

A Cowboy's Baby

Ready or not, he's a daddy... Gage Sawyer has been a rolling stone since he left the family ranch at eighteen. A year and a half ago he had a fling with Emma Green, and never forgot about her. But when he showed up at her door, she shut it in his ...

---

A Cowboy's Holiday

Baby, it's cold outside... Foreman Pete Sawyer loves working for Taryn Maroney, owner of the Crimson Clouds guest ranch. She's the sexiest cowgirl he's met. Unfortunately, getting chummy with the boss could cost him his heart and his job. But when...

---

A Cowboy's Choice

This cowboy's on the ropes…Seasoned wrangler Brendan Sawyer's on board with Jo Fielding's plan to skip the dating routine and test their compatibility during a weekend at a Montana resort. Brendan's convinced they'll get along just fine. Th...

---

A Cowboy's Worth

What happens when a Scotsman dons a Stetson?Rory McGavin has never left Scotland, let alone traveled across the Atlantic. So when he hops a plane to surprise his cousins in Eagles Nest, Montana, the surprise is on him. He arrives on Ryker McGavin's...

---

A Cowboy's Destiny

City slicker to cowboy? No way!Although Scotsman Aleck McGavin dons boots and a Stetson during his brief visit to Eagles Nest, Montana, he's not ready to start riding and roping. He's a lawyer, not a cowboy. But before he can say quid pro quo, he...

---

A Cowboy's Secret

Small town. Big secret. What could go wrong?When Air Force vet Aaron Donahue lands a dream job in Eagles Nest he doesn't have love on his mind. Then Caitlin Dempsey pops on his radar and he can think of nothing else. But his chances of successfull...

---

A Cowboy's Homecoming

A Christmas cowboy for the mom-to-be…An accidental pregnancy sends Zoe Bradford to her aunt's cozy B&B in Eagles Nest, Montana for the holidays. Her ex is everything she doesn't want for her kid's future, so she's cut him out of the picture. Sh...

---

Sweet-Talking Cowboy

He's roped in by a runaway bride!When Lucy Patterson shows up at the Buckskin Ranch with no groom, Matt Ramsey's in a fix. Six years ago she gave him her heart. He sent her away. He was wrong for her then. He's wrong for her now. But the years ...

---

Big-Hearted Cowboy

His heart is on the line!Wrangler Jake Lassiter craves the Buckskin Ranch's spunky housekeeper, Millie Jones, but telling her is out of the question. She's the kind of gal who deserves a happily-ever-after. He's not the kind of guy who can give her o...

---

Baby-Daddy Cowboy

It's all fun and games until... oh, baby!CJ loved every second of his brief affair with beautiful and witty Isabel Ricchetti. Under different circumstances, she could have been the one. Too bad her coffee shop is in Seattle, not Apple Grove, Montana....

---

True-Blue Cowboy

Going once, going twice... sold!Cowboy Nick Le Grande is thrilled when hairstylist Eva Kilpatrick outbids the competition in Apple Grove's first-ever bachelor auction, claiming him for twelve hours of manual labor. Now's his chance to impress her whi...

---

Strong-Willed Cowboy

Denied by his bride...Wrangler Rafe Banner proposed to ranch cook Kate Gifford two months ago. Her refusal destroyed their friendship. Now Kate's wealthy aunt will put her little sister through medical school, but there's a catch. Kate must get marri...

---

Secret-Santa Cowboy

He'll be her Santa tonight... Wrangler Leo Marston's used to women pursuing him because of his looks. Apple Grove newcomer Fiona Hildebrand is the first to run in the opposite direction. Too bad she's also the one he can't stop thi...

---

Stand-Up Cowboy

He's reined in by a little buckaroo...Buckskin wrangler Garrett Whittaker has found the woman of his dreams in single-mom Anna Warren. He's eager to be in her life, but she refuses to date until her toddler son is in college. Her intimidating ex lef...

---

Single-Dad Cowboy

Date his daughter's teacher? No way!Buckskin ranch hand Zeke Lassiter's too busy rebuilding a life with his 8-year-old daughter Claire to think about romance. But Claire has other ideas. She's found just the right woman for her dad—her third-g...

---

Marriage-Minded Cowboy

Fake it 'til you make it...To derail his mother's ill-conceived plan to move in with him, wrangler Teague Sullivan claims he's engaged to fourth grade teacher Val Jenson. His mom counters with a spur-of-the-moment visit, forcing Teague to recruit Val...

---

Gift-Giving Cowboy

Can he outwit her big brother?A Christmas visit to the Buckskin puts rancher Sky McLintock on a collision course with college teacher Penny Marston. He falls head-over-boots from the get-go, but Penny's big brother Leo makes it clear no out-of-town s...

---

It's Christmas, Cowboy

Giving Christmas a second chance...Wrangler Tucker Rankin never forgot the kiss he stole from Lacey Evans ten years ago. But a bad boy had no business getting involved with an honor student. Now a Christmas Eve blizzard has forced him to take refuge ...

---

Having the Cowboy's Baby

The laugh's on him...Fun-loving cowboy Beau McLintock is floored when ex-girlfriend Jess Hartmann announces she's pregnant. He's the life of the party, not a father figure. He has a joke to fit every occasion. But there's nothing funny about this.Al...

---

Stoking the Cowboy's Fire

Sold to his sister's best friend...Cowboy and firefighter Cheyenne McLintock would rather battle a five-alarm blaze than participate in a bachelor auction. But the station needs a new firetruck. Then his sister's bestie, Kendall Abbott, takes charge ...

---

Testing the Cowboy's Resolve

He craves more than her friendship...Equine vet Marsh McLintock and P.E. teacher Ella Bradley became BFFs as kids and vowed they'd never get involved in mushy stuff that would wreck everything. Ella's wedding day clinches the deal-friends forever, lo...

---

Rocking the Cowboy's Christmas

This Christmas a promise brings more than they expected...Farrier Bret McLintock never dreams that delivering a Christmas tree for Molly Dixon will lead to a night of passion. She just moved to Wagon Train, and he's eager to spend the holidays explor...

---

Roping the Cowboy's Heart

He's on the fence...Managing the Fluffy Buffalo is Clint McLintock's dream job until the owner's daughter, Tyra Lindquist, comes home to take over. Suddenly he's working side by side with the woman he always wanted but who never gave him a second loo...

---

Tempting the Cowboy's Sister

Caught between love and loyalty...When firefighter Dallas Armstrong rents a house on Rowdy Ranch, he's blindsided by his instant attraction to his best buddy's gorgeous sister Angie McLintock. She openly flirts with him at her twenty-fifth birthday p...

---

Craving the Cowboy's Kiss

His apology is long overdue...Gil McLintock's been on the outs with former high school classmate Faye Bradley since a mortifying incident years ago, one that was totally his fault. So when his brother's about to marry Faye's sister, Gil seeks to mend...

---
Award-Winning Books by Vicki Lewis Thompson
After Hours
2003 RT Reviewers Choice Award -- Harlequin Blaze
Claimed! // Claimed by the Cowboy
2010 RT Reviewers Choice Award -- Harlequin Blaze
Cowboy Up
2011 RT Reviewers Choice Award -- Harlequin Blaze
Holding Out for a Hero
1996 RT Reviewers Choice Award -- Harlequin Temptation
Nerd in Shining Armor
2003 All About Romance Reader Award -- Most Annoying Lead Character
2003 All About Romance Reader Award -- Most Disappointing Read
2003 Romance Readers Anonymous Award -- Best Humorous Romance
Pure Temptation
1999 RT Reviewers Choice Award -- Harlequin Temptation
Frequently Asked Questions (FAQ)
Vicki Lewis Thompson has published 173 books.
Vicki Lewis Thompson does not have a new book coming out soon. The latest book, Craving the Cowboy's Kiss, was published in August 2023.
The first book by Vicki Lewis Thompson, Mingled Hearts, was published in May 1984.
Yes. Vicki Lewis Thompson has 15 series.