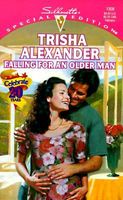 Newest Release
Bibliography:

22 Books - 4 Series

First Book:

December 1990

Latest Book:

February 2000

Rating:
About the Author
Patricia Ann Kay was born on 1937 in a small town in northeastern Ohio, USA, where she raised along with three younger sisters. Pat has lived in upstate New York, Northern Alabama, Southern California, and Stockholm (Sweden), and since 1969, in Houston, Texas with her husband. The marriage has three terrific grown children.

In 1990, Pat sold her first romance novel to Silhouette. Since then, more than four million copies of her novels have been published in eighteen different countries. Today, Patricia Kay, alias Ann Patrick and Trisha Alexander, is an USA Today bestselling author of 50 novels of romance and women's fiction.
Full Series List in Order
1 - Wedding Bells and Mistletoe (Dec-1999)
2 - Falling for an Older Man (Feb-2000)
1 - When Somebody Loves You (Jun-1992)
2 - When Somebody Needs You (Dec-1992)
3 - When Somebody Wants You (Jun-1993)
1 - Mother of the Groom (Mar-1993)
2 - Here Comes the Groom (Oct-1993)
1 - A Bride for Luke (Apr-1996)
2 - A Bride for John (Aug-1996)
3 - A Baby for Rebecca (Dec-1996)
4 - Stop the Wedding! (Apr-1997)
Book List in Order:
22

titles
Cinderella Girl

The costume ball held all the enchantment of a fairy tale, and courtly Dusty Mitchell seemed truly a prince among men, sweeping Victoria Jones clear off her synthetic glass slippers. For a single mom used to moonlighting to make ends meet, playing pr...

---

When Somebody Loves You

The agony .. . His beloved brother's tragic accident reeled renegade Neil Cantrelle in from exile, back to the Louisiana bayou and face-to-face with Laura Sebastian. From the moment he saw her, he coveted this woman his brother hoped to wed... . ...

---

When Somebody Needs You

It had to be Elise. The beautiful young Cajun woman standing in the rainswept New Orleans street simply had to be the key to the dark mystery that had brought journalist Jack Forrester all the way from Texas. And whatever Desiree Cantrelle said - and...

---

Mother of the Groom

Wedding bells were ringing, though not for Diana Sorensen. This time around, it was the divorcee's son who was tying the knot -- but it was the bride-to-be's father, Lee Gabriel, who had Diana feeling like a newlywed. Lee figured he wasn...

---

When Somebody Wants You

A year in Cajun country was exactly what college professor Sloan Devereaux and his young daughter needed. This was a rare chance to study a fascinating way of life, and a welcome change from New York City's pressures. But the teacher had some lessons...

---

Here Comes the Groom

It had been four years since Kent Sorensen had been stood up at the altar -- and he was a wiser man for it! He no longer believed in happy endings and eternal love or in giving Allison Gabriel another crack at his heart. She'd jilted him once, an...

---

Say You Love Me

If she were granted three wishes, timid piano teacher Tess Collier would take only two: to wed David Bannister and mother his darling daughter. But David was glorious and virile, making Tess feel old-fashioned and drab by comparison. Never would she ...

---

What Will the Children Think?

Caleb Mahoney was as seductive as sin - and entirely too tempting for widowed mom Margaret Desmond. The handsome bachelor was a few years younger than she, but no less mature when it came to other matters. With Caleb, Maggie suddenly found herself le...

---

Let's Make It Legal

John Appleton had never once regretted stepping off the fast track. His responsibilities as a single father came first, and that was something he'd just have to make clear to his most difficult client, a beautiful lady lawyer who was driving him...

---

---

The Real Elizabeth Hollister...

The locket found clutched in her hand years before was the only clue Grace Gregory had to her past. But that alone had led her to a family of great wealth and power -- and to a man who, despite his unconcealed suspicion, made her long for far more th...

---

The Girl Next Door

The man was impossible! Infuriating! Maddeningly blind! Sure, freewheeling bachelor Simon Christopher was Jenny Randall's best friend, but when would he stop ogling busty blondes and start seeing her as more than just plain Jenny, the wholesome girl ...

---

This Child Is Mine

FROM THE WRONG SIDE OF THE TRACKS... Eve DeIVecchio grew up poor, but even as a teenager she had big dreams -- and then Mitch Sinclair walked into her life, and everything else flew out the window. Two months later he left her with a broken heart ...

---

A Bride for Luke

A Bachelor's Last Vow Wedding bells in the air - but best man Luke Taylor refused to believe the bells were tolling for him! For years he'd leashed his rebellious streak, playing dutiful dad to his six fatherless siblings. Now it was time to shed...

---

A Bride for John

Desperately Seeking Daddy Little Missy Broome really wanted a father. Her hardworking mom, Shelley, could also use a husband. And what better candidate than rich, handsome neighbor John Taylor? The widower's son was Missy's best buddy, his daught...

---

The Constant Heart

They came from different worlds. She was a Texas beauty who'd known privilege and luxury all her life. He was a photojournalist who'd spent a lonely childhood in foster homes, battling for his very survival. Yet from the moment Amy Carpenter and Sam ...

---

A Baby for Rebecca

PROMISE HER ANYTHING, BUT... Rebecca Taylor saved Kyle MacNeill's life - and fell deeply, secretly in love with the sexy scoundrel. Alas, to Kyle, Rebecca remained the prim, ladylike savior he'd vowed to repay. He'd promised her the world. But wha...

---

Stop the Wedding!

THE RIGHT BRIDE As her wedding day approached, Kristin Blair looked forward to it with feelings decidedly unbridelike. Her fiance was fine on paper, but his embraces left her cold--unlike another man who, years before, had ignited her passion and th...

---

Substitute Bride

"I now pronounce you husband and wife...." Rachel just couldn't tell David that her twin, Roxanne, had left him at the altar -- so she took her sister's place, with no one the wiser. Now Rachel was on a very unplanned honeymoon, wi...

---

With This Wedding Ring

FOR THE SAKE OF HER CHILD... Beautiful young widow Emily Pierce had been in love once, only to find it all gone in the blink of an eye. So she was determined never to marry again -- until the safety of her unborn child was threatened. And then, w...

---

---

A Mother for Jeffrey

THE CHILD SHE ALWAYS WANTED Once, Leslie Marlowe had had high hopes for her future -- a man to love and lots of babies. But when those dreams faded, she tried to convince herself that she didn't need a family of her own. Then eleven-year-old Jeffr...

---

Wedding Bells and Mistletoe

THOSE CALLAHAN EYES... Years ago two innocent young Texans stole one night of fire and wonder in each other's arms. But they'd betrayed a beloved friend to do so, and remorse drove Keith Callahan clear to Alaska, drove Susan into matrimo...

---

Falling for an Older Man

Callahans & Kin: Together these Texans built a town -- but would they find love at Rainbow's End? Her brother's best friend -- that's all handsome hunk Jack Kinsella SHOULD be in Sheila Callahan's eyes. But she'd had an incurable crush on him fo...

---
Frequently Asked Questions (FAQ)
Trisha Alexander has published 22 books.
Trisha Alexander does not have a new book coming out soon. The latest book, Falling for an Older Man, was published in February 2000.
The first book by Trisha Alexander, Cinderella Girl, was published in December 1990.
Yes. Trisha Alexander has 4 series.