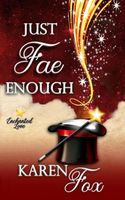 Newest Release
Bibliography:

19 Books - 3 Series

First Book:

January 1997

Latest Book:

March 2022

Rating:
Full Series List in Order
1 - One Fine Fae (May-2021)
2 - In the Family Fae (May-2021)
1 - Prince of Charming (Dec-2000)
2 - Buttercup Baby (Oct-2001)
3 - Cupid's Melody (Jan-2003)
4 - Impractical Magic (May-2003)
1 - Sword of MacLeod (Jan-1997)
2 - Somewhere, My Love (Jul-1997)
Multi-Author Series List
3 -
Grand Design
(Aug-2001)
2 -
A Touch of Charm
(Sep-2003)
4 -
Must Love Dogs
(Oct-2018)
8 -
Her Fake Fiance
(Aug-2020)
Book List in Order:
19

titles
Sword of MacLeod

AN OLD FASHIONED MAN When his daughter left their antiquated world to find the legendary sword that could save them from doom, Beckett MacLeod was forced to go after the wayward lass, leaving his planet for the first time. To find her, Beckett enli...

---

Somewhere, My Love

As an officer of the Alliance, Sha'Nara had been trained to destroy the psychics who sought galactic domination. But on a mission to protect the Director-General's daughter, the beautiful bodyguard was abducted by one: Tristan--the most dazzlingly se...

---

Prince of Charming

OUT OF THE PICTURE...AND INTO HER HEART Kate Carmichael has not had an easy life. After her mother's death, her father left her in the care of a kind friend while he attempted to settle his debts, but he never returned. Now, twelve years later, Ka...

---

Grand Design

The historic Chesterfield Hotel once offered visitors the graceful charm of its sumptuous rooms and the healing waters of its nearby hot springs. In the present day, as five people unearth the hotel's century-old hope chest, each will be transported ...

---

Buttercup Baby

Ariel of the Fae had never seen a baby before. But then why would she have? Children do not exist in her realm. So the moment she finally enters the mortal world and spies a sleeping child, Ariel falls instantly in love--and decides she wants one. Al...

---

Cupid's Melody

Faery Nic Stone had no idea he was about to make the mistake of his eternal life when he asked the Queen of the Fae to grant immortality to his beautiful bride, Anna. To become immortal, he discovered only too late, Anna first had to die and then be ...

---

Impractical Magic

Brandon Goodfellow may be the greatest illusionist in the world, but he's no magician. Just ask Rose Thayer, the beautiful faery who possesses the one thing he covets most of all: true magical power. Years ago, she captivated his senses and captured ...

---

A Touch of Charm

Named for the Three Graces of Greek legend, the Sullivan sisters--Belle, Charisma, and Grace--fear they will never live up to their names and find true love. But a heartfelt wish made in the Garden of the Gods summons help from three elegant stranger...

---

---

---

The Prince

/ Romance

An antique hope chest containing five unique objects . . . five people inexorably drawn to the items inside . . . each sent to the past with the help of a magical matchmaker who assigns them a task to find their true love . . . even across time. Unab...

---

Must Love Dogs

What is a woman afraid of dogs supposed to do in a town filled with them?When Megan Grinnell discovers the brother she thought dead is alive, she's thrilled. Now she'll have a family. But her teenage brother, Riley, doesn't remember her. Worse, the n...

---

My Enemy, My Lover

Romeo and Juliet among the stars....Assigned to escort the Director-General's daughter to her wedding, Shannara Calles would rather be working in her regular position in the Psi Police. But when the Director-General's daughter is kidnapped by the...

---

Her Fake Fiance

/ Contemporary Romance

Laurel Edison has everything she needs to be happy--a successful business, great friends, and a comfortable home. That is, until her very judgmental parents schedule a visit to meet her wholly imaginary fiancé. Desperate to find someone to pla...

---

A Dogwood Valentine

Love is in the air as Dogwood prepares for the annual Valentine's Day Ball....This short story anthology includes:A Ring of Truth by Laura HaydenTwo anonymous donations, two competitive bidders, and two sleuths. It'll take Cole Lattimer and his u...

---

In the Family Fae

Ariel has baby fever, and Rand is just the man to cure it.... When Ariel, fae Queen of the Pillywiggins, encounters a baby, she immediately she wants one. Only catch is, she has to mate with a mortal to create one.Rand Thayer is a perfect candid...

---

One Fine Fae

What's a girl to do when a portrait comes to life?Kate Carmichael is about to lose the Victorian house she knows her recently-deceased guardian meant her to have. Now, without a will, her guardian's next-of-kin is about to toss her out.While searchin...

---

Dogwood Fortunes Revealed

/ Contemporary Romance

It's time for Dogwood's Fall Festival—complete with booths selling crafts, pumpkin-spiced everything, and one special visitor, Madame Zelda, the fortune-teller. Her extraordinary gifts reveal the past, present and future for many Dogwood citize...

---

A Fae to Remember

/ Contemporary Romance

Will Nic's reincarnated wife fall for him the second time around? When Fae Nic Stone asked Queen Titania to make the love of his life, Anna, immortal, he should have expected the catch. He has to wait for her reincarnated body to become an adult...

---

Just Fae Enough

/ Contemporary Romance

What happens when a stage magician is threatened with being exposed by real magic? Brandon Goodfellow is one of the greatest illusionists in the world, but he doesn't have real magic. He knows it exists because his childhood friend, Rose Thayer,...

---

---
Frequently Asked Questions (FAQ)
Karen Fox has published 19 books.
Karen Fox does not have a new book coming out soon. The latest book, Just Fae Enough, was published in March 2022.
The first book by Karen Fox, Sword of MacLeod, was published in January 1997.
Yes. Karen Fox has 3 series.