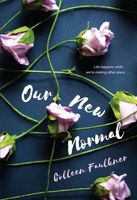 Newest Release
About the Author
Colleen Faulkner is the daughter of author, Judith E. French.
Full Series List in Order
1 - Marrying Owen (Aug-2000)
2 - Tempting Zack (Oct-2000)
3 - Taming Ben (Dec-2000)
1 - Highland Lady (May-2001)
2 - Highland Lord (Jan-2002)
1 - Temptation's Tender Kiss (Jun-1990)
2 - Patriot's Passion (Sep-1991)
Book List in Order:
43

titles
---

Forbidden Caress

Russet-haired Katelyn Locke sailed off to the Colonies without a backward glance. Though she was off to marry a stranger, anything was better than the life of a spinster. But only after her cowardly fiance abandoned her to an attacking band of savage...

---

Raging Desire

The fiery and hauntingly beautiful Cassie O'Flynn knew that the tall, raven-haired stranger wasn't for the likes of her. He was a wealthy gentleman, an officer with General Washington's army; she an immigrant bond servant. But from the mo...

---

Snowfire

Raised in Alaska and answerable to no man, headstrong Gabrielle LeBeau felt only scorn for the Southern gentleman who came to the territory too late in the season. But when the sable-haired young woman found him nearly dead from exposure, she didn...

---

Traitor's Caress

SAVAGE GENTLEMAN Smuggled aboard a ship bound for the rebellious colonies, the beautiful English Keely Bartholomew was ill-prepared for life in America, much less for the uncivilized half-breed captain who was to be her husband. How could she marr...

---

Passion's Savage Moon

A MAN'S OBSESSION When the half-breed Tshingee took the lady Deborah Montague hostage, all he intended was to secure the freedom of his brother from the white man's prison. As he led his high-tempered captive further into the Chesapeake forests, he ...

---

Temptation's Tender Kiss

It was a daring scheme -- pretending to be his Tory twin brother in order to infiltrate the King's army in Philadelphia. Even more dangerous was patriot spy Sterling Thayer's burning desire for auburn-haired rebel Reagan Llewellyn. He knew she despis...

---

Love's Sweet Bounty

RECKLESS FURY Jessica Landon was on a train bound for the Washington territory when masked bandits stole her carpetbag containing all the money she had in the world. Left with nothing but her fury, she set out after the thieves herself, without c...

---

Patriot's Passion

PASSIONATE REBEL Supplying the British soldiers with faulty footwear was Maggie Myer's small but satisfying way of helping her fellow Patriots fight for independence. But when the beautiful bootmaker was caught stealing enemy supplies by Redcoat...

---

Savage Surrender

FEARLESS CAPTIVE Determination and a will to live were all that kept Lady Rachael Moreover from giving up in the first days after her capture by the Iroquois. She'd never surrender to those savages, no matter what they threatened! But the broad shou...

---

---

Sweet Deception

A WOMAN OF SECRETS After accidentally killing her husband in self-defense, Thomasina Waxton, Viscountess of Greenborough, fled into the night. With nowhere to go and no one to turn to, Thomasina became Ellen Scarlet and made a new life for herself...

---

Flames of Love

A WOMAN DREAMING OF THE FUTURE Jilted by her prospective bridegroom, Lady Alexandra Lambert left England behind and set sail for colonial America. But in the unknown wilds of Maryland, she was captured by a band of renegade Indians. As she was about...

---

Lovespell

Colleen Faulkner -- Lovespell Cursed by a run of bad luck that casts him adrift in colonial Virginia, Scotsman Rob Cameron loses his ship...only to gain two motherless orphans. At his wits end, he weds -- in name only -- a woman rumored to be...

---

Forever His

She pledged her innocent heart to a rugged and dangerous half-breed... Raised on his father's Tidewater plantation and educated to be a gentleman, Harrison De Nay had captured sixteen-year-old Leah Tanner's heart with gentle words and tender passion....

---

---

The Other Christmas Story

Lissa's dreams of building a life in pioneer America are shattered when she's captured by savage Seneca Indians. But in the darkest hours of a snowy Christmas eve, a gentle Lenape warrior suddenly appears...and an odyssey to freedom and love begins....

---

O'Brian's Bride

Elizabeth Lawrence left her pampered English childhood behind to journey to the far-off Colonies...and marry a man she'd never met. But her dreams turned to dust when an explosion killed her new husband at his powder mill, leaving Elizabeth alone to ...

---

Man of My Dreams

Sarah Commages arrives in the Virginia Colony as an indentured servant with a troubled past and no hope of a future. Then, as revolution rages through the land, she dons the disguise of a high-born lady to aid the patriot cause -- only to be swept in...

---

Destined To Be Mine

In a moment of stark terror, ten-year-old Duncan Roderick, pampered son of the Earl of Cleaves, becomes the prisoner of the fierce Iroquois of Maryland. A captive in an untamed land, he soon turns more savage than civilized, more embittered than lovi...

---

A New Beginning

They say Lord Bolton is mad; they say he murdered his first family. But when Brenna Abbott arrives at his castle, she meets a very different kind of man... one who offers the indentured servant a Christmas gift she never expected......

---

---

To Love a Dark Stranger

In a moment of shattering violence, Meg Randall's life changes forever. Desperate to save her newborn son from her husband's murderous wrath, she kills this cruel, deformed tyrant she was forced to wed against her will. Now, with blood on her...

---

Fire Dancer

A WOMAN, A WARRIOR AND A FORBIDDEN LOVE THAT SETS TWO HEARTS AFLAME A wildness raged in Mackenzie Daniels that drove her to explore the American frontier before she settled down. An artist and a woman of unbridled dreams, she had never desired any...

---

Angel in My Arms

Seven years ago, Celeste Kennedy had believed her fiance when he promised to love and take care of her forever. Instead, he had been cruel and deceitful, and Celeste refused to marry him -- even if it meant disobeying her father. Thrown out of her ho...

---

---

Highland Blood

In Colleen Faulkner's captivating story, an 1898 vampire dreads spilling "Highland Blood" and when an American beauty visits his lonely Scottish castle, he must conquer his craving for her--unless she can cure the curse that lies upon him....

---

If You Were Mine

Hired gunman Noah Ericson isn't Mercy Atkins' first choice of boarders, but in Nowhere, Nevada, hotel patrons are hard to come by. Left to care for her young son and her elderly father when her husband Haman disappears, Mercy is struggling to...

---

If Wishes Came True

For Centuries, Castle Cnocanduin has stood on the edge of the Scottish Highlands, a sanctuary for many a young lass. For within its keep lies a beautiful well with an inscription etched in its white stone: "Any woman of pure heart who drinks from t...

---

Highland Bride

To unite their clans, Kara Gordon is bound by a marriage contract to the Gordon family. So when her intended husband dies in a bloody mountain skirmish, she is forced to marry his heir and younger brother, Henry, a mere twelve-year-old boy. Trapped b...

---

Maggie's Baby

AND MOMMY MAKES THREE Shell-shocked after losing her husband and their cherished son, Dr. Maggie Turner finds herself dwelling on the past. She can't stop wondering about her other child, the baby she was forced to give up for adoption when she ...

---

Marrying Owen

SHE WAS READY TO START OVER... On the verge of beginning a new life in a new state, Abby Maconnal is finally ready to put Owen Thomas -- and their shattered marriage -- behind her. Just a quick stop at her ex-husband's to pick up her things, and ...

---

---

Tempting Zack

SHE'S FALLEN FOR A MAN... New in town, Doctor Kayla Burns is instantly charmed by her pint-sized patient Savannah Taylor. The little girl's rugged, earthy dad is just as irresistible as his daughter, except for one major detail: Zack Taylor wants n...

---

Taming Ben

THE LAST BACHELOR... The remaining single holdout of her formerly no-marriage buddies, Ben Gordon is on a massive "just say no" campaign to long-term relationships. That is, until he registers a complaint with Mackenzie Sawyer, the owner of the hou...

---

Highland Lady

As Lady of Dunblane, Elen Burnard is determined to reclaim the land that was stolen from her family one hundred years ago by the Forrests of Rancoff Castle. And when her sister is kidnapped by her adversary's younger brother Elen leads the men of...

---

Highland Lord

The illegitimate daughter of Scotland's king, Robert the Bruce, Anne awaits her betrothal as a ward of the Forrests of Rancoff Castle. Then Tor Henneson storms the gates of the keep, a towering giant full of hell and fury. The powerful Viking warrior...

---

A Shocking Request

Never in a million years had Grant expected this. His late wife, Ally, speaking on a memory videotape she'd left behind, was actually suggesting he start dating. "Date?" Grant thought aloud. "Who would I date? Who wants a widower w...

---

The Pleasures of a Wager

Three independent women, three high-stakes wagers--and three losses. Now these daring ladies set out to lose their maidenhood to the ton's most dangerous rogues--but might find love where they least expect it . . . American heiress Alison May was ...

---

Barefoot and Pregnant?

SHE HAD EVERYTHING A GIRL COULD WANT -- EXCEPT A HUSBAND! So career-girl Elise Montgomery turned to The Husband Finder, a trendy guidebook, to locate one. Only, according to the manual, her choice -- sexy farmer Zane Keaton -- was definitely Mr. W...

---

Just Like Other Daughters

Alicia Richards loved her daughter from her very first breath. Days later, when tests confirmed what Alicia already knew -- that Chloe had Down syndrome -- she didn't falter. Her ex-husband wanted a child who would grow to be a scholar. For Alicia,...

---

As Close as Sisters

Since the age of twelve, McKenzie Arnold has spent every summer at Albany Beach, Delaware, with her best friends Aurora, Janine, and Lilly. The seaside house teems with thirty years of memories--some wonderful, others painful--and secrets never divul...

---

Julia's Daughters

Julia Maxton can't imagine anything worse than losing one of her three daughters -- until the day seventeen-year-old Haley runs a stop sign, killing her younger sister Caitlin. Six weeks after the crash, the family is falling apart. Julia struggles...

---

---

What Makes a Family

Nestled in the Chesapeake Bay, Brodie Island is charming, remote, and slow to change. For three hundred years, Abby Brodie's farming family has prospered there. Now, years after leaving to make her way on her own terms, Abby is coming home to see ...

---

Finding Georgina

What happens after you get what you've always wanted? In Colleen Faulkner's thought-provoking and emotionally compelling novel, a mother is reunited with the daughter who was abducted as a toddler -- only to face unexpected and painful challenges...

---

Our New Normal

How much more can you give when you've already given everything? In Colleen Faulkner's affecting, thought-provoking new novel, the mother of a pregnant teenager discovers there are no easy answers -- and that a mistake-proof life may not be worth...

---

---
Frequently Asked Questions (FAQ)
Colleen Faulkner has published 43 books.
Colleen Faulkner does not have a new book coming out soon. The latest book, Our New Normal, was published in September 2019.
The first book by Colleen Faulkner, Forbidden Caress, was published in May 1987.
Yes. Colleen Faulkner has 3 series.