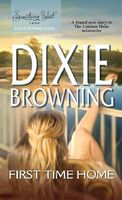 Newest Release
About the Author
Dixie Burrus was born on September 09, 1930 in North Carolina's Outer Banks, U.S.A, where her family had lived for generations, to sea captain Dozier Burrus and Achsah Williams. Her father was the professional baseball player Maurice Lennon "Dick" Burrus, she has two sisters, Mary and Sarah Burrus.

Dixie is an artist and romance writer. She began writting contemporany romance novels as Zoe Dozier, now she writes her contemporary romances with her married name, Dixie Browning, and historical romances with her sister, Mary Burrus Williams as Brownwyn Williams, one combination of their married names. She has been awarded a Romance Writers of America RITA Award, and been a five-time RITA finalist. She has also won three Maggies, and numerous awards from the National Federation of Press Women and the NC Press Club.
Full Series List in Order
1 - Beckett's Cinderella (Aug-2002)
2 - Beckett's Convenient Bride (Jan-2003)
1 - Her Passionate Plan B (Jan-2005)
2 - Her Man Upstairs (Feb-2005)
3 - Her Fifth Husband? (Mar-2005)
1 - Renegade Player (Apr-1982)
2 - Stormwatch (Nov-1984)
3 - The Passionate G-Man (May-1998)
4 - His Business, Her Baby (Nov-1998)
5 - A Knight in Rusty Armor (Feb-1999)
6 - Beckett's Cinderella (Aug-2002)
7 - Beckett's Convenient Bride (Jan-2003)
8 - First Time Home (Oct-2005)
1 - Keegan's Hunt (Nov-1993)
2 - Lucy and the Stone (May-1994)
3 - Two Hearts, Slightly Used (Nov-1994)
1 - A Bride for Jackson Powers (Feb-2000)
2 - Cinderella's Midnight Kiss (Jun-2000)
3 - The Virgin and the Vengeful Groom (Nov-2000)
1 - Renegade Player (Apr-1982)
2 - Stormwatch (Nov-1984)
1 - Alex and the Angel (Sep-1995)
2 - The Beauty, the Beast and the Baby (Mar-1996)
3 - The Baby Notion (Jul-1996)
4 - Stryker's Wife (Nov-1996)
Multi-Author Series List
The Virgin and the Vengeful Groom
(Nov-2000)
The Baby Notion
(Jul-1996)
2 -
Two Hearts, Slightly Used
(Nov-1994)
The Quiet Seduction
(Nov-2002)
Christmas Eve Reunion
(Nov-2003)
9 -
Beginner's Luck
(Sep-1989)
20 -
Twice in a Blue Moon
(Aug-1990)
35 -
Not a Marrying Man
(Nov-1991)
42 -
Best Man for the Job
(Jun-1992)
52 -
Hazards of the Heart
(Apr-1993)
65 -
Lucy and the Stone
(May-1994)
81 -
Alex and the Angel
(Sep-1995)
87 -
The Beauty, the Beast and the Baby
(Mar-1996)
95 -
Stryker's Wife
(Nov-1996)
108 -
Look What the Stork Brought
(Dec-1997)
113 -
The Passionate G-Man
(May-1998)
122 -
A Knight in Rusty Armor
(Feb-1999)
135 -
A Bride for Jackson Powers
(Feb-2000)
156 -
Rocky and the Senator's Daughter
(Nov-2001)
165 -
Beckett's Cinderella
(Aug-2002)
2 -
A Knight in Rusty Armor
(Feb-1999)
1 -
Texas Millionaire
(Aug-1999)
11 -
The Millionaire's Pregnant Bride
(Feb-2002)
Book List in Order:
84

titles
---

Unreasonable Summer

IT WAS A BATTLE FOR LOVE. Emily Fairchild had dreamed of a vacation like this: a whole summer spent in a romantic cottage on the water where she would be free to paint and cook and sing and live as joyously as her passionate nature demanded. Bu...

---

Tumbled Wall

LYLE WOULD NEVER TRUST A MAN AGAIN. BUT THEN SHE MET THAD .... After her painful involvement with Stan, Lyle thought she would never dare to love again. When a tragic car accident claims the lives of her parents, an internationally renowned pia...

---

Chance Tomorrow

HER WORLD WAS FALLING APART After her father's death, Leah Deerfield is nearly destitute. Her last hope is with her stepmother in Australia; but it isn't long before Leah realizes she is an unwelcome visitor. Seeking to escape the confines of a...

---

Wren of Paradise

TROPICAL NIGHTS MIRRORED THEIR PASSION.... Hannah Blanchard was thrilled about the unexpected invitation to the Isle de Cozumel off the coast of Mexico. It offered a needed respite after her recent illness. But her stepsister, Jill, has other pl...

---

East of Today

HER PEACEFUL SUMMER BECAME A SEASON OF UNREST Kate Brown chose North Carolina's coast for its privacy and beauty. She planned to teach watercolor to amateur artists during the summer, but Cameron Greyville had other plans. According to him the Gre...

---

Winter Blossom

BLISS GOT EVERYTHING SHE WANTED, UNTIL SHE WANTED JAMES! Bliss Bonner had enjoyed her quiet life in London. That was before she met James Etchison. James demanded that she keep her playboy brother, Benji, away from his sister. But Benji's impulsiv...

---

Renegade Player

SHE WAS DETERMINED TO PUT THE PAST BEHIND HER. Her engagement was over, and gorgeous realtor Wilhelmina Silverthorne was determined to live her life her way. She'd stick to the things she knew and trusted - fast cars and haute cuisine - and steer ...

---

Island on the Hill

LIBERATED! That's how Frances felt after buying her new home. Her independence was hard won, and she wasn't about to give it up for a mere man. Her neighbor, Cabel McCloud, felt the same way about women. And he had a personality every...

---

Logic of the Heart

A SUMMER PARADISE Even though the trip was business, Emma looked forward to seeing the romantic island of Hatteras. Meeting the dark, handsome Dan Slater had not been part of her plans. But the situation she walked into grew as sizzling as the ...

---

---

Finders Keepers

FINDERS KEEPERS .. . All that Hallie Parrish had found in her brief marriage was unhappiness; her only solace, the child she bore. Now her late husband's brother, Trenton Northcutt, has entered her life, and the current flowing between them is ...

---

Loving Rescue

STRANDED . . . Lacy's first trip to Guatemala seemed doomed from the start. First her friend was called home unexpectedly, then Lacy's luggage and handbag were stolen . . . until finally she was rescued by the enigmatic Jordan Stone. B...

---

A Secret Valentine

HE WAS THE LAST MAN ON EARTH SHE COULD TRUST. Love was a cruel teacher for Grace Spencer. It brought her nothing but pain and humiliation, and she was determined that no man would ever take advantage of her again. Now that her life was finally ...

---

Practical Dreamer

LOVE AT WORK, PASSION AT PLAY... Tally Fitzsimmons had learned to cope with every situation in her job at HouseSpouse, Inc. But when she was assigned to entertain and keep house for handsome, wealthy Thane Coulter, she knew she had met her greates...

---

Shadow of Yesterday

SWEET RECKONING Divorced and edging toward a second marriage, Chalis Kenyon escaped New York's high-powered art establishment to take refuge back home at Quarter Moon Pond. But not even the isolated cabin in North Carolina's woods could shelter...

---

Reach Out to Cherish

Jed Dancy was beginning to think it was time he settled down. All he needed was the right woman. He certainly didn't expect A. R. Kennel the freelance writer he'd hired to do a family history, to be that woman, because he'd assumed that A.R. Keene...

---

Image of Love

CALL OF THE MOUNTAINS When Romany Caris agreed to paint portraits of the Sinclair children, she welcomed the opportunity for a summer of solitude. Her looks and profession matched her gypsy name . . . but names could be deceiving--and Cameron Sinc...

---

The Hawk and the Honey

TO THE VICTOR THE SPOILS When Cleo Lawrence came to Oklahoma's Gallagher Ranch to see her Great Uncle Wint, she hardly expected to become bait for Wint's oil-and-cattle-baron boss! Arrogantly, Roane Gallagher sized her up, said he needed a wife...

---

Visible Heart

LOVE COMES WHEN YOU LEAST EXPECT IT. No one had been more surprised than Venice Brown when she was promoted from the typing pool to the position of the president's personal secretary. Curtis Britten--handsome, charismatic, and eminently eligible--...

---

Late Rising Moon

TOWARD A WILDER SHORE Desperate to escape the memory of a bitter divorce, Larain Ashby had fled her carefully ordered life in San Francisco for North Carolina's wild Cape Hatteras seashore and a job as manager of Silas Flynt's art gallery. Sop...

---

---

Journey to Quiet Waters

ROUGEMONT WAS HER CHILDHOOD HOME. Lovely auburn-haired Ivy de Coursey knew that even the sale of her beautiful family estate, Rougemont, could not take away the happy memories the house held for her. But Ivy had not taken into account the unset...

---

The Love Thing

LOVE COMES WHEN YOU NEED IT MOST Liza Callahan's world had shattered in a single day. First came the shock of losing her job. Then she found her boyfriend in the arms of another woman. But that wasn't all-- there had been a minor accident ...

---

Just Deserts

Persia knew that there were more important things in life than dieting down to a size six. She knew that real men didn't care about thin thighs. And Marsh Randolph was a real man. Still, Persia hoped desperately that he wouldn't connect he...

---

First Things Last

A HOSTAGE HEART Belinda Massey had lived all over the world, but nothing in her experience as an au pair had prepared her for Chandler Harrington. Their eyes had met one moonlit night a year before and she had never forgotten him. Accused of ki...

---

Stormwatch

SHE'D LOST HER RENEGADE PLAYER But Willy Silverthorne Faulkner had kept on going--now sadly widowed, but still possessing that same lazy, loose-jointed walk that drove men wild. Her independent life on the Carolina coast suited her languid leaning...

---

Time and Tide

Olivia Lawson had come to the Outer Banks to relax. Courtland Heller knew what she really needed, though, and he was determined to provide it. As relentless as the tide that eroded the foundations of her house, Court was determined to seep into ev...

---

The Tender Barbarian

AN UNLIKELY COMBINATION After a high point that wasn't all that high, Emily McCloud's life had begun a slow, gentle decline, and there was no reason to believe it would ever climb again. A spinster schoolteacher, Emily was a bit old-fashioned and...

---

By Any Other Name

Painting over the memories in the house Brianna Fields had shared with her mother was no easy task. The only family she had ever known was now gone, leaving Bree with her craft shop and ownership of the house she grew up in. But all her work seeme...

---

Matchmaker's Moon

MATCHMAKER, MATCHMAKER... Make me a match. Rune McLaughlin's mother would stop at nothing to find him a wife--including telling all to a reporter writing a "Ten Most Eligible Bachelors" article. Women up and down the Eastern Seaboard were calling ...

---

Something for Herself

When Mitchell Lyons came racing around a sharp curve on that back country road, he wrecked more than Gren Alderman's heart. The crash also delayed Gwen's plans to start a new, independent life. Forced to spend time whith Mitch while her car ws being ...

---

---

A Bird in Hand

TAKING A DIVE Tyrus Clay felt as if he was caught between the devil and the deep blue sea. He'd been forced to retire from his career as a deep-sea salvage diver for health reasons. Now he was grounded--stuck on dry land doing a diving study--and ...

---

In the Palm of Her Hand

LOVE LINES This was David Pendleton? This was the man she'd traveled hundreds of miles to see? Whose soft, raspy drawl had come over her grandfather's ham radio each evening? The man to whom she'd brought the sealed letter Granddad had...

---

The Security Man

Valentine Scott had come back to Lakesboro to begin again. She had a new job, a tiny apartment, a new life. She'd put the past behind her--a bad marriage that had ended abruptly with a terrorist bomb. She was safe now. No dangers. No uncertainties...

---

Reluctant Dreamer

IRRESISTIBLE FORCE If he didn't want to talk business, then Portia McNamara had no time for Cale Randolph. From the moment he startled her behind her Cape May gift shop he dogged her every move. So what if he had a deep, husky voice and Clint Eastw...

---

A Winter Woman

A RARE BIRD Banker Cordelia Richardson spent her days with the most successful men in business -- but they left her cold. Then along came a half-naked handyman with holes in his sneakers, calluses on his palms and a chest that inspired awe, and sh...

---

There Once Was a Lover

NEITHER RHYME NOR REASON Joelle Middleton was constitutionally incapable of making waves. She was painfully shy. Her social life consisted of confiding to Ivan, her pet lovebird, and reading Clayton Abbott's witty limericks and insightful editoria...

---

A Matter of Timing

THE RIGHT PLACE .. . Avery Thane MacLeod III had everything--including a nagging case of boredom. Tired of jet-setting, he was looking forward to R and Ron Cape Hatteras. He wasn't going to shave, change his clothes or wash a dish. After three day...

---

Belonging

Saxon Evanshaw had buried his past -- until his sickly father and greedy stepmother dragged him back to his North Carolina home. There he was greeted by sinfully beautiful Gale Chandler, his stepbrother's widow, who held the entire estate in her ho...

---

Henry the Ninth

Being fixed up with her landlady's brother was not Mary Pepper's idea of a good time. But when a horrible cold and a horrendous work schedule obliterated Christmas, Henry whisked her off for a late celebration on Hatteras Island, where they found the...

---

Fate Takes a Holiday

MEANT TO BE Sophie Pennybaker hadn't meant to tempt fate, but she had . . . in every sense of the word. Her boss, Lafayette "Fate" Ridgeway, was determined to find out more about his imperturbable, unflappable, completely professional secretary. S...

---

---

Along Came Jones

ONE LOOK WAS ALL IT TOOK Rex Jones had first seen her when she'd been barefoot and cane-pole fishing. He didn't know then that this was Tallulah Lavender, pillar of the Parrish Falls community. It didn't matter; he was hooked. Lu had worked lon...

---

Thin Ice

FIRE AND ICE Maggie Duncan had left the high-powered business world and a failed marriage for her grandfather's cabin and a new "career" carving bird decoys. She'd found peace in her solitude--then Sam Canady arrived. Sam wanted to be alone. He...

---

Beginner's Luck

MR. SEPTEMBER Specimen: Male; age 32; intense blue eyes hidden by thick glasses; gosh-awful beard; perpetual scowl; rear end worthy of the hall of fame. Native Habitat: Laboratory; alone, bent over a microscope. Mating Habits: Unexplored. Love: ...

---

Ships in the Night

MISMATCHED... Never again would Gioia Murphy agree to a blind date. The blond hunk she'd been promised turned out to be dark, rugged and so unthrilled to see her, she wondered why he'd shown up at all. Still, it was just as well they hadn't hit it...

---

Twice in a Blue Moon

MR. AUGUST Name: Tucker Owen Address: The wrong side of town. Marital status: Bachelor-and proud of it! Future plans: to remain single, especially since his childhood sweetheart ran off to marry another man. Years had passed since town ...

---

The Homing Instinct

WHERE THE HEART IS Chloe Palmer knew she was lost the moment Quint Stevens lifted her from her ruined car and brought her--as if she were a stray kitten--into his warm, secure, all-male pigsty of a home. He had the kind of shoulders a woman cou...

---

Just Say Yes

BE MINE Daisy Valentine had taken her newly attained look-but-don't-touch attitude south of the border for some sun, surf and solitude. Four years as a not-so-gay divorcee had left her wary of any and all relationships--especially those that invol...

---

Not a Marrying Man

MR. NOVEMBER Who: MacCasky lord, former U.S. Marshal. Type: Tough, rugged, fiercely independent. Latest Mission: To find the mother of the little girl who'd appeared on his doorstep. Unforeseen Complication: Enigmatic Banner Keaton. She was not t...

---

Gus and the Nice Lady

BREAKFAST IN BED Mr. Gus Galanos sure wasn't the friendly type. From the moment the stone-faced, sexy guest slammed into Phoebe Shaw's bed and breakfast, he hadn't smiled, said two words or taken one bite of her country cooking. One thing the very...

---

Best Man for the Job

MR. JUNE Groom: Rex Ryder's teenage brother, a bad boy young enough not to know better. Bride: Carrie Lanier's teenage sister, who obviously hasn't learned from Carrie's mistakes -- especially when it comes to the Ryder men. We...

---

---

Hazards of the Heart

MR. APRIL Grumpy Man: Construction engineer Jake Hatcher -- long, lean loner. Rarely smiles. Doesn't talk much, either. Reason to Frown: A bittersweet memory of a family that no longer is. Reason to Smile: Single mom Libby Porter and ...

---

Kane's Way

HOW NOT TO PLAN A WEDDING Aurora Hubbard's wedding was two weeks away, and she still hadn't decided on a dress, a church--or whether this marriage would be a big mistake. So when her fiance's best man arrived, full of advice and funny stories, Aur...

---

Keegan's Hunt

THE BULLY OF THE OUTER BANKS The hot-tempered ex-colonel who landed on Coronoke Island was driving Maudie Winters crazy! The divorced mother had no patience for a man who barked orders. So why was she fantasizing about Rich Keegan making a surpris...

---

Grace and the Law

What did a fisherwoman, however kind and caring, know about the proper rearing of an orphaned boy? Attorney Ramsay Adams realized Grace O'Donald was the child's aunt, but he was practically the boy's uncle - and the stronger parental figure. So why w...

---

Lucy and the Stone

MR. MAY Irresistible Man: Stone McCloud couldn't let a big-mouthed floozy ruin a family's good name! Unattainable Woman: Having bad taste in husbands and being trapped in a femme fatale's body were only two of Lucy Dooley's problems. Unexpe...

---

Two Hearts, Slightly Used

BRACE RIDGEWAY: Okay, I was dumped. No big deal. I'm not too upset at being single again, but the reason I got jilted was pretty embarrassing. So I escaped to North Carolina's Outer Banks to be alone, and what do I get? A woman who wants to know my ...

---

Alex and the Angel

MR. SEPTEMBER The Single Dad: Wealthy bachelor Alex Hightower has three women on his mind .... His Sassy-Mouthed Teenage Daughter: A girl with training bras on her mind. His "Steady Gal": A snooty socialite with marriage to Mr. Moneybags o...

---

Single Female (Reluctantly) Seeks...

For her thirty-seventh birthday, JeanAnn's friends place a personal ad for her.... THE THREE BLIND DATES: Bachelor #1: Nice enough--except for that little problem. Bachelor #2: Talked nonstop about his ex-wife. Bachelor #3: Gorgeous and a gentl...

---

The Beauty, the Beast and the Baby

MR. MARCH The Beast: Gus Wydowski, a brooding bachelor with a weakness for beautiful women--but not for bouncing babies! The Beauty: Mariah Brady didn't need a man who knew nothing about babies--especially when she was juggling a newborn! T...

---

The Baby Notion

THE BABY MAKER? Rugged cowboy Jake Spencer liked how babies were made-but wasn't about to make one himself! Then he heard that the sexiest single gal in New Hope, Texas was planning to visit the sperm bank. Suddenly, convincing Priscilla to do her...

---

Stryker's Wife

MR. NOVEMBER Reluctant Bachelor: Kurt Stryker didn't want to marry, but he sure needed a wife! Unsuspecting Bride: Sweet, sexy Debranne Kiley. The Proposal: Gulp! Rugged Kurt Stryker wasn't a man of many words, but he did have one heck of a h...

---

Look What the Stork Brought

Instant Father: former detective Joe Dana had a weakness for beautiful women - not pudgy babies! Earth Mother: Sophie Bayard knew all about natural childbirth - she just didn't expect a handsome stranger to practically deliver her baby in a vegetab...

---

The Passionate G-Man

MR. MAY The G-Man: Secret agent Daniel Lawless... double-crossed by his own agency! The Woman: Brokenhearted beauty Jasmine Clancy ...betrayed by her fiance and best friend! The Passion: Suddenly trapped together in a remote hideaway, the tw...

---

His Business, Her Baby

Tired of the business rat race, tycoon Harrison Lawless exchanges his corporate world for a simpler existence, only to find himself roughing it in a remote cabin with a feisty, extremely pregnant Cleo Barnes. Original....

---

A Knight in Rusty Armor

"I'm not a family man but I sure as hell am willing to try." --Travis Holiday, former Coast Guard officer When Travis learned he had a son, he'd gone into emergency mode: build a home, become a dad, settle down. No more heroics. But when he came u...

---

Texas Millionaire

THE OIL BARON He was the epitome of masculinity -- and rich as sin. But with midlife approaching, Texas baron Hank Langley was in sore need of a wife. And finding a Mrs. Langley from the bevy of social-climbing beauties was a challenge even for t...

---

The Bride-In-Law

LAST-CHANCE BRIDE... Single father and marriage cynic Tucker Dennis was sure his too-romantic dad had been roped into saying, 'I do'. So, he hightailed it down to the Blue Flamingo Motel to halt the honeymoon and talk some sense into elderly groom...

---

A Bride for Jackson Powers

Iced-in at the airport, cradeling the kicking, squealing infant daughter he'd only just discovered, Jackson Powers was fresh out of patience. And now he'd hooked up with fellow strandee Hetty Reynolds, a woman who didn't fit into any of his neat pige...

---

Cinderella's Midnight Kiss

"WILL YOU DANCE WITH ME?" Orphaned Cindy Danbury's heart beat faster when John Hale Hitchcock invited her into his arms. He was back -- the handsome prince she'd adored from afar -- and still beyond her reach. In fact, she should be serving at he...

---

The Virgin and the Vengeful Groom

SLOW, SWEET SEDUCTION Hell-bent on revenge, navy SEAL Curt Powers set out to find the person who had stolen his heritage. But when innocent beauty Lily O'Malley turned out to be the object of his search, Curt disregarded his careful strategy and t...

---

More to Love

Diet was a four-letter word. But then again, so was Rafe, as in Rafe Webber, the hard-edged playboy -- and culinary wizard -- who'd suddenly invaded Molly's week in paradise. A week in which this small-town girl had vowed to reinvent herself. But wit...

---

Rocky and the Senator's Daughter

Rocky Waters first met Sarah Jones when she was a shy teenager. Now scandal had followed the senator's daughter to North Carolina, and Rocky had to warn her. Sarah fiercely guarded her privacy -- and the child she secretly supported. But Rocky was ju...

---

The Millionaire's Pregnant Bride

THE MARRYING MILLIONAIRE Businessman William Bradford hadn't thought wedding bells were tolling for him until he met secretary Diana Foster, who was vulnerable, alone -- and just a little bit pregnant...with another man's child. His protective insti...

---

Marrying a Millionaire

Marrying a millionaire was exactly what Grace McCall was trying to keep her baby sister from doing. Not that Grace had anything against the groom -- it was the groom's arrogant uncle Chandler Daye who got Grace all hot and bothered. Hmm... maybe Grac...

---

Beckett's Cinderella

"You can't refuse me!" -- Lancelot Beckett, millionaire on a mission to settle a debt Secret heiress Liza Chandler didn't want the money -- or the rugged millionaire who'd suddenly come into her life. But Beckett had made a vow to get the job done.....

---

The Quiet Seduction

LSCC Member: Sexy district attorney Spence Harrison Social Status: Busy convicting the bad guys; he's in need of a good woman Method of Seduction: Forgetting his name but finding a home for his heart. To Ellen Wagner, Spence Harrison w...

---

Beckett's Convenient Bride

ON THE WAY TO THE ALTAR... Police detective Carson Beckett had skirted the altar as smoothly as a sly criminal avoided handcuffs. Now the time had come to settle down and fulfill his ailing mother's wish -- and he was halfway there with an unofficia...

---

---

Christmas Eve Reunion

Ann Elise Baker hadn't looked back since she left for the bright lights of Dallas. Now, stranded in her hometown, her old flame comes to her rescue. Shed forgotten how hed made sleepy little Mission Creek sizzle, and now she longs for the chance to s...

---

Social Graces

THE HEIRESS AND THE SCANDAL John MacBride would do anything to keep his stepbrother from being thrown into jail for a crime he didn't commit. Which is how he ended up in the Outer Banks, posing as a handyman for the young socialite who could clear...

---

Driven to Distraction

STUMBLING INTO SEXY TROUBLE! In-the-know columnist Maggie Riley had a mission in mind: to write a scathing expose about a scam artist at an overpriced retreat. Seducing a woman out of house and home was a crime! But fate, and a pair of ill-fitting...

---

Her Passionate Plan B

Honestly, ladies, I had the perfect plan to catch a good man...until he showed up out of nowhere! With his come-hither, all-male looks, sexy stranger Kell Magee could melt the chrome off a bumper. But marriage material? Men like Kell are good for one...

---

Her Man Upstairs

Okay, so maybe hiring a centerfold stud to remodel my home was crazy. But I, Marty Owens, practical bookstore owner, was a desperate woman, and contractor Cole Stevens was a man with muscles and strong hands and a seductive voice promising me he coul...

---

Her Fifth Husband?

TEMPTATION COMES KNOCKING! I didn't care how many sizzling fantasies the mysterious man on my doorstep sparked. Whatever Jake Smith was offering, I didn't need it, didn't want it -- knew better than to even think about it! Besides, if there's one th...

---

First Time Home

Reeling from the scandalous ruin of her career and love life, Laurel Ann Lawless escaped to North Carolina, her hopes pinned on land she inherited. But the property was worthless. So she turned to relatives she'd never met...and discovered family. ...

---
Award-Winning Books by Dixie Browning
Renegade Player
1982 Golden Medallion -- Contemporary Sweet
Frequently Asked Questions (FAQ)
Dixie Browning has published 84 books.
Dixie Browning does not have a new book coming out soon. The latest book, First Time Home, was published in October 2005.
The first book by Dixie Browning, Unreasonable Summer, was published in June 1980.
Yes. Dixie Browning has 7 series.