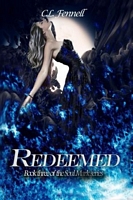 Newest Release
Bibliography:

8 Books - 3 Series

First Book:

January 2017

Latest Book:

December 2017
Full Series List in Order
1 - Illuminate (Oct-2017)
2 - Shadow (Dec-2017)
1 - Jump (Apr-2017)
2 - Fall (May-2017)
1 - Soul Mark (Jan-2017)
2 - Fractured (Jun-2017)
3 - Redeemed (Oct-2017)
Book List in Order:
8

titles
Soul Mark

"Be the light in the darkness." What do you do when everything you thought you knew about life turns out to be a lie? What happens when your nightmares start blending with reality? I'd spent years ignoring the fact there was something different abou...

---

Jump

/ Romance

"You're my beginning and my end..."When I was ten... I fell in love with a boy.When I was fourteen... I kissed him for the first time.When I was eighteen... I married him. When I was twenty-one... my demon killed him. Two years ago I ran away from my...

---

Fall

/ Thriller

"We all have scars..."I'm the silent one. I'm the submissive. I'm the broken girl nobody notices. My wings were clipped and I was locked in a cage. I've been surrounded by bars for so long, I'm not sure how I'd survive without them. There's been a wa...

---

Fractured

"Even the Devil has the face of an Angel."If someone had told me a few years ago that this would be my life, I would have been ecstatic. I would have thought I was sane, and they were obviously the crazy one. But, here I am, thrust in the middle of a...

---

---

Illuminate

/ Science Fiction

They didn't fear the angels or demons, or even the humans who wanted them gone. The only thing they feared... was themselves. The world had changed after the war with demons, but it wasn't nearly as peaceful as people thought it'd be. Max knew what i...

---

Redeemed

I'm the monster the monsters fear. The world changed in the blink of an eye. Overcome with destrustion, covered in chaos, and cloaked by darkness. Allies are wolves wearing the masks of sheep, and enemies become our saving grace. The day of judgment ...

---

Shadow

/ Science Fiction

I've always known what my purpose was, the reason for my existence. My name is Raven, and I am the darkness. I use my shadows to protect the innocents that have been caught in the middle of a war they don't have the power to fight, and my sister who ...

---
Frequently Asked Questions (FAQ)
C.L. Fennell has published 8 books.
C.L. Fennell does not have a new book coming out soon. The latest book, Shadow, was published in December 2017.
The first book by C.L. Fennell, Soul Mark, was published in January 2017.
Yes. C.L. Fennell has 3 series.