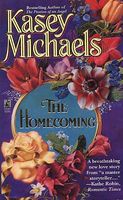 Length:

3 Books

First Book:

April 1996

Latest Book:

June 1997

Genres:

Historical Romance

Rating:
Crown Family Series in Order (3 Books)
Book Descriptions for series: Crown Family
The Homecoming

Book - 1


Miss Bryna Cassidy's journey to the New World holds anything but promise. Orphaned during the ocean crossing, Bryna is forced to travel alone through unsettled lands to reach her uncle's homestead in New Eden, Pennsylvania. She arrives to discover he...

---

The Untamed

Book - 2


It has been five years since a brutal Indian raid claimed Brighid Cassidy's family. But with the resilience and generosity of a young girl, Brighid has grown accustomed to the beautifully simple life of the tribe that took her hostage, then loved her...

---

The Promise

Book - 3


Now readers are swept into a wonderfully romantic encounter between an adopted Englishman searching for his past and the tempestuous American girl who may be his future.... Brianna Cassidy Crown, eighteen-year-old daughter of a Pennsylvania landow...

---
Frequently Asked Questions (FAQ)
There are 3 books in the Crown Family series.
The Crown Family series does not have a new book coming out soon. The latest book, The Promise (Book 3), was published in June 1997.
The first book in the Crown Family series, The Homecoming, was published in April 1996.
The Crown Family series primarily falls into the Historical Romance genre.