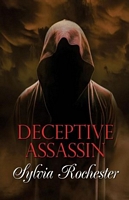 Newest Release
Bibliography:

11 Books - 1 Series

First Book:

January 2007

Latest Book:

June 2018
Full Series List in Order
1 - Disrobed For Death (Jun-2013)
2 - The Corpse Wore Cashmere (Feb-2014)
3 - Mellow Yellow-Dead Red (Jan-2015)
Book List in Order:
11

titles
The Sweet Smell of Death

DEA agent, Trent Harrington, poses as a writer to investigate claims of drug smuggling in the bayous of Louisiana. Within weeks, his informant lies dead. Laney Gravelle, refuses to believe her father's death is an accident and launches her own inve...

---

When Evil Loves

While beautiful and wealthy Lindsey Vidrine pushes for answers in the mysterious disappearance of her husband, Sam, David and Benjamin are only too eager to fill her loneliness. She fears for her life when an investigation implicates each of them as ...

---

Come Back My Love

When an antique locket turns a Civil War reenactment into reality, Olivia Montgomery disappears into the past, leaving Joseph Underwood a suspect in her murder. She finds herself in arms of Prentice Angelle, a Confederate surgeon. Amid the fervor and...

---

Shadow of the Soul

Sacrificed by his father, a disfigured infant plunges down a snowy mountain. A trapper rescues the boy who grows to young manhood, accompanied by the wolf that nurtured him and a dark anomaly--a fragment of that bond born to twins--the SHADOW OF THE ...

---

Courage To Care

In l890, the country isn't ready for a woman doctor, but don't tell that to Rachel Moore. Shunned by male patients at her home in the Cascades and later denied employment by Charity Hospital in New Orleans, she holds firm in her conviction that s...

---

Da Vinci's Lost Years

Ever wonder how Da Vinci could conjure up such futuristic concepts? Maybe he saw them. After striking a bargain with the Old One, a weaver of time, young Leonardo lands in 1969 New Orleans at the height of Mardi Gras. But things go awry when this med...

---

Deadly Illusion

Stephanie Warren doesn't believe in the Fountain of Youth until she inherits it. Only then does she discover that beauty can be deadly, that there are those willing to kill for such a formula. Fresh out of college, this would-be writer is no match ...

---

Disrobed For Death

/ Mystery

Susan Griffin awakes from surgery with one thoughthow to stop a murder before it happens. Only the intended victim refuses to believe that she has foreseen his death. Worse yet, she hasn't a clue as to the murderer, and the day of reckoning is but tw...

---

The Corpse Wore Cashmere

/ Mystery

Susan's vision comes true when Palmetto's flotilla recovers the remains of a missing resident. A witness and the victim's prior employment point to the Mississippi Gulf Coast, where the Annual Pirates' Festival is in full swing. When a swank Biloxi c...

---

---

Mellow Yellow-Dead Red

For months, Susan Griffin's psychic abilities have eluded her, making it impossible to help Detective Wesley Grissom with his cold case. While Wesley misses Susan's insight, he's content knowing she is safe. Once Susan gets involved, she has a ...

---

Deceptive Assassin

When one of their own becomes the prime suspect in the assassination of Russian diplomats, residents of a small southern town join wits with experts to identify the real culprit. The CIA believes Brendon Harrington is innocent. The Russians are convi...

---
Frequently Asked Questions (FAQ)
Sylvia Rochester has published 11 books.
Sylvia Rochester does not have a new book coming out soon. The latest book, Deceptive Assassin, was published in June 2018.
The first book by Sylvia Rochester, The Sweet Smell of Death, was published in January 2007.
Yes. Sylvia Rochester has 1 series.