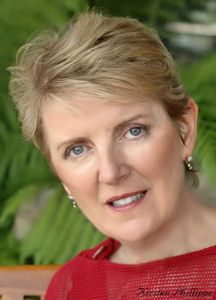 About the Author
Stella Cameron was born on December 5, 1943 on the southern coast of England. As a young girl, she was a self-professed reading "addict", devouring all types of literature. Stella met her American husband at a party in London. After their marriage, she left England and went with husband Jerry to Washington State to make a home and raise a family. They live near Seattle, and have three children, one married. Her pets, a dog named Spike and a cat named Raven, are her constant buddies.

In 1980, Stella decided she wanted to write professionally. She attended writing classes and wrote short literary fiction for a year. It was during this period that Stella discovered how well-written and intense romantic fiction could be. Using her newly acquired writing skills, she began to write contemporary romantic fiction for Harlequin since 1985. She collaborated with Linda Rice as Alicia Brandon and with Virginia Myers as Jane Worth Abbott. Now, she is the New York Times, USA Today, and Washington Post bestselling, award-winning author of more than 50 historical and contemporary romantic suspense novels and novellas. Stella has won numerous awards and accolades.
Full Series List in Order
1 - Cold // Folly (Aug-2013)
2 - Out Comes the Evil (Dec-2015)
3 - Melody of Murder (Jun-2016)
4 - Lies That Bind (Jun-2017)
5 - Whisper the Dead (Apr-2018)
6 - Trap Lane (Oct-2019)
7 - The Playing Fields (Nov-2021)
1 - French Quarter (Aug-1998)
2 - Cold Day in July (Sep-2002)
3 - Kiss Them Goodbye (Nov-2003)
4 - Now You See Him (Nov-2004)
5 - A Grave Mistake (Nov-2005)
6 - Body of Evidence (Mar-2006)
7 - A Marked Man (Nov-2006)
8 - Target (Apr-2007)
9 - A Cold Day In Hell (Sep-2007)
10 - Cypress Nights (Aug-2008)
1 - Darkness Bound (Mar-2012)
2 - Darkness Bred (Jun-2013)
1 - Out of Body (Mar-2010)
2 - Out of Mind (Apr-2010)
3 - Out of Sight (May-2010)
1 - Pure Delights (Jan-1995)
2 - Sheer Pleasures (Oct-1995)
3 - True Bliss (Aug-1996)
4 - Guilty Pleasures (Apr-1997)
5 - We Do! (Feb-2001)
1 - A Useful Affair (Mar-2004)
2 - Testing Miss Toogood (Mar-2005)
1 - No Stranger (Apr-1987)
2 - Second to None (Dec-1987)
1 - More and More (Apr-1999)
2 - All Smiles (Feb-2000)
3 - 7B (Mar-2001)
4 - The Orphan (Mar-2002)
5 - About Adam (Mar-2003)
1 - Key West (Aug-1999)
2 - Glass Houses (Jul-2000)
1 - Undercurrents (Apr-1991)
2 - Snow Angels (Jun-1991)
1 - Only by Your Touch (Aug-1992)
1.5 - The Greatest Gift (Nov-1992)
2 - His Magic Touch (Apr-1993)
1 - Fascination (Nov-1993)
2 - Charmed (Apr-1995)
3 - Bride (Dec-1995)
4 - Beloved (Oct-1996)
5 - The Wish Club (Jun-1998)
Multi-Author Series List
A Man for Easter
(Apr-1992)
Book List in Order:
77

titles
---

Moontide

FATE BESTOWED THEM WITH A SECOND CHANCE Two years ago, Greer Beckett had lost everything. Her husband, her child, even her dreams. Getting on with her life was easier said than done, but now she was willing to try. It was time to go back to Eng...

---

Shadows

All night the Porsche raced toward Phoenix Leah Cornish knew she was gambling her future on a man she'd only met once, but did she have a choice? Guy Hamilton seemed to understand her, and his kind eyes had not judged. He'd offered her his help - ...

---

All That Sparkles

Some people would kill for diamonds.... Paula Renfrew was proud to follow in her father's footsteps as a diamond finisher for the House of Kohl in Amsterdam. But years ago her father had been implicated in the theft of a valuable gem. And now tha...

---

No Stranger

Nick's expression said it all Abby Winston had been worrying what her neighbor would think when he noticed the sparse furnishings of her Seattle apartment, and wondering what she could give him for lunch. She'd entirely forgotten herself -- until ...

---

Second to None

Michael Harris made a worst-case scenario for love. When Sophie Peters was hired as nanny to Nick and Abby Dorset's children, her fantasies were fueled by the love her employers shared. Sophie wanted that same caring, trusting kind of love, but sh...

---

Some Die Telling

The job was waiting but her sister wasn't Ellen Shaw arrived in London, England, to take her ideal job--managing an antiquarian bookshop--and met her ideal man. Strong and solid, warm and loving, Hugh Weston, the shop's owner, was a powerful man. ...

---

A Party of Two

She ran for her life Emily Smith's late-night job became a panicked run when she found herself being followed by a menacing shadow through deserted downtown streets. Even the sleek sports car that drew up alongside her caused her skin to crawl. Th...

---

The Message

Someone wasn't getting the message When Page Linstrom first set eyes on Ian Faber, it was two a.m. and she was delivering an order of truffle pate and champagne to his San Francisco town house. Ian was intrigued. Page kept her distance. But he did...

---

Once and for Always

HER PAST READ LIKE A FAIRY TALE Once upon a time a girl named Caitlin McBride went to Wales and fell for a lad named Trevor Morgan .... Now Caitlin lived in Beverly Hills. She had a troubled teenage daughter and a dead marriage. She'd returned ...

---

---

A Death in the House

Secrets... ...secrets of the past. What happened long ago in the cellars of Airstone Hall in Dorset, England, was coming back to haunt the present. Sue-Ellen Hill didn't realize that taking on the task of turning the old Elizabethan house into a b...

---

Friends

FRIENDS ARE FOR KEEPS Tom, Shelly and Ben had been inseparable as children. Together they had survived all the terrors of growing up. Then they had become adults, and their friendship had faced a different challenge, their loyalties a tougher t...

---

The Late Gentleman

She was no stranger to the dead But the venerable scholar on Kristin Wallace's bed was recently dead--and Charles Belmain blamed her for the demise of the Belmain-family archivist. In England to conduct research, Kristin put her historical method ...

---

Risks

WAS SHE READY FOR A NEW BEGINNING? Jennie Andrews was bravely coping with a new business, a house in constant need of repairs, and two teenage sons. Then life suddenly tipped that precarious balance. Peter Kynaston had been the family's best fr...

---

Undercurrents

More than meets the eye Mike Kinnear thought Susan Ackroyd was the pushiest woman he'd ever met. The nerve--trying to tell him how to care for his daughter. The woman clearly had some sort of problem. For her part, Susan had Mike pegged as irre...

---

Mirror, Mirror

JACK IRVING WAS DANGEROUS . . . . . . and cute. He flirted outrageously with Lauren Taylor and made a nuisance of himself until she agreed to date him. But what did Jack really have in mind? Lauren tried her hardest to ignore his romantic overt...

---

Snow Angels

He appointed himself her guardian angel Sure, Aaron Conrad was playing God, but what were best friends for? Someone had to snap Libby Ducleaux out of her depression, and Aaron knew just how to do it. Step one was to entice Libby back home. Sinc...

---

The Legend of Under Widden

WHAT WAS HAPPENING AT UNDER WIDDEN? Huddled in a hill-lined bowl a few miles from Lyme Bay, England, the village of Under Widden shifts in and out of the mist from the sea that slinks over the land. It is a place that speaks of a legend, a tale of...

---

An Angel in Time

CHRISTMAS MIRACLES Hannah Bradshaw waited on her doorstep as an old, bearded man fought blinding snow to deliver a long-lost letter--and her first Christmas miracle. Suddenly, she felt flooded by memories of the past and compelled to answer the...

---

A Man for Easter

HE WANTED HER... But on his own terms. Dr. Dominic Kiser was a man who needed a challenge, and Briar Lee was just the woman to give it to him. But every time he remembered what she did for a living, he found it harder to live by his one rule: Don'...

---

---

Only by Your Touch

Sworn to avenge his brother's death, Edward de Worthe, the sixth Viscount Hawkesly, is determined to woo, wed and ruin the beautiful stepsister of the man responsible. But Lindsay Granville will not be easily won -- for she possesses a strong ind...

---

Mad About the Man

HE WANTED EVERYTHING Jacques Ledan was the King of Candy, the man whose passionate sweets were indescribable sensations. He was also a conqueror, whose next conquest was to wake up the sleepy town of Goldstrike... and seduce his adversary, Gaby Ma...

---

The Greatest Gift

With Christmas approaching, a kindly nanny and an impish little boy conspire to help a gentle Cornish maid win the heart of a lonely widower....

---

His Magic Touch

Seeking vengeance for his lost birthright, handsome, highborn James St. Giles plots to seduce and defile his enemies' exquisitely innocent daughter -- thereby halting her impending nuptials to a wealthy lord. Though chaste and unworldly, lovely Celin...

---

Bargain Bride

A bold and breathtaking love blossoms from a marriage of convenience -- when a headstrong English miss loses her heart to the dashing knight in shining armor who rescued her from an unwanted wedding...but has designs of his own....

---

Fascination

Pretty but penniless Grace Wren yearns for love ... but must marry for money. So she consents to wed Lord Arran Rossmara, the ancient and ailing Marquess of Stonehaven -- unaware that her fiance is considerably younger and healthier than she has been...

---

Breathless

FALLEN ANGEL Angelica Dean has only one thing on her mind when she arrives at Sinjun Breaker's private island paradise--revenge. A respected journalist, Angel knows the enigmatic tycoon has to pay for his many sins--and she intends to exact a stee...

---

Pure Delights

Headstrong artistic rebel Paris Delight doesn't expect Mr. Right to come charging up on a silver steed. High-powered dealmaker Tobias Quinn is Seattle's sexiest divorced man, and he needs Paris to save his fortune and possibly his life. Between these...

---

Charmed

A PURLOINED LIFE Stolen at birth by a deceiving wench, Calum Innes has returned at last to London, determined to take back by any means necessary that which is rightfully his -- his title, his lands, his fortune ... and a beautiful maiden engaged to...

---

Sheer Pleasures

Attorney Wilhelmina Phoenix knows she's heading for treacherous waters when she sets out in search of her oldest and dearest friend, who disappeared from a private pleasure club in Washington State's Cascade Mountains. She doesn't realize...

---

---

Bride

SHE WAS INNOCENCE... Lady Justine Girvin, the Duke of Franchot's elegant spinster sister, decided to grab one last chance for happiness -- by doing something incredibly scandalous. Defying convention, she had traveled alone to a Scottish castle ...

---

True Bliss

Once upon a time, lonely privileged Bliss Winters and wild teenaged rebel Sebastian Plato were secret sweethearts, hiding their love from a hostile world. Until a rival's jealousy and shocking accusations shattered their dreams, forcing Sebastian to ...

---

Beloved

HIS HIDDEN FURY Five years earlier Saber, the Earl of Avenall, had won her young fancy, then mysteriously vanished. Now fate reunites them and Ella stands before him: grown, beautiful, seductive. Even as Saber swears never to taint her with his own ...

---

Guilty Pleasures

Every woman has a past, but beloved television personality Polly Crow has one she must conceal at all costs. Every man has his breaking point, but ex-Navy SEAL Nasy Ferrito is about to discover how far he will go to protect what he believes in. ...

---

Dear Stranger

The Curious Innocent The last thing Lily Adler wanted to do was marry a man just for the sake of convention. Yet she wasn't completely immune to the charms of the opposite sex. With scholarly intentions, Lily set out to study the "male mysteries."...

---

Early in the Morning

A frustrated librarian is determined to drive her scholarly fiance wild with desire before the wedding, but she may need some heavenly help to ignite the passion of a man afraid of being burned....

---

Wait For Me

A Forgotten Fiancee Gray Falconer went to the West Indies for four years -- not once did he write. When he strides back, without any explanation, and confident that she'll "forgive and forget," it's Minerva's turn to test his patience. An Unfor...

---

The Best Revenge

RAE FAITH MOODY KNOWS SHE CAN BEAT DALLAS CALHOUN IF SHE CAN ONLY RESIST THE TEMPTATION TO JOIN HIM. Young Rae Faith fled her home. She ran from town to town, covering her tracks, until her trail was cold. Then she settled in tiny Decline, Georgia...

---

The Wish Club

As children, Max Rossmara, the son of a viscount, and Kirsty Mercer, a tenant farmer's daughter, were unlikely yet inseparable friends. Innocent to the demands of convention, they formed a club for wishing. And each had only one wish: to be toget...

---

French Quarter

The shocking death of her employer and patron Errol Petrie, the excesses suggested by the murder scene, and the investigation that is sure to follow are just some of the pieces of Celina Payne's nightmare. And the last man she trusts is now the only ...

---

---

More and More

Mayfair Square, a London town house where the most extraordinary things happen, such as the dangerous affair between... THE SPINSTER Finch More, twenty-nine, connoisseur of antique glass, is considered "on the shelf." But when her broth...

---

Key West

One night, eight months ago, Sonnie Giacano lost everything--her husband, her unborn child, and a significant portion of her memory. She knows what happened to her was no accident, but rather something so sinister she's blocked it from her mind. A...

---

All Smiles

LONDON 1821 7 Mayfair Square, an elegant townhouse, during the glittering whirl of a London season. Here, with a little help form a most unusual matchmaker, anything is possible -- even unlikely love between a nobleman and a confounding parson...

---

Glass Houses

British photographer Olivia FitzDurham is running for her life--all the way to New York City and a man she's never met. The pictures she took for a London magazine seem harmless, but the man who tried to push her off the tube platform definitely m ...

---

Finding Ian

BYRON FRAZER'S PAST IS ABOUT TO CATCH UP WITH HIM All those years ago, he felt he had little choice. His wife's sudden death in childbirth and his own youth meant it really would be for the best if the baby were adopted by a stable, loving couple....

---

We Do!

Friends to Lovers... Fabiola Crowe was terrified to let her secret out. She'd fallen in love with her best friend. But she absolutely couldn't tell him ...because she'd run the risk of losing him forever....

---

7B

7 Mayfair square, an elegant London townhouse where the unusual is routine. Sibyl Smiles possesses a most unfashionable leaning toward independence. At eight and 20, she remains unmarried, yet fosters one great desire: to be a mother. To that end,...

---

Tell Me Why

Why has renowned jazz pianist Carolee Burns given up playing celebrated venues for a tiny bistro in suburban Seattle? Former athlete Max Wolfe wants to know--because more than Carolee's gorgeous music haunts him. The woman herself is a melancholy mys...

---

The Orphan

7 Mayfair Square, the elegant London town house where matchmaking and mayhem are always in the air. Why would England's "Most Daring Lover" risk his reputation by falling madly in love with a nobody, a shabbily dressed milliner's a...

---

Cold Day in July

Toussaint, Louisiana, is a sleepy bayou town where live oaks stretch over roadways, men raise crawfish the way their granddaddies did, and Spanish moss hangs in ribbons above the swamps and dirt roads, keeping everything shaded from the hot July sun....

---

---

About Adam

Adam Chillworth is a hard man. The mysterious and talented portrait artist of 7C Mayfair Square is passionately in love with Princess Desiree, of Mont Nuages, though he has consistently refused her ardent adoration, convinced that he's too old an...

---

Kiss Them Goodbye

Just weeks after inheriting Rosebank, a once-magnificent plantation on the banks of Bayou Teche, David Patin was killed in a mysterious fire, leaving his daughter, Vivian, almost bankrupt. With few options remaining, Vivian Patin decides to restore t...

---

A Useful Affair

The Marquis of Granville's deadly efficiency makes him invaluable to the Crown. But his latest mission has nothing to do with his work for England and everything to do with avenging the murder of two members of his family. Killing would be too go...

---

Now You See Him

Two years ago Ellie Byron was the only witness to the brutal murder of a young woman. Charles Penn, a hard-eyed man with a history of violence, was convicted of the crime. Now he's escaped - and another woman is dead. Ellie fears she may be next a...

---

Testing Miss Toogood

Fleur Toogood is beautiful, opinionated and has a disastrous inclination to speak her mind. And she refuses to marry without love. But as the most eligible of Reverend Toogood's five daughters, she has been charged with making a brilliant match that ...

---

A Grave Mistake

Dead: one ordinary man. Just the latest in a string of losers in the wrong place at the worst time. Not the kind of case to yank New Orleans homicide detective Guy Gautreaux back from his leave of absence in Toussaint, Louisiana. There's someone i...

---

Body of Evidence

Emma Lachance is taken by surprise when she runs into her friend and high-school crush, Finn Duhon, on a construction site in Pointe Judah, Louisiana. But the last thing she expects to find is the corpse of her friend, a local journalist whose relent...

---

A Marked Man

ONCE ACCUSED When Max Savage opens his practice in a remote, seductively beautiful bayou town, he hopes it's the start of a new life. He's got his reputation as a skilled surgeon, his two brothers by his side and a fresh chance here in the sultry he...

---

Target

FOR HIS PLAN TO WORK, EVERYONE ELSE HAD TO DIE. Nearly two decades ago a charismatic man called Colin controlled an isolated community hidden in foothills north of San Francisco in what was supposed to be a life free of materialism. Instead, Colin...

---

A Cold Day In Hell

'Tis the season to be wary... Christmas is coming and all is far from calm in Pointe Judah, Louisiana. Newcomer Christian DeAngelo--Angel to his friends--is at his wit's end trying to manage Sonny, the hotheaded nineteen-year-old everyone believes...

---

Cypress Nights

Roche Savage is a dedicated, talented psychiatrist with a life-shattering secret: his sexuality isn't just vibrant, it's over-the-top. He's always avoided gentle, reserved women because he knows that if he lets himself get out of control he could fri...

---

A Knotty Tail

From seeing-eye dogs to cats who sit in your lap, animals are there for us in more way than we can count. Helping us get through the day with a wag of the tail and a tilt of the head, they let us know that someone is on our side-no matter what. They ...

---

Out of Body

Born of an ancient family of clairvoyants, Marley Millet finds that her psychic gift is both unsettling and incredibly dangerous. She never wants to "travel" again -- but the choice is not hers to make. After glimpsing the fates of two missing New O...

---

Out of Mind

Willow Millet longs to deny her family's exceptional gifts--paranormal talents known to few, shared by even fewer. Benedict Fortune is one such--a connection that should have strengthened the undeniable bond between him and Willow. But her self-doubt...

---

Out of Sight

Psychic master talent Sykes Millet can vanish at will, read minds and control others with hypnosis. What Sykes cannot do is escape his destiny--an ancient curse foretelling the misery his dark beauty may bring to everyone he loves. Poppy Fortune k...

---

Darkness Bound

WHEN NIGHT FALLS After her husband's tragic death, Leigh Kelly arrives on Whidbey Island determined to start over. Yet the tiny town of Chimney Rock is not as peaceful as it seems. Women have been disappearing, and Leigh can't shake the feeling th...

---

---

Darkness Bred

THE DARK SIDE OF THE MOON Ever since shapeshifter Elin escaped to Whidbey Island, danger has stalked her every move. Her human traits, combined with her unique supernatural gifts, make her a prized being to be possessed . . . or destroyed. It is o...

---

Cold // Folly

Following the breakdown of her marriage, Alex Duggins has returned to her picturesque hometown of Folly-on-Weir in the Cotswolds in order to start afresh. But you can't outrun the past, as Alex is about to discover when she stumbles across a frosted ...

---

One Magical Christmas

/ Contemporary Romance

Dumped by her fiance and fired from her job, Hannah's day couldn't get any worse. Or could it? When she arrives home and finds a mysterious delivery man, a past long forgotten comes rushing to the present. An intriguing invitation hints at a centurie...

---

---

Love Is Where You Find It

/ Contemporary Romance

LOVE IS WHERE YOU FIND IT, an anthology Country, city, or…? FRIENDS Shelly, Ben, and Tom…Friends forever. Misfits in their small town, they join forces to support each other and find a way out. Shelly and Ben go to college, get married, and settl...

---

Out Comes the Evil

Once again Alex Duggins and her veterinarian friend Tony Harrison are thrown into a major murder investigation. An almost fresh body is discovered in a disused well among the ruins of a 14th-century manor house … the motive for the killing a baffli...

---

Melody of Murder

The arrival of a talented, ambitious and unusual new family leads to mayhem and murder in the peaceful Cotswold village of Folly-on-Weir The idyllic Cotswold village of Folly-on-Weir, with its traditional pub, sumptuous tea rooms and fragrant bake...

---

Lies That Bind

When a young boy finds a body in a neighbouring village, once again Alex Duggins is drawn into a case of cold-blooded murder. When a body is discovered in the neighbouring village of Underhill, Alex Duggins, owner of Folly-on-Weir's premier pub...

---

Whisper the Dead

With plot twists galore and an array of credible suspects, this traditional village mystery series will appeal to fans of M.C. Beaton and Midsomer Murders When Alex Duggins comes across a terrifying scene at the site of a new housing development, ...

---

Trap Lane

The troubled past of the Black Dog's manager returns to haunt him in the intriguing new Cotswold village mystery featuring pub owner Alex Duggins. Although he has always kept his past carefully hidden, as the ever-reliable manager of her well-st...

---

The Playing Fields

When two bodies are discovered within six weeks of one another, it would appear that a serial killer is at large in the sleepy Cotswold village of Folly. Six weeks after a battered body is found in the grounds of the village cricket club, DCI Dan ...

---
Award-Winning Books by Stella Cameron
French Quarter
1998 RT Reviewers Choice Award -- Romantic Suspense
Frequently Asked Questions (FAQ)
Stella Cameron has published 77 books.
Stella Cameron does not have a new book coming out soon. The latest book, The Playing Fields, was published in November 2021.
The first book by Stella Cameron, Moontide, was published in October 1985.
Yes. Stella Cameron has 12 series.