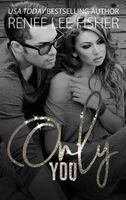 Newest Release
Bibliography:

24 Books - 2 Series

First Book:

June 2013

Latest Book:

August 2021

Rating:
Full Series List in Order
1 - The Knot Hole (Dec-2014)
2 - The Passage (Jan-2015)
3 - The Muse (Jan-2015)
1 - Rock Notes (Jun-2013)
Book List in Order:
24

titles
Rock Notes

Madison Tierney's a writer, whose husband, Thomas suddenly left her after 10 years; she is destroyed and now recently alone and divorced. She picks herself up slowly trying to restore her lost confidence and ability to love again. She follows her wri...

---

Love Notes

Rand: As our bodies joined as one, I felt more in that one moment than I have ever felt with anyone. I never wanted to leave your arms, your body, and our connection. I believe that you complete me, you were made for me. I struggled to keep my feelin...

---

Music Notes

How will Madison and Rand keep their love and music playing? Music Notes (Book Three of the Heartbeat Series) Just when life seems to be going smooth, Madison receives news that leaves her speechless. She's a writer that for the moment cannot form he...

---

The Knot Hole

Reaching through The Knot Hole to past moments in time . . . Taryn always wondered about how realistic her mothers' tales were that she was told. They seemed like fantastic, creative and fun adventures. Now with Taryn's mother gone, she will realiz...

---

The Muse

Taryn the creator of The Muse will have you follow her journey of everlasting love . . . Creating The Muse was derived in Taryn's imagination to keep her identity hidden. The delicately winged symbol has touched so many lives. From a fluttering tho...

---

The Passage

The Passage where souls are truly connected forever, can be seen deep in the eyes of a person even if their body in this time has changed . . . Taryn's good fortune keeps coming in masses. Everything is falling into place, but there is one piece th...

---

---

First Beat

First Beat (Book Four of the Heartbeat Series) With every heartbeart… Jillian: From a loss of a baby, to a broken relationship, and then the discovery of a well-kept secret, Jillian is left feeling hollow. Will she ever find happiness to fulfill he...

---

Secret Crush

David is the general manager at Arden's, one of the finest restaurants in Cape Cod. For fifteen years' he has been very happy, until the day, Heath Harrison was hired. Immediately Heath had the girls falling at his feet except for one girl, Lavin...

---

---

Love Struck

Love Struck – Not a tabloid romance. Dreams of Hollywood… Cassidy Shoemaker wanted to become actress Vivian Layne, and did. Aiden Vaughn wanted to become actor Niles Stone, and did not. By chance their paths crossed, and instantly both hearts con...

---

---

Mask of Rade

We all have something to hide… Rachel Anne Dempsey is heartbroken her father will not acknowledge her. His business comes first and is not to be run by a daughter or any woman…ever. A life without his love has hardened her. Rachel is determined t...

---

Forgotten Message

One life changing decision. A field to play professional football on, or join the Army and be on a battlefield. Rayne's heartbroken he never reached out to her, but she must push on with her life. Liam struggles daily and would never burden her wit...

---

---

---

---

---

---

---

---

Restricted Love

/ Contemporary Romance

Imprisoning the heart is a true injustice.Kade has served his time. The separation from Autumn was painful.Now the roles are reversed. The distance, sadness and loneliness keeping them apart once more.Will they ever get the freedom to be together, wi...

---

---

---

Fallen To Pieces

/ Contemporary Romance

Ryker tells Gia he loves her.Blayne shows her he loves her.Gia watches Blayne high five a guy one day in the coffee shop, and hears him comment, "I got this." That stuck with her and Gia later recalls that was the same guy in high school ...

---

---
Frequently Asked Questions (FAQ)
Renee Lee Fisher has published 24 books.
Renee Lee Fisher does not have a new book coming out soon. The latest book, Only You, was published in August 2021.
The first book by Renee Lee Fisher, Rock Notes, was published in June 2013.
Yes. Renee Lee Fisher has 2 series.