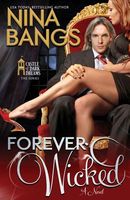 Newest Release
About the Author
Nina Bangs was born in San Antonio, but spent most of her life in New Jersey. Somewhere between California and Texas she grew addicted to romance novels and cats. Before settling down to a teaching career, she dabbled in a variety of jobs ranging from working with Arabian horses to singing in Irish pubs. When she decided to try writing her own romances, the USA Today bestselling author made sure a cat crept into each of her stories. She lives near Galveston, Texas, with her loved cat, Abby.
Full Series List in Order
0.5 - Color Me Wicked (Dec-2004)
1 - Wicked Nights (Apr-2005)
1.5 - Hot Summer Bites (Jul-2006)
2 - Wicked Pleasure (Jun-2006)
3 - Wicked Fantasy (May-2007)
4 - My Wicked Vampire (Oct-2009)
5 - Wicked Edge (Mar-2012)
6 - Wicked Whispers (Oct-2012)
7 - Wicked Memories (Jun-2013)
8 - Forever Wicked (Aug-2017)
1 - Eternal Pleasure (Jul-2008)
2 - Eternal Craving (May-2009)
3 - Eternal Prey (Jan-2011)
4 - Eternal Shadows (Oct-2022)
1 - Master of Ecstasy (Feb-2004)
2 - Night Bites (Mar-2005)
3 - A Taste of Darkness (May-2006)
4 - One Bite Stand (Jan-2008)
Multi-Author Series List
From Boardwalk with Love
(Jan-2003)
Book List in Order:
28

titles
---

The Hunka Hunka and the Penny Pincher

The lush tropical beauty of Hawaii has inspired plenty of romance. But then, so have the croonings of a certain hip-shaking rock'n'roll legend. In these tales of love by some of romance's brightest stars, four couples put on their blue suede shoes an...

---

An Original Sin

MEN'S BODIES WERE HER BUSINESS Fortune MacDonald listened to women's fantasies on a daily basis as she took their orders for customized men. In a time when the male species was extinct, she was a valued man-maker. She had created some of the best ...

---

Sweet Sin

SWEET ANTICIPATION... More alluring than Aphrodite, more irresistible than omen, the power of this sensuous seductress is renowned. It teases the senses, tempting even the most staid; it inspires wantonness, demanding surrender. Whether savored or...

---

Man with a Golden Bow

A shy Jersey girl gets what she wants for Christmas - and spends her good sweet time unwrapping him....

---

The Pleasure Master

Stranded by the side of a New York highway on Christmas Eve, hairdresser Kathy Bartlett wishes herself somewhere warm and peaceful with a subservient male at her side. She finds herself transported all right, but to Scotland in 1542 with the last man...

---

Night Games

HE IS THE MVP OF THE FUTURE'S. HOTTEST SPORT. Sex. Rules of the game: play hard, play to win, and play with a passion for the game, never for the woman. In a world where lust is a spectator sport, Brian Byrne is the undisputed champion. He is every ...

---

From Boardwalk with Love

The world's richest man, Owen Sitall, is a flop at a certain game, but now he's built an enormous board so he can win on his own. His island is a playground for the rich. But he doesn't know that L.O.V.E.R.--the League of Violent Economic Revolutiona...

---

The Flame

Museum curator Serenity So-Fine has traveled back in time from the year 2700 to retrieve the infamous erotic sculpture The Flame. But the work's sensual creator, Justin Hill, is about to take Serenity to places even she's never been. . . ....

---

Master of Ecstasy

BLYTHE SPIRIT Her trip back in time to 1785 Scotland is supposed to be a vacation, so why did Blythe feel that her stay at the MacKenzie castle will be anything but? The gloomy old pile of stones had her imagination working overtime, making helpful ...

---

---

Color Me Wicked

Amanda Harcourt had one scorching night of incredible sex with Conleth Maguire on a Galveston, Texas, beach ten years ago. Then she'd left Con for a career in New York City. She's back in Galveston now as the interior designer for the weird and w...

---

Night Bites

Cindy Harper had an ice-cream flavor for every emotion. Vanilla caramel fudge eased the stress of dealing with her weird and wacky guests at the Woo Woo Inn. But no sweet treat from her freezer was smooth, creamy, or tempting enough to cool down her ...

---

Wicked Nights

Welcome to the Castle of Dark Dreams. It's the yummiest attraction in Live the Fantasy, an adult theme park where women who dare can take sexy role-playing to new erotic heights. Just by looking at the castle you know that only dangerously tempting m...

---

A Taste of Darkness

He'd lived a thousand years for this? Reinn Mackenzie was one ticked-off vampire. Werewolves--furry pains in the butt. Werecats--sneaky whisker-twitching manipulators. Reinn hated them all. But most of all, he hated his job. Guardian of the Blood....

---

Wicked Pleasure

The "sensually sizzling" (Booklist) talents of USA Today bestselling author Nina Bangs just got hotter with this second book in her Really Wicked Brothers trilogy of three powerful men-each with a special gift for the woman bold enough to live out he...

---

Hot Summer Bites

PACK YOUR SUNBLOCK... IT'S GOING TO GET HOT. Crashing waves, intense heat, body oil, and men who give new meaning to a day at the beach... Three of today's most talented authors deliver all-new stories of the hunks who work and play at the sizz...

---

Wicked Fantasy

Goddesses kick butt when you tick them off -- Conall O'Rourke learned this the hard way after killing an Irish deity's favorite in battle. His punishment? He's cursed to protect Kavanagh descendants down to the last arrogant jerk. Now there's only on...

---

One Bite Stand

He's a big, bad vampire. She loves the nightlife. Is it a match made in Heaven or are they heading straight for Hades? Harpies don't get callbacks. That's why Daria's job as night manager of the Woo Woo Inn is the opportunity of several lifetimes....

---

Eternal Pleasure

THE ELEVEN--an alliance of ultimate predators. Primal, lethal, irresistible. THE PROPHECY--an ancient Mayan prediction that the world will end on 12-21-12. THE PREY--where can you hide from pure evil? Kelly Maloy opens her car door to much more...

---

Eternal Craving

Lies. He's been promised a new life as the hunter he once was. But Al soon learns that all the rules have changed. Now he must control his most basic urges--the need to kill, to feed, to mate. And the woman he wants looks at him with both heat and fe...

---

---

My Wicked Vampire

The Castle of Dark Dreams is just part of an adult theme park, right? The most decadent attraction in a place where people go to play out their wildest erotic fantasies. Holgarth isn't really a wacky wizard, and Sparkle Stardust doesn't actually crea...

---

Eternal Prey

The souls of ancient predators reside in the bodies of not-so-ordinary men. In a modern world of darkness, they are...GODS OF THE NIGHT A magnificent creature, Utah wants vengeance against the bloodsuckers who murdered his brother. Once the beast wi...

---

Game Master

/ General Fiction

(Originally published as From Boardwalk with Love by Dorchester Publishing/Leisure Books). Camryn O'Brien, secret agent newbie, doesn't know if she'll survive her first assignment. With the dubious help of three retired agents and an ultimate w...

---

Wicked Edge

USA Today bestselling author Nina Bangs once again tempts readers to enter the wickedly sensual Castle of Dark Dreams--a playground where private pleasures and devilish fantasies come true, where the men who breathe life into women's ultimate desires...

---

Wicked Whispers

USA Today bestselling author Nina Bangs welcomes you back to the Castle of Dark Dreams, a place of otherworldly secrets and sensual men with the power to fulfill your most private fantasies. All Ivy had ever wanted was a safe, secure life with no ...

---

Ties That Bind

Cassie Tyler agrees to sub for her friend at the funeral home where she works. But she gets more than she bargained for when a group of men attack her and a vampire comes to her rescue… ...

---

Wicked Memories

Return to the Castle of Dark Dreams, where USA Today bestselling author Nina Bangs lures readers into a world of pleasure, adventure, and revenge... Thorn Mackenzie was a young Viking when he met Sparkle Stardust long ago. She used him and then ab...

---

Forever Wicked

New York Times and USA Today bestselling author Nina Bangs welcomes you back to the Castle of Dark Dreams where cosmic troublemakers Ganymede and Sparkle Stardust face their greatest challenge. A hidden past. An ancient enemy. A quest for vengeance. ...

---

Eternal Shadows

Rap is a mystery. Human. Vampire. Ancient predator.Can she love all three?Selene is a powerful, sensual woman. His enemy.Can he ever trust her?Hanging in the balance? The survival of the human race.He is one of the Eleven—beings with the souls ...

---
Award-Winning Books by Nina Bangs
Eternal Craving
2009 RT Reviewers Choice Award -- Shapeshifter Romance
Frequently Asked Questions (FAQ)
Nina Bangs has published 28 books.
Nina Bangs does not have a new book coming out soon. The latest book, Eternal Shadows, was published in October 2022.
The first book by Nina Bangs, An Original Sin, was published in August 1999.
Yes. Nina Bangs has 3 series.