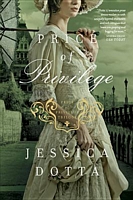 Newest Release
Bibliography:

3 Books - 1 Series

First Book:

September 2013

Latest Book:

December 2014

Rating:
Full Series List in Order
1 - Born of Persuasion (Sep-2013)
2 - Mark of Distinction (Apr-2014)
3 - Price of Privilege (Dec-2014)
Book List in Order:
3

titles
Born of Persuasion

The year is 1838, and seventeen-year-old Julia Elliston's position has never been more fragile. Orphaned and unmarried in a time when women are legal property of their fathers, husbands, and guardians, she finds herself at the mercy of an anonymous...

---

Mark of Distinction

London is said to be the glittering jewel of society, a world unto itself -- but to Julia Elliston it is a city of shadows. Her life is swiftly dissolving into scandal. And in Victorian society, even a whisper of scandal -- substantiated or not -- ca...

---

Price of Privilege

Having finally discovered the truth of her birthright, Julia Elliston is determined to outwit Chance Macy at his own game. Holding a secret he'd kill to keep, however, is proving more difficult than she imagined. Just when Julia thinks she's m...

---
Award-Winning Books by Jessica Dotta
Mark of Distinction
2015 INSPYs the Bloggers Award for Excellence in Faith-Driven Literature -- Historical Romance
Frequently Asked Questions (FAQ)
Jessica Dotta has published 3 books.
Jessica Dotta does not have a new book coming out soon. The latest book, Price of Privilege, was published in December 2014.
The first book by Jessica Dotta, Born of Persuasion, was published in September 2013.
Yes. Jessica Dotta has 1 series.