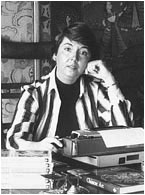 About the Author
Margaret Way was born and educated in Brisbane, Australia. She now lives within sight and sound of beautiful Moreton Bay and its islands, inspiration for some of her books. Before her marriage she was a well-known pianist, teacher, vocal coach and accompanist, but her hectic musical career came to a halt when her son was born and the demands of motherhood dictated a change of pace.

On a fortuitous impulse she decided to try her hand at romance writing and was thrilled when Mills & Boon accepted her first effort, Time of the Jacaranda, which they published less than a year later in 1970. Some hundred odd books have followed resulting in a loyal readership whose letters provide a source of support and encouragement. A driving force in all her writing has been the promotion of her much loved country, Australia. She delights in bringing it alive for her readers; its people, way of life, environment, flora and fauna.
Full Series List in Order
1 - Her Australian Hero (Jun-2016)
2 - His Australian Heiress (Sep-2016)
3 - Her Australian Cattle Baron (Jun-2017)
1 - Wedding At Wangaree Valley (Sep-2008)
2 - Bride At Briar's Ridge (Oct-2008)
1 - Sarah's Baby (Feb-2003)
2 - Runaway Wife (Oct-2003)
3 - Outback Bridegroom (Nov-2003)
4 - Outback Surrender (Dec-2003)
5 - Home To Eden (Feb-2004)
1 - The Cattle King's Bride (Apr-2012)
2 - Argentinian in the Outback (May-2012)
1 - A Wife at Kimbara (Mar-2000)
2 - The Bridesmaid's Wedding (Jun-2000)
3 - The English Bride (Sep-2000)
1 - The Outback Engagement (Sep-2005)
2 - Marriage At Murraree (Oct-2005)
1 - A Wife at Kimbara (Mar-2000)
2 - The Bridesmaid's Wedding (Jun-2000)
3 - The English Bride (Sep-2000)
4 - The Cattleman (Feb-2006)
5 - The Cattle Baron's Bride (May-2006)
6 - Her Outback Protector (Jun-2006)
7 - The Horseman (Aug-2006)
8 - Wedding At Wangaree Valley (Sep-2008)
9 - Bride At Briar's Ridge (Oct-2008)
1 - Outback Man Seeks Wife (Jan-2007)
2 - Cattle Rancher, Convenient Wife (Mar-2007)
1 - Australia's Most Eligible Bachelor (Sep-2010)
2 - Cattle Baron Needs a Bride (Oct-2010)
3 - Wealthy Australian, Secret Son (Jan-2011)
Multi-Author Series List
His Heiress Wife
(Sep-2004)
The Australian Tycoon's Proposal
(Dec-2004)
7 -
Her Outback Man
(Jan-1999)
17 -
Master of Maramba
(Oct-2001)
19 -
Outback Fire
(Dec-2001)
22 -
Mistaken Mistress
(Sep-2002)
24 -
Outback Angel
(Dec-2002)
8 -
Olivia and the Billionaire Cattle King // Olivia's Awakening
(Mar-2011)
2 -
Beresford's Bride
(Jun-1998)
2 -
Strategy for Marriage
(Jul-2002)
The Australian's Society Bride
(Feb-2009)
Hidden Legacy
(May-2008)
Once Burned
(Oct-1995)
Gabriel's Mission
(Dec-1998)
A Faulkner Possession
(Jan-1996)
Boardroom Proposal
(Feb-1999)
Georgia and the Tycoon
(May-1997)
Book List in Order:
139

titles
---

The Time of the Jacaranda

Adrienne Brent's home situation was hardly a happy one, with her father absorbed in his glamorous new young second wife, who barely troubled to conceal her jealousy and dislike of Adrienne. So she took a job as secretary at the outback station o...

---

King Country

Colby was happy and excited to be going back to live in King Country, her childhood home in the heart of the Australian Outback, still ruled over by her dashing cousin Dart King. He had been like a god to Colby when she was a small girl . . . only Co...

---

Blaze of Silk

More than anything else in the world Dana Gregory wanted to clear her father of the scandal that so unfairly hung over his name. How annoying that the only person, apparently, who could help her to do it was that infuriating Brett Cantrell! Her...

---

The Man from Bahl Bahla

To take her mind off the tragic death of her father, Corinne Briant went to work on Bahl Bahla, the great cattle station in the Outback. There she met Kiall Ballantine, who thought her just a society orchid and misinterpreted the reason for her un...

---

Summer Magic

Shelley knew she was going to love her new job at the fabulous hotel at Surfers' Paradise on the Queensland Gold Coast, Australia's playground. She was almost certain she was going to love her new employer, the attractive Bart Valance. But...

---

Ring of Jade

On the magical tropical island, Brockway's Folly, off the Great Barrier Reef, Claire met two men - David who needed her and Adam who didn't. Claire had come to the island to escape her emotions - but instead she found them threatening to o...

---

Noonfire

Rory's mother had brought her up to believe that all men were ruthless, selfish and dangerous. Now Rory was alone, and the first man to come into her life -- the dynamic Rian McCallum -- seemed every bit as dangerous and dominating as her moth...

---

Storm Over Mandargi

Toni Stewart had left her job and a go-nowhere romance to join her brother on Mandargi, the cattle station which he managed. She hadn't met the owner, Damon Nyland, but had heard enough about him to determine that she at least wasn't going...

---

The Love Theme

"I don't imagine the great Damian St. Clair will be thrown by a fashion plate - or will he? They say he's not unobservant of women", Siri told her aunt as she prepared for the audition with the great conductor, which to her aunt soun...

---

---

Wind River

Perri Greenwood had come here to Coorain, in the Dead Heart of Australia's Outback, to work. She was here with her uncle's anthropological team to study the customs and legends of the aborigines -- not to teeter on the brink of disaster with ...

---

Return to Belle Amber

Belle Amber had always been part of Karen Hartmann's life, and now she was living there again it was dearer to her than anything or anyone else - except Guy Amber. Guy was Guy, a man of immense charisma, but nobody had warned Karen about Celi...

---

A Man Like Daintree

Steven Daintree had saved Andrea Swanson's life, and on learning that she was alone in the world, her memory gone, he had taken her back to his vast Queensland estate, Mokhana, until she recovered. So Andrea owed him a lot. All the same, did t...

---

Copper Moon

All her life Johanna Coleman had been used to getting her own way where men were concerned, and now that she had decided she wanted to go on this exciting expedition among the lagoons of northern Australia's Timor Sea she didn't anticipate mu...

---

McCabe's Kingdom

His face haunted all her dreams... Katia couldn't forget the magnetic Thorn McCabe, despite a successful stage career in London, and her plans to marry Ivor d'Arcy. Then her mother fell ill, and Katia returned to her Australian outback ...

---

Bauhinia Junction

Gena Landon was a city girl, sophisticated and worldly; Cyrus Brandt was one of the biggest cattle barons in Western Australia. Perhaps it was the attraction of opposites, but from the first moment she set eyes on him Gena couldn't ignore Cy. ...

---

Sweet Sundown

Ever since she was a little girl Gabriele had been promised a, trip to Sundown, the lovely old mansion where her mother had been born. And now she was going there at last at the invitation of her glamorous aunt Camilla. What would that visit bring...

---

The Rainbow Bird

Paige Norton's friendship with Joel Benedict was progressing very satisfactorily. In fact, it had reached the stage of his "taking her home to meet the family". Home was Koombala, the vast Benedict cattle empire in the middle of the Au...

---

Reeds of Honey

Frances returned to her grandfather's plantation in the north of Queensland with only the hazy recollections of childhood to guide her future actions. Should she marry her cousin Dario and ensue that the name and fortunes of the Donovans survi...

---

Storm Flower

"I want you to go away, Catherine." She would go away because Coyne Macmillan asked her to; she would have the grand adventure, round off her education. But Catherine Fitzgerald was sure, as she had never before been sure of anything, that...

---

---

A Lesson in Loving

Rosslyn Marshall was spending her summer vacation in Northern Australia, looking after a rather difficult small child. Her biggest problem turned out to be the child's uncle, the attractive but antagonizing cattle baron, Boyd Ballinger, who a...

---

Red Cliffs of Malpara

For most of her life Sarie had been tormented by Blake Meredith. Now, she discovered with guilty fascination that she had never really seen him as a man. Once he had spelled out authority and restraint; now, incredibly, he was everything she wanted f...

---

Flight Into Yesterday

He thought her beauty skin deep Although he found her physical charms most irresistible, Lang Frazer clung stubbornly to the notion that Natalie Calvert was a spoiled, heartless young woman who reveled in hurting her father and stepmother. Stil...

---

The Man on Half-Moon

Katharine Sutton's brother, Darin, had disappeared somewhere in Queensland. She could not rest until she had gone up there to see if she could find him. But the problem of Darin's whereabouts paled into insignificance in the face of the much ...

---

Swans' Reach

The bitter irony of fate, Rachel Ross thought. She had resented Nick Retford for so long that it was hard to believe she could be in love with him. What was the use anyway? Loving Nick Retford was like reaching for the moon. He was just as magnet...

---

One Way Ticket

Melanie Kent arrived at Coorabin. But whatever her reasons for leaving London for Australia, love for David was no longer one of them. She had believed David could offer her a new life in a land of great vitality. Now she felt as far from him as t...

---

Black Ingo

They were friends but was that enough? Tandarro-- the name had always spelled magic for Giannina Mora. But this time her encounter with Ingo Faulkner would be different. Ingo ruled the cattle kingdom and the lives of those dependent on him. It ...

---

Portrait of Jaime

"I won't marry for years yet!" Beautiful, talented, about to inherit a fortune, Jaime Gilmore had the world at her feet. At least, she thought she did and marriage was for the future. But handsome Quinn Sterling wanted to announc...

---

Mutiny in Paradise

Paradise was not quite perfect... Suddenly, heartbreakingly orphaned, Deborah and her young brother, Chris, were swept under the protective wing of a man who had once loved their mother. But when they reached their new home in Northern Australi...

---

The Wild Swan

"You're going to get what you deserve!" Ryan Langton's smooth taunt set Kylie's teeth on edge. She hated Ryan with a passion. She would hate him forever. After all, hadn't Ryan been responsible for her father's death? ...

---

---

The Awakening Flame

"Can you really see me as your wife?" Brant Elliot was a ruthless devil, a man of driving ambition who would need a mature and sophisticated woman to hold him. Someone like his beautiful cousin, Jane Gifford. But Brant wanted Lori. He h...

---

Ring of Fire

No one must suspect she was heartbroken. Josephine Adams had loved Blair most of her life and his sudden engagement to someone else shattered her. "Find a man of your own, " Marsh McConnell challenged. He had stood by Jo throughout the ...

---

Wake the Sleeping Tiger

HE WAS A MAN WHO TOOK WHAT HE WANTED... Brooke knew that either she or her sister, Louise, would have to marry money to avoid selling the family estate. But not for anything would she marry Paul Corelli, the human dynamo who had fought his way out...

---

The Winds of Heaven

Her hatred had turned to love Amanda Raymond had resented Marc Chandler ever since the death of her parents, when he had offered her charity. But now the tables were turned. With his sick mother and young daughter in need of care, it was Marc who ...

---

White Magnolia

Was she really afraid of men? Horrified by her ex-fiance's sudden death, Nicole needed time to heal. When her close friend, Christine, invited her to the family's ranch in the Australian Outback, Nicole accepted gratefully. But her pe...

---

Valley of the Moon

Julie was just like her father--a rebel Julie Renard had no idea of the disruptive effect she'd have on the Renards--relatives she hadn't known until her grandfather's invitation to come to Australia. Now, she sensed the conflicts a...

---

Blue Lotus

When Susan Blake and her brother lost themselves in the rain forest of Queensland they were rescued from a very unpleasant fate by Devin Chandler and taken to recover at his cattle station, Lara, a private kingdom where the king made his own laws. Fo...

---

The Butterfly and the Baron

She would choose her own husband! When Renee Dalton's wealthy parents arranged her marriage to a man she despised, she had fled to her beloved Aunt Katie's home in Queensland. There she had hoped to escape and recover her shattered prid...

---

The Golden Puma

Catherine O'Mara had to cope all alone Running a sugar plantation was hardly the work for a petite nineteen-year-old; but what choice did Catherine have? Her father was wrapped up in his own grief over the loss of his wife and son. He had ...

---

Lord of the High Valley

He neither liked nor trusted her After her fiance, Robin, was killed in an accident, Rosanne just wanted some time alone before resuming her career as a ballerina. But Ross McAdam, Robin's disturbing half brother, absolutely insisted that ...

---

---

Flamingo Park

Where did affection end and love begin? Nick Langford was a super person - handsome, wealthy, kind and understanding - but he treated Kendall Reardon like a child. She was grateful to Nick for being a good friend of the family, but this "big ...

---

Temple of Fire

Would love rise from the ashes of tragedy? Julian Standford had everything: looks, virility, intelligence and money. The perfect gentleman - if gentlemen were also heartless and ruthless! Unfortunately, Fleur's little halfbrother was a Sta...

---

Shadow Dance

ALIX WAS MUCH TOO SMART FOR THIS JOB Alix Conroy's journalistic talents were unquestioned, so when her boss, Carl Danning, gave her difficult assignments, she usually welcomed the challenge. This is time he went too far with his demands. ...

---

A Season for Change

How could she cause him pain? Long ago Samantha Harrington had given Eliot an acceptance that one day they would marry. Now, because of an encounter with the handsome, compelling Nico Martinelli, Samantha glimpsed a side to herself she'd ne...

---

The McIvor Affair

Drew held a strange fascination for her. Marnie O'Connor knew her father had not cheated Drew McIvor. But Drew wouldn't believe the truth. To prevent her father's ruin, somehow Marnie had to convince Drew not to remove his prize horse...

---

North of Capricorn

Would the sordid past haunt her forever? Caroline Marshall had been abandoned as a child, but when a house was left to her in her father's will, she went to north Queensland to claim her inheritance. She didn't even know she had a pas...

---

Home To Morning Star

The girl had come home a woman Miranda Seymour was shocked to suddenly learn she was penniless--and that her distant cousin, Blake Seymour, had been supporting her. Blake, her self-appointed guardian, had always treated her as a foolish child. ...

---

Broken Rhapsody

"You taught me never to trust a woman " David's condemnation was deserved, but seeing him again brought back a past Elizabeth had thought buried. He had been her first love, and she had betrayed him. The decision had not been hers. ...

---

Spellbound

Her brilliant career was finished... Lucienne Gerard had inspired and triumphantly performed a ballet created for her by the remarkable Julian Strasberg. Then a tragic accident left her physically and spiritually unable to dance professionally aga...

---

The Silver Veil

Her past was now part of a pitch-black abyss Roslynn Ferrier couldn't recall why she had come to Australia, and she was fearful of whatever painful memory had made her mind demand oblivion in amnesia. Piecing together the puzzle of her past...

---

---

Hunter's Moon

The pain went straight to her heart Excluded from her father's will, Laura Mallory was banished from her home by her cold unfeeling stepmother. Fate offered a solution in the form of Blaise Hunter, but he accepted her as his young daughter...

---

The Girl at Cobalt Creek

She'd never surrender her birthright! Cobalt Downs ranch was Susan Drummond's whole life, and she struggled to keep it running. But it seemed to be a losing battle. She needed money -- lots of it. Then Thorn Sinclair arrived - passion...

---

House of Memories

All he wanted now was to see her suffer Nick McMasters had loved Dana years ago, but he hadn't been good enough for her then. She was the daughter of a wealthy Australian grazier, and he was poor in all but ambition. Now their positions wer...

---

Almost a Stranger

What did this man really want from her? Skye was suspicious of Guy Reardon's plea that she end the estrangement between herself and her grandfather, Australian tycoon Sir Charles Maitland. She and Guy were total strangers. Why was it so imp...

---

No Alternative

Her second marriage would last forever After Kyle Endfield's betrayal of their marriage vows, Lynda Reardon had rejected his wealth and power and divorced him immediately. She knew she would never love again, but she had been relieved to escap...

---

A Place Called Rambulara

When does a dream become a obsession? At first Georgina Hamilton couldn't quite believe it. Why would her brother sacrifice his marriage for the amusement of a woman who was all the while obsessed with desire for her brother-in-law, Quinn Shi...

---

Hunt the Sun

Stephanie Sinclair had become engaged to Marcus in Sydney, but once back home in the Outback she was beginning to realise that they were worlds apart. He liked city comforts, she loved the wide open spaces. And then there was Boyd Ballinger to cont...

---

Fallen Idol

Nick Grey was everybody's hero. Claudia Ingram had always loved Dominic Grey, and when her father encouraged them to marry she was ecstatic - at first. Then she discovered her childhood idol had feet of clay. She suspected Nick of having ...

---

Eagle's Ridge

She was nothing better than a spy Laura was working as Australian author Jessica Sutton's secretary under false pretenses: her real purpose was to gain inside information on Jessica's turbulent family for College magazine. But writing a...

---

The Tiger's Cage

Kathryn feared the power of his love. During her tortured marriage and after her husband's death, his family had shown no interest in Kathryn Dowling, a struggling artist. Until they discovered her four year old son. Because she wanted her so...

---

Innocent in Eden

It was a strange new world to Jane Gilmore.... It was also thrilling. As assistant to the scriptwriter, Jane accompanied the crew for a film about the McGoverns, an Australian pioneer family. There'd been scandals and tragedy in their famil...

---

Diamond Valley

How could she bargain for love? Carradine men only marry women of their own social standing. No one understood this better than Brett Sargent, an orphan raised with the Carradine clan on their Diamond Valley homestead in the Australian outback. But w...

---

Morning Glory

He was the man for her. Surely he could see that! Kit Lacey exuded a passionately artistic nature well beyond her nineteen years. But in Queensland's tiny, tropical Eden Cove no man existed to match her lust for life, until international news...

---

Devil Moon

She'd feared this man from the first. Now the knowledge that he had power over her was devastating. A cruel despot of a father had left Sara Richardson emotionally scarred, and as an intelligent woman, she vowed to stay clear of such men....

---

Mowana Magic

His opinion of women galled her! Just because the outrageously handsome Kiall Lancaster was supreme master of his domain, the breathtaking Australian station of Mowana, didn't give him the right to treat all females with disdain. Alison All...

---

The Hungry Heart

To Liane Chantrill, marriage was total commitment She'd been devastated to learn of her husband's casual infidelities. And that was why, after two years of marriage, Liane had left Julian Wilde, the high-powered businessman who'd been ...

---

Rise of An Eagle

Morgan was raised in Ty's shadow Morgan Hartland had inherited enough of her grandfather's estate in the Australian Outback to make her a rich woman. But Ty Hartland, her natural-born rival, had the controlling interest. Morgan had alwa...

---

One Fateful Summer

That summer, everything changed. To begin with, Shelley Stuart found her father. For the first time in sixteen years, they were together again. And for the first time, Shelley learned the truth about why he'd left. Then there was Raf Conw...

---

The Carradine Brand

The rancher's daughter and the cattle king Curt Carradine is one of the biggest landowners in Australia. Smart, tough, extraordinarily handsome. Other men admire him. Women fall in love with him. Rachael Munro is no exception. As a teenager...

---

The Man from Southern Cross

David Mountford - He's handsome, rich, a little cynical about women - and as master of the legendary cattle station Southern Cross, he's one of the most powerful men in the Australian outback. Now he's about to meet his fate...in the pers...

---

Once Burned

"She wears his ring..." Guy Harcourt is strong, forceful and dynamic. He is also irresistible to women. Celine Langton is one of those women. "When I left Guy three years ago it was because I felt he deserved someone more sophist...

---

A Faulkner Possession

Shared past...shared future? Marsh Faulkner: this handsome, irresistible man from the Outback is determined to get his own way. What he wants he usually gets...and now he wants Roslyn! Roslyn Earnshaw: beautiful, bright and independent. She esc...

---

Husbands on Horseback: Bride in Waiting

One of the most influential and glamorous cattlemen of northern Australia, Blake Courtland seems way out of ordinary Carolyn Donovan's reach. She is under no illusions-Blake couldn't possible want to make his aggravating neighbor his blushing...

---

Georgia and the Tycoon

Devious. Dangerous. Devastating. Link Robards, through and through. Georgia Bennett knew the type and had never been swayed ... until now. "The very last thing in the world I need is a high-powered husband," she seemed to recall telling...

---

Holding on to Alex

Beautiful, traitorous Alex Alexandra Ashton had idolized Scott McLaren when she had come to live on his family's Outback cattle station as a lonely, grief-stricken little girl. He had been so protective of her, so vital and achingly handsome, ...

---

The Australian Heiress

Camille Guildford is the daughter -- and heiress -- of a powerful Australian financier. But she hasn't inherited the fortune everyone thinks she has. Instead, her father's mysterious death has left her with an unexpected legacy of bitterness....

---

Beresford's Bride

WEDDING FEVER... Nothing could have kept Antoinette Streeton away from her brother's marriage into the influential Beresford family, not even knowing how shocked they all were at her current lifestyle. Four years in Europe had put a sophistic...

---

Gabriel's Mission

Tough boss, tender lover Gabriel McGuire knew that Chloe Cavanagh had never taken to him as her boss. Maybe he was ruthless and uncompromising, but she was certainly no angel! The was Chloe taunted him at work could be amusing, but her reckless ac...

---

Her Outback Man

Logan Dangerfield, head of one of Australia's most affluent families, doubted that Dana's relationship with his stepbrother, Tyler, had been purely platonic. To his mind, she was a scheming opportunist and, since Tyler's tragic death, the...

---

Boardroom Proposal

THE BOSS's SECRET... Prospective employee Eve Copeland looked too buttoned up and prim for the tough world of Australian big business. But somehow, despite her obvious disapproval of him, the vulnerability that Drew Forsythe had glimpsed bene...

---

Mail-Order Marriage

It was time to find a wife! After backbreaking years spent building up his Outback cattle station, Matthew Carlyle was ready for family life. With little time for courting, he'd advertised in the paper, and one reply in particular stood out. W...

---

Claiming His Child

A SIX-YEAR-OLD SECRET... Poor boy Nick Konrads has made good and returned to the Australian town that sent him packing seven years ago. His crime? Falling for tender, innocent Suzannah Sheffield -- who had betrayed their love. As the new owne...

---

A Wife at Kimbara

JEALOUSY IN THE OUTBACK Taking a job with the Kinross family has catapulted Rebecca Hunt into a world of wealth and privilege. It has also thrust her into immediate conflict with cattleman Broderick Kinross. The tough and cynical manager of t...

---

The Bridesmaid's Wedding

THE BEST MAN AND THE BRIDESMAID Best man Rafe Cameron's feelings are aroused all over again at the sight of Alison Kinross, so amazingly beautiful in her bridesmaid's dress. This time he's determined not to give in to them. They l...

---

The English Bride

Cool English beauty finds... Outback heat A life of luxury on an English country estate or the hazards of the Australian Outback? For Lady Francesca de Lyle there is no doubt. She's in love with rugged Grant Cameron and knows the Outback h...

---

Outback Christmas

In Australia, a news reporter meets up with her estranged husband, and discovers that she'd been tricked into leaving him for all the wrong reasons. So, for the sake of their daughter, they agree to spend some time together during Outback Christm...

---

The Cattle Baron

The Place: North Queensland, Australia. A land of fierce contrasts, of astonishing beauty -- and fatal dangers. A land of secrets... The Man: Chase Banfield. A true Australian aristocrat -- the master of Three Moons, a historic cattle station. ...

---

Husbands of the Outback: Genni's Dilemma

HUSBANDS OF THE OUTBACK -- They're tough, passionate -- and about to be tamed! GENNI'S DILEMMA by Margaret Way Genevieve Courtland has loved cattleman Blaine Courtland since childhood, but he's only ever seen her as a pretty socia...

---

Master of Maramba

A tough man to resist Needing a bolt-hole where she can lick her wounds after a car accident has destroyed her budding career, Catrina Russell jumps at the chance of a job as governess on a North Queensland cattle station. Carrie wouldn't ...

---

Outback Fire

Woman in a man's world... Tempestuous Storm McFarlane had declared open war on her rival, Luke Branagan, her father's adopted son. Luke was the one being groomed to handle the vast family cattle empire and this had ultimately driven Storm ...

---

Secrets of the Outback

Jewel Bishop grew up in the Outback, and she feels defined by it. Then she makes a devastating discovery -- she's not who she thought she was. There are secrets in her past, and they affect her present life. Keefe Connellan becomes part of Jew...

---

Strategy for Marriage

Cattle Baron Ashe McKinnon discovered an uninvited guest at a family wedding -- the groom's ex-girlfriend. Acting swiftly to prevent a scandal, he persuaded the gorgeous Christy Parker to become his surprise date for the occasion! Embarrassed ...

---

Mistaken Mistress

A woman with secrets... Seeing his business partner at a cozy dinner for two in Brisbane, obviously reveling in his beautiful mistress's company, places Lang Forsyth on high alert. Shock becomes contempt when he realizes that he is far from im...

---

Outback Angel

Christmas heat at Coori downs... With her stunning Latin looks, Angelica De Campo was beautiful enough to live up to her nickname of Angel. But Jake McCord, Australia's most eligible bachelor, couldn't decide if his newest employee was an ...

---

Sarah's Baby

The McQueens are the town's founding family, and Ruth McQueen is their matriarch. She's a dangerous woman to cross, as Sarah Dempsey found out sixteen years ago. Pregnant and desperately in love with Ruth's adored grandson Kyall, Sarah st...

---

Runaway Wife

The small town of Koomera Crossing was the perfect hiding place for runaway Laura Graham. She immediately felt at home -- thanks to her neighbor, handsome, brooding Evan Thompson. Evan had his own reasons for hiding out, but maintaining his distan...

---

Outback Bridegroom

Christine Reardon is on her way back -- to a town full of bittersweet memories, but home to the only man she has ever truly loved, Mitch Claydon. Outback born and bred, Mitch is filled with anger whenever he thinks about Christine. He'd loved ...

---

Outback Surrender

Banished from his Outback home, Brock Tyson had left Koomera Crossing without a backward glance. But Shelley Logan was secretly in love with him and has never forgotten their one stolen kiss.... Now Brock has returned to claim his rightful and con...

---

Home To Eden

Come to Koomera Crossing, deep in the Australian Outback It's been more than a decade since Nicole Cavanagh's mother was found dead. But the people of Koomera Crossing are still talking about the rift that her death caused between the Cava...

---

Innocent Mistress

The heiress... His Bride...? When lawyer Jude Conroy tells Cate Costello that she's just inherited a fortune from a wealthy man, everyone -- including Jude -- presumes she must have been the man's mistress.... Cate insists she doesn'...

---

His Heiress Wife

THE WOMAN HE LOVED AND LOST...IS BACK! Olivia Linfield was the beautiful Havilah heiress. Jason Corey was the boy from the wrong side of the tracks made good. It was to be the wedding of the decade. Except it never took place.... Seven years la...

---

The Australian Tycoon's Proposal

Bronte McAllister's had enough of rich, ruthless men -- she's just narrowly escaped marrying one! Now she's wary of all men, especially when six feet two inches of pure Australian male arrives on her doorstep with a business proposal.... ...

---

The Outback Engagement

The first in a two-part miniseries from Margaret Way! Darcy McIvor is shocked at the contents of her late father's will. She might have inherited half his estate -- but the other half has gone to her estranged sister! Not only that, her father...

---

Marriage At Murraree

MEETING A RICH, RUGGED CATTLE BARON... Discovering her late father was a billionaire cattle king makes Casey McGuire one of the famous "McIvor heiresses." She's worked hard all her life, and she's never had the prospect of money --...

---

The Cattleman

A mysterious portrait, an unexpected commission, a disappearance in the Outback. She might not know it, but these three things bring Jessica Tennant to Mokhani Station and the notice of cattleman Cyrus Bannerman. What Cy wants to know is if there&...

---

The Cattle Baron's Bride

THE CITY GIRL -- AND THE RUGGED OUTBACK CATTLE BARON The wilderness at the heart of the Australian Northern Territory was no place for delicate city beauty Samantha Langdon. Cattleman Ross Sunderland wouldn't have agreed to act as guide if h...

---

Her Outback Protector

At first sight, Alexandra Kingston looked too young to have inherited the running of Moondai cattle station. Overseer Daniel Carson knew she would most likely need all the support he could give her. Daniel combined strength with gentleness -- a he...

---

The Horseman

But Cecile is not completely convinced he's the right man for her -- even though the rest of her family approves. And when she meets Raul Montalvan -- a mysterious Argentinian -- she knows she has to break the engagement. Not that she really expe...

---

Outback Man Seeks Wife

Finally returning to the dilapidated family ranch Clay Cunningham once called home, he intends to restore it to its former glory...and to settle down and find himself a wife. Local girl Caroline McNevin is as fragile and innocent as Clay is proud ...

---

Cattle Rancher, Convenient Wife

Wife wanted! Love not required... Cattle rancher Rory Compton isn't looking for love-- but he is looking for a wife. He wants a partner who will settle down with him in the Outback, a practical, down-to-earth woman who won't be seduced by ...

---

Promoted: Nanny To Wife

Needed: a mother for the cattle baron's daughter... Marissa Devlin has vowed to protect her orphaned half brother--even if it means becoming governess to the daughter of dark, brooding Holt McMaster. Marissa soon feels like a mother to Holt...

---

Cattle Rancher, Secret Son

He's the toast of Australian society... Cattleman Cal McKendrick is under pressure from his family to produce an heir for the magnificent McKendrick homestead that lies deep in the Outback. Then he discovers he's already a father! She...

---

Hidden Legacy

Love changes lives. Secrets do, too... Alyssa Sutherland has always adored her great-aunt Zizi--Elizabeth Jane Calvert--and valued their special relationship. Zizi has lived a quiet, contented life, one without great passion. Or so Alyssa thinks.....

---

Wedding At Wangaree Valley

Eligible bachelor -- wife wanted! Master of Wangaree Homestead Guy Radcliffe is from one of the most revered families in the Outback. Now he wants a wife, and a queue of society beauties are at his door! Alana Callaghan is from the wrong sid...

---

Bride At Briar's Ridge

Outback heir seeks convenient wife... Sought-after bachelor Linc Mastermann is used to women falling at his feet. But past experience has taught this handsome sheep baron that women aren't to be trusted. Daniela Adami has come to beautiful Bri...

---

The Australian's Society Bride

Parties at the luxurious Blanchard estate draw the cream of society. Dressed to impress, glamorous women swathed in diamonds and designer outfits make a beeline for Boyd Blanchard, heir to the family business--and the most eligible bachelor in Austra...

---

Outback Heiress, Surprise Proposal

Francesca Forsyth is happy with mud on her boots, working the land. But when she inherits half of her grandfather's empire, Francesca must come out of her shell and become a high-flying businesswoman, professional and smart! Handsome Bryn Maca...

---

Cattle Baron: Nanny Needed

It's a media scandal! Flame-haired beauty Amber Wyatt has gate-crashed her ex-fiance's glamorous society wedding! Groomsman Cal McFarlane knows she's trouble, but when Amber loses her job, the rugged cattle rancher comes to the rescue. He...

---

The Wealthy Australian's Proposal

Two sassy brides knock these brooding bachelors sideways! Nyree Allcott's thrilled when she inherits a ramshackle farmhouse. A little TLC and she'll finally have a home of her own. Property developer Brant Hollister wants the land, but if ...

---

Outback Bachelor

Outback heir -- Cinderella bride! The daughter of a humble ranch hand, Skye McCory grew up dreaming of dating Keefe McGovern, heir to the famous McGovern cattle empire and way out of her league. Now a high-flying lawyer, Skye is back and not af...

---

Master of Mallarinka

Haddon's on his way to the city to bring back stubborn heiress and childhood friend Victoria. A hard day's work on his cattle station will curb this pampered city girl's wild ways. Unless she can tame the rugged cattle baron first! Her...

---

Australia's Most Eligible Bachelor

Corin Rylance is super-handsome, super-rich and sets women's hearts aflutter! Miranda Thornton is no exception. She secretly loves Corin, but, raised as a farmer's daughter, she's hardly a match for Australia's most eligible bachel...

---

Cattle Baron Needs a Bride

If only the society beauties jostling for the bouquet, hoping to become Mrs. Garrick Rylance, knew that the dashing best man in question has eyes for only one woman…. Bridesmaid Zara was his friend, his lover -- but that was five years ago, befo...

---

Wealthy Australian, Secret Son

Charlotte Prescott is stunned when Riverbend homestead's new owner walks through the door. All these years later her heart still beats to his name. Rohan Costello. Rohan was Charlotte's shining white knight until he disappeared before she ...

---

Olivia and the Billionaire Cattle King // Olivia's Awakening

"You mean you expect me to take over as housekeeper?" After her uncharacteristic behavior made headline news, buttoned-up Olivia Balfour has been sent far away from home. The English rose will work for Clint McAlpine -- a cattle baron who&...

---

In the Australian Billionaire's Arms

Sonya Erickson is the talk of Sydney's social elite. Who is the dazzling young florist on the arm of the aging billionaire? David Wainwright can understand the fascination, but he won't let some fortune seeker take advantage of his uncle. ...

---

Her Outback Commander

Stepping off the plane into the outback, Sienna Fleury feels like she's come home. The dramatic and vibrant landscape tantalizes her artistic senses, but the most potent pull is the man who commands it all, Blaine Kilcullen. A wealthy cattle b...

---

Australia's Maverick Millionaire

The heiress and the rebel... Clio Templeton has loved Josh Hart since she was nine years old, when he saved her cousin from drowning. She's never forgotten how his cheek felt beneath her lips as she rewarded him with a kiss. Years later, Jo...

---

Master of the Outback

Tall, brooding, powerful...and standing in her way! Writer Genevieve Grenville is trembling with excitement as she heads out to Djangala cattle station to finally uncover the mystery that haunts her family. But standing in her way is brooding catt...

---

The Cattle King's Bride

The last person Mel Norton expects to see on her doorstep is James "Dev" Langdon. His killer smile makes Mel's heart flutter uncontrollably once more...though she's vowed never to fall for him again. Dev has returned to take his ch...

---

Argentinian in the Outback

There's a gorgeous new rancher in town... Beautiful Ava Selwyn is starting to take her life back into her own hands when Juan-Varo de Montalvo arrives at Kooraki cattle station. The dark-eyed Argentinian unsettles the usually composed Ava. ...

---

The English Lord's Secret Son

The heir he never knew...until now! Seven years ago, in the frosted beauty of an English country Christmas, Cate Hamilton and Ashe Carlisle fell hopelessly in love. But, as heir to a barony, Ashe was not from her world, and Cate returned to Austra...

---

Guardian to the Heiress

Carol Chancellor is estranged from her relatives thanks to a bitter feud. So when she's revealed as the newest Chancellor heiress, shock waves of resentment ripple throughout the family. Fortunately, hot-shot Sydney lawyer Damon Hunter is on hand...

---

Kindred passions

/ Contemporary Romance

Mallory James is on a mission to confront her tragic past. But in dealing with her past she soon finds herself drawn into a labyrinth of dark secrets and lies. Only one man can help her unravel the dangerous deceptions. The man she has clashed with a...

---

Her Australian Hero

An epic tale of modern day Australia, where greed, desire, tragedy, and ambition collide . . . Alexandra Ross has always known Lavender Hill will be hers one day. The grand old house, with its waving jacaranda fronds circling around it like a cano...

---

His Australian Heiress

The woman he loved and lost is back! Olivia Linfield was the beautiful Havilah heiress. Jason Corey was the boy from the wrong side of the tracks made good. It was to be the wedding of the decade. Except it never took place… Seven years later...

---

Poinciana Road

It's been six years since Mallory James left Moonglade, a former sugar plantation in the shadow of Australia's magnificent rain forest. Now love and loyalty have called her home -- but unspeakable secrets may compel her to flee once more… A...

---

Her Australian Cattle Baron

Modern-day life on the Australian Outback is a high-stakes game, even among the most privileged -- and love must be strong to survive . . . Royston Stirling has all the strength, money, and power that his infamous father wielded over the family c...

---

Her Outback Husband

Scott and Darcey MacArthur were the perfect couple, devoted to their life together on the family cattle ranch. With one blistering rumor, it ended in heartbreak -- but Scott's mother has a scheme that will reunite them in the Outback for a holiday ...

---

The Road Home

Two lost souls end up together at a glittering soirée off the coast of Australia's breathtaking Sydney Harbour, where long-forgotten secrets and everyday seductions collide... Bruno McKendrick knows that he can win the attention of any woman he...

---
Frequently Asked Questions (FAQ)
Margaret Way has published 139 books.
Margaret Way does not have a new book coming out soon. The latest book, The Road Home, was published in November 2017.
The first book by Margaret Way, The Time of the Jacaranda, was published in November 1970.
Yes. Margaret Way has 9 series.