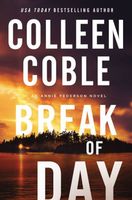 Newest Release
Bibliography:

82 Books - 15 Series

First Book:

January 1997

Latest Book:

January 2024

Author Rating:
Full Series List in Order
1 - Distant Echoes (May-2005)
2 - Black Sands (Nov-2005)
3 - Dangerous Depths (Apr-2006)
4 - Midnight Sea (Feb-2007)
4.5 - Holy Night (Dec-2013)
1 - A Edge of Dusk (Jul-2022)
2 - Dark of Night (Jan-2023)
3 - Break of Day (Jul-2023)
1 - Where Leads the Heart (Jan-1997)
2 - Plains of Promise (Apr-1999)
1 - Tidewater Inn (Jul-2012)
2 - Rosemary Cottage (Jul-2013)
3 - Seagrass Pier (Jul-2014)
3.5 - All Is Bright (Oct-2015)
1 - A Heart's Disguise (Mar-2015)
2 - A Heart's Obsession (Apr-2015)
3 - A Heart's Danger (May-2015)
4 - A Heart's Betrayal (Jun-2015)
5 - A Heart's Promise (Jul-2015)
6 - A Heart's Home (Aug-2015)
1 - The View from Rainshadow Bay (Jan-2018)
2 - The House at Saltwater Point (Jul-2018)
2.5 - Leaving Lavender Tides: A Novella (Dec-2018)
3 - Secrets at Cedar Cabin (Jan-2019)
1 - Lonestar Sanctuary (Aug-2008)
2 - Lonestar Secrets (Aug-2009)
3 - Lonestar Homecoming (Apr-2010)
4 - Lonestar Angel (Nov-2011)
4.5 - All Is Calm (Nov-2014)
1 - Bluebonnet Bride (Apr-2014)
1 - The Lightkeeper's Daughter (Jan-2010)
2 - The Lightkeeper's Bride (Oct-2010)
3 - The Lightkeeper's Ball (Apr-2011)
1 - One Little Lie (Mar-2020)
2 - Two Reasons to Run (Sep-2020)
3 - Three Missing Days (Apr-2021)
1 - Without a Trace (Oct-2003)
2 - Beyond A Doubt (Apr-2004)
3 - Into The Deep (Sep-2004)
4 - Abomination // Haven of Swans (Aug-2007)
5 - Cry in the Night (Feb-2009)
6 - Silent Night (Nov-2012)
7 - Beneath Copper Falls (Jul-2017)
1 - Rock Harbor Search and Rescue (Apr-2013)
2 - Lost and Found (Oct-2013)
1 - Fire Dancer (Oct-2006)
1 - The Inn at Ocean's Edge (Apr-2015)
2 - Mermaid Moon (Jan-2016)
3 - Twilight at Blueberry Barrens (Sep-2016)
1 - Blue Moon Promise (Feb-2012)
2 - Safe in His Arms (Feb-2013)
Multi-Author Series List
1 -
Natalie - Birthday Wishes
(Jun-2012)
5 -
Love Between the Lines
(Jan-2013)
9 -
Love by the Book
(Jan-2014)
11 -
Alaska Twilight
(Feb-2006)
15 -
Midnight Sea
(Feb-2007)
Book List in Order:
82

titles
Where Leads the Heart

Everyone in Wabash, Indiana, is rejoicing in the aftermath of the Civil War-except for Sarah Montgomery. The war has taken what she held most dear. Receiving official notification that her fiance' Rand Campbell, is dead, Sarah agrees to marry Ben Cro...

---

Springs Memory

A nostalgic look at spring times past, and the joy of love discovered. 'Spring's Memory' is the latest collection of historical inspirational novellas from Barbour Publishing. Includes the stories 'A Valentine for Prudence' by Darlene Mindrup, 'Set S...

---

Set Sail My Heart

in Spring's Memory

A nostalgic look at springtimes past, and the joy of love discovered. 'SpringÆs Memory' is the latest collection of historical inspirational novellas from Barbour Publishing. Includes the stories 'A Valentine for Prudence' by Darlene Mindrup, 'Set S...

---

Plains of Promise

After her husband is killed in the summer of 1866 and his real wife shows up at her door, Emmie leaves her hometown of Wabash, Indiana, and travels to Fort Laramie in the Dakota Territory as a companion to an old friend. There is no lack of male suit...

---

The Heart Answers

With her beautiful face and glorious red hair, Jessica never met a single man she couln't wrap around her little finger. To her amazement, however, Clay Cole seems immune to her charms. In fact, he sees straight through them, and Jessica is furious. ...

---

Belinda

in Forever Friends

Friendship is forever as four modern women will discover in this collection of novellas. Amanda is waiting out a long engagement, Brittany is widowed with a young daughter, Collette is returning home from the mission field, Danielle is focused on sta...

---

Storm Warning

in Reunions

The spark of love stands the test of time and is fanned to a flame as four couples are reunited. These contemporary novellas include four reunion celebrations -- high school, college, family, and organ donors -- that will tug at the tightest of heart...

---

To Love A Stranger

Bessie Randall is stunned to learn that her sister engaged in a long distance flirtation with an army officer using Bessie's name. Even more shocking is the fact that Jasper Mendenhall is now her husband by proxy--thanks to her sister's meddling. But...

---

From Russia With Love

Irina's father was killed by the Russian government, and now Irina goes to bed sad and hungry. Tatiana is despearate and decides that marriage to an American man will ensure her daughter's security. But when Tatiana arrives in the United States, s...

---

---

Love Ahoy

Beautiful Shelby West, who towers over most men, is extremely self-conscious about her height. She has given up on attracting men and, instead, has chosen to compete with them in the executive realm. Shelby is jolted out of her regular routine whe...

---

Wedding Quilt Bride

in Heirloom Brides

A family heirloom hope chest has been passed down the generations from 1858 to modern times. Authors Cathy Marie Hake, Colleen Coble, Kristin Billerbeck, and Gina Fields collaborated to make a unified collection that will tug at your heartstrings....

---

---

The Cattle Baron's Wife

After her parents died, Lucy Marsh took responsibility for her young sister and brother. She struggles to support them and tries to make a home for them. But somehow, she never makes ends meet. Just when their lives seem hopeless, a man named Luth...

---

Maggie's Mistake

Orphaned sisters Maggie and Fiona O'Keefe are on their own in a new country. In Wabash, Indiana, the nineteen-year-old Maggie struggles to balance her business - a bakery specializing in Irish pastries - with caring for her three-year-old sister. One...

---

Red River Bride

Margaret knows she's too plain, too tall, and too outspoken for any man to want to marry her. All she wants is to prove to her father that she can manage their ranch as well as any man could. But when her father hires Josiah Cutler as the new fore...

---

Love Suite

in Aloha

Beautiful, romantic Maui is home to the four Harrigan brothers, who, since taking over Harrigan's Cove resort from their father, spend their days focused on work. There are endless details involved in keeping the business afloat- but love can't help...

---

Match Made in Heaven

in Blind Dates

Mattie Stevens has forgotten about Jeff Weatherly. After all, it's been years since the two were an item...but Grandma certainly remembers. What can Mattie do when Jeff returns to town and Grandma pushes her back toward "the one who got away"? As a s...

---

Gold Rush Christmas

in Gold Rush Christmas

When the "Gold Fever" epidemic sweeps the nation in 1849, people drop everything to chase the dream of striking it rich. Follow one family's itch for adventure from California to the Rockies to the Yukon - and discover a Christmas gift more valuable ...

---

Without a Trace

Bree thinks a plane crash took the lives of her husband and young son, but her son Davy survived the accident. Can she find him before it's too late? It's been months since the crash. K-9 search-and-rescue worker Bree Nicholls knows the chances of...

---

---

Beyond A Doubt

Nothing seems beyond a doubt when Bree opens a cold-case file with clues too close for comfort. Arson. Theft. Murder. When Bree Nichols discovers a corpse in her own basement, a whirlwind investigation ushers an unbidden danger to all she holds de...

---

Into The Deep

Acanine search-and-rescue team find the missing link between disparate crimes that have authorities perplexed.

A local scientist misses his son's birthday party and turns up dead in Lake Superior. A radical environmental group blames ...

---

Distant Echoes

In the land of aloha and paradise, dark secrets lurk just below the surface.

When a tragic event takes the lives of tourists, Hawaiian native and dolphin researcher Kaia Oana is one of the first in the water, risking her own l...

---

Black Sands

Annie Tagama has always been content to bask in the glow of her more flamboyant brother and sister and to quietly assist her father in his volcano research. Annie does, however, have a secret crush on Mano Ohana, though he's never noticed her. Her de...

---

Alaska Twilight

For some people, Alaska is a breathtaking wilderness adventure, full of light and beauty. For Haley, it is a dangerous world of dark dreams and tortured memories. On the surface, she's here to document wildlife biologist Tank Lansing's work with ...

---

Dangerous Depths

Sometimes life's most precious treasure lies at Dangerous Depths. Leia Kahale ditched a promising medical career to settle on a secluded island of Hawaii. She ditched Bane Oanu, too, and he's come to the island to find out why. He's also in search...

---

Fire Dancer

Dry needles had been piled up, and a match lay in the middle. Her boots smothered the flames. The match told her the fire had been deliberately set. But why? A flutter of white caught her attention. The wind whipped a paper nailed to the tree. She un...

---

Midnight Sea

A seemingly random shooting leaves Lani Tagama without sight. With the help of ex-cop Ben Mahoney, she must find the shooter before he strikes again....

---

Abomination // Haven of Swans

A beautiful woman stands by the side of the road, barefoot and bleeding, a child in her arms. Someone just tried to kill her, but she wouldn't recognize him if she saw his Ewe. She doesn't even remember her own name. A suburban cop surveys a kitchen...

---

---

---

Lonestar Sanctuary

A story about the unexpected fulfillment of promises made long ago. Allie Siders is desperate to help her five-year-old daughter, Betsy, speak again. But with a stalker out for revenge, all Allie can think about is the safety that awaits them at t...

---

Cry in the Night

The highly anticipated novel that delivers what romantic suspense fans have long awaited-the return to Rock Harbor. A mysterious crying in the night leads search-and-rescue worker Bree Matthews and her dog Samson to an abandoned baby in the woods ...

---

Lonestar Secrets

Can a secret be kept forever? Five years ago, Shannon Astor left the beautiful high-mountain country of West Texas as a single mother. She was desperate for a fresh start...and a way to keep the secrets of her past buried. It almost worked. Until a ...

---

The Lightkeeper's Daughter

In her quest to discover the truth about her family, Addie finds danger--and quite possibly the love of her life. It's 1907 and Addie Sullivan has found work at a lavish estate in Mercy Falls, California. She hopes to discover the truth of her her...

---

Lonestar Homecoming

For most, it's the safest place on earth. For Gracie, it's the last place she wants to be...and the one place she must return. With nothing but five dollars and the wedding dress she's wearing, Gracie Lister flees with her daughter by train to Wes...

---

The Lightkeeper's Bride

A thrilling romantic mystery set in the lush Victorian age. Central Operator Katie Russell's inquisitive ways have just uncovered her parents' plan for her marriage to wealthy bachelor Bartholomew Foster. Her heart is unmoved, but she knows the ma...

---

The Lightkeeper's Ball

At the elegant Mercy Falls masquerade ball, Olivia's hidden identity will be revealed. It is the dawn of a new century and Olivia Stewart is heiress to an empire. Her family numbers among the Four Hundred-those considered the wealthiest and most d...

---

Lonestar Angel

Eden's hope is rekindled when Clay delivers astounding news: their daughter has been found. Five years ago Eden and Clay Larson's baby was stolen and never found. Eden blamed herself, Clay lost himself in work. Their young and rocky marriage ended...

---

Blue Moon Promise

Lucy Marsh's worldly resources are running out, but she's fiercely determined to care for her younger brother and sister. When she discovers that their father's recent death was no accident, Lucy is eager to leave town. She accepts a proxy marriage s...

---

Natalie - Birthday Wishes

in Smitten

Every second, several thousand people somewhere in the world are celebrating a birthday. What better way to celebrate that special day than with this charming little gift book. Chris Shea fans and newcomers alike will be pleased to add this treasu...

---

---

Tidewater Inn

Welcome to Hope Beach. A place of intoxicating beauty . . . where trouble hits with the force of a hurricane. Inheriting a beautiful old hotel on the Outer Banks could be a dream come true for Libby. The inn cries out for her restorer's talent and...

---

Silent Night

/ Romance

As Christmas day nears, Bree and her faithful search-and-rescue dog Samson follow the trail of a troubling mystery into the snowy forests of Rock Harbor. Bree Matthews is preparing for Christmas guests, but her heart is reeling from the recent and...

---

Love, Suite Love

/ General Fiction

"Coble is a great writer, she knows what readers want and she does not disappoint."-Romantic TimesWhen Liliana takes a trip with her grandmother to beautiful, romantic Maui, she expects the best accommodations and treatment. She has learned to expec...

---

Love Between the Lines

in Secretly Smitten

Summer, fall, winter, spring -- Smitten, Vermont, is the place for love . . . and mystery! There's a secret in Grandma Rose's attic -- a forgotten set of dog tags belonging to her first love. But David Hutchins was killed in action and never r...

---

Safe in His Arms

Sometimes it takes a stranger to see you as you really are. Born and raised on sprawling Texas land, Margaret O'Brien prides herself on her competence as a rancher. But her father believes she's made for more than just dawn-to-dusk work. He wa...

---

Rock Harbor Search and Rescue

In Rock Harbor Search and Rescue, a middle grade fiction novel based on Colleen Coble's bestselling Rock Harbor series for adults, kids will enjoy the mixture of pets, adventure, suspense, and a mystery. Emily O'Reilly is obsessed with all th...

---

The Blessings Jar

Can a jar full of blessings change a day full of the grumpies? Punky Grace is having a really grumpy morning. But when Grammy suggests they have an adventure and fill her Blessings Jar to the top, Punky discovers that God's blessings are enough...

---

Rosemary Cottage

Amy came to Rosemary Cottage to grieve, to heal, maybe even find love. But there's a deadly undertow of secrets around Hope Island . . . The charming Rosemary Cottage on the beach offers Amy Lange respite she needs to mourn her brother, Ben. She...

---

Lost and Found

An old photo brings a shocking revelation and it's up to Emily and her best friend Olivia to solve the case! Fourteen-year-old Emily O'Reilly and her best friend Olivia Webster have a knack for solving mysteries. Emily has been busily training...

---

Holy Night

One sinister phone call has derailed their wedding. Will they let it tear them apart forever? A Christmas wedding on the beach -- what could be more perfect? Poinsettias and fragrant pikake blossoms, soft sand and mistletoe, the gentle sound o...

---

---

Butterfly Palace

Elegance and wealth. Privilege and politics. The extravagance of the Butterfly Palace overwhelmed Lily's senses and nearly smothered her painful memories. She pushed away her misgivings . . . She was perfectly safe in this huge house. Austin, Te...

---

Love by the Book

in Smitten Book Club

The century-old Gentlewoman's Guide to Love and Courtship is no ordinary book club choice. But for the little book club in Smitten, Vermont, it might be their best pick yet! The thick, leathery tome Heather pulled out of the dusty cardboard box ...

---

Bluebonnet Bride

/ Historical Romance

At the turn of the 20th century, Elli Korpela boarded "The Baltic" as a mail-order bride. But the threat she thought she was escaping somehow followed her to America . . . Escaping a forced engagement, Elli sought refuge in an arranged, mail-order...

---

Smitten Ever After

/ Romance

Birthday Wishes

When a group of friends devise a plan to turn Smitten, Vermont, into the country's premier romantic getaway, Natalie finds her own true love along the way.

With the local lumber mill closing, residents wonder if the...

---

Seagrass Pier

In a secluded corner of Hope Beach, one woman must decipher a stranger's memories . . . before they cost her everything. Elin Summerall was one of the lucky ones. Not only did she get a heart transplant, but the donor was a perfect fit. A miracu...

---

All Is Calm

/ Romance

Brendan Waddell needs a place to recuperate. Lauren Everman needs a place to hide. It's going to be an unexpectedly romantic Christmas at Bluebird Ranch.

Brendan Waddell has always considered Bluebird Ranch a little piece of heaven: an idy...

---

A Heart's Disguise

In the celebratory mood of the recently-ended Civil War, Sarah discovers her betrothed has been keeping a devastating secret. While the tiny town of Wabash, Indiana, celebrates the end of the fighting, Sara Montgomery attends the parties, but insi...

---

A Heart's Obsession

Will Sarah's journey west lead her back into the arms of the one man she can trust? When her father succumbs to a long illness, Sarah Montgomery is freed from duty to family. At last she can be with the love of her life, Rand Campbell, who has g...

---

The Inn at Ocean's Edge

Claire's visit to a luxury hotel in Maine awakens repressed memories, threatening all she holds dear. In 1989, Claire Dellamare disappeared from her own fourth birthday party at the Hotel Tourmaline on the island of Folly Shoals, Maine. She show...

---

A Heart's Danger

On the brink of war with the Sioux, Sarah risks everything to expose the betrayal threatening the man she loves. Christmas is coming, and the air at Fort Laramie has turned cold ... but relations with the Sioux have turned colder. As tensions betw...

---

A Heart's Betrayal

Emmie finds shelter in the arms of a soldier, but her secret could drive them apart. When Emmie Croftner answered the door to her late husband's home, she discovered an awful truth: her deceased husband was a bigamist. And what's more, the home s...

---

A Heart's Promise

Emmie makes a promise to her friend that, if fulfilled, could mean the end to her dreams of a future with Isaac. Emmie Croftner let Isaac Liddle go to avoid telling him about her past. But Isaac remains determined to win Emmie's heart and hand. ...

---

A Heart's Home

Emmie's hope for a life with Isaac is overshadowed by a tragic loss at Fort Phil Kearny. Isaac Liddle is keen to marry Emmie, and she knows she shouldn't hide her pregnancy from him any longer. But before she can tell him her secret, a widower...

---

All Is Bright

/ Contemporary Romance

Journey to two of Colleen Coble's most beloved settings -- Bluebird Ranch and Hope Beach -- for holiday romance and mystery!

"Colleen is a master storyteller." -- Karen Kingsbury, New York Times bestselling author

All Is Calm

---

Mermaid Moon

Mallory s mother died fifteen years ago. But her father's last words on the phone were unmistakable: Find . . . mother. Shame and confusion have kept Mallory Davis from her home for the last fifteen years, but when her dad mysteriously dies on his...

---

Twilight at Blueberry Barrens

"I need you to keep these girls safe . . ." Kate Mason has devoted herself to caring for her family's blueberry barrens. But after her fields stop producing fruit, she's forced to come up with alternative ways to make a living. Renting ...

---

Because You're Mine

Amid the beauty of Charleston, not all is as it seems. When her husband Liam is killed by a car bomb while their Celtic band is on tour in Charleston, singer and Irish beauty Alanna doesn't quite know where to turn. Her father-in-law is threaten...

---

Beneath Copper Falls

Dana has already learned that love isn't safe . . . but could it be different in Rock Harbor? As a 911 dispatcher, Dana Newell takes pride in being calm in tough circumstances. In addition to her emotionally-charged career, she's faced enough ...

---

The View from Rainshadow Bay

Her photographs capture the beauty of Puget Sound. Do they also expose a darkness that someone would kill to keep buried? After her husband, Jack, dies in a climbing incident, Shauna has only her five-year-old son and her helicopter charter busine...

---

Where Shadows Meet

Hannah is distraught when her parents are murdered -- but what makes it worse is that she should have been at home with them . . . not meeting her forbidden love, Reece. Unable to face the community and her guilt, she runs away and marries him. Bu...

---

The House at Saltwater Point

The dangerous beauty of Lavender Tides is harboring secrets that reach around the world. Ellie Blackmore is making a name for herself as a house flipper. But when her sister Mackenzie disappears, Ellie can't focus on anything but uncovering what...

---

Freedom's Light

USA TODAY bestselling author Colleen Coble explores the mystery and the romance of the Revolutionary War. A young lighthouse keeper must navigate the dangerous waters of revolution and one man's obsession with her to find safe harbor with the s...

---

Leaving Lavender Tides: A Novella

Shauna and Zach's dream honeymoon -- turned nightmare. Having narrowly avoided tragedy in their hometown of Lavender Tides, Washington, Shauna and Zach Bannister are finally on a honeymoon cruise through the Hawaiian islands. Lost in the glow of...

---

Secrets at Cedar Cabin

Her mother lied about her identity and her husband wasn't who she thought he was -- can Bailey even trust herself anymore? Running for her life in the wake of her mother's murder, Bailey Fleming escapes to the only place she can think of -- a...

---

Strands of Truth

Suspense, romance, and generational secrets meld in this engrossing new novel from USA TODAY bestselling author Colleen Coble. Strands of Harper Taylor's childhood are resurfacing -- but will the truth save her . . . or pull her under? Harp...

---

One Little Lie

It started with one little lie. But Jane Hardy will do everything in her power to uncover the truth in this gripping new romantic suspense. Jane Hardy is appointed interim sheriff in Pelican Harbor, Alabama, after her father retires, but there...

---

Two Reasons to Run

Lies have rocked Jane Hardy''s world. And now that her son is being targeted, she''s got at least two reasons to run. Jane Hardy''s life has been utterly disrupted. Almost immediately after taking over as Chief of Police fo...

---

Three Missing Days

A chilling murder. Chief of Police Jane Hardy plunges into the investigation of a house fire that claimed the life of a local woman as well as one of the firefighters. It's clear the woman was murdered. But why? The unraveling of Jane's person...

---

A Stranger's Game

A gripping new stand-alone novel from USA TODAY bestselling romantic suspense author Colleen Coble. A wealthy hotel heiress. Torie Bergstrom hasn't been back to Georgia since she was ten, but she's happy to arrange a job for her best friend...

---

A Edge of Dusk

Even though secrets lie off the coast of Rock Harbor, the truth will set Annie Pederson free -- if it doesn't kill her first. Return to the beloved town of Rock Harbor in the first installment of a new series by bestselling suspense author Colleen ...

---

Dark of Night

The law is about justice -- not grace. But perhaps ranger Annie Pederson can find a way to have both.As if the last few months haven't been hard enough -- complete with threats on her life and the return of her first love, Jon -- Annie has to figur...

---

Break of Day

Annie Pederson's happily ever after is finally within sight . . . if she can stay alive long enough to grasp it.Law enforcement officer Annie Pederson's life has been rocked by tragedy, but things finally seem to be heading in the ...

---

Fragile Designs

Family secrets can be the most dangerous of all. The journey to find the truth and protect her family will have Carly delving deep into the lost treasures of Eastern Europe—if she can survive that long....

---
Award-Winning Books by Colleen Coble
Dangerous Depths
2007 Carol Award -- Suspense
2007 Carol Award -- Suspense/Thriller
Distant Echoes
2006 Carol Award -- Suspense/Thriller
The Lightkeeper's Ball
2012 Christian Retailing's Best -- Historical Romance
Lonestar Angel
2012 Carol Award -- Romantic Suspense
Frequently Asked Questions (FAQ)
Colleen Coble has published 82 books.
The next book by Colleen Coble, Fragile Designs, will be published in January 2024.
The first book by Colleen Coble, Where Leads the Heart, was published in January 1997.
Yes. Colleen Coble has 15 series.