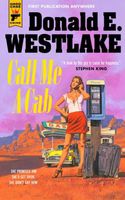 Newest Release
Bibliography:

83 Books - 1 Series

First Book:

January 1965

Latest Book:

March 2022

Rating:
Full Series List in Order
1 - The Hot Rock (May-1970)
2 - Bank Shot (Apr-1972)
3 - Jimmy the Kid (1974)
4 - Nobody's Perfect (1977)
5 - Why Me? (Jan-1983)
6 - Good Behavior (May-1986)
7 - Drowned Hopes (Apr-1990)
7.25 - Give Till It Hurts (Oct-2010)
7.5 - Too Many Crooks (Aug-1996)
8 - Don't Ask (Jul-1994)
9 - What's the Worst That Could Happen? (Jun-1996)
10 - Bad News (Apr-2001)
11 - The Road to Ruin (Apr-2004)
12 - Watch Your Back! (Apr-2005)
13 - What's So Funny? (May-2007)
14 - Get Real (Jul-2009)
Thieves' Dozen (Apr-2004)
Book List in Order:
83

titles
The Fugitive Pigeon

Meet Charlie Poole, a Canarsie bartender, couch potato, and one of the biggest nebbishes in Brooklyn. When two hitmen come after him, he's totally baffled and suddenly on the run. Now Charlie has to learn how to handle his Mafia Uncle Al. (Point w...

---

God Save the Mark

"* mark n. An easy victim; a ready subject for the practices of a confidence man, thief, beggar, etc.; a sucker.-Dictionary of American Slang, Thomas Y. Crowell Co., 1960That's the long definition of a mark. But there's a shorter one. It goes: * mark...

---

The Hot Rock

In the novel that spawned the most hilarious criminal caper series ever conceived, John Dortmunder proves he has what it takes to be an habitual offender. Dortmunder steals the same jewel not just once--not just twice--but again--and again--and again...

---

---

Bank Shot

"What the hell is it?" Dortmunder said. "It's a trailer," Kelp said. "What they call a mobile home. Didn't you ever see that kind of thing before?" "But what the hell is it?" "It's the bank," Kelp said. The bank has a tough safe, seven guards, ...

---

---

Jimmy the Kid

The James Boys, The Chicago Mob, The Corleone Family, And now...The Dortmuunder Gang Brilliant criminal minds--with a few loose parts. Hardened men and women-who couldn't bump off a cockroach. You'll remember their wacko exploits from HOT ROCK a...

---

Brothers Keepers

"Bless me, Father, for I have sinned," confessed Brother Benedict of Manhattan's Crispinite Order. And that was before the 19-year lease on the order's Park Avenue monastery had expired, pitting its sixteen monks against a greedy real-estate mogul wh...

---

The Ultimate Caper

in Murderous Schemes

When plotting a murder (figuratively speaking), the mystery writer has at hand any number of M.O.'s including such tried and true conventions as the locked room, the unbreakable alibi, the double bluff, the mistaken identity, and many others. Indeed,...

---

---

Dancing Aztecs

Jerry Manelli is a hustler. A specialist in the scam, the con, and the rip-off. Right now Jerry Manelli is on the move around Greater New York City, hot on the trail of a priest. A very special sort of priest. A thousand-year-old, two-foot-tall, ugl...

---

Nobody's Perfect

Dortmunder and company are off again in pursuit of the Big Score--hired by one Arnold Chauncev to heist a priceless oil painting from his fashionable Manhattan town house. The scheme is foolproof: Chauncev collects from the insurance company, pays...

---

Castle in the Air

A South American dictator conceals millions of dollars worth of valuables in a dismantled castle being flown to Paris and a quickly assembled, international gang of thieves--each with national eccentricities--set out to steal the entire castle...

---

A Spy in the Ointment

From Wikipedia: Donald Edwin Westlake (July 12, 1933 - December 31, 2008) was an American writer, with over a hundred novels and non-fiction books to his credit. He specialized in crime fiction, especially comic capers, with an occasional foray into ...

---

---

---

---

Why Me?

Having unsuspectingly lifted the hottest rock in town, John Dortmunder is the prey of the FBI, the New York City police, terrorist groups from three nations, and all of New York's petty and not-so-petty crooks...

---

---

---

---

High Adventure

One man's quest to make history—and a lot of money: "High entertainment" from the three-time Edgar Award–winning Grand Master of Mystery (Elmore Leonard).   Kirby Galway may be a low-level marijuana smuggler in Belize, but the man has ...

---

Good Behavior

Its never been easy for John Dortmunder, hut things had now taken a turn he could never prepare for: Escaping from the police across a block of New York rooftops, he literally falls through the roof of the convent of the Silent Sisterhood of St. Filu...

---

---

---

---

---

Trust Me on This

What would it take to lure a serious young newswoman from a respectable New England paper to the most notorious supermarket tabloid in America? The call of journalistic adventure? The siren song of intrigue? How about the promise of a salary that's t...

---

Sacred Monster

Jack Pine was born to be a Hollywood star. He has no morals, no scruples; he will not hesitate to do anything or love anyone if it might advance his career, get him the best roles, or project him ever more firmly into the spotlight. And success do...

---

Help I Am Being Held Prisoner

JAILED FOR A JOKEIt isn''t easy going to jail for a practical joke. Of course, this particular joke left 20 cars wrecked on the highway and two politicians'' careers in tatters - so jail is where Harold Künt landed. Now he''s just trying to keep...

---

Tomorrow's Crimes

The author of original and literate suspense novels, Westlake excels also at creating mystery adventures in science-fiction settings. The selections in this volume, nine short stories and a book-length story, Anarchaos , originally appeared in SF mag...

---

---

---

The Damsel

Donald E. Westlake is one of the greats of crime fiction. Under the pseudonym Richard Stark, he wrote twenty-four fast-paced, hard-boiled novels featuring Parker, a shrewd career criminal with a talent for heists. Using the same nom de plume, Westlak...

---

---

Drowned Hopes

Arriving home at dawn after another failed burglary, John Dortmunder is horrified to find his apartment occupied by an old cellmate everyone had supposed (and hoped) had been jailed for life. Tom Jimson needs Dortmunder's help. Thirty years ago, b...

---

The Blackbird

Donald E. Westlake, writing as Richard Stark, offers the third Alan Grofield novel of suspense. Grofield is a part-time actor, but the rest of the time he's a thief. But in this advernture, no one is giving Grofield the privilege of being asked if he...

---

The Mercenaries // The Cutie

SOME PEOPLE WILL DO ANYTHING FOR MONEY Mavis St. Paul had been a rich man's mistress. Now she was a corpse. And every cop in New York City was hunting for the two-bit punk accused of putting a knife in her. But the punk was innocent. He'd been ...

---

Mystery for Halloween

This collection of sixteen haunting tales--selected by the editors of Alfred Hitchcock's Mystery Magazine and Ellery Queen's Mystery Magazine--calls forth the shivers and suspense that make Halloween a truly blood-red- letter day. Authors include Don...

---

---

The Mercenaries

Westlake's other crime novels include The Hunter, The Seventh and Busy Body, all of which were made into major motion pictures. The Mercenaries, Westlake's fist novel, is a riveting New York gangster thriller with a narcotic twist. This tough mystery...

---

Cops and Robbers

Meet Tom and Joe. They've got homes on Long Island and a dream: to pull off the perfect heist. Tom and Joe also have badges, uniforms and guns, just like the rest of the New York City police force! These two shining examples of New York's Finest don'...

---

---

Don't Ask

BONE OF CONTENTION It's not just any bone. It's a femur. An 800-year-old femur. An 800-year-old femur of a 16-year-old girl who Lust happened to have been killed and eaten by her own family. Then the Church made her a Saint. Then John Dortmunder s...

---

Baby, Would I Lie?

Welcome to Branson, Missouri, home of Country Music USA, big hairdos, and phony snakeskin boots. Ray Stevens and Cristy Lane are the headliners, but you bet-ter get there early because the late show's at eight. Now the most popular show in Branson is...

---

---

---

What's the Worst That Could Happen?

TRUMPED! Don't cross Dortmunder. Not even if you're a billionaire tycoon. Especially if you're a billionaire tycoon. Because Dortmunder has his code of honor, and Max Fairbanks, master of the universe, has just crossed over the line. Fairbanks's ...

---

Too Many Crooks

in 3rd Culprit (Worldwide)

Crime in all its devious incarnations is presented in this treat of murderous morsels dished out by old ppros and promising newcomers. Artfully crafted and impossible to put down, each story bountifully demooonstrates why these authors are la creme d...

---

Pity Him Afterwards

Hiding in the darkness of the trees, he was waiting for the state police car to move on, but it would not. Red lights filled the road below, flashlights began to search the woods around him. But he would not go back to Doctor Chax. He could take no m...

---

---

Take It Away

in The Plot Thickens

Joining together for a good cause brings out the best in today's top mystery and suspense writers! For this marvelously entertaining anthology, these outstanding contributors rose to a unique literary challenge: each penned a tale that ingeniously fe...

---

---

---

---

---

Bad News

"I'm a robber, not a grave robber," John Dortmunder says. So why is he knee-deep in dirt in a Long Island cemetery? It all started when Andy Kelp went into cyberspace and surfed his way into the clutches of master manipulator Fitzroy Guilderpost, wh...

---

---

Put a Lid on It

Shhh! Don't tell anyone that Francis ("Never call me Frank") Meehan is slipping out of jail. And whatever you do, don't tell anyone that the people who are letting him out are bigger crooks than Francis ever was. The deal is: Francis gets out of pris...

---

Money for Nothing

When it comes to crime-the good, the bad, and the hilarious-nobody does it like Donald E. Westlake, the creator of the uproarious Dortmunder novels and the dark classic The Ax. Westlake's outrageous new thriller is all about something too good to be ...

---

The Road to Ruin

"Pariah!" Monroe Hall wishes that people would stop using that word. So what if he was born rich but scammed his own conglomerate for more than the boys from Enron and WorldCom combined? And so what if he takes a little pleasure in reporting people t...

---

Thieves' Dozen

SO MANY HEISTS, SO LITTLE TIME... THIEVES' DOZEN Horse Laugh: Dortmunder always avoids thefts that involve four-legged creatures. Then why is he somewhere out in New Jersey, listening to sirens wailing in the distance, holding on for dear life to...

---

---

Watch Your Back!

- After a year on the lam, the return of bumbling thief Dortmunder is a cause celebre. The author's most recent Dortmunder caper. "The Road to Ruin, and the short story collection, "Thieves' Dozen, received rave reviews in the "New York Times Book Re...

---

361

The men in the tan-and-cream Chrysler came with guns blazing. When Ray Kelly woke up in the hospital, it was a month later, he was missing an eye, and his father was dead. Then things started to get bad. From the mind of the incomparable Donald E. We...

---

I Know a Trick Worth Two of That

Sam Holt spent years playing Packard, everyone's favorite TV-detective; he's got no desire to play sleuth in real life. But when a long-lost pal calls with a rant about conspiracies, sinister cargo ships and hit men, and then gets poisoned at a party...

---

One of Us Is Wrong

Actor Sam Holt has packed in Packard, the TV detective he played for several years to much acclaim and lots of money. But success has had its downside: Holt is so closely identified with Packard that he can't get hired to play anyone else. Suddenly, ...

---

What's So Funny?

In his classic caper novels, Donald E. Westlake turns the world of crime and criminals upside down. The bad get better, the good slide a bit, and Lord help anyone caught between a thief named John Dortmunder and the current object of his intentions. ...

---

Somebody Owes Me Money

SOMETIMES WINNING FEELS AN AWFUL LOT LIKE LOSING. Cab driver Chet Conway was hoping for a good tip from his latest fare, the sort he could spend. But what he got was a tip on a horse race. Which might have turned out okay, except that when he wen...

---

Get Real

In Donald E. Westlake's classic caper novels, the bad get better, the good slide a bit, and Lord help anyone caught between a thief named John Dortmunder and the current object of his attention. However, being caught red-handed is inevitable in Do...

---

---

Memory

THE CRIME WAS OVER IN A MINUTE - THE CONSEQUENCES LASTED A LIFETIME Hospitalized after a liason with another man's wife ends in violence, Paul Cole has just one goal: to rebuild his shattered life. But with his memory damaged, the police hounding hi...

---

Give Till It Hurts

in Christmas At The Mysterious Bookshop

Each year, for the past seventeen years, Otto Penzler, owner of the legendary Mysterious Bookshop in New York City, has commissioned an original story by a leading mystery writer. The requirements were that it be a mystery/ crime/suspense story, that...

---

---

---

---

The Comedy Is Finished

BUT SERIOUSLY, FOLKS. The year is 1977, and America is finally getting over the nightmares of Watergate and Vietnam and the national hangover that was the 1960s. But not everyone is ready to let it go. Not aging comedian Koo Davis, friend to ge...

---

Comfort Station

/ Mystery

In the comfort station at Bryant Park, worlds collide and lives are changed forever Look past the grandeur of the famous New York Public Library and you will see the true architectural marvel of Forty-Second Street: the comfort station. A small bu...

---

Ex Officio

/ Mystery

An ailing ex-president attempts to return to the world stage Few retirements are tougher than that of a former president. For more than a decade, the once-powerful Bradford Lockridge, whose presidency was cut short after one term, has slipped furt...

---

The Scared Stiff

/ Mystery

Attempting a worldwide insurance scam in South America, a con artist finds the natives less than friendly After more than a decade of skipping out on their debts, Lola and Barry owe a lot of money to the wrong people. To escape the loan sharks, Ba...

---

---

Forever and a Death

Academy Award nominee Donald Westlake (The Grifters) returns with a never-before-published thriller based on his story for a James Bond movie that never got made! With an afterword by Bond producer Jeff Kleeman.A formerly rich businessman thrown out ...

---

---

---

Double Feature

THE MOVIE STAR AND THE MOVIE CRITIC -- HOW FAR WOULD THEY GO TO KEEP THEIR SECRETS BURIED? DOUBLE FEATURE Contains two CLASSIC Donald E. Westlake novellas, A Travesty and Ordo.WHAT'S HIDDEN BEHIND THE SILVER SCREEN?In New York City, a movie critic ha...

---

Call Me A Cab

The final unpublished novel by MWA Grandmaster – a wild, romantic road trip across America by taxi cab – demonstrates why this beloved author is so fondly remembered and so dearly missed."A book by this guy is cause for happiness."Stephen Kin...

---

Four Pair, Eight Fun Shorts

A new collection of eight short stories by four master authors: Donald E. Westlake, H. Beam Piper, Fritz Leiber and Robert Sheckley. And, even though Donald Westlake is best known for his detective novels, all of these stories fall into the category ...

---

They Also Serve

He led the way into his quarters, motioned Ebor to a perch, and rang for his orderly. "It was just a little remote-controlled apparatus, of course," he said. "The fledgling attempt, you know. But it circled this Moon here, busily taking pictures, and...

---
Award-Winning Books by Donald E. Westlake
God Save the Mark
1968 Edgar Allan Poe Award -- Novel
Frequently Asked Questions (FAQ)
Donald E. Westlake has published 83 books.
Donald E. Westlake does not have a new book coming out soon. The latest book, Call Me A Cab, was published in March 2022.
The first book by Donald E. Westlake, The Fugitive Pigeon, was published in January 1965.
Yes. Donald E. Westlake has 1 series.