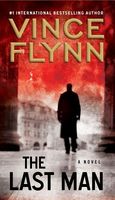 Newest Release
About the Author
As a child, Vince Flynn was diagnosed with dyslexia in sixth grade, making reading and writing difficult for him. He graduated from college with a degree in Economics and worked for Kraft in account and sales marketing. While at Kraft, Flynn decided to go to the Marine Aviation Program, but at the last minute he was medically disqualified. During this experience, he began to think about writing a book.

He went back to work in marketing and in his spare time began work on his book, which eventually led him to start writing full time. After five years and many rejections, Flynn decided to self publish his book. It paid off. After hitting number one in the Twin Cities, he got a book deal with Pocket Books and Term Limits became a New York Times Best Seller. Since then, he has written 13 novels, all of which have been bestsellers. Flynn lives in the Twin Cities with his family.

Vince passed away in 2013 after a long battle with cancer.
Full Series List in Order
1 - American Assassin (Oct-2010)
2 - Kill Shot (Feb-2012)
3 - Transfer of Power (Jul-1999)
4 - The Third Option (Nov-2000)
5 - Separation of Power (Oct-2001)
6 - Executive Power (May-2003)
7 - Memorial Day (May-2004)
8 - Consent to Kill (Oct-2005)
9 - Act of Treason (Oct-2006)
10 - Protect and Defend (Nov-2007)
11 - Extreme Measures (Nov-2008)
12 - Pursuit of Honor (Oct-2009)
13 - The Last Man (Nov-2012)
14 - The Survivor (Oct-2015)
15 - Order to Kill (Oct-2016)
16 - Enemy of the State (Sep-2017)
17 - Red War (Oct-2018)
18 - Lethal Agent (Sep-2019)
19 - Total Power (Sep-2020)
20 - Enemy at the Gates (Sep-2021)
21 - Oath of Loyalty (Sep-2022)
22 - Code Red (Sep-2023)
Book List in Order:
14

titles
---

Term Limits

Taking America back...one politician at a time What if America's leaders were held accountable for their broken promises--and made to pay for their corruption? Vince Flynn brings to life a chilling scenario of Washington under siege--in the provoc...

---

Transfer of Power

On a busy Washington morning, the stately calm of the White House is shattered by a hail of gunfire. A group of terrorists has descended on the executive mansion and gained access by means of a violent slaughter of dozens of people. Through the quick...

---

The Third Option

When diplomacy has failed and military intervention is deemed inappropriate, our leaders sometimes take THE THIRD OPTION Mitch Rapp, the CIA's most lethal and efficient counterterrorism operative, is putting into play a meticulous plan to take...

---

Separation of Power

Newly appointed CIA director, Dr. Irene Kennedy, is the target of an inside plot to destroy her and prematurely end the American President's term. To make matters worse, Saddam Hussein is close to entering the nuclear arms race--something Israel has ...

---

Executive Power

CIA superagent Mitch Rapp's cover has been blown -- just when the world needs him more than ever.... Returning from a covert mission, Mitch Rapp was publicly hailed by the president for his role in the fight against terrorism. After years of work...

---

Memorial Day

Fighting terrorism on foreign ground, CIA superagent Mitch Rapp does whatever it takes to protect American freedom. CIA intelligence has pointed to a major terrorist attack on the United States, just as the nation's capital prepares for a grand M...

---

Consent to Kill

On the front lines of the global war on terror, CIA superagent Mitch Rapp races to save one more life: his own. An eye for an eye: that's what the powerful father of a dead terrorist demands in retribution -- and with his hate-filled plea, Mitch R...

---

Act of Treason

The fallout from a horrific Washington explosion has just begun -- and so has CIA superagent Mitch Rapp's hunt for a killer with a personal agenda. In the final weeks of a fierce presidential campaign, a motorcade carrying candidate Josh Alexander...

---

Protect and Defend

No longer willing to wait for the international community to stop its neighboring enemy, Israel brings down Iran's billion-dollar nuclear program in an ingeniously conceived operation. The attack leaves a radioactive tomb and environmental disaster i...

---

---

Extreme Measures

In the secretive world where fearless men and women wage a daily covert war, the CIA has intercepted two terrorist cells -- but a third, led by a dangerous mastermind, is feared to be on the loose. Counterterrorist agent Mitch Rapp joins forces with ...

---

Pursuit of Honor

When Washington, D.C.'s National Counterterrorism Center is struck by a series of devastating explosions, the results are catastrophic -- 185 killed, including public officials and CIA employees. Such an act of extreme violence calls for extreme meas...

---

American Assassin

#1 NEW YORK TIMES BESTSELLING AUTHOR VINCE FLYNN INTRODUCES THE YOUNG MITCH RAPP ON HIS FIRST ASSIGNMENT, A MISSION OF VENGEANCE THAT MADE HIM A CIA SUPERAGENT. Two decades after the Cold War, Islamic terrorism is on the rise, and CIA Operations Dir...

---

Kill Shot

In the year since the CIA trained and then unleashed him, Mitch Rapp has dismantled, kill by untraceable kill, the network of monsters behind the Pan Am Lockerbie terrorist attack. The hunt leads to Paris, where a deadly trap is sprung as the bullet ...

---

The Last Man

MITCH RAPP'S HUNT FOR A MISSING CIA ASSET RAISES THE STAKES FOR HIS OWN SURVIVAL The head of clandestine operations in Afghanistan has been kidnapped, his four bodyguards executed in cold blood. With the CIA plunged into crisis mode, Rapp is dispa...

---
Frequently Asked Questions (FAQ)
Vince Flynn has published 14 books.
Vince Flynn does not have a new book coming out soon. The latest book, The Last Man, was published in November 2012.
The first book by Vince Flynn, Term Limits, was published in June 1998.
Yes. Vince Flynn has 1 series.