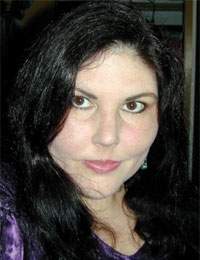 Katie MacAlister is an American author with a passion for mystery, a fascination with alpha males, and a deep love of history. She has worked as a bird skeleton cleaner, a wave machine solderer, a Fortran programmer, and a sales assistant for Harrod's. She lives with her husband and two dogs, and also writes for the young adult market as Katie Maxwell.
Book List in Order:
70

titles
A Confederacy of Dragons

/ Contemporary Romance

Phyllida Hall is both the rarest and yet least sought-after member of the Otherworld, bound by a prohibition that limits her magic. Tormented by a former lover, she lives in quiet solitude...until an upheaval makes her one of the most overpowered bei...

---

Shadow of the Lion

The last man Alexandra Whitney wants is the one she needs...New Woman, Suffragette, and recently freed from a tyrannical father, Alex arrives in London determined to do everything she was forbidden to do, from fighting for women's rights to dressing ...

---

Acropolis Now

Sometimes, happily ever after takes its own sweet time...When Moonbeam Swiftcloud Nakai went to England on a scholarship and fell in love with a Greek student named Neo, she never thought her life would be one of regret, lost love, and oppression. Bu...

---

Enthralled

They call me soulless. A destroyer of innocents. An apocalypse waiting to happen.That's what getting dumped at the altar will do to you. Keeley Moore was as happy as a proverbial clam when he found his Beloved, the one woman fated to be the love...

---

Dragonblight

Seven wyverns, six dragon mates, and a mouthy demon named Jim... When word comes that a demon lord plans to curse all of dragonkin, Aisling, Drake, and the rest of the weyr take immediate action. But before they can find out just who is behind the...

---

Company of Thieves

A thief like no other is about to steal Alan Dubain's heart... Shining star of the Moghul empire, diplomat in the court of William VI, and secretly devoted to the cause of undermining both, Alan Dubain is better known to most people as Prince ...

---

A Fistful of Vampires

/ Paranormal Romance

A collection of paranormal sizzle including two tales of Dark Ones and the women who've tamed them, and a short story call back to where it all began! ◆ UNLEASHEDMeet Jacintha Ferreira, kitty whisperer. Or at least that's what the gu...

---

Shadowborn

The New York Times-bestselling author of Fireborn and Starborn returns to a magical fantasy realm where warriors of the light fight for everlasting peace. Liberated from exile, the brutal god Nezu is leveling his vengeful wrath against the blesse...

---

A Tale of Two Cousins

To: Roomie Collective (Tilly, Sabre, Moose, Frank) Hey guys! Just wanted to let you know that I'll be in Athens for four days next week.From: Tilly Oooh, Athens! Pretty place, but dusty. You going to meet a hot Greek?To: Roomie Coll...

---






---

Starborn

THE ILLUSION OF PEACE The battle for sovereignty among the seven lands of Alba has ended. The prophecy of Peace appears to have come true. But appearances can be deceptive. A new battle is brewing. Its outcome is dependent on the retrieval of a sacr...

---

Day of the Dragon

TWO FULL NOVELS FOR THE PRICE OF ONE! Fans of Lyndsay Sands and Gena Showalter will love this fiery paranormal romance from a New York Times bestselling author about a dragon shifter who finds his soul mate in the most unlikely place. Also includes W...

---

Ever Fallen in Love

One man and a baby was all it took...When sexy, bad-to-the-bone Greek playboy Theo Papaioannou finds himself in possession of a son he didn't know he had, he has to overcome a lifetime of bad choices, and become the father his son deserves...assuming...

---

Memoirs of a Dragon Hunter

Dragon Hunter Wanted: Sword supplied. No experience necessary. One moment, I was a normal (if somewhat germaphobic) math teacher getting ready for summer vacation. Then my sister died in a pile of black ash, leaving me with a sword... and her de...

---

You Auto-Complete Me

Emily is back in this complete rewrite of The Year My Life Went Down the Loo. Told in text messages, You Auto-Complete Me updates the tale of now-adult Emily, her year spent in England, and all her friends.EMSTER What, you're not here? DRU I'm here. ...

---

Fireborn

What if a war was taking place under your nose? Two ancient races locked in a battle for survival. Which side would you take?Allegria appears to all to be nothing more than a simple priestess devoted to worship of the sun goddess. Hallow is a masterl...

---

Once Upon a Dragon Moon

/ Paranormal Romance

HERE BE DRAGONS! Two of New York Times bestselling author Katie MacAlister's favorite characters are back in an anthology of dragon stories. DRAGON UNBOUND If you release the dragon… Being the First Dragon, a mysterious demi-god who created th...

---

The Vampire Always Rises

Tempest Keye's life is just beginning. Growing up in a religious cult, Tempest could only dream of the world outside. Once free, Tempest is determined to live her life to the fullest, and to check off each item on her bucket list. First on her agenda...

---

The Perils of Paulie

A fast and furious new Matchmaker in Wonderland novel from the New York Times bestselling author of Daring in a Blue Dress. Sheltered by a strict father, Paulina Rostakova spends her time working for the family business and yearning for some gran...

---

Confessions of a Vampire's Girlfriend

Two Katie MacAlister young adult vampire novels Got Fangs? and Circus of the Darned now back in print and together for the first time! Meet Francesca. She's in Europe, working in a traveling faire along with psychics, magicians, and other really biza...

---






---

Dragon Unbound

If you release the dragon... Being the First Dragon, a mysterious demi-god who created the dragon race, certainly isn't all it's cracked up to be. Sure, he's powerful and rules from afar with a kind and gentle heart. But, after centuries of watching ...

---

Daring in a Blue Dress

Stranded in England without money or a ticket home, Mercy Starling takes a job working for a medieval reenactment company. After all, who wouldn't want to pretend to live in the past, wield swords and long bows, and dress up in armor? And the best ...

---

Ghost of a Chance

From New York Times, USA Today, and Publishers Weekly bestselling author Katie MacAlister comes a mystery with a paranormal twist.There are other worlds with mysteries to solve.Worlds where not all of the suspects are technically alive.That's when ...

---

---

Dragon Storm

TURN ON THE CHARM According to some (including himself), Constantine is one of the greatest heroes of dragonkin who ever lived. Too bad he's now lonelier than ever and his biggest adventure involves a blow-up sheep-until he has an opportunity to s...

---

Dragon Fall

YOU FLIRT WITH FIRE... For Aoife Dakar, seeing is believing-and she's seen some extraordinary things. It's too bad no one else believes that she witnessed a supernatural murder at an outdoor fair. Returning to the scene for proof, Aoife encounters...

---

A Midsummer Night's Romp

From the New York Times bestselling author of "The Importance of Being Alice" comes the second Ainslie Brothers romance, where finding love means falling head over heels... Lorina Liddel is terrified of embarrassing herself on national TV as the ...

---

The Importance of Being Alice

From "New York Times" bestselling author Katie MacAlister comes a series about finding your own wonderland--through one roadblock at a time.... Nothing about Alice Wood's life is normal right now. Her fiance, Patrick, called off their wedding and...

---

The Truth about Leo

Can Dagmar flee Denmark Dagmar Marie Sophie is a poverty-stricken Danish princess whose annoying royal cousin is about to have her stuffed away in a convent. When she finds a wounded man unconscious in her garden, she sees a way out of her desperate...

---

The Art of Stealing Time

Experts in the art of stealing time, Travellers live on the edge of both mortal and immortal realms. But a few fight their outlaw instincts.... Gwenhwyfar Byron Owens learned everything she knows about potions and spells from her two Wiccan moms,...

---






---

Time Crossed

/ Paranormal Romance

Stealing time. Cheating death. Breaking hearts. Gregory Faa is an Otherworldly man on a mission in the new Time Thief short story from New York Times bestselling author Katie MacAlister. Gwenhwyfar Byron Owens is a Wiccan on the edge -- of the la...

---

Time Thief

Outcast due to their ability to manipulate time, shunned by the mortal and immortal worlds alike, a Traveller's life is anything but easy. Traveller Peter Faa is a member of the Otherworld's Watch tracking down a murderer, and unfortunately, ...

---

A Tale of Two Vampires

Time isn't always on a vampire's side.... Iolanthe Tennyson has had a very bad year -- due in part to the very bad men in her life. So she's accepted her cousin's invitation to spend the summer in Austria to indulge her photography hobby....

---

Lifestyles of the Rich and Undead

/ Paranormal Romance

A delightful e-short story from New York Times and USA TODAY bestselling author Katie MacAlister, featuring the vampire hero of her novella "Shades of Gray," from the upcoming Pocket Books paranormal romance anthology "The Undead in My Bed." L...

---

Shades of Gray

in The Undead in My Bed

A TV crew is filming a paranormal reality show on the grounds of an imposing old Czech Republic estate. But the electric passion behind the camera is what's out of this world. When Noelle, a Guardian, meets vampire Grayson, who has roamed for three c...

---

Sparks Fly

Ysolde de Bouchier has a lot on her plate, which isn't unusual considering her Light Dragon mate Baltic is still at odds with just about everyone, starting with his former guard Thala and her outlaw posse, right down to his dragon god father. Ysold...

---

It's All Greek to Me

HE LOOKS LIKE A GREEK GOD, BUT HE'S ALL MAN... When Eglantine "Harry" Knight sets off for Greece at the last minute to step in as manager of a friend's touring band, the last thing she expects is to meet a billionaire Greek playboy. Iakovos Papaioa...

---

Much Ado About Vampires

Corazon Ferreira is one heck of a jaded woman. Not only did her husband dump her for a pretty, vivacious blonde, but her sister has lost her mind and married a vampire. Worse, it turns out that Cora herself was a vampire's mate in a past life...the v...

---

The Unbearable Lightness of Dragons

Ysolde Bouchier is still coming to terms with the dragon part of her, while at the same time trying to free a friend of Baltic-her Black Dragon lover-from the weyr, get Baltic to meet with the dragons who want him dead, rescue a half-dragon damsel in...

---

In the Company of Vampires

IF ONLY A BROKEN HEART WERE ALL SHE HAD TO DEAL WITH... But there are Viking ghosts, gods, werebeings, and one sexy-as-sin vampire on Francesca's case. And her biggest trouble is spelled with a capital L -- for Loki, the trickster god who made good ...

---






---

The Perils of Effrijim

in Death's Excellent Vacation

The editors of Wolfsbane and Mistletoe and Many Bloody Returns deliver a new collection-including a never-before-published Sookie Stackhouse story. New York Times bestselling authors Charlaine Harris, Katie MacAlister, Jeaniene Frost-plus Lilith S...

---

Suffragette In The City

Cassandra Whitney is a New Woman, from her forward-thinking attitudes toward women and society, right down to her determination to take a lover—just as soon as she can find one who doesn't dribble soup, or yell at her for her involvement with the...

---

Unleashed

in Cupid Cats

From New York Times bestselling authors Katie Macalister, Vicki Lewis Thompson and National bestselling author Connie Brockway: Stories full of magic, love-and cats. This one-of-a-kind-all-original anthology features stories by three bestsell...

---

Love in the Time of Dragons

She's scaling back her expectations... If you found out you were a famous fire-breather, you'd be freaked out too. Tully Sullivan is just like any other suburban mom -- unless you count the days every year that she zones out and turns base metals...

---

Steamed

JACK FLETCHER'S HEART IS ABOUT TO GET PUNKED. Computer technician Jack Fletcher is no hero, despite his unwelcome reputation as one. In fact, he's just been the victim of bizarre circumstances. Like now. His sister happens to disturb one of his nano...

---

Me and My Shadow

A STALKER FROM HELL May Northcott is a woman at the end of her rope. She'd almost gotten used to her employer, the ex-demon lord Magoth, spending his days hanging around her home and interrupting her private moments with her lover, Gabriel. Then t...

---

Crouching Vampire, Hidden Fang

PIA'S DREAM OF BEING MARRIED HAS COME TRUE. BUT HER HUSBAND IS STRAIGHT OUT OF HER NIGHTMARES. Pia Thomason is torn between two Dark Ones and feeling like a fool, considering she doesn't know where either of them is. Alec is no doubt brokenhearted o...

---

Zen and the Art of Vampires

WHITE PICKET FENCES CAN BE DANGEROUS TO VAMPIRES. SOMETIMES A WOMAN'S GOTTA CHOOSE.... Pia Thomason doesn't have a typical life, but she wants one: the husband, the kids, the house in the suburbs. With her fortieth birthday looming, she decides to d...

---

Up In Smoke

HELL ON EARTH Though May Northcott's heart belongs to Gabriel Tauhou, the leader of the silver dragons, being stuck in Abaddon has significantly cooled down her love life -- especially since a demon lord is trying to woo her. So far, May has resiste...

---

Playing With Fire

FIRE AND WATER DON'T MIX -- OR DO THEY? Gabriel Tauhou, the leader of the silver dragons, can't take his eyes off May Northcott -- not even when May, who has the unique talent of being able to hide in the shadows, has slipped from everyone else's si...

---






---

Cat Got Your Tongue?

in My Big Fat Supernatural Honeymoon

What newly married couple doesn't dream of a romantic retreat where they can escape the world for a while--but what happens when supernatural forces intrude on their wedded bliss? Nine of today's hottest paranormal authors answer that question in...

---

Holy Smokes

I'm Aisling Grey, but you can call me "frustrated." The dragon of my dreams -- ubersexy Drake Vireo, wyvern of the green dragons -- has finally decided to make an honest woman of me. That is, if we ever make it to the wedding at the same time! Being...

---

Ain't Myth-behaving

A modern woman and a god from ancient legend? Surely an epic love mismatch...or maybe it's the "myth match" of the century? The irrepressible Katie MacAlister brings us heroes who are more than mere mortals in two sparkling new novellas of the Otherw...

---

The Last of the Red-Hot Vampires

Physicist Portia Harding's life is grounded in facts. There's nothing that can't be explained by logic and science...until she travels with her best friend to England and accidentally summons an ethereal virtue who bequeaths her gift of weather contr...

---

Light My Fire

I'm Aisling Grey, and multitasking is my middle name.... It's not easy being a demon lord, a Guardian, and a wyvern's mate all at once. Luckily, I just moved to London to study all things Guardian with my mentor. A new start is exactly what I need...

---

Bring Out Your Dead

in Just One Sip

Battling a demon lord is all in a day's work for the Dark One named Sebastian. But now he must take on a horde of unhappy zombies and an obnoxious teen vampire if he wants to win the hand of the one woman who can make him whole....

---

Even Vampires Get the Blues

Paen Scott is a Dark One: a vampire without a soul. And his mother is about to lose hers too if Paen can't repay a debt to a demon by finding a relic known as the Jilin God in five days. Half-elf Samantha Cosse may have gotten kicked out of the Or...

---

Blow Me Down

THIS GAME GIRL HAS WREAKED HAVOC ON THE HIGH SEAS -- BUT THE TIDE IS ABOUT TO TURN... In the Internet virtual reality game Buckling Swashes, Earless Erika and Black Corbin are two of the most deadly pirates to sail the online seas. And now they'...

---

Fire Me Up

I'm Aisling Grey, and apparently I'm irresistible.... Being quite the novice Guardian/Keeper of the Gates to Hell, I've decided to get in touch with my otherworldly self by attending a convention of supernatural beings in Budapest. For my other ca...

---

Sex, Lies and Vampires

CHARM SCHOOL 101 Instructors: Nell Harris, Charmer Adriam Tomas, Dark one Class Desc.: Are you responsible for lifting a centuries-old curse from the sexiest vampire you've ever seen? Does a demon lord want to destroy you? Have you somehow inad...

---






---

Hard Day's Knight

MEN IN TIGHTS... ...never looked so good. At least that's Pepper Marsh's first impression when she attends a jousting competition at the Renaissance Faire in Ontario. An unemployed and unattached software engineer, Pepper has had enough of the compu...

---

You Slay Me

I'm Aisling Grey, and I have the job from Hell.... Literally. My prior career as a courier began and ended when I traveled to Paris to deliver a six-hundred-year-old golden drag-on statue and learned I was a Guardian. That's a Keeper of the Gates ...

---

The Trouble with Harry

1. He was Plum's new husband. Not normally a problem, but when you considered that Harry advertised for a wife, and Plum was set to marry his secretary, there was cause for a bit of confusion. 2. He had a title. Plum had spent the last twenty year...

---

The Corset Diaries

He was so handsome she could barely breathe. Or maybe it was just the corset... "I HAVE TO WEAR WHAT???" No woman in her right mind would consent to wearing a corset for a month. Especially a "skinny-challenged" woman like myself. But dreams of...

---

Sex and the Single Vampire

Allegra's Dictionary of the Paranormal Dark One n. [Origin Czech, also known as vampires.] A Moravian Dark One is doomed to spend his lifetime cruising the singles' scene in search of the one woman who can redeem his soul. You think dating is hard...

---

A Girl's Guide to Vampires

Joy Randall's Top 5 Tips for Vampire Hunters 1. Location, location, location. Remember, if you wouldn't be there, neither would a bloodsucker. They won't be found dead (ha!) in places like discos, ten-minute lube shops, or Switzerland. Check the C...

---

Men in Kilts

She crossed the pond and lost her heart... What do they wear under those things? So far, Kathie Williams has made a good showing as the only American at a mystery writers' conference in Manchester-- what with that falling asleep in public thing...

---

Bird of Paradise

in Heat Wave

SEX. BETRAYAL. A YELLOW POLKA DOT BIKINI. Two hundred singles. Six weeks. One HOT tropical island. Welcome to EDEN, the best new reality game show on television. A hundred blind dates, two hundred first kisses, and ninety-nine heart-wrenching confess...

---

Noble Destiny

sometimes love is like a smoking gun... Dear Worthy Reader: I take quill in hand to warn you of the inaccurate picture hinted at in this very tome of my modest self. A poor widow I returned to England eager to take my place in the ton only to f...

---

Improper English

London on Three Kisses a Day Brandishing a loaf of French bread at a dishy detective wasn't how Alexandra Freemar had envisioned starting her stay in London. But the sassy American wasn't about to put up with any flak from the uptight--albeit gorg...

---






---

Noble Intentions

HEAD OVER HEELS IN LOVE Noble Britton had suffered greatly at the hands of his first wife, and he refused to fall into the same trap again. This time he intended to marry a quiet, biddable woman who would not draw attention to herself or cause sca...

---
Complete Series List in Order
Aisling Grey, Guardian
1) You Slay Me (Sep-2004)
2) Fire Me Up (May-2005)
3) Light My Fire (Nov-2006)
4) Holy Smokes (Nov-2007)
4.5) The Perils of Effrijim (Aug-2010)
An Alex Whitney Novel
1) Shadow of the Lion (May-2022)
Black Dragons
1) Dragon Fall (Aug-2015)
2) Dragon Storm (Nov-2015)
3) Dragon Soul (Apr-2016)
4) Dragon Unbound (Dec-2016)
A Born Prophecy
1) Fireborn (Apr-2018)
2) Starborn (Dec-2019)
3) Shadowborn (Jun-2020)
Dragon Hunter
1) Memoirs of a Dragon Hunter (Sep-2018)
2) Day of the Dragon (Mar-2019)
An Emily Novel
1) You Auto-Complete Me (Jul-2018)
A Karma Marx Mystery
1) Ghost of a Chance (Jun-2016)
Light Dragons
1) Love in the Time of Dragons (May-2010)
2) The Unbearable Lightness of Dragons (May-2011)
3) Sparks Fly (May-2012)
3.5) Dragonblight (Apr-2021)
Matchmaker in Wonderland
1) The Importance of Being Alice (Jan-2015)
2) A Midsummer Night's Romp (May-2015)
3) Daring in a Blue Dress (Jun-2016)
4) The Perils of Paulie (Jan-2017)
Noble
1) Noble Intentions (Feb-2002)
2) Noble Destiny (May-2003)
3) The Trouble with Harry (Jul-2004)
4) The Truth about Leo (Aug-2014)
Pappaioannou
1) It's All Greek to Me (Dec-2011)
2) Ever Fallen in Love (Nov-2018)
3) A Tale of Two Cousins (Apr-2020)
4) Acropolis Now (Apr-2022)
Silver Dragons
1) Playing With Fire (May-2008)
2) Up In Smoke (Oct-2008)
3) Me and My Shadow (Nov-2009)
A Steampunk Novel
1) Steamed (Feb-2010)
2) Company of Thieves (Nov-2020)
Time Thief
1) Time Thief (May-2013)
1.5) Time Crossed (Aug-2013)
2) The Art of Stealing Time (Sep-2013)
Multi-Author Series List
Dark Ones
1)
A Girl's Guide to Vampires
(Nov-2003)
2)
Sex and the Single Vampire
(Mar-2004)
3)
Sex, Lies and Vampires
(Feb-2005)
4)
Even Vampires Get the Blues
(May-2006)
4.5)
Bring Out Your Dead
(Oct-2006)
5)
The Last of the Red-Hot Vampires
(Apr-2007)
5.5)
Cat Got Your Tongue?
(Jan-2008)
6)
Zen and the Art of Vampires
(Dec-2008)
7)
Crouching Vampire, Hidden Fang
(May-2009)
7.5)
Unleashed
(Jul-2010)
9)
In the Company of Vampires
(Nov-2010)
10)
Much Ado About Vampires
(Oct-2011)
11)
A Tale of Two Vampires
(Sep-2012)
11)
The Vampire Always Rises
(Apr-2017)
11.25)
Lifestyles of the Rich and Undead
(Sep-2012)
11.5)
Shades of Gray
(Sep-2012)
12)
A Fistful of Vampires
(Jul-2020)
13)
Enthralled
(Nov-2021)
Award-Winning Books by Katie MacAlister
Holy Smokes
2007 RT Reviewers Choice Award -- Shapeshifter Romance