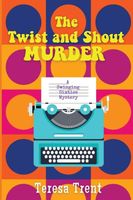 Newest Release
Bibliography:

17 Books - 4 Series

First Book:

September 2011

Latest Book:

January 2022

Rating:
Full Series List in Order
1 - Color Me Dead (Jan-2017)
1 - A Dash of Murder (Sep-2011)
2 - Overdue for Murder (Jun-2012)
3 - Doggone Dead (Feb-2013)
4 - Buzzkill (Jul-2013)
5 - Burnout (Sep-2014)
6 - Murder for a Rainy Day (Nov-2014)
7 - Till Dirt Do Us Part (Apr-2017)
8 - Oh Holy Fright (Oct-2018)
9 - Die a Yellow Ribbon (Jul-2020)
1 - Murder of a Good Man (Jan-2018)
2 - A Sneeze to Die For (Jan-2019)
3 - Die Die Blackbird (Jan-2020)
1 - The Con Man's Daughter (Jan-2022)
Book List in Order:
17

titles
A Dash of Murder

A Mystery for Ghost Hunters! When Betsy's Aunt Maggie wants to drag her along on a ghost hunting excursion at the local abandoned tuberculosis hospital she isn't sure she quite believes in spirits. When she comes upon a fresh spirit in the form of a ...

---

Overdue for Murder

Writing Can Be Murder When authors present their books on romance, vampires, chick lit and alien abductions at the Pecan Bayou Library, one of them gets a killer review. Betsy Livingston, there to talk about her book on helpful hints, finds herself p...

---

Doggone Dead

Give me land lots of land....and a puppy on the loose. When Betsy Livingston's puppy runs away, she has no idea it will lead her to a murder on a movie cowboy star's estate. Not only has there been a murder, but the town reports sightings of the dead...

---

---

---

Buzzkill

Betsy Livingston is planning a wedding so what could go wrong? After publishing a recipe for homemade calamine lotion in the newspaper, the ladies in the community church make a large batch. Everyone loves the stuff until someone in Pecan Bayou is fo...

---

Burnout

It's November in Pecan Bayou, Texas and while the town is getting ready for the Thanksgiving holiday a deadly fire breaks out at the newspaper office. When Rocky, the editor is nowhere to be found, Betsy refuses to believe he has perished in the fire...

---

Murder for a Rainy Day

Betsy Livingston Fitzpatrick, local helpful hints columnist for the Pecan Bayou Gazette, is trying keep her mind off of being nine months pregnant in the blistering Texas summer heat. Troubled by haunting dreams, she pursues the odd animal thefts i...

---

Color Me Dead

/ Cozy Mystery

Artist Gabby Wolfe has the ability to see not only the beauty of the living but the despair of the dead. When she returns to her childhood home in Henry Park Colorado, she is forced to bring along her younger brother Mitch. He is on a "break" from...

---

---

Till Dirt Do Us Part

Not everything stays buried. When Betsy, a notorious brown thumb gets roped into a gardening contest sponsored by the Pecan Bayou Gazette, she finds herself digging up more than weeds. She is ridiculed by the garden club ladies, and now her heart bre...

---

Murder of a Good Man

When Nora Alexander drives into Piney Woods, Texas, to fulfill her dying mother's last wish, she has no idea what awaits her. First she is run off the road, then the sealed letter she delivers turns out to be a scathing rebuke to the town's most be...

---

Oh Holy Fright

It's Christmas in Pecan Bayou, Texas. Join Betsy (aka The Happy Hinter) for a good old small-town Christmas complete with Christmas carols, over the top light displays, delicious food, loving friends and…a Christmas Creeper. One of the residents of...

---

A Sneeze to Die For

Nora Alexander has sunk her inheritance into the Tunie Hotel, in Piney Woods, Texas. Now there is a chance that her first major booking, a national cat lovers' conference called Meow Meet-Up, will help her bottom line. It also presents increasing ...

---

Die Die Blackbird

Nora Alexander is finding her job exciting as she welcomes paranormal investigators Jack and Daisy Foley to the Tunie Hotel. They are trying to contact the ghost of Sam Houston not only for their internet production but because it is reported ther...

---

Die a Yellow Ribbon

Betsy Fitzpatrick, a local helpful hints columnist, feels she has found her own personal guru after reading a book on organizing. Her beloved town of Pecan Bayou is competing in the Annual Golden Pecan Treasure Hunt in the suffocating heat of a Texas...

---

The Twist and Shout Murder

In 1962, Dot Morgan was told the best thing she could do besides being a nurse or teacher was to learn to type. While attending secretarial school, she decides to rub elbows with an elite ladies' club to help her father with a struggling campaign for...

---

The Con Man's Daughter

When Anna Holcomb returns to her hometown in Redbird Creek, Texas, she has a secret. She's not the spoiled little rich girl she once was. She's broke, looking for a job, and trying to start a new life. Caleb Armstrong thinks he knows her type from th...

---
Frequently Asked Questions (FAQ)
Teresa Trent has published 17 books.
Teresa Trent does not have a new book coming out soon. The latest book, The Twist and Shout Murder, was published in January 2022.
The first book by Teresa Trent, A Dash of Murder, was published in September 2011.
Yes. Teresa Trent has 4 series.