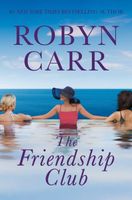 Newest Release
About the Author
At first, Robyn Carr wanted to be a nurse, but following her Air Force officer husband from base to base didn't give Carr the stability to pursue nursing. So she read constantly, mostly books in the historical romance genre, giving her inspiration to write her own. Her first novel, Chelynne, was published in 1978. Carr tried her hand at romance, thrillers and non-fiction until she began to create her own niche in women's fiction, focusing on strong women and their realities.

Carr has written over 30 books, but it took until 2011, with her popular Virgin River series, to debut at the top spot of the New York Times Bestseller list as well as Barnes and Noble and Publisher's Weekly lists. She has recently released a new Virgin River trilogy. Carr and her husband enjoy traveling and supporting causes that honor military families.
Full Series List in Order
1 - Deep in the Valley (Sep-2000)
2 - Just over the Mountain (Aug-2002)
3 - Down by the River (Jun-2003)
1 - What We Find (Mar-2016)
2 - Any Day Now (Apr-2017)
3 - The Family Gathering (Apr-2018)
4 - The Best of Us (Jan-2019)
5 - The Country Guesthouse (Jan-2020)
1 - The Wanderer (Apr-2013)
2 - The Newcomer (Jun-2013)
3 - The Hero (Sep-2013)
4 - The Chance (Feb-2014)
5 - The Promise (Jun-2014)
6 - The Homecoming (Sep-2014)
7 - One Wish (Feb-2015)
8 - A New Hope (Jul-2015)
9 - Wildest Dreams (Aug-2015)
1 - Virgin River (Apr-2007)
2 - Shelter Mountain (May-2007)
3 - Whispering Rock (Jun-2007)
4 - A Virgin River Christmas (Nov-2008)
5 - Second Chance Pass (Feb-2009)
6 - Temptation Ridge (Mar-2009)
7 - Paradise Valley (Apr-2009)
8 - Under the Christmas Tree (Oct-2009)
9 - Forbidden Falls (Jan-2010)
10 - Angel's Peak (Feb-2010)
11 - Moonlight Road (Mar-2010)
11.5 - Sheltering Hearts (Apr-2010)
12 - Midnight Confessions (Nov-2010)
13 - Promise Canyon (Jan-2011)
14 - Wild Man Creek (Jan-2011)
15 - Harvest Moon (Feb-2011)
16 - Bring Me Home for Christmas (Oct-2011)
17 - Hidden Summit (Dec-2011)
18 - Redwood Bend (Mar-2012)
19 - Sunrise Point (Apr-2012)
20 - My Kind of Christmas (Oct-2012)
21 - Return to Virgin River (Oct-2020)
Book List in Order:
66

titles
---

---

The Blue Falcon

From Dangerous Passion in Private Chambers to the Pageantry of the Royal Court, They Cherished a Forbidden Love The flaxen-haired Chandra watched with love as de Corbney grew to manhood, his hair as black as deep night, his fierce blue eyes shinin...

---

The Bellerose Bargain

FOR A FORTUNE IN SILVER, A TAVERN MAID WAS ROYALLY WED...TO A DANGEROUS MASQUERADE! The daring bargain was sealed. Penniless Alicia agreed to pose as a missing heiress, and thus become the wife -- in name only -- of Geoffrey, Lord Seavers. Handsom...

---

The Braeswood Tapestry

IN AN AGE OF VIOLENT INTRIGUES, SHE TRADED HONOR FOR PASSION'S PRIDE Jocelyn Cutler owned nothing but her ravishing, untouched beauty -- a prize she would willingly cede to the brooding and powerful Sir Trent Westcott, if he protected her fami...

---

The Troubadour's Romance

Pawn in a royal bargain, beautiful Felise Scelfton was handed in marriage to Sir Royce Leighton, the scarred and brooding lord of the grim keep of Segeland. And between them desire grew, bursting into a raging hunger that blazed at their merest touch...

---

By Right of Arms

By Right of Arms is brimming with all the passion, treachery, and romance Robyn Carr's fans have come to expect from her. This story of fourteenth-century battle and intrigue comes from the lands of Aquitaine. Under the rule of King Edward DI and...

---

The Everlasting Covenant

The Everlasting Covenant is a tale of peril and romance, great courage and forbidden love. The setting is fifteenth-century England, during a time of confusion and bloodshed. As the Wars of commence, the York versus Lancaster battle for the throne ov...

---

---

Rogue's Lady

THE LURE OF INNOCENCE Vieve Donnelle always thought of herself as a girl who knew her own mind. But ever since she met Captain Tyson Gervais, her days were full of confusion and her nights were plagued by tantalizing dreams and half-understood yearn...

---

---

Informed Risk

Brawny fire fighter Mike Cavanaugh rescued plenty of folks without getting tangled up in their personal lives. But something about gutsy, down-on-her-luck grocery clerk Christine Palmer and her two little kids got to him. Crazy as it was, he carted t...

---

Woman's Own

Nineteenth century Philadelphia, a growing, bustling city, is the setting for this story of three generations of strong, indomitable women. As a girl, Emily Armstrong quarreled bitterly with her mother, Amanda, over her choice of husband; she forsook...

---

Backward Glance

News of her "ailing" mother sent Leigh Brackon and her twin toddlers rushing home. But once there, she found her spry mom sipping medicinal wine and old flame John McElroy knee-deep in landscaping the backyard! Coincidence? Leigh suspected maternal m...

---

Mind Tryst

Jackie Sheppard is a woman alone. Divorced from her husband, she had made a fine, strong life for herself as a lawyer in Los Angeles, until her young son's accidental death shook her to her core. Settling into a new home and practice in the different...

---

The House on Olive Street

Elly, Sable, Barbara Ann and Beth. They have been drawn together by the sudden death of their friend Gabby -- and the favor she has asked of them. For these four women, whose own lives have become unhappy works of fiction, a summer sorting through Ga...

---

Deep in the Valley

Welcome to Grace Valley, California -- where blood runs thicker...ties bind stronger...and love is all the more sweet. Visitors to the town often remark about the valley's peace and beauty -- both of which are plentiful. Unlocked doors, front porc...

---

The Wedding Party

Charlene Dugan started her day as usual -- single. Then, all in the space of a few hours: - Her daughter announced she doesn't want to "end up like her" - Her absentminded mother got lost in a parking lot - Her ex-husband accused her of being af...

---

Just over the Mountain

Welcome back to Grace Valley, California, where the best things in life never change... Here in this peaceful community, folks look out for one another like family, though sometimes a little too well. In a town like this, it's hard to keep a secre...

---

Down by the River

In the peaceful town of Grace Valley, neighbors are like family -- and just as meddlesome, too. June Hudson is the town's doctor, a caring, capable woman who now has a bit of explaining to do. People are beginning to notice the bloom in her cheeks...

---

Blue Skies

Nikki Burgess has survived a terrible marriage and an even worse divorce. And she's just about given up hope of ever finding love and happiness. But when her ex-husband suddenly dies, she gets custody of her kids again and a chance to start over and ...

---

---

Runaway Mistress // Swept Away

Not much can go wrong when you're traveling first-class with your fabulously wealthy boyfriend -- until you find his wife's body in your hotel suite. Convinced she's next on Nick Noble's hit list, Jennifer Chaise takes off down the Vegas Strip arm...

---

Never Too Late

Three seconds is all it takes to turn a whole life around. And if anybody knows about bouncing back after disaster, it's Clare Wilson. She's had it with being married to a serial cheater, and no way is he getting another chance. Even her own son t...

---

Virgin River

Wanted: Midwife/nurse practitioner in Virgin River, population six hundred. Make a difference against the backdrop of towering California redwoods and crystal-clear rivers. Rent-free cabin included. When the recently widowed Melinda Monroe sees th...

---

Shelter Mountain

FOR THE SECOND TIME IN AYEAR A WOMAN ARRIVES IN THE SMALL TOWN OF VIRGIN RIVER TRYING TO ESCAPE HER PAST John "Preacher" Middleton is about to close the bar when a young woman and her three-year-old son come in out of the wet October night. A mari...

---

Whispering Rock

THE TIGHT KNIT COMMUNITY OF VIRGIN RIVER HAS BEEN A SAFE HAVEN FOR MORE THAN A FEW LOST SOULS OVER THE YEARS -- AND THERE'S ALWAYS ROOM FOR MORE... A decorated U.S. Marine reservist, LAPD officer Mike Valenzuela was badly wounded in the line of ...

---

A Virgin River Christmas

Last Christmas Marcie Sullivan said a final goodbye to her husband, Bobby. This Christmas she's come to Virgin River to find the man who saved his life and gave her three more years to love him. Fellow marine Ian Buchanan dragged Bobby's shattered...

---

Second Chance Pass

THE COMMUNITY OF VIRGIN RIVER SAW VANESSA RUTLEDGE THROUGH HER DARKEST DAYS -- NOW SHE'S LOOKING TO A BRIGHT FUTURE In the space of a few months Vanessa buried her husband, Matt, and gave birth to their son--breaking her heart while filling it wit...

---

Temptation Ridge

SHELBY McINTYRE HAS BIG PLANS--PLANS THAT INCLUDE FINDING MR. RIGHT. HER DREAM MAN WILL HAVE A CLEAN-SHAVEN JAW, CREASES IN HIS PANTS AND HOPEFULLY AN ADVANCED DEGREE. WHAT SHE GETS IS RUGGED LUKE RIORDAN. At twenty-five, after five years as her mot...

---

Paradise Valley

A MOVING STORY ABOUT SURVIVAL, FORGIVENESS -- AND THE POWER OF LOVE TO HEAL A WOUNDED SPIRIT Marine corporal Rick Sudder is home early from Iraq--his tour ended abruptly on the battlefield. The carefree boy is gone, replaced by a man who believes ...

---

Under the Christmas Tree

When the folks of Virgin River discover a box of adorable puppies under the town's Christmas tree they call on local vet Nathaniel Jensen for help. But it's his budding romance with Annie McCarty that really has tongues -- and tails -- wagging!...

---

---

Forbidden Falls

Virgin River is abuzz with the news that a stranger bought the town's abandoned church on eBay. The buyer, a young widowed reverend, is a little like the building itself: in need of some loving care. Noah Kincaid arrives ready to roll up his sleev...

---

Angel's Peak

FOUR YEARS AGO, AIR FORCE SWEETHEARTS FRANCI DUNCAN AND SEAN RIORDAN REACHED AN IMPASSE. SHE WANTED MARRIAGE AND A FAMILY. HE DIDN'T. BUT A CHANCE MEETING PROVES THAT THE BITTER BREAKUP HASN'T COOLED THEIR SIZZLING CHEMISTRY. Sean has settled dow...

---

Moonlight Road

WITH HER BELOVED YOUNGER SIBLINGS SETTLED AND HAPPY, ERIN FOLEY HAS EMPTY NEST SYNDROME. AT AGE THIRTY-FIVE. So she's hitting the pause button on her life and holing up in a secluded (but totally upgraded-she's not into roughing it) cabin near Virgi...

---

Sheltering Hearts

Presenting...the sixth annual More Than Words anthology. Little by little, one person at a time, we can make our world a better place. The five dedicated women selected as this year's recipients of Harlequin's More Than Words award have done just ...

---

A Summer in Sonoma

They've been best friends since seventh grade. But this summer, teetering on the threshold of thirty, four women are going to need each other more than ever. Cassie has sworn off romance after yet another bad date. Yet deep down, she's still looking...

---

Midnight Confessions

These are New Year's resolutions worth keeping! Take a risk. At the inaugural New Year's Eve party at Jack's Bar, two lonely revelers decide the best balm for their broken hearts might just be each other. Find the perfect work/life balance. ...

---

Promise Canyon

THERE'S AN OLD SAYING: WHENEVER ONE DOOR CLOSES, ANOTHER ONE OPENS. THAT'S TRUER OF VIRGIN RIVER THAN ALMOST ANYWHERE ELSE ON EARTH. After years spent on ranches around Los Angeles, Clay Tahoma is delighted to be Virgin River's new veterinary...

---

Wild Man Creek

SOMETIMES LOVE TAKES ROOT IN UNEXPECTED PLACES -- IF YOU'LL ONLY LET IT GROW Colin Riordan came to Virgin River to recuperate from a horrific helicopter crash, the scars of which he bears inside and out. His family is wonderfully supportive, but i...

---

Harvest Moon

THE RECIPE FOR HAPPINESS: MAKING IT UP AS YOU GO ALONG Rising sous-chef Kelly Matlock's sudden collapse at work is a wake-up call. Disillusioned and burned out, she's retreated to her sister Jillian's house in Virgin River to rest and reeva...

---

Bring Me Home for Christmas

This year, Becca Timm knows the number one item on her Christmas wish list -- getting over Denny Cutler. Three years ago, Denny broke her heart before heading off to war. It's time she got over her silly high-school relationship and moved on. So s...

---

---

Hidden Summit

SOMETIMES ROMANCE IS HIDING IN PLAIN SIGHT... When Connor Danson becomes an unwitting witness to a violent crime, he is forced to leave Sacramento and keep a low profile until the trial is over. He arrives in the tiny mountain town of Virgin Rive...

---

Redwood Bend

IN VIRGIN RIVER, YOU NEVER KNOW WHAT YOU MIGHT FIND AROUND THE BEND IN THE ROAD... Former actor Dylan Childress left the L.A. scene behind years ago for a quiet life running an aviation company in Montana. But with business slowing down, Dylan is ...

---

Sunrise Point

TOM CAVANAUGH MAY THINK HE WANTS A TRADITIONAL WOMAN, BUT IN VIRGIN RIVER, THE GREATEST TRADITION IS FALLING IN LOVE UNEXPECTEDLY... Former marine Tom Cavanaugh has come home to Virgin River, ready to take over his family's apple orchard and settle ...

---

My Kind of Christmas

PATRICK RIORDAN ALWAYS THOUGHT THAT NOTHING COULD MATCH THE ADRENALINE RUSH HE GETS FROM HIS JOB. BUT THIS CHRISTMAS, PATRICK'S PULSE IS REALLY RACING... The Riordan brothers may have a reputation for being rough-and-tumble, but Patrick has alw...

---

The Wanderer

From Robyn Carr, #1 New York Times bestselling author of the popular Virgin River novels, comes Thunder Point-the highly anticipated new series that will make you laugh, make you sigh, and make you fall in love with a small town filled with people yo...

---

The Newcomer

With humor and insight, #1 New York Times bestselling author Robyn Carr explores letting go of the past -- and finding something worth building a future on. Single dad and Thunder Point's deputy sheriff "Mac" McCain has worked hard to keep his tow...

---

The Hero

With warmth and sensitivity, #1 New York Times bestselling author Robyn Carr shows readers that falling in love can be the bravest act of all. In a moment of desperation, Devon McAllister takes her daughter and flees a place where they should hav...

---

The Chance

Share the joys, heartbreaks, challenges and triumphs of the people who inhabit the small Oregon town of Thunder Point with #1 New York Times bestselling author Robyn Carr With its breathtaking vistas and down-to-earth people, Thunder Point is the...

---

Four Friends

From #1 New York Times bestselling author Robyn Carr comes the story of four friends determined to find their stride. Ultimately, they'll discover what it means to be a wife, mother, lover, friend…and most important: your true self. Gerri can'...

---

The Promise

#1 New York Times bestselling author Robyn Carr returns to Thunder Point with an uplifting story about overcoming loss and finding unexpected love Scott Grant has a bustling family practice in the small Oregon community of Thunder Point. The tow...

---

---

The Homecoming

In a small town, reputation is everything. In her latest novel, #1 New York Times bestselling author Robyn Carr explores the burden placed on a young man returning home to face his mistakes -- the first step in claiming the life he was meant to live ...

---

One Wish

#1 New York Times bestselling author Robyn Carr delivers another smart, funny, emotional novel about the complexities of life in the small Oregon town of Thunder Point Grace Dillon was a champion figure skater until she moved to Thunder Point to ...

---

A New Hope

Starting over is never easy, but in Thunder Point, where newcomers are welcome and friends become family, it's possible to find yourself again. #1 New York Times bestselling author Robyn Carr takes us on a moving and rewarding journey as a young woma...

---

Wildest Dreams

Blake Smiley searched the country for just the right place to call home. The professional triathlete has travelled the world, but Thunder Point has what he needs to put down the roots he's never had. In the quiet coastal town he can focus on his tr...

---

What We Find

Join Robyn Carr, #1 New York Times bestselling author of the Virgin River and Thunder Point series, as she explores the healing powers of rural Colorado in a brand-new story of fresh starts, budding relationships and one woman's journey to finding th...

---

The Life She Wants

In the aftermath of her financier husband's suicide, Emma Shay Compton's dream life is shattered. Richard Compton stole his clients' life savings to fund a lavish life in New York City and, although she was never involved in the business, Emma bears ...

---

Any Day Now

The highly anticipated sequel to #1 New York Times bestselling author Robyn Carr's What We Find transports readers back to Sullivan's Crossing. The rustic campground at the crossroads of the Colorado and Continental Divide trails welcomes everyone --...

---

The Summer That Made Us

Mothers and daughters, sisters and cousins, they lived for summers at the lake house until a tragic accident changed everything. The Summer That Made Us is an unforgettable story about a family learning to accept the past, to forgive and to love each...

---

The Family Gathering

An exceptional storyteller, #1 New York Times bestselling author Robyn Carr beautifully captures the emotionally charged, complex dynamics that come with being part of any family. Readers will laugh and shed a few tears as they discover what it means...

---

The Best of Us

In Sullivan's Crossing, #1 New York Times bestselling author Robyn Carr has created a place where good people, powerful emotions, great humor and a healthy dose of common sense are the key ingredients to a happy life. Sullivan's Crossing brings o...

---

The View from Alameda Island

A poignant and powerful story about how one woman's best intentions lead to the worst of situations, and how love helps her to heal and ultimately triumph. From the outside looking in, Lauren Delaney has a life to envy -- a successful career, a ...

---

The Country Guesthouse

#1 New York Times bestselling author Robyn Carr delivers an emotional and triumphant novel about the fierce power of a mother's love. A summer rental, a new beginning… Hannah Russell's carefully crafted plans for her life have been upende...

---

Sunrise on Half Moon Bay

Sometimes the happiness we're looking for has been there all along… Adele and Justine have never been close. Born twenty years apart, Justine was already an adult when Addie was born. The sisters love each other but they don't really know ea...

---

Return to Virgin River

Kaylee Sloan's home in Southern California is full of wonderful memories of the woman who raised her. But the memories are prolonging her grief over her mother's recent death. A successful author, Kaylee hoped she could pour herself into her work...

---

'Tis The Season

Revisit Virgin River with two beloved holiday stories from #1 New York Times bestselling author Robyn Carr. Includes the bonus novella Backward Glance! 'Tis the season for family, friendship and the thrill of a holiday romance… ...

---

A Family Affair

Life's biggest dilemmas can provide its sweetest rewards Anna McNichol knows how to take charge. Raised by a single mother, she's worked to ensure her three children have every advantage she didn't. And while her marriage has its problems, s...

---

The Friendship Table

The Friendship Club by Robyn Carr will be available Jan 16, 2024. Preorder your copy today!...

---
Award-Winning Books by Robyn Carr
By Right of Arms
1986 Golden Medallion -- Historical
Temptation Ridge
2009 RT Reviewers Choice Award -- Contemporary Romance
Woman's Own
1990 RT Reviewers Choice Award -- Turn-of-the-Century Romance
Frequently Asked Questions (FAQ)
Robyn Carr has published 66 books.
The next book by Robyn Carr, The Friendship Table, will be published in January 2024.
The first book by Robyn Carr, Chelynne, was published in February 1980.
Yes. Robyn Carr has 4 series.