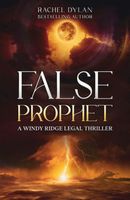 Newest Release
Bibliography:

16 Books - 4 Series

First Book:

August 2014

Latest Book:

November 2021

Rating:
Full Series List in Order
1 - Deadly Proof (Sep-2017)
2 - Lone Witness (May-2018)
3 - Breach of Trust (Feb-2019)
1 - End Game (Jan-2020)
2 - Backlash (Oct-2020)
3 - Power Play (Jun-2021)
1 - Lethal Action (Jan-2016)
2 - Devoted Defender (Aug-2016)
1 - Trial & Tribulations (Nov-2015)
2 - Fatal Accusation (Jan-2017)
3 - Surrounded by Darkness (Oct-2018)
4 - False Prophet (Nov-2021)
Book List in Order:
16

titles
Out of Hiding

TRUST NO ONE This vow has kept P.I. Sadie Lane safe ever since she saw her parents murdered and then entered Witness Protection. But when she gets a lead on the long-ago killer she can't forget, Sadie joins forces with a dashing FBI agent leading...

---

Expert Witness

DANGEROUS TESTIMONY Minutes after testifying in a murder trial, sketch artist Sydney Berry is almost killed in a drive-by shooting. United States Marshal Max Preston saves her life then whisks her away to safety. She's his first protected witness...

---

Trial & Tribulations

A Windy Ridge Legal Thriller #1 High-powered attorney Olivia Murray faces the biggest test of her career when she is assigned to represent Astral Tech, a New Age tech company, in a lawsuit filed by its biggest competitor. While Olivia is accustomed t...

---

Lethal Action

/ Christian

Danger in the Deep South #1Attorney Hope Finch is a rising star at the prestigious New York law firm of Rice & Taylor and is used to high-stakes litigation. But when she's sent to what she thought was a small, sleepy town in Georgia, she is unprepare...

---

Picture Perfect Murder

KILLER FOCUS When photographer Lily Parker escapes an attack, she doesn't want any help from the FBI agent who is convinced she's a serial killer's latest obsession. But after one of her photographs is found at a murder scene, it's clear that Spe...

---

Incriminating Evidence

FIGHTING FOR JUSTICE When rookie prosecutor Jessica Hughes crosses the son of a major crime boss, she's determined to bring him to justice -- if his family doesn't kill her first. And with newly minted FBI special agent Zach Taylor protecting her...

---

Devoted Defender

Devoted Defender
Danger in the Deep South #2

Personal Chef Annie Thomas thought she'd finally found a safe haven from her past. But when her boss is shot in cold blood leaving her as the only witness, she's forced to go on the run -- a...

---

Fatal Accusation

Selah Award Nominated Series

Attorney Olivia Murray hopes her life will get back to normal after a hard fought trial. But she soon finds out that the forces of evil have not given up their pursuit to win the hearts and minds of those in Windy ...

---

Deadly Proof

In the biggest case of her career, attorney Kate Sullivan is tapped as lead counsel to take on Mason Pharmaceutical because of a corporate cover-up related to its newest drug. After a whistleblower dies, Kate knows the stakes are much higher than her...

---

---

Lone Witness

Prosecutor Sophie Dawson's first job in the White Collar division of the Fulton County D.A.'s office is to build a case against a local bank employee who may be cheating clients. But when circumstances beyond her control leave her as the only witness...

---

---

Breach of Trust

Corporate litigator Mia Shaw suffers the shock of her life when she finds her colleague and friend brutally murdered. Grief-stricken and furious, Mia vows that she will do anything to seek justice and make the killer pay. The man accused of the m...

---

End Game

When elite members of the military are murdered on the streets of Washington, DC, FBI Special Agent Bailey Ryan and NCIS Special Agent Marco Agostini must work together to bring the perpetrator to justice. Unfortunately, all evidence points to a Navy...

---

Backlash

CIA analyst Layla Karam is thrust into a dangerous DEA field operation against a cartel that puts a target on her back. Though Layla never wanted to be a field agent, Langley had other ideas. After one of her team members is murdered because of fallo...

---

Power Play

When State Department attorney Vivian Steele witnesses two ambassadors collapse as if poisoned at a diplomatic dinner in Washington, DC, she is recruited to be a member of a joint FBI task force assigned to investigate. But she soon finds h...

---

False Prophet

/ Christian

When an arsonist destroys Windy Ridge Community Church, Pastor Dan is shaken to the core. He calls on attorney Olivia Murray and her boyfriend Grant Baxter to help secure a place for worship services. Shockingly, the City of Windy Ridge denies the ch...

---
Frequently Asked Questions (FAQ)
Rachel Dylan has published 16 books.
Rachel Dylan does not have a new book coming out soon. The latest book, False Prophet, was published in November 2021.
The first book by Rachel Dylan, Out of Hiding, was published in August 2014.
Yes. Rachel Dylan has 4 series.