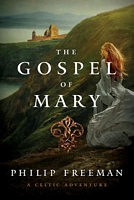 Newest Release
Bibliography:

8 Books - 1 Series

First Book:

January 2012

Latest Book:

September 2017

Rating:
Full Series List in Order
1 - Saint Brigid's Bones (Oct-2014)
2 - Sacrifice (Oct-2015)
3 - The Gospel of Mary (Sep-2017)
Book List in Order:
8

titles
Oh My Gods

From acclaimed writer and scholar Philip Freeman, a contemporary retelling of classic Greek and Roman mythology.The Greek and Roman myths have never died out; in fact they are as relevant today as ever in their sharp observations about human nature. ...

---

Heroes of Olympus

Accessible, fast-paced retellings of the most important classical Greek and Roman myths, adapted for middle graders. Ancient myths continue to have modern relevancefor thousands of years they have been the basis for plays, operas, paintings, and mo...

---

Saint Brigid's Bones

In an evocative Celtic novel set in a time when druids roamed the land, lively young sister Deirdre embarks on a mission to find the stolen bones of her convent's patron saint. In ancient Ireland, an island ruled by kings and druids, the nuns of...

---

Sacrifice

In a time when Celtic druids roamed ancient Ireland, young Sister Deirdre rushes to hunt down the brutal serial killer targeting her beloved monastery. Someone is killing the nuns of Ireland. The grisly discovery of an elderly sister of Saint ...

---

---

Celtic Mythology

Most people have heard of the Celts--the elusive, ancient tribal people who resided in present-day England, Ireland, Scotland and France. Paradoxically characterized as both barbaric and innocent, the Celts appeal to the modern world as a symbol of a...

---

Fifty Foot Drop

"Not Sex, Drugs, and Rock 'n' Roll, but Sex, Crime and Rock 'n' Roll. Freeman's insider knowledge of the music industry gives this fresh Jersey noir extra heavy metal."—Ethan Iverson, The Bad Plus"An even cursory glance at what we had so piqu...

---

The Gospel of Mary

A young Irish nun finds herself the guardian of a mysterious manuscript claiming to be the lost gospel of Mary, when she realizes that church authorities are willing to kill to get their hands on it... An old and dying nun has turned up at Deirdre...

---
Frequently Asked Questions (FAQ)
Philip Freeman has published 8 books.
Philip Freeman does not have a new book coming out soon. The latest book, The Gospel of Mary, was published in September 2017.
The first book by Philip Freeman, Oh My Gods, was published in January 2012.
Yes. Philip Freeman has 1 series.