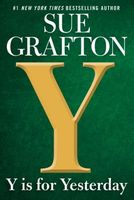 Newest Release
About the Author
Sue Grafton (77) (4-24-40 ~ 12-28-17)

Sue Grafton majored in English while she was attending college at University of Louisville. She began seriously writing at 18 and wrote her first novel at 22. Of the first seven novels that Grafton wrote, only two were published. The eighth novel she wrote was A for Alibi, the first in her wildly popular Alphabet series, featuring private investigator Kinsey Millhone.

Grafton is an international bestseller with a readership in the millions. She has been published in 28 countries and in 26 languages including Bulgarian and Indonesian. She has received many awards for her writing including the Cartier Dagger from the British Crime Writer's Association in 2008, honoring her lifetime achievement. In 2009, she was awarded the Grand Master Award from the Mystery Writers of America. Grafton and her husband have been married for more than 20 years and have three kids and four grandchildren. They split their time between Montecito, California and Louisville, Kentucky.
Full Series List in Order
1 - A Is for Alibi (1982)
2 - B Is for Burglar (May-1985)
3 - C Is for Corpse (May-1986)
4 - D Is for Deadbeat (May-1987)
5 - E Is for Evidence (1988)
6 - F Is for Fugitive (May-1989)
7 - G Is for Gumshoe (Apr-1990)
8 - H Is for Homicide (May-1991)
9 - I Is for Innocent (May-1992)
10 - J Is for Judgment (May-1993)
11 - K Is for Killer (May-1994)
12 - L Is for Lawless (Sep-1995)
13 - M Is for Malice (Nov-1996)
14 - N Is for Noose (May-1998)
15 - O Is for Outlaw (Oct-1999)
16 - P Is for Peril (Apr-2001)
17 - Q Is for Quarry (Oct-2002)
18 - R is for Ricochet (Jul-2004)
19 - S is for Silence (Dec-2005)
20 - T is for Trespass (Dec-2007)
21 - U is for Undertow (Dec-2009)
22 - V Is For Vengeance (Nov-2011)
23 - W Is for Wasted (Sep-2013)
24 - X (Aug-2015)
25 - Y Is for Yesterday (Aug-2017)
Book List in Order:
27

titles
---

A Is for Alibi

Laurence Fife was a slick divorce lawyer and slippery ladies' man. Until someone killed him. The jury believed it was his pretty young wife Nikki, so they sent her to prison for eight years. Now, Nikki's out on parole and Kinsey Millhone's in for tro...

---

B Is for Burglar

Finding wealthy Elaine Boldt seems like a quickie case to Kinsey Millhone. The flashy widow was last seen wearing a $12,000 lynx coat, leaving her condo in Santa Teresa for her condo in Boca Raton. But somewhere in between, she vanished. Kinsey's cas...

---

C Is for Corpse

How do you go about solving an attempted murder when the victim has lost a good part of his memory? It's one of Kinsey's toughest cases yet, but she never backs down from a challenge. Twenty-three-year-old Bobby Callahan is lucky to be alive after a ...

---

D Is for Deadbeat

When Alvin Limardo walks into P.I. Kinsey Millhone's office, she smells bad news. He wants Kinsey to deliver $25,000. The recipient: A fifteen-year-old boy. It's a simple matter. So simple that Kinsey wonders why he doesn't deliver the money himself....

---

E Is for Evidence

Being a twice-divorced, happily independent loner has worked like a charm for P.I. Kinsey Millhone--until holiday weekends like this one roll around. What she needs is a little diversion to ward off the blues. She gets her much-needed distraction wit...

---

F Is for Fugitive

When Kinsey Millhone first arrives in Floral Beach, California, it's hard for her to picture the idyllic coastal town as the setting of a brutal murder. Seventeen years ago, the body of Jean Timberlake--a troubled teen who had a reputation with the b...

---

G Is for Gumshoe

Kinsey Millhone celebrates her thirty-third birthday as only she can-she moves back into her renovated apartment, gets hired to find an elderly lady supposedly living in the Mojave Desert by herself, and makes the top of triggerman Tyrone Patty's hit...

---

H Is for Homicide

THE LADY CAN WRITE . . . Any reader who needs a smart and sassy P.I. would do well to hire Sue Grafton's Kinsey Millhone. . . . 'H' is for Homicide continues to show the author in strong storytelling form. . . . [It] finds Kinsey Millhone working on ...

---

I Is for Innocent

Since she was fired by California Fidelity Insurance, Kinsey Millhone has lost her usual swagger. And her new case is no confidence builder. Attorney Lonnie Kingman is going to court on a civil suit in three weeks when his P.I. drops dead of a heart ...

---

---

J Is for Judgment

Wendell Jaffe has been dead for five years--until his former insurance agent spots him in a lusty resort bar. Now California Fidelity wants Kinsey Millhone to track down the dead man. Just two months before, his widow collected on Jaffe's $500,000 li...

---

K Is for Killer

When Kinsey Millhone answers her office door late one night, she lets in more darkness than she realizes. Janice Kepler is a grieving mother who can't let the death of her beautiful daughter Lorna alone. The police agree that Lorna was murdered, but ...

---

L Is for Lawless

When Kinsey Millhone agrees to do a favor for Henry Pitts, her lovable octogenarian landlord, she literally gets taken for the ride of her life. The family of a recently deceased WWII veteran wants her to find out why the military has no record of hi...

---

M Is for Malice

"M" is for money. Lots of it. "M" is for Malek Construction, the $40 million company that grew out of modest soil to become one of the big three in California construction, one of the few still in family hands. "M" is for the Malek family: four sons ...

---

N Is for Noose

Tom Newquist had been a detective in the Nota Lake sheriffs office--a tough, honest cop respected by everyone. When he died suddenly, the town folk were sad but not surprised. Just shy of sixty-five. Newquist worked too hard, drank too much, and exer...

---

O Is for Outlaw

Once Mickey Magruder was a cop with a wild streak. And Kinsey Millhone was a younger cop who adored and married him. Then Mickey was implicated in a fatal beating, and Kinsey walked out. Now, fourteen years later, she comes face-to-face with those tr...

---

P Is for Peril

Kinsey Millhone never sees it coming. She is mired in the case of a doctor who disappeared, his angry ex-wife, and beautiful current one -- a case that is full of unfinished business, unfinished homes, and people drifting in and out of their own live...

---

Q Is for Quarry

Back in 1969, a lot of young people were hitting the road and disappearing. More than one of them wound up dead--including the girl in daisy-patterned pants who was found in a quarry off Highway 1 in Lompoc, the victim of multiple stab wounds. Eighte...

---

R is for Ricochet

Reba Lafferty was a daughter of privilege, the only child of an adoring father. Nord Lafferty was already in his fifties when Reba was born, and he could deny her nothing. Over the years, he quietly settled her many scrapes with the law, but wasn't t...

---

S is for Silence

Cases don't get much colder than that of Violet Sullivan, who disappeared from her rural California town in 1953, leaving behind an abusive husband and a seven-year-old named Daisy. But PI Kinsey Millhone has promised Daisy she'll try her best to loc...

---

---

T is for Trespass

Kinsey Millhone's elderly neighbor; Gus Vronsky, may have been the original inspiration for the term "Grumpy Gus." A miser and a hoarder; Gus is so crotchety that after he takes a bad fall, his only living relative is anxious to find him some hired h...

---

U is for Undertow

Looking solemn, Michael Sutton arrives in Kinsey Millhone's office with a story to tell. When he was six, he says, he wandered into the woods and saw two men digging a hole. They claimed they were pirates, looking for buried treasure. Now, all these ...

---

V Is For Vengeance

Private detective Kinsey Millhone feels a bit out of place in Nordstrom's lingerie department, but she's entirely in her element when she puts a stop to a brazen shoplifting spree. For her trouble she nearly gets run over in the parking lot by on...

---

Kinsey and Me

/ Mystery

---

Kinsey & Me: Stories

In 1982, Sue Grafton introduced us to Kinsey Millhone. Thirty years later, Kinsey is an established international icon and Sue, a number-one bestselling author. To mark this anniversary year, Sue has given us stories that reveal Kinsey's origins an...

---

W Is for Wasted

Of the #1 New York Times -- bestselling Kinsey Millhone series, NPR said, "Makes me wish there were more than 26 letters." Two dead men changed the course of my life that fall. One of them I knew and the other I'd never laid eyes on until I sa...

---

X

X: The number ten. An unknown quantity. A mistake. A cross. A kiss. X: The shortest entry in Webster's Unabridged. Derived from Greek and Latin and commonly found in science, medicine, and religion. The most graphically dramatic letter. Notori...

---

Y Is for Yesterday

The darkest and most disturbing case report from the files of Kinsey Millhone, Y is for Yesterday begins in 1979, when four teenage boys from an elite private school sexually assault a fourteen-year-old classmate -- and film the attack. Not long aft...

---
Award-Winning Books by Sue Grafton
B Is for Burglar
1985 Shamus Award -- P.I. Novel
1986 Anthony Award -- Novel
C Is for Corpse
1987 Anthony Award -- Novel
G Is for Gumshoe
1990 Shamus Award -- P.I. Novel
1991 Anthony Award -- Novel
K Is for Killer
1995 Shamus Award -- P.I. Novel
V Is For Vengeance
2011 RT Reviewers Choice Award -- Contemporary Mystery
Y Is for Yesterday
2018 Anthony Award -- Bill Crider Award for Best Novel in a Series
Frequently Asked Questions (FAQ)
Sue Grafton has published 27 books.
Sue Grafton does not have a new book coming out soon. The latest book, Y Is for Yesterday, was published in August 2017.
The first book by Sue Grafton, A Is for Alibi, was published in January 1982.
Yes. Sue Grafton has 1 series.