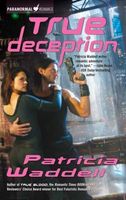 Newest Release
Bibliography:

16 Books - 2 Series

First Book:

June 1999

Latest Book:

November 2007

Rating:
Full Series List in Order
1 - He Said Yes (Sep-2003)
2 - He Said No (Feb-2004)
3 - He Said Now (Jun-2004)
4 - He Said Never (Oct-2004)
1 - True Blood (Sep-2006)
2 - True Deception (Nov-2007)
Book List in Order:
16

titles
Sara's Promise

HER FAITH IN HIM... A minister's daughter, Sara Waverly didn't question her dying father's wisdom when it called them west, although it meant facing certain hardship. Nor did she doubt him when he suggested gruff, imposing Jacob Talbert ...

---

The Alliance

Lord Reuel Shatar, the handsome governor of the planet Pyrali, is noble to his galactic core and duty bound to take a wife. His choice is to blackmail a beautiful dissident into marriage or have the House of Shatar fall into disgrace. Faced with e...

---

From the Heart

A Southern beauty born and bred, Nell Pennington can't bear the thought of losing the majestic Kentucky horse farm she calls home. So when Derrick Gentry miraculously turns up and offers to buy the note on the farm in exchange for the use of her priz...

---

The Lady's Proposal

SHE ASKED FOR HIS HAND Strong-willed and independent, Lady Clarissa Pomeroy suddenly found herself forced to marry--or lose her considerable inheritance. Rather than suffer the attentions of avaricious suitors, she chose her own husband, Simon Sin...

---

A Gentleman's Bargain

A Scandalous Offer Longing for a new life, Claire Aldrich arrives in a San Francisco of gaslights and grand opportunities expecting to stay with her brother. But her sibling has vanished in the huge city, and now Claire is desperate. Where can she...

---

Promises to Keep

in Bride and Groom

Does the course of true love ever run smooth? For these three couples, the answer is a resounding "no," as they experience thrilling adventure and spellbinding romance on the bumpy path down the aisle. Different times in history, different places on ...

---

A Stylish Marriage

A thoroughly modern woman A hopelessly old-fashioned man A marriage that will surprise them both...when love becomes part of the bargain Even if the Merriam Falls society matrons don't believe running a boardinghouse is a proper endeavor for a yo...

---

Whispers in the Stars

THE HEART OF A GUARDIAN The only female sovereign in the galaxy, Lady Zara was descended from a long line of powerful women--women with the ability to telepathically sense people's emotions. It was a gift that felt more like a curse as she faced t...

---

Diamond in the Rough

Olivia St. John Is In For The Adventure Of Her Life News of an inheritance in far-off South Africa is a dream come true for a governess who spends her few idle hours imagining exotic locales and exciting people. While a boardinghouse in a mining ...

---

---

Love Letters

in Cupid Calling

Shakespeare wrote, "The course of true love never did run smooth." Perhaps he was thinking of Cupid and his mischievous arrows. In the charming tales collected here, you'll find that romance blooms in the most unusual places--and that Valentine's Day...

---

He Said Yes

ALWAYS A GENTLEMAN... Evelyn Dennsworth may not be entitled to use the word "Lady" in front of her name, but that doesn't stop her from behaving like one. Even a vicar's daughter turned Bond Street shop girl can rise above her meager beginnings if...

---

He Said No

UNTOUCHABLE With his title, wealth, and reputation for satisfying his lovers beyond all expectations, Norton Russell Foxhall, Earl of Granby, attracts women in droves. But no lady keeps his fires burning for long. It doesn't help that every woman ru...

---

He Said Now

LOVE HAS ITS REASONS... When William Fitch Minstead, the sixth Earl of Ackerman, agrees to a private audience with a lovely stranger, he's rewarded with the fateful news that he is the father of a little girl. After the death of her friend Eliza...

---

He Said Never

UPSTAIRS AND DOWNSTAIRS Returning home to Belgravia from a certain boudoir in Trafalgar Square, Viscount Rathbone is surprised to see a beautiful young woman in the street at twilight--when no true lady walks alone. Yet she is none other than the wa...

---

True Blood

She's a diplomat... Danna MacFadyen of the League of Planets is assigned to investigate the explosion of a space freighter. She must use her psychometric skills to determine whether this was an accident or terrorism -- but for Danna, the hardest par...

---

True Deception

A man who lives for revenge and a woman who clings to hope. Together they fight a common enemy . . . and discover a passion neither one dreamed could exist. Aedon Rawn's world died the day his wife and child were murdered by Conglomerate pirates. ...

---
Award-Winning Books by Patricia Waddell
True Blood
2006 RT Reviewers Choice Award -- Futuristic Romance
Frequently Asked Questions (FAQ)
Patricia Waddell has published 16 books.
Patricia Waddell does not have a new book coming out soon. The latest book, True Deception, was published in November 2007.
The first book by Patricia Waddell, Sara's Promise, was published in June 1999.
Yes. Patricia Waddell has 2 series.