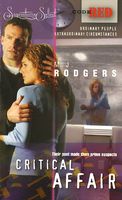 Newest Release
Bibliography:

28 Books - 4 Series

First Book:

November 1988

Latest Book:

May 2005

Rating:
Full Series List in Order
1 - Beauty vs. the Beast (Aug-1995)
2 - Baby vs. the Bar (Oct-1995)
3 - Heart vs. Humbug (Dec-1995)
4 - Love vs. Illusion (Jun-1996)
5 - To Have vs. To Hold (Oct-1996)
1 - For Love or Money (Nov-1988)
2 - Who Is Jane Williams? (Sep-1994)
1 - The Dream Doc (Sep-1997)
2 - The Dream Wedding (Dec-1997)
1 - Baby by Chance (Mar-2003)
2 - For the Defense (Jun-2003)
Multi-Author Series List
3 -
The Gift-Wrapped Groom
(Dec-1994)
Father By Choice
(Apr-2004)
10 -
Critical Affair
(May-2005)
Cradle and All
(Mar-2003)
Overruled by Love
(Mar-1998)
The Dream Wedding
(Dec-1997)
Who Is Jane Williams?
(Sep-1994)
Book List in Order:
28

titles
For Love or Money

Everything about the case was odd With no enemies and no money, a motive for the murder of heiress Joni Wilson could not be established. And when Detective Samantha Turner sought information from Joni's loyal, trusted friends, those bastions of L.A....

---

A Taste of Death

The only rule in this game was survival. It was a high-risk, high-stakes, high-tech game of hide-and-seek. At one end of Varifoods International's state-of-the-art computer system was Personnel Manager B. A. Lee. At the other end were the ruthless...

---

Bloodstone

Merry Anders was playing with fire Why did a dying man collapse on her, a pair of thugs try to kidnap her from the staid Smithsonian Museum and a powerfully built stranger help fend off her attackers--then vanish? When Merry caught up with her dar...

---

Dead Ringer

It was a case of mind over murder Detective Wyatt Lockhart had a kind name for it: shock. But after the bomb exploded in a Washington supermarket, psychologist Claire Boland seriously wondered if she were losing her mind. Though the victim's fa...

---

Bones of Contention

The time had come Duncan Van Epp was old--and death was calling him. It was time to reveal the tragedy of what had happened in the town of Contention sixty years ago. It was time to tell the truth... . When Carrie Chase opened the door to Dunca...

---

Risky Business

She was running for her life He was trying to forget the past. Dana Carmody and Gil Webb met on a rain-drenched night, high on a cliff overlooking San Francisco Bay, two strangers who embraced in a kiss--that saved both their lives. It was t...

---

All the Evidence

It was time to settle the score Rosalind Hart entered the courtroom hell-bent on revenge - on Defense Attorney Graham Knight. This time she would prosecute - and win - Seattle's most sensational murder case - even if her life depended on it. A...

---

To Die For

Even in death she was beautiful Chief Detective Gabe Kincaid had known some gorgeous dames in his day, but the sight of Jennifer Madden's perfect dead body was breathtaking. After all, she was an ex-stripper turned society grand dame. Eden Isla...

---

Fire Magic

A BREED OF HIS OWN He roamed the Toiyabe Mountains of central Nevada--wild and majestic. Many men sought the mystical beast Fire Magic, but Brock Trulock knew he'd find him. Instead he found a wildcat--a ranger named Shana O'Shea. She was wily ...

---

---

Santa Claus Is Coming

THE TWELVE THREATS OF CHRISTMAS... On the first day of terror Belle Breeze received a plastic vulture in a plam tree - and a menacing note signed 'Santa.' She disregarded the odd offering as a slightly silly joke. On the second day of terror the ...

---

The Adventuress

JUNGLE FEVER Tom Skye, rough-and-tumble pilot, was a man of action. But as his diving plane spiraled into a crash, he could only think of his timid passenger, librarian Pamela Gibson. How would she survive the black storm-tossed Hawaiian sea? B...

---

On the Scent

His sixth sense told him she was guilty The sight of Paris was unequalled in Robert Mize's eyes - except by the beauty of Diann Torrey. The enchanting chemist appeared to be an innocent attendee at an international symposium, though her secret exp...

---

Who Is Jane Williams?

RETURN TO THE SCENE OF THE CRIME Years ago, Jane Williams had come to Riddle Investigations in San Francisco hoping to unravel the secret of her past--her true identity. Now... See Jane Run Jane Williams was running for her life. And when No...

---

The Gift-Wrapped Groom

What do you get the woman who has everything? Men? Mistletoe? Bah, humbug! Noel Winsome much preferred a homespun holiday cuddling her tiny, toe-warming terrier. But Noel's crafty old grandpa wagered he'd see the stubborn "spinster" properly wedde...

---

Beauty vs. the Beast

And then there was one... When psychologist Damian Steele killed off the nasty half of his dual-personality patient, he never expected that the 'widow' would file a wrongful-death suit. Nor did he expect that a breathtaking beauty would be his sav...

---

Baby vs. the Bar

She had a billion-dollar baby . . . Remy Westbrook didn't want a man in her life-she wanted a baby. But the sperm bank made a big mistake ...and now Remy's baby is heir to a billion-dollar fortune and Remy is up to her ears in men. Attorney Mar...

---

Heart vs. Humbug

He said the law couldn't afford a heart... Attorney Brett Merlin -- alias the Magician -- was certain he'd squashed one senior citizen's Christmas crusade against his Scrooge of a client. Until he met opposing counsel, the fiery, flame-haired Octa...

---

Love vs. Illusion

She was on the fantasy ride of her life... When her brother is betrayed by his own client, it's up to A.J., Justice Inc.'s ace investigator, to prove his innocence. But to do that, A.J. will have to live out another woman's fantasies....

---

To Have vs. To Hold

An illicit affair... Attorney Adam Justice was facing the most personal and potentially dangerous case of his career when the body of his wife and her lover were discovered in a seven-year-old car wreck. An illegal marriage... Even more mys...

---

---

One Tough Texan

IT WAS A KISS SHE COULDN'T FORGET... Though the sign on Matt Bonner's San Antonio detective agency door claimed he was a "finder of lost loves," there was one he hoped he never had to find-the man who'd given Matt's ex-sister-in-law her first kiss...

---

The Dream Doc

in Fortune Cookie

Cracking open those fortune cookies and forecasting the future was a tradition Zara Hamilton and her longtime friends took to heart. But there was such a thing as taking a prediction to far... BEWARE OF... Beware of what? The position Laura La...

---

The Dream Wedding

Dreams can come true. Dream specialist Michael Sands couldn't have conjured a more perfect dream woman than the beauty that lay asleep in her wedding gown under his Christmas tree. Nor could he resist kissing her awake. Briana Berry wasn't dis...

---

Overruled by Love

She needed a hero. She found a man. JOANNA DELACROIX GIDEON needed a hero. Her husband was dead. Her idolized father wasn't the man of honor he pretended to be. And now her only child stood accused of murder. LOGAN WESTON was the man. He'd neve...

---

Cradle and All

Welcome to Twin Oaks -- the new B and B in Cooper's Corner. Some come for pleasure, others for passion -- and one to set things straight... Check-in: When Tom Christen, the new preacher in Cooper's Corner, found a baby on his doorstep, he wasn't a...

---

Baby by Chance

Susan Carter needs to find a man. Not just any man, but the stranger who fathered her unborn child. In desperation, she turns to David Knight, one of the detectives working for White Knight Investigations. She's sure she'll look bad to David -- she d...

---

For the Defense

Jack Knight isn't used to having to prove himself to anyone. But that's exactly what he has to do. Because Diana Mason doesn't think he's the right man to find the evidence she needs to defend her client in court. After all, Jack joined his family fi...

---

Father By Choice

Emily Barrett wants a baby in her life -- not a husband. And that's the reason she went to a sperm bank. Through some detective work she's able to work out who the donor is, but she doesn't ever plan to reveal to Dr. Brad Winslow that he's about ...

---

Critical Affair

Out of a heavy fog, a private plane smashes through the window of the Grand Hotel. Jennifer Winn's fiance and her best friend are rushed to the E.R. The bride herself isn't hurt, but a few hours later the groom is dead.... While Jennifer Winn's husb...

---
Award-Winning Books by M.J. Rodgers
Cradle and All
2003 RT Reviewers Choice Award -- Continuity Series Romance
Dead Ringer
1991 RT Reviewers Choice Award -- Harlequin Intrigue
Overruled by Love
1998 RT Reviewers Choice Award -- Mini Series Romance
Frequently Asked Questions (FAQ)
M.J. Rodgers has published 28 books.
M.J. Rodgers does not have a new book coming out soon. The latest book, Critical Affair, was published in May 2005.
The first book by M.J. Rodgers, For Love or Money, was published in November 1988.
Yes. M.J. Rodgers has 4 series.