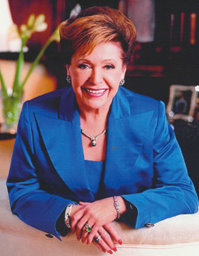 Death Update Notice:
December 24, 1927 – January 31, 2020 (92)

In 1975, Mary Higgins Clark's first suspense novel, Where Are The Children?, was published by Simon & Schuster. It quickly became a bestseller, and is now in its 75th edition. To say that it changed Clark's career would be an understatement.

She has written 24 suspense novels, 3 collections of short stories and a memoir. Her novels have sold over 80 million copies, in the U.S. alone. Alongside her 18 honorary doctorates, Simon & Schuster also sponsored an annual Mary Higgins Clark award to be given to new suspense fiction writers. Clark lives in Saddle Ranch, New Jersey with her husband.
Book List in Order:
68

titles
Kiss the Girls and Make Them Cry

When talented journalist Penelope "Casey" Harrison starts to research a piece about the #MeToo movement that includes an incident in her own life which she has been trying to put out of her mind for years, she does not realize that the young ma...

---

I've Got My Eyes On You

When a terrible crime shocks a New Jersey community, all signs point to one suspect. But if he's innocent as he claims, it means the murderer is still out there... After throwing a party when her parents were away, 18-year-old Kerry Dowling is dis...

---

All by Myself, Alone

A glamorous cruise on a luxurious ocean liner turns deadly in the latest mystery from "Queen of Suspense" and #1 New York Times bestselling author Mary Higgins Clark. Fleeing a disastrous and humiliating arrest of her husband-to-be on the eve ...

---

As Time Goes by

In this exciting thriller from Mary Higgins Clark, the #1 New York Times bestselling "Queen of Suspense," a news reporter tries to find her birth mother just as she is assigned to cover the high-profile trial of a woman accused of murdering her w...

---

The Five-Dollar Dress

Best-selling suspense author Mary Higgins Clark invites you on a tour of Manhattan's most iconic neighborhoods in this anthology of all-new stories from Mystery Writers of America, produced to commemorate its 70th anniversary. In Lee Child's "T...

---

The Melody Lingers On

From #1 New York Times bestselling "Queen of Suspense" comes a thrilling novel about missing billions, a disgraced financier, and those determined to learn the truth at any cost… As the sole assistant to a famous upscale interior designer, L...

---

Death Wears a Beauty Mask and Other Stories

A one-of-a-kind mystery collection that showcases the immense storytelling talent #1 New York Times bestselling author Mary Higgins Clark has honed over her tremendous career -- including a bone-chilling, previously unpublished short story forty year...

---

I've Got You Under My Skin

When Laurie Moran's husband was brutally murdered, only three-year-old Timmy saw the face of his father's killer. Five years later his piercing blue eyes still haunt Timmy's dreams. Laurie is haunted by more -- the killer's threat to her son ...

---

Daddy's Gone A Hunting

In her latest novel Mary Higgins Clark, the beloved, bestselling "Queen of Suspense," exposes a dark secret from a family's past that threatens the lives of two sisters, Kate and Hannah Connelly, when the family-owned furniture firm in Long Isl...

---






---

The Lost Years

In The Lost Years, Mary Higgins Clark, America's Queen of Suspense, has written her most astonishing novel to date. At its center is a discovery that, if authenticated, may be the most revered document in human history -- "the holiest of the holy" --...

---

The Magical Christmas Horse

Johnny's wish had come true. His family would be visiting his grandparents for Christmas. His grandparents lived in an old house in New England where his father had been born. The family together, the smells of the cookies baking, the snowy Christm...

---

I'll Walk Alone

THE QUEEN OF SUSPENSE IS BACK! Mary Higgins Clark's new novel -- the thirtieth and most spine-chilling of her long career as America's most beloved author of suspense fiction -- is about the newest and most up-to-date of crimes: identity theft. Who...

---

What's In a Name?

in Christmas At The Mysterious Bookshop

Each year, for the past seventeen years, Otto Penzler, owner of the legendary Mysterious Bookshop in New York City, has commissioned an original story by a leading mystery writer. The requirements were that it be a mystery/ crime/suspense story, that...

---

The Shadow of Your Smile

A LONG-HELD FAMILY SECRET THREATENS TO TAKE THE LIFE OF AN UNSUSPECTING HEIRESS IN THE BREATHTAKING NEW THRILLER FROM WORLDWIDE BESTSELLING AUTHOR MARY HIGGINS CLARK. At age eighty-two and in failing health, Olivia Morrow faces a momentous choice: e...

---

Just Take My Heart

A BROADWAY STAR'S MURDER IGNITES A SHOCKING SERIES OF DEADLY EVENTS.... After famous actress Natalie Raines is found in her home, dying from a gunshot wound, police immediately suspect her theatrical agent and jealous soon-to-be-ex-husband, Gregg Al...

---

Where Are You Now?

From America's Queen of Suspense comes a gripping tale of a young woman trying to unravel the mystery of a family tragedy -- a quest with terrifying repercussions. It has been ten years since twenty-one-year-old Charles MacKenzie Jr. ("Mack") wen...

---

Ghost Ship

"I am so pleased to have written my first children's book and to have my dear friend Wendell Minor illustrate it. I thought it would be a daunting project, but with six grandchildren and eleven stepgrandchildren, I've been telling stories to children...

---

I Heard That Song Before

WORLDWIDE BESTSELLING SUSPENSE WRITER MARY HIGGINS CLARK TAKES THE READER DEEP INTO THE MYSTERIES OF THE HUMAN MIND, WHERE HALF-FORGOTTEN SECRETS CAN HOLD DEADLY DANGER.... When Kay Lansing was only six, she sneaked into the hidden chapel of the C...

---

Two Little Girls in Blue

In a riveting thriller, worldwide bestselling suspense writer Mary Higgins Clark brilliantly weaves the mystery of twin telepathy into a mother's search for a kidnapped child, presumed dead. When Margaret and Steve Frawley come home to Connectic...

---






---

No Place Like Home

In a riveting thriller from the #1 bestselling Queen of Suspense, a young woman is ensnared into returning to the childhood home she wanted to leave behind forever -- and where her hidden past emerges with a new and deadly twist. Ten-year-old Liza...

---

Nighttime Is My Time

Historian Jean Sheridan returns to Cornwall-on-Hudson, New York, excited about her twenty-year high-school reunion at Stonecroft Academy. But a dear friend of hers soon becomes the fifth woman in the class to meet a sudden, mysterious end. Then Jean ...

---

Second Time Around

When Nicholas Spencer, the charismatic head of a company that has developed an anticancer vaccine, disappears without a trace, reporter Marcia "Carley" DeCarlo is assigned the story. Word that Spencer, if alive, has made off with huge sums of money -...

---

The Funniest Thing Has Been Happening Lately

A dozen of today's masters of mystery and suspense present an all-original anthology of compelling, provocative stories, revealing that the families that play together sometimes slay together. Featuring stories by: LAWRENCE BLOCK * MARY HIGGINS ...

---

Daddy's Little Girl

Ellie Cavanaugh was seven years old when her older sister was murdered near their home in New York's Westchester County. It was young Ellie's tearful testimony that put Rob Westerfield, the nineteen-year-old scion of a prominent family, in jail despi...

---

On the Street Where You Live

Following a nasty divorce and the trauma of being stalked, criminal defense attorney Emily Graham leaves Albany to work in Manhattan. Craving roots, she buys her ancestral home, a Victorian house in the seaside resort town of Spring Lake, New Jersey....

---

---

Before I Say Good-Bye

When Nell MacDermott learns that her husband, architect Adam Cauliff, and three of his business associates have died in an explosion of his new cabin cruiser, she is not only devastated but wracked with guilt. The last time she saw Adam, they had a b...

---

We'll Meet Again

Dr Gary Lasch is found dead at his desk. The murder stuns his elite Connecticut community -- especially when his beautiful young wife, Molly, is arrested and charged with his murder. Six years later, on Molly's release from prison, she reasserts ...

---

All Through the Night

Fans of Mary Higgins Clark and cozy mysteries will relish this Christmas confection. Unlike her previous holiday novel, Silent Night, All Through the Night is virtually free of life-and-death crime. Rather, it is a Dickensian tale of good deeds rewar...

---






---

You Belong to Me

In this electrifying novel from the reigning diva of suspense, a psychopathic killer gives grisly new significance to the lyrics of a sweet old song... When psychologist Susan Chandler uses her call-in radio show to explore the problem of lonesome...

---

The Night Awakens: Anthology

in The Night Awakens

The crowned Queen of Suspense, #1 New York Times bestselling author Mary Higgins Clark, has no peer in the realm of stylish, sophisticated thrillers -- brilliant, breathtaking tales that delve into the deepest affairs of the heart, the darkest crimes...

---

---

The Man Next Door

in The Plot Thickens

Joining together for a good cause brings out the best in today's top mystery and suspense writers! For this marvelously entertaining anthology, these outstanding contributors rose to a unique literary challenge: each penned a tale that ingeniously fe...

---

The Plot Thickens

in Plot Thickens

He's fast. She's furious. They're in for the ride of their lives. Rising star Roxanne St. Claire puts the pedal to the metal in a story of intrigue and passion that will get your heart racing! When sexy NASCAR racer Beau Lansing tracks down...

---

My Gal Sunday

A dashing ex-president and his young congresswoman bride become an irresistible sleuthing duo in four acclaimed stories from the #1 New York Times bestselling Queen of Suspense.Henry Parker Britland IV—wealthy, worldly, and popular—is enjoying an...

---

Moonlight Becomes You

At a party in Manhattan, Maggie Holloway -- one of the fashion world's most successful photographers -- is thrilled to be reunited with her beloved former stepmother. A widow now, Nuala Moore is equally delighted to see her long-lost stepdaught...

---

Definitely, a Crime of Passion

in Murder for Love

Sixteen stories about love gone wrong consider the link between romance and death and include contributions by such popular authors as Mary Higgins Clark, Jonathan Kellerman, Elmore Leonard, Ed McBain, and Joyce Carol Oates. Reprint....

---

Silent Night

Mary Higgins Clark, the "Queen of Suspense," has crafted a very special holiday story about a child's courage in the face of danger, and the power of love. Charged with menace and thrilling suspense, it is the #1 New York Times bestselling author's g...

---

Let Me Call You Sweetheart

It's a minor accident that brings prosecutor Kerry McGrath to the plastic surgeon's office with her beloved daughter, Robin. But even as the doctor assures Kerry that her daughter's scars will heal, she spies a familiar-looking beautiful woman in the...

---






---

Bad Behavior

in Bad Behavior

A varied, suspenseful collection of stories, published in collaboration with the International Association of Crime Writers, features the work of Lawrence Block, P. D. James, Joyce Carol Oates, Sara Paretsky, and many others....

---

Pretend You Don't See Her

Mary Higgins Clark sends chills down readers' spines with the story of Lacey Farrell, a rising star on the Manhattan real estate scene. One day, while showing a luxurious skyline co-op, Lacey is witness to a murder -- and to the dying words of the vi...

---

The Lottery Winner

Alvirah Meehan, one of Mary Higgins Clark's most beloved characters returns in these dazzling, intertwined tales of sleuthing and suspense. Alvirah, the former cleaning lady who struck it rich in the lottery, made her first appearance in "Weep No Mo...

---

Remember Me

On tranquil Cape Cod, a young couple tries to escape from the horrors of their past -- only to become trapped in a nightmare beyond their understanding, beyond their control. Menley Nichols never stopped blaming herself for the accidental death of...

---

A Clean Sweep

In MARY HIGGINS CLARK's "A Clean Sweep," a man loses his life after winning the lottery... and Willy and Alvirah try to find out who punched his ticket. MICKEY FRIEDMAN proves that vanity comes before a fall in "Bad Haircut." STANLEY COHEN puts...

---

---

I'll Be Seeing You

Covering the story of a stabbing victim, television news reporter Meghan Collins stares down at the sheet-wrapped body of a beautiful young woman in a New York City hospital. What she sees in the dead girl's face draws her into a terrifying web of tr...

---

Women of Mystery 1

A collection of mystery stories by noted female authors includes contributions by Amanda Cross, Mary Higgins Clark, Dorothy Salisbury Davis, Antonia Fraser, Sara Paretsky, Ruth Rendell, and Joan Hess. Reprint....

---

Women of Mystery I

A diverse collection of stories of drama and suspense from writers such as Ruth Rendell, Sara Paretsky and Mary Higgins Clark. From cops to private eyes to ordinary people caught up in extraordinary situations, these stories feature heroines who face...

---

---






---

All Around the Town

When Laurie Kenyon, a twenty-one-year-old student, is accused of murdering her English professor, Allan Grant, she has no memory of the crime. But at the scene of the homicide, her fingerprints are everywhere -- on the door, on the curtain, and on th...

---

---

Loves Music, Loves to Dance

New York's trendy magazines are a source of peril when a killer enacts a bizarre dance of death, using the peronal ads to lure his victims... After college, best friends Erin Kelley and Darcy Scott move to the city to pursue exciting careers;...

---

The Body in the Closet

in A Body Is Found

The strangled body of a Broadway actress is found in a Central Park apartment owned by Alvirah Meehan, a former cleaning woman who purchased the apartment after winning a $40 million lottery. Alvirah gets involved in the investigation of the death of...

---

The Anastasia Syndrome

Judith Chase -- a beautiful historian engaged to the next Prime Minister of Great Britain -- is at the top of her professional and personal life. But the streets of London are pulling Judith back to a time beyond her past. In a search for her childho...

---

Double Vision

SECOND CHANCE...FOR MURDER... Jim Cleary and Caroline Marshall are both celebrating anniversaries. For Jimmy, it has been five vengeful years since he strangled the wrong beautiful woman. For Caroline, it's been five years of mourning the unex...

---

Terror Stalks the Class Reunion

Lovely young Kay Crandall has come back for the reunion of a high school where she once taught. But Kay cannot guess that the happy occasion is about to turn into a nightmare -- as she falls into the hands of a madman who wants to make her into his w...

---

The Lost Angel

Susan faces the holidays alone, with little hope of seeing her daughter again... until the vision of an angel sets her off on a frantic and desperate search. The young girl explores the underside of New York City alone, while her mother searches for ...

---

---

While My Pretty One Sleeps

Neeve Kearny may be the only person in New York worried about the disappearance of Ethel Lambston. Ethel, a bestselling author famous for her juicy exposes, is one of the best customers at Neeve's exclusive Madison Avenue boutique. But Ethel's ex-h...

---






---

Caribbean Blues

The authors have collectively authored more than 100 books, many of which have been national and international bestsellers, and all authors donated their advances for Caribbean Blues to the Literacy Volunteers of America. An all-star cast of private ...

---

Weep No More, My Lady

Cypress Point - the ultimate California spa where the rich and famous pursue health and beauty in unalloyed luxury. But lovely young Elizabeth Lange is after something else: the truth about the death of her beloved sister - a famous actress who plun...

---

Lucky Day

in Murder in Manhattan

Bill Regan had a feeling that today was his lucky day. Nora Barton didn't share the feeling. She saw Bill at the newsstand every morning, but today, as she locked eyes with the normally sullen old man, Nora sensed something different -- today, Bi...

---

Stillwatch

A STRANGER HAS WARNED HER -- STAY AWAY She is Pat Traymore -- young, beautiful, talented, and deeply in love with a handsome congressman. She's come home to the glamorous, high-powered world of Washing-ton to produce a TV series. Her subject: ...

---

A Cry in the Night

IT WAS THE SORT OF THING THAT HAPPENED ONLY IN FAIRY TALES... One day she was simply Jenny MacPartland -- young, charming, divorced, working in a New York art gallery, struggling to support her two little girls -- the next, she was a princess, and l...

---

The Cradle Will Fall

A minor road accident landed county prosecutor Katie DeMaio in Westlake Hospital. That night, from her window, she thought she saw a man load a woman's body into the trunk of a car...or was it just a sleeping pill induced nightmare? At work the n...

---

A Stranger Is Watching

None of them could forget the tragic, brutal murder of Nina Peterson. Not her husband, Steve, ravaged by her loss and raging for revenge, nor their six-year-old son, Neil, a terrified witness to his mother's slaying. Not Sharon Martin, who loves th...

---

Where Are the Children?

Nancy Harmon long ago fled the heartbreak of her first marriage the macabre deaths of her two little children, and the shock charges against her. She changed her name, dyed her hair, and left California for the windswept peace of Cape Cod. Now remarr...

---

Aspire to the Heavens = Mount Vernon Love Story

Always a lover of history, Mary Higgins Clark wrote this extensively researched biographical novel and titled it Aspire to the Heavens, after the motto of George Washington's mother, the man who became the "father of our country" in a sto...

---
Complete Series List in Order
Alvirah & Willy
1) Weep No More, My Lady (Jun-1987)
1.1) The Body in the Closet (Sep-1990)
1.2) Plumbing for Willy (Oct-1992)
2) The Lottery Winner (Nov-1994)
3) All Through the Night (Oct-1998)
4) I'll Walk Alone (Apr-2011)
5) The Lost Years (Apr-2012)
6) As Time Goes by (Apr-2016)
7) All by Myself, Alone (Apr-2017)
Under Suspicion
1) I've Got You Under My Skin (Apr-2014)
Award-Winning Books by Mary Higgins Clark
The Cradle Will Fall
1990 Colorado Blue Spruce Award -- Young Adult
I Heard That Song Before
2007 RT Reviewers Choice Award -- Contemporary Mystery