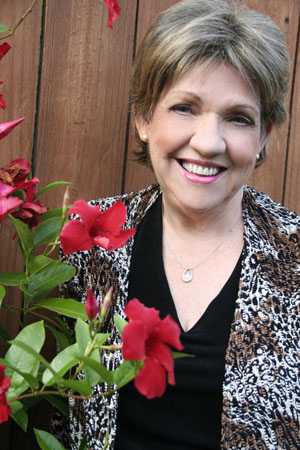 About the Author
Lori Copeland was born on 12 June 1941. She had a relatively late start in writing, breaking into publishing in 1982 when she was already forty years old. Over the next dozen years, her romance novels achieved much success, as was evidenced by her winning the Romantic Times Reviewer's Choice Award, The Holt Medallion, and Walden Books' Best Seller award. She has been inducted into the Missouri Writers Hall of Fame. Despite her success in more mainstream romantic fiction, in 1995, she decided to switch focus. Her subsequent books have been in the relatively new subgenre of Christian romance. She has also collaborated with authors Angela Elwell Hunt or Virginia Smith on a series of Christian romance novels.

Lori and her husband of over forty years, Lance, live in Springfield, Missouri, surrounded by the beautiful Ozarks. They have three grown sons, three daughter-in-laws, and six wonderful grandchildren, and two great-granddaughters. She and her husband are very involved in their church, and active in supporting mission work in Mali, West Africa.
Full Series List in Order
1 - Twice Loved (Jul-2008)
2 - Three Times Blessed (May-2009)
3 - One True Love (Mar-2010)
1 - Faith (Oct-1998)
2 - June (Apr-1999)
3 - Hope (Oct-1999)
4 - Glory (Oct-2000)
5 - Ruth (Oct-2002)
6 - Patience (Feb-2004)
The One Who Waits for Me (Aug-2011)
1 - Love Blooms in Winter (Jan-2012)
2 - Under the Summer Sky (Jan-2013)
1 - Darling Deceiver (Mar-1990)
2 - A Taste of Temptation (Apr-1992)
3 - Built to Last (Sep-1992)
1 - The Preacher's Lady (Mar-2016)
1 - The Peacemaker (Jan-2005)
2 - The Drifter (Mar-2005)
3 - The Maverick (Sep-2005)
4 - The Plainsman (Jan-2006)
1 - A Case of Bad Taste (Jul-2003)
2 - A Case of Crooked Letters (Apr-2004)
3 - Case of Nosy Neighbors (Sep-2004)
1 - Out of Control (May-1984)
2 - Rainbow's End (Dec-1984)
1 - Avenging Angel (Nov-1987)
2 - Passion's Captive (Aug-1988)
3 - Sweet Talkin' Stranger (Apr-1989)
1 - Tall Cotton (Mar-1990)
2 - Like Father, Like Daughter? (Jul-1993)
1 - Promise Me Today // Sisters of Mercy Flats (Dec-1992)
2 - Promise Me Tomorrow // My Heart Stood Still (Sep-1993)
3 - Promise Me Forever // Amelia and the Captain (May-1994)
1 - The Courtship of Cade Kolby // A Kiss for Cade (Sep-1997)
2 - Outlaw's Bride (Jul-2009)
3 - Walker's Wedding (Jun-2010)
Multi-Author Series List
Mother of Prevention
(Mar-2005)
5 -
Stranded in Paradise
(Sep-2002)
Book List in Order:
95

titles
---

Playing for Keeps

It seemed so long ago that Jessica Cole, swept away on a tidal wave of passion, had married the only man she ever loved. Almost immediately the seventeen-year-old child bride and Jason Rawlings were divorced, victims of family and fate. Now, eight ye...

---

A Tempting Stranger

"You have the disposition of a witch, the tongue of a shrew--and the body of an angel;" he whispered seductively in her ear.... Just the kind of thing a man like Garrett Morganson would say. What had Chandra Loring let herself in for? Engaged, ...

---

All or Nothing

Ever since her stubborn, hot-tempered, wickedly handsome husband stormed out over a jealous misunderstanding, Keely Jerico had been waiting for him to come to his senses. Tyler wasn't about to budge. Keely wasn't ready to forgive. But when...

---

Out of Control

Despite all her attempts to avoid another heartbreaker like Quinn Daniets Erin Holmes was drawn to Price Seaver with a destructive, consuming passion. How could she have expected to meet Quinn's double while baby-sitting her best friend's five-year-o...

---

Two of a Kind

Running a Florida gift shop was a full-time challenge for spirited Courtney Spenser But when her lively widowed mother started chasing around town with seventy-year-old motorcycle enthusiast Clyde Merrill, the shop was suddenly the least of her worri...

---

A Winning Combination

When Kayla Marshall met the shy, gentle salesman at Trahern Tool and Die, she knew she'd finally met the man she wanted to marry. Franklin's inexperienced yet curiously bold touch filled her with a passion unlike any she'd ever known. And...

---

Only the Best

A blizzard blew her into his life, but from the very first it wasn't snow but sparks that began to fly. Stranded in the tiny Wyoming town, Rana Alcott swore she'd rather die than accept help from a man like Gunner Montay. But what choice did she have...

---

Rainbow's End

Eager to assist her sister and brother-in-law, who had been recently injured in a car accident, Shannon Murphy arrived at Wranebow's Inn, in the foothills of the Ozarks, prepared to take over. But when she discovered that her co-manager would be none...

---

Forever After

Her life seemed to be riding the whirlwind. In one brief year Taryn Oliver had married, been widowed, and come home to begin again And now a tornado careening through the tiny midwestern town had deposited an irresistible stranger on her doorstep. ...

---

---

High Voltage

Had she gone mad? Laurel Henderson hadn't expected the burden of inheriting her father's farm to fall squarely on her shoulders. And if Sheriff Clay Kerwin couldn't catch the culprits who were sabotaging her best efforts, her hopes of selling it were...

---

Spitfire

They met in a blazing inferno when firefighter Ryder Tate rescued Merri Lambert from her fifteenth-floor apartment. But the real sparks flew when he seized her in his arms. Although she'd fought hilt every inch of the way and he'd threatened to toss ...

---

More Than She Bargained For

She'd lied to her best friend, bragging that she'd married a famous surgeon. Now Jillane Simms had to produce a husband, and Slater Holbrook was the best she could come up with. In desperation she made a deal. He'd play the part in exchan...

---

A Love of Our Own

She was the go-between. Abby King had plenty of advice to offer when it came to Lee MacNair's love life. Could she help it if Lee kept asking for it? "Be firm;" she insisted, when he complained of the girlfriend who took him completely fo...

---

Hot on His Trail

He was her fantasy, the mirror image of the man she didn't marry years before. From the minute Officer Steve Hayden ticketed her for speeding, Cee Ann Masters was ready for the race. Too ready for the shy policeman who thought she was too fast for hi...

---

When Lightning Strikes

Fritzi Taylor had always wanted a water bed -- but she never imagined it would come equipped with someone to keep her warm! It all began on New Year's Eve when she sped to the rescue of Ryan E. Majors, charming even when inebriated. One day later...

---

Out of This World

He was the hunk next door. She knew she should keep her distance, especially after spending two years with the wrong man! Besides, Zack Tremayne probably thought Toni Cameron was crazy anyway. So far he'd caught her talking to herself, seeing "things...

---

Tug of War

Riding high in her silver Jaguar, hotshot ad executive Cass McCason came home to Reuter Flats, Texas. She'd gone far, but Luke Travers was determined to put her in her place. Seeing him again was an unexpected shock. The gawky boy had become a de...

---

Passion's Folly

She knew it was a mistake to buy the luxury yacht with office heartthrob T. J. Templeton. But Ellie Millstein had decided it was time to loosen up and learn how to live. Why had the rakish sun-bronzed playboy chosen conservative Ellie to share his fl...

---

Up for Grabs

When it came to journalism, Kenlyn Grant could sniff out a hot scoop with the best of them. And when gossipy neighbors decided that the devastating stranger in town was C.I.A. with a sinister mission, she was deputized to ferret out the facts. Travis...

---

---

Avenging Angel

LAWLESS LOVE With her beautiful face profiled against the hot Missouri sky, Wynne Elliot was every inch a southern lady, but that didn't make the rifle in her hands any less deadly. She had sworn vengeance on the handsome scoundrel who'd taken ...

---

Passion's Captive

ALONE ON THE FROZEN KANSAS PRAIRIE Charity Burkhouser didn't stand a chance. Without a man's help the beautiful young widow would lose the homestead she'd traveled so far to claim and worked so hard to hold. When fate dropped a savagely wounded st...

---

The Trouble With Thorny

Like father, like son Chelsey Stevens didn't know who was worse -- Thorny Bradford, the newest resident of Rosehaven, or his handsome son, Greg, whose estate was next door. As director of the upscale retirement home, it was Chelsey's responsibilit...

---

Tale of Love

Swept Away It had to be the worst day of her life. Hilary Brookfield sat on a bus bench, the wind whipping fiercely about, her eyes slowly drowning in a pool of tears. This was meant to be a vacation, a time for peace and quiet, a time to mend her...

---

Dancy's Woman

Lauren Vandis was sent to the boondocks of Mississippi with one essential mission: She had to persuade Coyle Dancy not to sue her family. And if it means helping her ailing father, Lauren was willing to pour on the charm, thick as molasses, sweet as ...

---

Sweet Talkin' Stranger

HE CALLED HER A SCHEMING LITTLE MINX... Patience McCord's lies and sweet talk had forced handsome Cass Claxton into a shotgun wedding before he left her Kansas town. Judge McCord's beautiful daughter had vowed she'd do anything to get to St. Louis...

---

Tall Cotton

LIKE FATHER, LIKE DAUGHTER? Kelly Smith had always planned to follow in her father's footsteps on the horse-racing circuit, but now it seemed those footsteps led to betrayal. Could she prove her father had been innocent of the charges against h...

---

Darling Deceiver

Bestselling mystery writer Shae Malone had returned to the sleepy town where he'd spent much of his childhood to finish his new novel, but instead of peace and quiet, he found his home invaded by a menagerie of zoo animals temporarily living next doo...

---

Fool Me Once

IT WAS THE DIRTIEST LOW-DOWN TRICK A MAN COULD PLAY ON A WOMAN... Fate and the B&O railroad delivered the sassy, beautiful, and very rich Miss Gideon Wakefield right into Tom Lannigan's hands. The Philadelphia debutante was coming west to sell her...

---

'Tiz the Season

The Hunk in the Santa Claus Suit... Attorney Darby Piper groaned when she saw the bulldozer blocking her driveway -- she was going to be late for court! But when she ordered the undeniably tall, dark, and handsome construction foreman to clear he...

---

---

Squeeze Play

The Best-Looking Guy in Town... Dex Matthews was back, and Carly Winters still thought her ex-fiance was too handsome for his own good...and hers! The brilliant marketing director had challenged and charmed her like crazy when they'd first met, st...

---

Sweet Hannah Rose

A STRANGER'S KISS Marriage seemed the only solution for Hannah Rose Brewster, whose fiery temper was the talk of four counties. So her family arranged a match and shipped her off to a one-horse cattle town on the Tex-Mex border. But fate had o...

---

Melancholy Baby

Hot and Bothered! Teal Anderson couldn't believe it, but the small Missouri town she'd grown up in was just the same -- except for Bud Huntington! He'd been the best-looking boy in high school, and the wildest -- but now the reckless rebel was the t...

---

Forever, Ashley

HE WAS FATE'S SWEET REVENGE, THE PERFECT LOVER...TWO HUNDRED YEARS TOO SOON! When Ashley Wheeler fell through the ceiling of the Green Dragon Tavern on April 15, 1775, not even her digital watch could convince the cabal of revolutionary patri...

---

A Taste of Temptation

TAYLOR--He Was Hot Stuff in the Kitchen--and He Spiced Up Her Nights.... He was Hollywood handsome with a playboy's reputation to match--not at all the kind of partner Annie Malone had hoped for in cooking class--but she was stuck working with Tay...

---

Built to Last

BEAR--Big, Brash, and Bound to Drive a Woman Crazy... He had little patience with do-gooders who donated only a few hours to help him renovate houses for poor families, but Bear Malone had to admire Christine Brighton--nothing he said discouraged ...

---

Promise Me Today // Sisters of Mercy Flats

THE THREE WILY AND BEAUTIFUL McDOUGAL SISTERS COULD SWINDLE A MAN FASTER THAN IT TOOK TO LASSO A CALF. But their luck was running out when the wagon hauling the sisters to jail came under attack by Comanches. Then a dumbfounded Abigail watched a...

---

For All Time

With the aid of Gypsy magic, a beautiful contempory woman is transported back to 19th-Century California -- where her bold and perilous love for a daring Mexican bandito will turn the tides of destiny....

---

Like Father, Like Daughter?

Kelly Smith had always planned to follow in her father's footsteps on the horse-racing circuit, but now it seemed those footsteps led to betrayal. Convinced that he was innocent, she sets out to find truth about the man behind the accusations, Tanner...

---

Promise Me Tomorrow // My Heart Stood Still

When the wagon that hauled the swindling McDougal sisters to jail came under attack, Anne-Marie watched Abigail and Amelia ride off safely with dashing rescuers, and cursed her own luck. She was abducted by a Crow warrior. No doubt Creed Walker re...

---

---

---

Promise Me Forever // Amelia and the Captain

SOME FOLKS SAY IT WOULD HAVE BEEN A FITTING END FOR THE NOTORIOUS MCDOUGAL SISTERS.... Things looked bleak when the wagon hauling the swindling trio to the gallows came under attack. But rescuers rode into the fray! Anne-Marie was scooped up by an...

---

Someone to Love

Maggie Fletcher took one look at the mine she'd come thousands of miles to inherit and decided that once she adjusted to the vile living conditions, life wouldn't be so bad. It would be worse. If that weren't enough, no man in the town of...

---

Golden Harvest

Set in different parts of the U.S. in the 1800s, each story focuses on a different season and each heroine's personality reflects the season's temperament. ELAINE BARBIERI - WINTER MOON Judd McBain was a widower, certain he would never love again...

---

Kindred Hearts

Imagine a book - a love story - so hauntingly romantic, so emotionally powerful that it changes the lives of all who read it. Eleven of the greatest romance writers in the world have envisioned such a tale and brought it to life, creating a heartfelt...

---

Bridal Lace and Buckskin

DEARLY BELOVED When Beth Baylor announces her engagement to gorgeous rancher Adam Baldwin, seamstress Vonnie Taylor would rather choke than make the wedding dress -- because Adam is her husband. True, they were young and crazy, sharing a forbid...

---

Dates and Other Nuts

DATES FROM HELL Or at least that's what date number 867 -- and the other 866 -- felt like to Temple Burney. She'd promised her grandmother she'd make one last attempt to find Mr. Right, but she might as well have added or die trying! A...

---

Angel Face and Amazing Grace

While most of the women in town suddenly developed little ailments that needed the new doctor's immediate attention, April Truitt only developed a big urge to throttle him. The overbearing Gray Fuller represented everything she vowed to fight until ...

---

Daniel's Song

Thirty years later, St. Louis piano teacher Sarah Collins is captivated by a handsome Indian, Daniel Eaglefeather, who wants her to teach him to play. When scales and cadences lead to kisses and caresses, Sarah learns that the key to her past -- and ...

---

The Courtship of Cade Kolby // A Kiss for Cade

KOLBY'S COME BACK... Cade Kolby is trouble and Zoe Bradshaw knows it. But she still feels the fire they once shared -- before Cade left her and their one-horse Kansas town to become the most feared bounty hunter in the territory. Now Zoe needs h...

---

---

Something Old

Value priced!

Lori Copeland, Dianna Crawford, Ginny Aiken, and Catherine Palmer

Four Victorian-era wedding novellas comprise this romance anthology. Each ends with a wedding feature of a different culture....

---

Fudgeballs and Other Sweets

Princess, the poodle, had a perfectly glorious life, a dog's life in fact.... Until that annoying bulldog, Jake, moved in next door. Jenny McNeill had a perfectly glorious life, a life every successful woman might dream of, until that irritatin...

---

Faith

Wanted: Women with religious upbringing, high morals, and a strong sense of adventure, willing to marry decent, God-fearing men. Applicants may apply by mail. Must allow at least two months for an answer. With the matrimonial prospects in her litt...

---

June

WANTED: Women with religious upbringing, high morals, and a strong sense of adventure, willing to marry decent, God-fearing men. Applicants may apply by mail. Must allow at least two months for an answer. Like her sister before her, June leaves h...

---

The Bride of Johnny McAllister

They called him "Outlaw." Unjustly accused of a crime he didn't commit, he's looking for nothing more than vengeance. But when Ragan Ramsey stared into the silent stranger's dark, brooding eyes, she saw her hearts desire... REV...

---

Hope

1999 winner of ARTemis award for best cover! (Inspirational category)

The best-selling Brides of the West series continues with book 3, Hope. As Hope leaves Michigan for Kentucky as a mail-order bride, she is waylaid by bumbling outlaws, gets m...

---

Fruitcakes & Other Leftovers

For Beth David, her greatest Christmas wish was to be free of her responsibilities - and it came true when she won the lottery. Now that she was rich, she could be sure that her eccentric aunt was looked after while she traveled the world and did wha...

---

Glory

WANTED: Women with religious upbringing, high morals, and a strong sense of adventure, willing to marry decent, God-fearing men. Applicants may apply by mail. Must allow at least two months for an answer. On the run from a no-good scoundrel, Glor...

---

Marrying Walker McKay

Sara followed her dreams and discovered the love of her life. But will she have cause to regret marrying Walker McKay? The Rancher Takes A Wife The last thing Walker McKay wants to do is go courting--but it's time to settle down and raise some...

---

Child of Grace

After years of hiding behind a successful career, E. J. finds her comfortable world threatened by a tragic event. Facing one of the hardest decisions of her life, E.J. heads home to Cullen's Corner to sort things out. As the warm arms of the town rea...

---

Christmas Vows $5.00 Extra

Lori Copeland, loved for her whimsical, folksy style, brings readers a feel-good Christmas story. A young widower with three needy children is snowed in at Henrietta Humblesmith's marrying parlor for the holidays. He has no idea what a special Christ...

---

Roses Will Bloom Again

When Emma returns home to Serenity following her sister's untimely death, she must confront Sam and the feelings she never fully dealt with after their broken engagement. A strange clause in her sister's will forces Emma to stay and work with Sam to ...

---

Stranded in Paradise

A funny-but-touching tale about everything that can go wrong...and what makes it all right!Tess Nelson is poised to take a well-deserved step up the corporate ladder when it's yanked out from under her. With no job and nothing to fill her days--just ...

---

Ruth

The continuing story of mail-order brides in the successful Brides of the West series. Spunky, young Ruth Priggish is on the run from an 80-year-old suitor. Her only hope of eluding him is to seek help from an unwilling protector, U.S. Marshall Dyla...

---

A Case of Bad Taste

Frustrated author M. K. Diamond is suffering from another bout of writer's block when the perfect plot unfolds in real life: a burglar in Morning Shade is breaking into homes and redecorating, of all things! If only Maude can keep her feisty mother-i...

---

Patience

In the continuing story of mail-order brides in the successful Brides of the West series, Patience is abducted in a case of mistaken identity. But everything changes when she escapes her kidnapper and stumbles onto a gold mine. Can Patience make her ...

---

A Case of Crooked Letters

Just when things are settling back to normal in the sleepy town of Morning Shade, a series of chain letters throws the townspeople into a tizzy. Who is trying to bilk little old ladies out of their money with promises of good health and untold millio...

---

Case of Nosy Neighbors

The whole town is abuzz when Morning Shade is plagued with Peeping Toms. Morning Shade has had its share of adventures, but this time the town really has something to talk about. Someone is spying on Stella's neighbors, and she's bound and determi...

---

The Peacemaker

Bull-headed Wynne Elliot has one goal in mind: to track down Cass Claxton and shoot him dead for leaving her at the altar and running off with her money. But when Cass's brother Cole shows up, Wynne finds herself on an unexpected adventure, and she j...

---

The Drifter

This is the story of Beau Claxton, a cowboy who finds himself obliged to a young widow after she saves him from near death on the prairie. Beau and Charity face the difficulties of life on the prairie and ultimately find joy and hope.

Belov...

---

Mother of Prevention

Moving to San Francisco offers Kate Madison a fresh start -- just what Kate and her two daughters need after her firefighter husband's tragic death. A move out of Oklahoma City's tornado zone and snakes and...wait. Earthquakes? San Francisco has eart...

---

The Maverick

Book three in the popular Men of the Saddle series by beloved author Lori Copeland. Six years ago, Susanne McCord tricked Cass Claxton into marrying her in a shotgun wedding. They haven't seen each other since that day, but when they cross paths agai...

---

The Plainsman

Trey McAllister is on his way home to Tyrone, Kansas, after three years away fighting in the Union Army. Trey is riding past Sassy Gap, Louisiana, when he sees a fire blazing out of control. He stops to help and discovers that the entire town is made...

---

Monday Morning Faith

Dear Mom and Pop, Two days ago we all spent the afternoon in palm trees. One of the village dogs broke his leash and treed the whole community. The dog is mean, but I have managed to form a cautious relationship with him by feeding him scraps from ou...

---

Yellow Rose Bride

Seven years ago, seamstress Vonnie Taylor's husband of twenty-four hours, Adam Baldwin, had their marriage annulled. Now she faces the ultimate indignity: sewing the wedding dress for his new intended! Vonnie hasn't gotten over the handsome Texas ...

---

Simple Gifts

Marlene Queens is bombarded by troubles when she goes home to Missouri -- her overbearing Aunt Ingrid becomes more demanding by the day! As Marlene and her childhood sweetheart share an awkward reunion and the town votes to erect a statue in her fat...

---

Bluebonnet Belle

April Truitt didn't trust doctors, battle of wills was raging in the Lone Star State in 1876. least of all handsome newcomer Gray Fuller, who opposed her efforts to offer the women of Dignity, Texas, an herbal alternative to surgery. He treated her l...

---

Unwrapping Christmas

It's that time of year again, and with excitement and high expectations, Rose has planned the perfect Christmas for her family and friends. But when she feels them drifting away during a time that should celebrate togetherness, Rose is forced to sl...

---

Now and Always

Very few things distract Katie Addison when she's on a mission... ...whether it's opening her home to abused women, rehabilitating injured horses, or helping tall, gorgeous Warren Tate mend his broken heart. But when financial difficulties pile up f...

---

Twice Loved

Willow Madison and her friends Copper and Audrey taught school in neighboring Texas towns until the Yankees rode in and burned them out. In the midst of fear and chaos, survivors banded together to fight for what remained of their homes. Then word re...

---

Three Times Blessed

How will Audrey and her fellow schoolmarms stay afloat when a flood threatens their small Texas town? Typically, Thunder Ridge, Texas, is dry as a bone. But Audrey Pride has arrived under a storm cloud, one that is deluging the shocked community ...

---

Outlaw's Bride

Bestselling author Lori Copeland weaves together elements of a wonderful, classic Western romance with themes of forgiveness and grace.Falsely convicted of bank robbery, drifter Johnny McAllister is sent to a rehabilitation program in the home of a C...

---

The Christmas Lamp

When the small town of Nativity, Missouri, loses its much-needed seasonal business, more than the economy suffers. Lifelong resident Roni Elliot clashes with the new outside consultant Jake Brisco, whose drastic budget-slashing threatens the traditio...

---

One True Love

Can Copper trust her heart -- and her life -- to a man she once despised? Copper is overjoyed that her friends Willow and Audrey found love and fulfillment after the war. The only remaining spinster, Copper vows to pour herself into her new teaching...

---

Walker's Wedding

"You can't let one woman ruin your whole life, son," the old foreman said. "You got to pray harder and ask that the good Lord will send the right woman. You got to produce an heir." WALKER THOUGHT HE HAD PLENTY OF TIME TO WORRY ABOUT MARRIAGE AND KI...

---

A Man's Heart

One Man. One Promise. One Last Chance. Jules broke off her wedding to Cruz practically at the altar. Not just once, but twice. Now the man she loves can't stand the sight of her. Only for Pop could Jules have made such a sacrifice. But Pop is gone,...

---

The One Who Waits for Me

Bestselling author Lori Copeland (Walker's Wedding and Outlaw's Bride) sets her brand-new story in North Carolina the months after the Civil War. In the midst of chaos, there is also a sense of possibility and the hope of love when: Sisters Be...

---

Lost Melody

The beautiful piano sitting in the corner of Jill King's apartment begs to be played. For over a year, it has sat untouched, ever since a terrible accident shattered Jill's ambition of becoming a concert pianist. The ragged scar on her left hand is a...

---

Love Blooms in Winter

A romantic new book from bestselling author Lori Copeland that portrays God's miraculous provision even when none seems possible. 1892 -- Mae Wilkey's sweet next-door neighbor, Pauline, is suffering from old age and dementia and desperately needs ...

---

When Love Comes My Way

From bestselling author Lori Copeland, When Love Comes My Way is a love story about redemption, forgiveness, and renewed spiritual awakenings set against the backdrop of scenic Upper Peninsula, Michigan, in the days when pine was king. Michigan, 1...

---

Under the Summer Sky

This romantic new book from bestselling author Lori Copeland portrays God's miraculous provision even when none seems possible. 1893--A man who goes only by the name of "Jones" isn't looking for trouble when he happens across Miss Trinity Franklin...

---

The Healer's Touch

Lyric Bolton doesn't ask for much―just friendship and acceptance from her rural Missouri community. But her family is regarded with suspicion and fear because of her mother's sickness―a sickness of the mind that grows worse by the day. Lyric is r...

---

Beautiful Star of Bethlehem

Meet Arlene Santana, a vibrant wife and young grandmother whose life suddenly takes a confusing and often laughable turn into a new reality framed by a severe brain injury. As one holiday after another speeds by, Arlene takes comfort in the amusing o...

---

The Preacher's Lady

In the first book of the Sugar Maple Hearts series, acclaimed author Lori Copeland spins a tale of hope, understanding, and faith when God seems silent. It's 1855, and Elly Sullivan works on her family cranberry farm in Wisconsin. She's pledged h...

---

The Cowboy's Housekeeper

Clothing designer Jessica Cole has inherited her aunt and uncle's cattle farm. Perfect! She can sell the farm to finance her company's newest venture, a clothing line for children. Then she learns the condition of her inheritance -- she must move...

---

Barefoot Hearts

"7 Optimistic Women Walk Various Roads to Reach Their Dreams   Connected to nature and carefree of heart seven historical women would prefer to travel through life without shoes, especially if giving away their only pair would comfort som...

---
Award-Winning Books by Lori Copeland
Out of This World
1987 RT Reviewers Choice Award -- Dell Candlelight Ecstacy Romance
Frequently Asked Questions (FAQ)
Lori Copeland has published 95 books.
Lori Copeland does not have a new book coming out soon. The latest book, Barefoot Hearts, was published in July 2018.
The first book by Lori Copeland, Playing for Keeps, was published in April 1983.
Yes. Lori Copeland has 13 series.