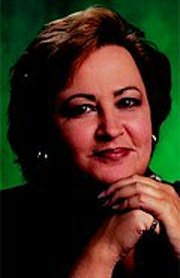 About the Author
Kay Hooper was born in California in the late fifties. Shortly thereafter, the family moved to North Carolina where she was raised alongside her younger brother and sister. After graduating high school, Hooper attended Isothermal Community College. She quickly realized that business classes were not her interest. She began taking history and literature classes. Those classes inspired her take up her long held love of writing. She asked for a typewriter for Christmas and began work on her first novel. That book, Lady Thief, was a Regency romance that was bought by Dell Publishing in 1980. She was only 22 at the time. Since then, Hooper has published more than 60 novels.

Hooper lives in a very small North Carolina town with her beloved cats and dogs.

Full Series List in Order
1 - Enemy Mine (Aug-1989)
2 - The Haviland Touch (Jun-1991)
1 - The First Prophet (Dec-2012)
2 - A Deadly Web (Apr-2015)
3 - Final Shadows (Oct-2018)
1 - Haven (Aug-2012)
2 - Hostage (Dec-2013)
3 - Haunted (Sep-2014)
4 - Fear the Dark (Oct-2015)
5 - Wait for Dark (Mar-2017)
6 - Hold Back the Dark (Apr-2018)
1 - Stealing Shadows (Aug-2000)
2 - Hiding in the Shadows (Oct-2000)
3 - Out of the Shadows (Nov-2000)
4 - Touching Evil (Aug-2001)
5 - Whisper of Evil (Jun-2002)
6 - Sense of Evil (Aug-2003)
7 - Hunting Fear (Aug-2004)
8 - Chill of Fear (Jul-2005)
9 - Sleeping with Fear (Jul-2006)
10 - Blood Dreams (Jan-2008)
11 - Blood Sins (Dec-2008)
12 - Blood Ties (Feb-2010)
13 - Haven (Aug-2012)
14 - Hostage (Dec-2013)
15 - Haunted (Sep-2014)
16 - Fear the Dark (Oct-2015)
17 - Wait for Dark (Mar-2017)
18 - Hold Back the Dark (Apr-2018)
19 - Hidden Salem (Apr-2020)
20 - Curse of Salem (Jan-2022)
1 - In Serena's Web (Apr-1987)
2 - Raven on the Wing (May-1987)
3 - Rafferty's Wife (Nov-1987)
4 - Zach's Law (Dec-1987)
5 - The Fall of Lucas Kendrick (Jan-1988)
6 - Unmasking Kelsey (Feb-1988)
7 - Outlaw Derek (May-1988)
8 - Shades of Gray (Oct-1988)
9 - Captain's Paradise (Dec-1988)
10 - It Takes a Thief (Feb-1989)
11 - Aces High (Apr-1989)
1 - Crime of Passion (Feb-1991)
2 - House of Cards (Nov-1991)
1 - The Touch of Max (Feb-1993)
2 - Hunting the Wolfe (Apr-1993)
3 - The Trouble With Jared (Jun-1993)
4 - All for Quinn (Aug-1993)
5 - Once a Thief (Oct-2002)
6 - Always a Thief (Jun-2003)
1 - Golden Threads (Aug-1989)
2 - The Glass Shoe (Nov-1989)
3 - What Dreams May Come (Mar-1990)
4 - Through the Looking Glass (Jul-1990)
5 - The Lady and the Lion (Oct-1990)
6 - Star-Crossed Lovers (Sep-1990)
7 - The Matchmaker (May-1991)
1 - Pepper's Way (Sep-1984)
2 - If There Be Dragons (Dec-1984)
1 - Illegal Possession (Mar-1985)
2 - Time After Time (Jul-1986)
1 - The Wizard of Seattle (Jun-1993)
2 - Arts Magica (Oct-1999)
Multi-Author Series List
Rafe, the Maverick
(Nov-1986)
Adelaide, the Enchantress
(Sep-1987)
Golden Flames
(May-1988)
Velvet Lightning
(Nov-1988)
Christmas Future
(Nov-1992)
The Glass Shoe
(Nov-1989)
Golden Threads
(Aug-1989)
Book List in Order:
80

titles
---

Lady Thief

They called her the Cat. All London was agog at her daring escapades. And it seemed she was more than a common thief. She might end up with a medal instead of the hangman's noose! The Duke of Spencer and Beau Brummell himself thought they had spot...

---

Mask of Passion

"Fool!" she cried, scolding herself sharply. "You're behaving like an idiot!" Danica Morgan had fashioned her own success. First as a top model, then--secretly--as a best-selling novelist. She had had enough of the limelight. She swore she would ...

---

Breathless Surrender

They called her the Ice Princess. Drawn to her like a magnet, men gazed into her violet eyes and longed to shatter the beautiful porcelain mask she wore. But Heather felt nothing. Once it had been different--before her mysterious disappearance fro...

---

On Wings of Magic

She breezed into the Bahamas as lightly as a silver-blond cloud in a clear blue sky. Looking as harmless as a hummingbird, hiding behind a facade of featherbrained chatter, she was determined to rest, to let no one -- nothing -- would ruffle her sl...

---

C.J.'s Fate

C.J. Adams had been teased enough about her seeming lack of interest in the opposite sex. On a ski trip with her five best friends she impulsively embraced a handsome stranger, pretending they were secret lovers--and delighted lawyer who joined in h...

---

Something Different

Take one irrepressible mystery writer named Gypsy, add a slightly smashed VW called Daisy, a piratical cat named Corsair, toss them into the path of a cool architect with a glint in his eyes -- and stir up more romantic excitement than one sleepy se...

---

Pepper's Way

WANTED: MAN. Must be over six feet tall and weigh at least two hundred pounds. Must own large house on considerable acreage. Must like animals. Must have job with flexible hours. Preferably single. Call Pepper. The classified ad was provocative ye...

---

If There Be Dragons

In the isolated sanctuary of her Montana ranch, no one could hurt Brooke Kennedy, whose gift had led her to build a wall of ice around her heart. One person had stormed those barricades: her friend Pepper, who embraced the world and meddled in the ...

---

Illegal Possession

The light in the library flicked on without warning, and cat burglar Troy Bennett was caught in the act! With her green eyes daring him to stop her, she came face-to-face with the righteous Dallas Cameron, whose dark virility left her breathless. Dal...

---

---

Larger Than Life

a Loveswept Exclusive [1986] Travis Foxx's breath caught as Saber Duncan mesmerized her audience, her voice smoldering with passion and filled an odd, defiant yearning that stripped her heart naked. Could she possibly be the same girl whose records ...

---

Rebel Waltz

Banner Clairmont hated the idea of her beloved Lyonsgate Plantation being sold, even to dashing Rory Stewart, who seemed to know so much about her. But as they toured the grounds before that evening's costume ball, she sensed the house welcoming the ...

---

Time After Time

At first he heard only her voice in the darkness. Then, when the lights clicked on, Noah Thorne knew he was in for something just a little wild! The revelation that interior designer Alex Bennet had been a lion tamer for four years both delighted h...

---

Rafe, the Maverick

Heirs to a great dynasty, the Delaney brothers were united by blood, united by devotion to their rugged land ... and known far and wide as THE SHAMROCK TRINITY. Powerful men... rakes and charmers... they needed only love to make their lives complete...

---

In Serena's Web

With her fallen-angel smile, Serena Jameson looked like a cross between a temptress and a teenager, but she could be gently ruthless when it came to getting Brian Ashford to make his move! The handsome industrialist was determined to play Galahad and...

---

Raven on the Wing

"Marry me!" Josh Long insisted, but elusive woman of mystery Raven Anderson denied the electrifying attraction she felt when he pulled her into his embrace. Seductive but never truly seduced, Raven knew how to ignite a fire, but had never been burn...

---

Adelaide, the Enchantress

Addie Delaney was racing for her life, for enough money to make a cherished dream come true, when the only man who'd ever stirred her blood challenged her to resist him. The beguiling jockey, whose voice could tame animals and whose touch could bewit...

---

Rafferty's Wife

Drawn by destiny -- and duty to her country -- into a dangerous charade, Sarah Cavell trembled when she met the "husband" who'd been assigned to her for the mission. Rafferty Lewis looked tough and dangerous, a potent symbol of all the chances she'd ...

---

Zach's Law

A MAN WHO LIVES BY HIS OWN STRICT CODE -- AND THE HEADSTRONG WOMAN WHO'S DETERMINED TO CRACK IT When her car died on a deserted road high in the Rockies, Teddy Tyler half expected danger--but being captured by Zach Steele was terrifying... and thr...

---

The Fall of Lucas Kendrick

Time was supposed to obscure memories, but when Kyle Griffon saw the sunlight glinting off Lucas Kendrick's hair, she knew she'd never stopped waiting for him. Ten years before, he'd awakened her woman's passion, and when he left without a word, her ...

---

---

Unmasking Kelsey

When Kelsey answered a mysterious call for help from a small southern town, he was prepared to charm or seduce Elizabeth Conner into telling him what he needed to know. But once his primitive male instinct sensed the wild spirit hidden beneath her de...

---

Summer of the Unicorn

SHE WAS BORN OF MYTH ... BUT THEY LOVED AS MORTALS They were of two different worlds and during one fateful summer, those worlds would converge in a spectacular mountain valley. Siri, warrior, sorceress and siren, the gorgeous Keeper of the last ...

---

Golden Flames

Powerful, dangerous, broodingly handsome Falcon Delaney was a loner, a man of action who'd spent years pursuing a stolen cache of Union gold. When he awakened in a locked cellar and gazed into the enchanting eyes of Victoria Fontaine, he was bewitche...

---

Outlaw Derek

Shannon Brown was running for her life! Touched by the fragile stranger, Derek Ross agreed to help her elude her pursuers. He never could resist a lady in distress, but the ferocity of his desire for Shannon stunned him... and mystified her. She'd kn...

---

Shades of Gray

Devastatingly good-looking and charismatic, ruler Andres Sereno was ruthless when it came to his island of Kadeira--and to the safety of Sara Marsh. Abducting her was the only way he knew to keep her from his enemies--and the only chance he had to ma...

---

Velvet Lightning

VICTORIA AND FALCON SAIL IN HOT PURSUIT OF MARCUS TYRONE, THE ONLY MAN ALIVE WHO CAN REVEAL THE GREATEST SECRET OF THE CIVIL WAR. BUT WILL THEY REACH HIM IN TIME? A handsome rogue whose recklessness and courage had made him a fortune as a blockade...

---

Captain's Paradise

When Robin Stuart was plucked, drenched and shivering, from the stormy seas, she clung desperately to the arms that had reached for her--but had she escaped from one terror into another? She'd been too close to danger not to recognize it again in the...

---

It Takes a Thief

Dane Prescott was charming, gallant, a man of mystery and shadows whose smile could make a woman forget her name! Jennifer Chantry was terrified when he caught her with a pilfered diamond bracelet, stunned when he kissed her breathless, and delighted...

---

Aces High

Skye Prescott was tall, dark and dangerous, a man who'd never forgotten how Katrina Keller had betrayed him years before...and never stopped hating himself for wanting her still. In a world where survival depended on suspicion, he'd fallen in love--a...

---

Golden Threads

Imprisoned by fate-and the FBI-in a strange town with a new identity, Lara Mason longed to escape the painful memory of her father's murder. Playing Rapunzel in a local production would distract her, she hoped-until broodingly sensual Devon Shane was...

---

---

Enemy Mine

DANGEROUS TERRITORY Tyler St. James was courting disaster when she teamed up with wily Kane Pendleton to hunt for the gold chalice. But being alone in the Colombian wilderness with a sniper on her tail made even a shaky truce with her fiercest ri...

---

The Glass Shoe

Beautiful heiress Amanda Wilderman insisted she didn't believe in princes, yet shed agreed to attend the masquerade ball as Cinderella. Dashing entrepreneur Ryder Foxx had no use for fairy tales but made an impossibly handsome Prince Charming. He ...

---

What Dreams May Come

He'd been her first and only love, but when a tragic accident left John Mitchell in a coma a week before their wedding day, Kelly Russell was devastated. When the doctors told her he'd never come out of it, she refused to believe them... until the ye...

---

Through the Looking Glass

THE MAN IN HER MIRROR... He was a financial wizard, a driven rogue with a Midas touch, but Gideon Hughes had no interest in keeping the run-down Wonderland carnival he'd inherited -- until an enchantress with spun-silver hair presented him with a ...

---

Star-Crossed Lovers

HER ENEMY, HER LOVE... Perhaps if she'd stayed in Atlanta, Michele Logan would never have had to face Ian Stuart, the ruggedly handsome architect whose family had feuded with hers for centuries. But in the sultry paradise of Martinique fate threw ...

---

The Lady and the Lion

The Mysterious Spellbinder... At first she was only a voice in the darkness before dawn, but soon Keith Donovan was haunted, obsessed by the woman who'd listened to his cynical, desperate murmurings, and shared secrets of her own troubled heart. H...

---

Crime of Passion

LOST AND FOUND Lane Montana is a finder of lost objects--misplaced jewelry, missing heirlooms ... even people, occasionally. But when a summons on her answering machine sends Lane to the home of wealthy Jeffrey Townsend, the able locater finds som...

---

The Matchmaker

A MYSTERIOUS MAN WITH A STRANGE TALENT... A BEAUTIFUL WOMAN WITH A DARK SECRET... AND A LOVE FATED TO BREAK ALL THE RULES His name was Cyrus Fortune. As enigmatic and elusive as the mysterious forces that had brought him to Richmond, he was secr...

---

The Haviland Touch

WYATT'S FOLLY It had been ten years since Spencer Wyatt had jilted Drew Haviland for another man. Now she was free--and more damnably desirable than ever. Drew vowed to seek repayment for Spencer's broken pledge, planned to ruthlessly take what ha...

---

House of Cards

MURDER IS RELATIVE Lane Montana, finder of lost objects, dreads the upcoming family reunion at her mother's estate--especially tire inevitable interrogation of Lane's new lover, police lieutenant Trey Fortier. But the gathering takes a far more un...

---

---

Holiday Spirit

A matchmaking grandmother and three holiday ghosts arrange a sensuous reunion for a headstrong noblewoman and her seductive former fiance....

---

Christmas Future

As the last of the Delaney men, Brett returned to Killara this Christmastime only to find it in the capable hands of his father's young and beautiful widow. Yet the closer he got to Cassie, the more Brett realized that the embers of their old love st...

---

The Touch of Max

MAX - POWERFUL, ENIGMATIC, A HERO WHO WAS DANGEROUS IN THE DARK He was rich, mysterious, and shockingly obsessed with a lady of secret sorrows, but was Maxim Bannister endangering his priceless gem collection by letting beautiful, haunted Diana La...

---

Hunting the Wolfe

WOLFE--A Man of Danger Who'd Always Be Untamed... Security expert Wolfe Nickerson towered over her, but Storm Tremaine wasn't easily intimidated! She was the best at what she did--designing state-of-the-art security systems--even if her fierce gr...

---

The Wizard of Seattle

HE TAUGHT HER A FORBIDDEN ART She looked like a ragged, storm-drenched urchin, but from the moment Serena Smyth appeared on his Seattle doorstep, Richard Patrick Merlin recognized the spark behind her green eyes, the wild talent barely held in che...

---

The Trouble With Jared

JARED - Mysterious, Savage, a Fierce Lover Who Made Her Tremble and Yearn,,, Years before, Jared Chavalier had been obsessed by her innocence, desperate to possess the beautiful young gemologist--but his forcing Danica Gray to choose between her c...

---

All for Quinn

QUINN -- A CHARMING SCOUNDREL WHO STOLE HER HEART, AND TOOK HER BREATH AWAY... He was a prince among thieves, a legend who could open any lock, elude any pursuer, but only a special woman had ever captured the mysterious Quinn -- and then only for...

---

Masquerade

Weary of suitors who love only her wealth, Cassandra Eden flees London for her country home. When a snowstorm forces her to take shelter at the manor of a disreputable Earl, Cassie must hide her identity or risk a damning scandal. Only at a Valentine...

---

The Haunting of Josie

She was a woman of secrets in a house of shadows and he held the key .... Mare Westbrook would have made a good warlock, Josie Douglas decided--with his raven-dark hair, silver eyes, and even a black cat in his arms! She'd chosen the isolated hous...

---

Almost An Angel

A handsome British agent won't rest until he finds the beautiful stranger who miraculously rescued him - then vanished as quickly as she appeared....

---

---

Amanda

A spellbinding tale of contemporary suspense that begins with a mysterious homecoming and ends in a shattering explosion of passion, greed, and murder. And all because a stranger says her name is... AMANDA Others have claimed to be Amanda Dault...

---

After Caroline

TWO WOMEN WHO LOOK ENOUGH ALIKE TO BE TWINS. BOTH INVOLVED IN CAR WRECKS AT THE SAME TIME. ONE SURVIVES. ONE DOESN'T. Now, plagued by a bewildering connection to a woman she never knew, driven by an urgent compulsion she doesn't understand, Joanna...

---

Finding Laura

MIRROR, MIRROR ON THE WALL It's an antique mirror that can reveal secrets ... or tarnish the truth. And for struggling artist Laura Sutherland, buying it is only the first step into a dark maze of lies, manipulation -- and murder. It brings Pet...

---

Haunting Rachel

DANGER WEARS MANY FACES Ten years ago Rachel Grant's fiance, Thomas, disappeared. His body was never found. Now there's a stranger in town, a man who could be Thomas's twin - or his ghost. His name is Adam Delafield. He's been watching Rachel for ...

---

Arts Magica

When apprentice wizard Felicity Grant conducts a reckless experiment on New Year's Eve, she's hurled from present-day Seattle to 1899 London--and into the arms of a singular man .......

---

Stealing Shadows

WHAT IF YOU CAN ENTER A MADMAN'S CRUEL MIND AS HE PLANS HIS VICIOUS CRIMES? WHAT IF YOU CAN SEE THE TERRIFIED FACE OF HIS PREY AS HE MOVES IN FOR THE KILL -- BUT YOU CAN'T STOP HIS FRENZY ONCE HE STRIKES? Psychic Cassie Neill helps the L.A. polic...

---

Hiding in the Shadows

TERROR WAS JUST OUT OF SIGHT Accident victim Faith Parker has done what her doctors feared she never would: awakened from the coma that held her prisoner for weeks. But she has no memory of the crash that nearly killed her - or the life that led u...

---

Out of the Shadows

TO CATCH THIS KILLER, SHE MUST BREAK EVERY RULE AND CROSS EVERY LINE. A picture-perfect Tennessee town has just become a monster's hunting ground. Two bodies are found tortured to death. A third person goes missing. What little evidence is left be...

---

Touching Evil

SOMETIMES EVIL LINGERS SO CLOSE, YOU CAN FEEL IT.... Seattle police sketch artist Maggie Barnes has an extraordinary gift. She listens as traumatized crime victims describe their ordeals -- and then uses those horrifying recollections to draw ...

---

Whisper of Evil

Someone is stalking the little town of Silence. Three victims have fallen to a killer's savage vengeance. Each of the dead men was a successful and respected member of the community--yet each also harbored a dark secret discovered only after his murd...

---

Once a Thief

WITH A PRICELESS COLLECTION AT STAKE... It had taken centuries for Max Bannister's family to acquire their treasures, and now he's been asked to risk his collection as bait for a master criminal. For his own reasons, Max allows a public exhibition...

---

Always a Thief

IN A DEADLY GAME OF SKILL AND DECEPTION... The priceless, rarely displayed Bannister collection is about to be exhibited - and the show's director, Morgan West, can't ignore her growing uneasiness. She's certain she hasn't seen the last of the inf...

---

Sense of Evil

The victims are always the same: beautiful, successful, and blond. Someone was able to coax these intelligent and confident women away from safety. Someone was able to gain their trust long enough to do the unthinkable. Their shocking murders have te...

---

I'd Kill For That

WHEN DEALING WITH THE RICH... On the banks of the scenic Truxton River, nestled in rolling woodlands just minutes away from our nation's capital, lies Gryphon Gate, a premier gated community. But tempers flare and tension grows when someone decides ...

---

Hunting Fear

He's no ordinary kidnapper. Not only does he strike again and again, but he collects the ransom, gets away safely, and leaves his hostages dead. Now, after months of eluding the best law enforcement can put against him, this monster is looking for a ...

---

Chill of Fear

For twenty years FBI agent Quentin Hayes has been haunted by an unsolved murder that took place at a secluded Victorian-era resort in Tennessee when he was little more than a boy. Now part of Noah Bishop's Special Crimes Unit, he's returned to the sc...

---

Sleeping with Fear

Special Agent Riley Crane woke up in a beach cottage fully dressed, a gun under her pillow, and covered in blood. Even more frightening, she didn't remember what had happened the night before. She barely remembered anything about the previous three w...

---

Blood Dreams

This killer dreams in shades of death.... In each of her New York Times bestselling novels, critically acclaimed author Kay Hooper has led readers to unforgettably chilling encounters with fear and evil. Now, in her latest thriller, she takes us o...

---

Blood Sins

New York Times bestselling author Kay Hooper delivers once again with this chilling novel in which the Special Crimes Unit sends a Haven operative undercover to catch a charismatic killer who promises his victims heaven in exchange for more than thei...

---

Blood Ties

New York Times bestselling author Kay Hooper takes us to the outer reaches of fear in Blood Ties, as the Special Crimes Unit is targeted by a monster intent on destroying both Noah Bishop and his people. A series of grisly murders has left a trail o...

---

Haven

After years away, Jessie Rayburn has finally returned home unwelcomed -- to a town of menacing whispers: Baron Hollow, North Carolina. It's as though she never left. That's why she's so afraid. She left behind her estranged sister, Emma, who has h...

---

The First Prophet

Within the FBI, there exists a team of psychics whose powers cannot be denied. But these agents are feared -- by a cabal of conspirators with only one weapon: to blind the psychics to the evils all around them. Months ago Sarah Gallagher woke fro...

---

Hostage

New York Times bestselling author Kay Hooper returns with a new novel of blood-chilling suspense as hunters become the hunted in a desperate game of survival against all odds... Haven operative Luther Brinkman has been sent into the wilderness of ...

---

Haunted

How do you make peace with the dead if the dead aren't ready to forgive? In New York Times bestselling author Kay Hooper's new novel, the answer lies in the twisting shadows of a small town, and its secrets yet unearthed... When Deacon James's yo...

---

A Deadly Web

John Brodie is a Guardian, a member of a secretive network devoted to winning a war very few even know exists: protecting the vulnerable psychics in his charge from a deadly, ruthless -- and virtually invisible enemy. Tasha Solomon is a gifted p...

---

Fear the Dark

In New York Times bestselling author Kay Hooper's new novel, an SCU team investigates a troubling string of disappearances. But how do you find someone who has vanished without a trace? Something strange is happening in the small mountain town o...

---

Wait for Dark

An SCU team investigates a string of accidents, only to uncover a deadly and deliberate monster in the latest novel from New York Times bestselling author Kay Hooper. In Clarity, North Carolina, the residents have fallen victim to an unfortunate ...

---

Hold Back the Dark

A town in the thrall of evil. A summons that can't be ignored. The SCU returns in a nail-biting novel from New York Times bestselling author Kay Hooper. The Chosen have been warned. Powerful psychics across the globe have gotten the same eerie and...

---

Final Shadows

A desperate underground war with the survival of millions at stake looms in the electrifying conclusion of the New York Times bestselling Bishop Files Trilogy. Tasha Solomon's world turned upside-down when the psychic abilities she had tried so ha...

---

Hidden Salem

A town shrouded in the occult. An evil that lurks in the dark. The SCU returns in a hair-raising novel from New York Times bestselling author Kay Hooper. Nellie Cavendish has very good reasons to seek out her roots, and not only because she has no...

---

Curse of Salem

New York Times bestselling author Kay Hooper is back with a brand new thrilling paranormal suspense novel in the Bishop/Special Crimes Unit series. The small town of Salem has been quiet for months -- or so Bishop and his elite Special Crimes Uni...

---
Award-Winning Books by Kay Hooper
Finding Laura
1997 RT Reviewers Choice Award -- Romantic Suspense
Stealing Shadows
2000 RT Reviewers Choice Award -- Romantic Suspense
Time After Time
1986 RT Reviewers Choice Award -- Bantam Loveswept
Whisper of Evil
2002 RT Reviewers Choice Award -- Contemporary Mystery
The Wizard of Seattle
1994 RT Reviewers Choice Award -- Futuristic Romance
Frequently Asked Questions (FAQ)
Kay Hooper has published 80 books.
Kay Hooper does not have a new book coming out soon. The latest book, Curse of Salem, was published in January 2022.
The first book by Kay Hooper, Lady Thief, was published in July 1981.
Yes. Kay Hooper has 11 series.