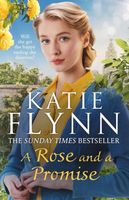 Newest Release
Bibliography:

52 Books - 1 Series

First Book:

September 1997

Latest Book:

March 2023

Rating:
Full Series List in Order
1 - Liverpool Daughter (Jan-2020)
2 - Under the Mistletoe (Aug-2020)
3 - A Mother's Joy (Jan-2021)
Book List in Order:
52

titles
Liverpool Lass

Liverpool. December, 1905. In the breaking dawn of a raw windswept morning, a new-born baby girl is left at the door of an orphange. So helpless and appealing is the foundling that young Nellie McDowell, the maid-of-all-work, decides there and then t...

---

Rose of Tralee

The year is 1925, and in Liverpool, Rose Ryder worships her father, a tram-driver. She nurses a secret dream of driving trams too, even though it's not considered a job for women. Meanwhile, in Dublin, Colm O'Neill is happily settled - until his f...

---

Polly's Angel

Liverpool, 1936Polly's guardian angel has to work overtime when her large family is forced to move to central Liverpool. With a hardworking mother, a sick father and her family close to ruin, Polly is easily led astray by the handsome, Sunny Anderson...

---

Girl from Penny Lane

Young Kitty Drinkwater lives in Paradise Court, just off Burlington Street. Life is tough in Liverpool in the years after World War I, and Kitty is always hungry and dressed in rags. As the eldest child, she is the scapegoat for her feckless, drunke...

---

The Liverpool Rose

Lizzie Devlin is orphaned and living in Liverpool with her Aunt Annie, Uncle Rupe and two cousins in Cranberry Court. Lizzie loves her aunt, but is hated by her uncle and escapes whenever she can to play by the canal. She becomes friends with Geoff G...

---

Down Daisy Street

Liverpool, 1935. Kathy Kelling is coming home to Daisy Street from her first day at the High School, longing to tell her friend, Jane, all about it. Then her brother, Billy, has a serious accident and Kathy's schooling is in jeopardy. The Kellings' l...

---

A Long and Lonely Road

Liverpool, Christmas 1938. Rose McAllister is waiting for her husband, Steve, to come home. He is a seaman, often drunk and violent, but Rose does her best to cope and see that her daughters, Daisy and Petal, suffer as little as possible. Steve, howe...

---

The Cuckoo Child

Set in Liverpool in the 1920s, Dot McCann, one day overhears a conversation that could send one man to prison and the other to the gallows — and suddenly finds herself in possession of stolen goods. Nick, a handsome young newspaper reporter is inve...

---

The Girl from Seaforth Sands

Amy Logan's family is poor but proud. They scrape a living by shrimping for the big Liverpool fish market, which Amy hates. It's only because her beloved, and strict, mother rules her with a rod of iron that she mucks in. But Isobel Logan dies in chi...

---

---

Darkest Before Dawn

The Todd family are strangers to city life when they move into a flat on the Scotland Road; their previous home was a canal barge. Harry gets a job as warehouse manager and his wife, Martha, works in a grocer's shop, whilst Seraphina trains as a teac...

---

Little Girl Lost

The heart-warming new novel from the Sunday Times bestselling author of A Long and Lonely Road and The Cuckoo Child. Sylvie's husband is in prison and she is in danger herself, so she leaves Liverpool for Dublin with the help of young Constable Bre...

---

Poor Little Rich Girl

Liverpool, 1934. Hester Lowe agrees to act as governess to spoilt, self-willed, little Lonnie Hetherington-Smith when they leave India to live with Lonnie's elderly aunt in Shaw Street, Liverpool. Hester speedily realises that her new employer dislik...

---

Beyond the Blue Hills

Laura Collins, a widow, is struggling to make a good life for her daughters, Tess and Tina. When Laura is offered a good job, with accommodation, she is delighted. Life is very different for the Brewsters, living on Manor Farm in Herefordshire.Danny ...

---

Sunshine and Shadows

Daisy Kildare is poor but her Aunt finds her a position as a companion to her employers' niece, Cynthia. There she meets Jake, the chauffeur's son, and life becomes easier to bear. When Jake goes to university, Daisy means to follow, but war interv...

---

Such Sweet Sorrow

The wonderful new Liverpool wartime saga is the story of a family divided by war when Marianne's daughter, Libby, is evacuated to the North Wales countryside and Marianne moves into her elderly mother's house near the docks.From the Hardcover edi...

---

A Mother's Hope

It is a dreadful November; rain and sleet batter young Martin while he tries to hitch a lift to Liverpool. He hears a bus approaching but has no money, so when it stops to eject a weeping girl, then speeds away, he hurries to catch up. Companions in ...

---

In Time For Christmas

Now in paperback: In this captivating new Liverpool-set story from bestselling saga writer Katie Flynn, we meet Addy Fairweather who resents the fact that her mother makes no secret of her preference for Addy's younger sister, Prue....

---

---

Heading Home

In Katie Flynn's wonderful new Liverpool saga, Louisa and Cormack Muldoon both have good jobs and live a settled life with their two young daughters. But then Grandpa Muldoon has a seizure and begs his son to return to Kilnevin and the family croft...

---

---

A Mistletoe Kiss

It was only a mistletoe kiss, Miss Preece told herself, stepping out into the icy December evening and locking the library doors behind her. A mistletoe kiss means nothing, everyone knows that; but this did not quench the warm glow inside her. Hetty...

---

No Silver Spoon

Set in Liverpool in the 1920s, this is a heartwarming tale of triumph over adversity, from the Sunday Times bestselling saga author, Katie Flynn.Dympna Byrnes lives a simple life with her family on the Connemara coast. She adores her father Miche...

---

Two Penn'orth Of Sky

Two penn'orth of sky is all you can see from dirty, cramped Nightingale Court where Emmy lives with her widowed mother. Her main aim in life is to escape and she sees marriage as her best way out. When Peter Wesley, First Officer aboard a cruise ship...

---

Forgotten Dreams

Lottie Lacey and her mother, Louella, share a house in Victoria Court with Mr Magic and his son Baz. Lottie is a child star, dancing and singing at the Gaiety Theatre to an enraptured audience, whilst Louella acts as Max Magic's assistant. But Lottie...

---

The Bad Penny

One wild night midwife Patty Peel is called to attend a birth on the opposite side of Liverpool. She pedals off into the storm and delivers a baby girl in a filthy slum dwelling, just as the mother dies. The drunk and violent father tells Patty to ge...

---

Rainbow's End

VIVIDLY EVOKING IRELAND AND LIVERPOOL, RAINBOW'S END IS A WARM AND ENGROSSING SAGA FROM A RISING STAR. Tracing the stories of two quite diffrent girls: Ellen Docherty, in Liverpool, bringing up her younger sister and brother single-handedly, and Magg...

---

The Lost Days of Summer

Nell Whitaker is fifteen when war breaks out and her mother sends her to live with her Auntie Kath in a remote farmhouse on Anglesey. Nell is furious; the last thing she wants to do is leave Liverpool and it's not long before she realises her aunt is...

---

A Kiss And A Promise

Michael Gallagher is an Irish seaman, fighting with the Royal Navy. He comes ashore in Liverpool when his ship needs repairs and meets lovely young Stella Bennett on the quayside, searching for her lost kitten. The young couple fall in love and w...

---

Strawberry Fields

/ General Fiction

Liverpool: Christmas Day 1924. When twelve-year-old Sara Cordwainer, the unloved child of rich and fashionable parents, sees a ragged girl with a baby in her arms outside her church, she stops to talk to her, pressing her collection money into the ...

---

The Mersey Girls

Spring 1913, and seventeen-year-old Evie Murphy is leaving her native Ireland for the city of Liverpool with her baby daughter Linnet--but leaving Linnet's frail twin, Lucy, behind. These are mixed fortunes ahead for Evie, and while Lucy grows up in ...

---

---

Liverpool Taffy

/ General Fiction

Life is hard in 1930s Liverpool, and Biddy O'Shaughnessy is left destitute when her widowed mother dies. Forced to work all hours for Ma Kettle, owner of the local sweet shop, she can soon take no more and runs away. At first luck appears to be on...

---

Christmas Wishes

It is the autumn of 1945 and identical twins Joy and Gillian Lawrence are on their way home to Liverpool, having been evacuated to Devonshire five years earlier. Their mother has been killed in the blitz but the girls hope that with their beloved fat...

---

The Runaway

When Dana and Caitlin meet by chance on the ferry from Ireland, they tell each other that they are simply going to search for work, but they soon realise they have more than that in common. They are both in search of new lives in Liverpool, leaving t...

---

Orphans of the Storm

Jess and Nancy, girls from very different backgrounds, are nursing in France during the Great War. They have much in common for both have lost their lovers in the trenches and when the war is over, they return to a bleak future, nursing in Liverpool....

---

---

The Forget-Me-Not Summer

Liverpool, 1936: Miranda and her mother, Arabella, live comfortably in a nice area. But when her mother tells her she can no longer afford their present lifestyle, they have a blazing row, and Miranda goes to bed angry and upset. When she wakes the n...

---

A Christmas to Remember

A few days before Christmas Tess Williams rushes into Albert Payne's tobacconist shop, with two boys in hot pursuit, saying she's a thief. Albert chases the boys away, and though Tess does not realise it, this incident changes her life. Tess lives wi...

---

Time to Say Goodbye

From the Sunday Times bestselling author Katie Flynn. Three girls, evacuated from Liverpool during World War Two, support each other through hardship and heartbreak. It's 1939, and three ten-year-old girls meet on a station platform. Imogen, Ri...

---

A Family Christmas

From the Sunday Times bestselling author of A Christmas to Remember. Two children go on a desperate journey to find their family Jimmy Trewin and his little sister are devastated by their mother's death and horrified to find themselves entrusted to t...

---

A Summer Promise

1938: Maddy Hebditch has been living in poverty with her cantankerous grandmother since she was orphaned when she was just five, and it's a constant struggle to stay out of the workhouse. However, though life is hard, Maddy has her friends Alice, M...

---

---

When Christmas Bells Ring

Liverpool 1938 It's Christmas in the Courts, and single mother Rosheen Clarke and her mischievous twin daughters April and May have no idea of the cataclysmic events which will soon overtake them. When war is declared, April and May are evacua...

---

An Orphan's Christmas

Liverpool, 1936: Molly Penelope Hardwick has been abandoned in Haisborough Orphanage. Desperate to discover her background, she befriends another orphan, Lenny Smith. Together they sneak out to roam the city of Liverpool, and hatch plans for their es...

---

The Christmas Candle

Will she find love in her wartime home? 1939. All over Britain children are being evacuated, and Eve Armstrong is headed for Devon. As the train pulls out of London she takes a last look at the crowded platform, the shabbily dressed evacuees, and...

---

Christmas at Tuppenny Corner

Liverpool, 1939 As winter descends on Tuppenny Corner and rumors of war float across the canals, fifteen-year-old Rosie O'Leary must come to terms with her own dramatic upheaval. Forced to say goodbye to all she holds dear and embark on a new life ...

---

A Mother's Love

FROM THE SUNDAY TIMES BESTSELLING AUTHOR, KATIE FLYNN'Ellie's a true Flynn heroine with her compassion and bravery. A fine Mother's Day gift for fans' Peterborough Evening Telegraph 'Packed with romance and poignanc...

---

A Christmas Gift

Liverpool, 1939: Sixteen-year-old Lizzy Atherton is forced to flee her violent step-father in the middle of the night, and finds herself stranded on a station platform completely alone. Desperate to know what has become of her beloved mother, who she...

---

Liverpool Daughter

A brand new novel from the bestselling author Katie Flynn. This is book one in her brilliant series about a young girl trying to make her way in war-torn Liverpool. Liverpool, August 1940 As the Luftwaffe turns its attention to Liverpool, Shane...

---

Under the Mistletoe

Liverpool, 1940 When war comes to Britain, Jessica Wilson and her friend Ruby seize the opportunity to leave behind the orphanage they grew up in and start new lives in the NAAFI. With only forged papers as identification the girls expect to be tu...

---

A Mother's Joy

THE BRAND NEW UPLIFTING AND INPSIRING NOVEL FROM SUNDAY TIMES BESTSELLING AUTHOR KATIE FLYNNTo face her future she must confront her past . . ._____________________Liverpool 1939: Olivia Campbell appears to have the perfect life. However, behind clos...

---

White Christmas

**THE BRAND NEW FESTIVE NOVEL FROM SUNDAY TIMES BESTSELLING AUTHOR**United by diversity, divided by war . . .December, 1938Rozalin Sachs has grown up in the vibrant city of Frankfurt. But with the Nazi Revolution gaining power, her family is forced t...

---

---

The Rose Queen

Will love bloom in a new city? It's 1938, and Cadi is chosen to be Rose Queen in the annual Rose Fete. She is thrilled to be treated like royalty for the day. But deep down she is desperate to leave the Welsh mining community where she grew up...

---

The Winter Rose

The festive follow-up to The Rose Queen, from beloved Sunday Times bestselling author Katie Flynn._____________________________________________Liverpool, 1941: After German bombs shatter the life Cadi has built for herself in Liverpool, she is more d...

---

A Rose and a Promise

Pre-order the next gripping historical romance from the No.2 Sunday Times bestseller Katie Flynn.____________________Liverpool, 1942Though they may be posted miles apart, Cadi and Jez's love for one another is stronger than ever - until Cadi receives...

---
Frequently Asked Questions (FAQ)
Katie Flynn has published 52 books.
The next book by Katie Flynn, A Rose and a Promise, will be published in March 2023.
The first book by Katie Flynn, Liverpool Lass, was published in September 1997.
Yes. Katie Flynn has 1 series.