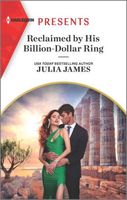 Newest Release
About the Author
Mills & Boon novels were author Julia James' first "grown up" book she read. As a teenager, she devoured those romances alongside the works of Georgette Heyer and Daphne du Maurier. She has written over 20 contemporary romances for Harlequin.

Julia lives in England with her family and adores the English countryside. She is interested in history and finds pleasure in everything from castles to cottages. She is also quite fond of the Mediterranean. She considers both settings to be inspiration for her stories.

When she's not writing, she enjoys walking, spending time gardening, creating needlework, and baking chocolate cakes.