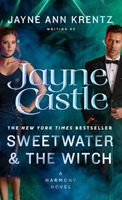 Newest Release
About the Author
Jayne Ann Castle was born on March 28, 1948 in Borrego Springs, California. She obtained a B.A in History and a Masters degree in Library Science. After her graduation, she married with Frank Krentz, an engineer. She worked in the Duke University, when she published her first novels in 1979.

Now, Jayne Ann Castle Krentz with her seven pennames is considered a pillar in the contemporary romance genre. For some years, she only uses three pennames for each of three different periods from time: "Jayne Ann Krentz" (her married name) from the present, "Jayne Castle" (her birth name) from the future and her most famous penname: "Amanda Quick" from the past. She is famous for her work ethic, beginning her writing by 7 am six days a week. Her heroins never are damsels in hardships, they are often heroes. Her novels also contain mystery or paranormal elements.
Full Series List in Order
0.5 - Bridal Jitters (Oct-1999)
1 - After Dark (Sep-2000)
2 - After Glow (Feb-2004)
3 - Ghost Hunter (Jun-2006)
4 - Silver Master (Sep-2007)
5 - Dark Light (Sep-2008)
6 - Obsidian Prey (Aug-2009)
7 - Midnight Crystal (Sep-2010)
8 - Canyons of Night (Sep-2011)
9 - The Lost Night (Sep-2012)
10 - Deception Cove (Sep-2013)
11 - The Hot Zone (Sep-2014)
12 - Siren's Call (Aug-2015)
13 - Illusion Town (Jul-2016)
14 - Guild Boss (Nov-2021)
15 - Sweetwater and the Witch (Sep-2022)
16 - People in Glass Houses (May-2024)
1 - Amaryllis (Oct-1996)
2 - Zinnia (Jul-1997)
3 - Orchid (May-1998)
1 - The Desperate Game (Jun-1986)
2 - The Chilling Deception (Aug-1986)
3 - The Sinister Touch (Oct-1986)
4 - The Fatal Fortune (Dec-1986)
1 - Illusion Town (Jul-2016)
2 - Guild Boss (Nov-2021)
1 - The Lost Night (Sep-2012)
2 - Deception Cove (Sep-2013)
3 - The Hot Zone (Sep-2014)
4 - Siren's Call (Aug-2015)
Multi-Author Series List
9 -
Midnight Crystal
(Sep-2010)
12 -
Canyons of Night
(Sep-2011)
13 -
The Lost Night
(Sep-2012)
14 -
Deception Cove
(Sep-2013)
15 -
The Hot Zone
(Sep-2014)
16 -
Siren's Call
(Aug-2015)
17 -
Illusion Town
(Jul-2016)
18 -
Guild Boss
(Nov-2021)
19 -
Sweetwater and the Witch
(Sep-2022)
3 -
Midnight Crystal
(Sep-2010)
3 -
Canyons of Night
(Sep-2011)
Book List in Order:
39

titles
---

Vintage of Surrender

POWERS OF PERSUASION Dynamic, intense, overwhelmingly masculine -- Luke Clinton knew exactly what he wanted and Jennifer Ingram soon found that he would stop at nothing to make her his wife. But she couldn't possibly marry him! The idea was si...

---

Queen of Hearts

A LESSON IN LOVE When Nat Halleck begged her to pretend to be his fiancee, Jenna firmly refused. It simply wasn't in her to be so deceptive, even as a favor for such a good friend. Then she met Nat's older brother, Adam and Jenna took on h...

---

Gentle Pirate

"Don't ask me to stop," he whispered in a husky voice that came from deep in his chest. "I want you so badly...." Simon Kendrick had charged suddenly into her life. Commanding, intimidating, as her boss he controlled her job. ...

---

Wagered Weekend

Lucky at cards, unlucky at love? That's what Savannah Emery had always been -- and she knew she should have stopped while she was ahead. That night at the party the wine and her winning streak had gone to her head. She had bid too high and lost.....

---

Right of Possession

"Wait for me;" he said. "When this is all over, I'll come for you." Reva had fled the danger, left South America, longing for him, never believing he would make good his promise. But he had. Just when she thought she had her life in order, when sh...

---

Bargain With the Devil

Every line of his face, from the deep-set eyes to the arrogant nose and harshly carved cheekbones, declared that this was a man who lived by his own rules. He hadn't come to Tucson for his health. Hunter Manning wanted revenge. Stacy Rylan looked i...

---

A Man's Protection

He was hard and she knew it went deeper than his broad shoulders, lean hips, and strong thighs. Southern California machismo and money! His power was vastly more compelling than the superficial charm of other men, but he used it to the same purpose -...

---

Relentless Adversary

With his jade eyes and jet hair, Locke Channing made Kelly Winfield weak with desire -- and dismay! He had the power to ruin her career and break her heart, and the easy assurance of a man who always got his way. Now that he had been hired to cat...

---

Affair of Risk

A strange flash of elemental recognition arced between them. The shock was staggering. Kendra Loring gasped as she met the full force of Case Garrett's night-dark gaze. Yet they had never met! And once she finished her business, she promised herse...

---

---

A Negotiated Surrender

It was a battle for dominance from the moment they first locked wills over the bargaining table. Slade York had taken Calla Nevin's challenge from the boardroom to the bedroom, where he was determined to conquer her once and for all! She vowed...

---

Power Play

Blackmail! Talia Haywood could hardly believe she was so desperate. But something about Kane Sebastian drove her to it: anything to get the information that only he could provide. She thought she knew his type: an arrogant industrial tycoon, the k...

---

Spellbound

"Who would have thought there was so much soft excitement under that sophisticated veneer?" he whispered. "What other secrets are you hiding, sweet witch?" Secrets...the word clicked in Lacey Holbrook's mind and reason flooded back. Yes, she had s...

---

Conflict of Interest

Beautiful Kali Havelock was all business. As VP of Interaction Automation, Inc., she was determined to outsmart the competition and corner the rights to the most advanced industrial robots...robots invented by the impossibly brilliant, outrageously h...

---

Double Dealing

She dangled the bait -- and he bit. Suddenly Samantha Maitland had the funds to finance the deal of her lifetime -- loaned by an angel with tarnished wings. From the moment they'd met at the posh California spa to his brash arrival at her islan...

---

Trading Secrets

WHEN SHE BOLDLY PICKED UP A STRANGER IN A POSH ACAPULCO BAR... Sabrina Chase meant only to have a casual fling. She never dreamed the rugged expatriate would appear in Dallas to rekindle passionate memories she preferred to forget. They were, ...

---

The Desperate Game

UNLIKELY PARTNERS--IN LOVE AND IN DANGER GUINEVERE JONES--Smart, savvy, and something else to see. She was an independent operator until Zac enlisted her secret services and ignited a desire for adventure--and romance. ZACHARIAH JUSTIS--The dar...

---

The Chilling Deception

COLD VENGEANCE GUINEVERE JONES - Besides being brainy, brave, and beautiful, she had an uncanny way with people. From the moment she found the gold gun in the mauve-and-black marble executive washroom, she knew Mr. Vandyke was in serious trouble. ...

---

The Sinister Touch

WERE THEY DEALING WITH A DEMONIC CULT OR A DEVILISHLY CLEVER KILLER? GUINEVERE JONES - Being a good neighbor was easy when the window across the way framed a handsome young handsome young artist. But when she became witness to sudden violence in ...

---

The Fatal Fortune

GAZING INTO HER CRYSTAL, THE PSYCHIC PREDICTED MONEY, BUT NOT MURDER. . . GUINEVERE JONES - Fortune-telling seemed a harmless game. But when it became clear that Madame Zoltana was making big profits by playing on her clients' fears, Gwen knew sh...

---

---

Amaryllis

Amaryllis Lark is undeniably beautiful. She's also one of the best psychic detectives on St. Helen's, the earth colony recently cut off from the mother planet, yet not very different from home - a place where love still defies the most incredible odd...

---

Zinnia

She's called the 'Scarlet Lady' - but only Zinnia Spring would rise above her shocking nickname by dressing defiantly in red. Ever since a false tabloid story ruined her reputation and her interior design business, this headstrong lady has made a liv...

---

Orchid

A top psychic for exclusive Psynergy Inc., Orchid Adams doesn't expect even the best marriage agencies on the space colony of St. Helen's to find her a husband who measures up to her dreams. It's just as well, because she's got her hands full with a ...

---

Bridal Jitters

When darkness holds the most tantalizing of possibilities, what goes bump in the night may be the man of your dreams .... Everything is possible and nothing is as it seems in four enchanting tales brimming with romance, passion, and a touch of won...

---

After Dark

Dear Reader: Life is tough enough these days for Lydia Smith, licensed Para-archaeologist. Seriously stressed-out from a nasty incident in an alien tomb, she is obliged to work part-time in Shrimpton's House of Ancient Horrors, a very low-budget m...

---

After Glow

Dear Reader: Welcome back to my other world--the rules are a little different here. Life is complicated for Lydia Smith. She's working at that tacky, third-rate museum, Shrimpton's House of Ancient Horrors, trying to salvage her career in para-...

---

Ghost Hunter

RETURN TO THE WORLD OF HARMONY... Where deadly energy ghosts lurk in the ruins of an ancient alien civilization. Where dust bunnies prove to be loyal pets. And where a ghost hunter will discover that a woman's heart is the most dangerous adver...

---

Silver Master

Fleeing a lurid scandal, matchmaker Celinda Ingram arrived in Cadence City desperate for a new start. Known for her strong para-resonator abilities, she is able to match up clients by reading their psi waves. It's this talent that sets her body tingl...

---

Dark Light

Everything is different underground. Just ask the residents of Harmony, a futuristic world where alien catacombs can lead you astray -- - and where psychic senses spark out-of-this-world passion... Reporter Sierra McIntyre's stories on Crystal C...

---

Obsidian Prey

The world of Harmony has its own special glow, thanks to the aliens who left behind powerful amber and twisting underground catacombs. Sparks fly, senses are rezzed, and passion can take you by surprise... Three months ago, amber tuner and indepen...

---

---

Midnight Crystal

For many earthly centuries, a legendary curse has plagued the Winters family, stemming from the tumultuous founding of the Arcane Society. But now, on the futuristic world of Harmony, the curse's final mystery will be unraveled... Adam Winters ha...

---

Canyons of Night

There are as many mysteries aboveground on the world of Harmony as there are underground. The island of Rainshadow is the setting for one of the greatest of those secrets: the privately owned woods known only as the Preserve... Growing up on Rains...

---

The Lost Night

Even the mysterious world of Harmony has people who don't quite fit in. They're drawn to places like Rainshadow Island, a beautiful sanctuary where anyone can feel safe -- and where secrets are closely guarded... Schooled in an exotic form...

---

Deception Cove

In the world of Harmony, Rainshadow Island is home to a mysterious preserve, secrets that have been kept for centuries, and a treasure worth killing for... As a light-talent, Alice North has the rare ability to make things disappear, including he...

---

The Hot Zone

The world of Harmony has its wonders, one of them being Rainshadow Island. Just beneath its surface, a maze of catacombs hides a dangerous secret... Halloween -- with its tricks and treats -- is a dust bunny's dream come true. Just ask Lyle, Se...

---

Siren's Call

In the mysterious world of Harmony, there are places filled with unexplored marvels. But Rainshadow Island isn't about to give up its secrets… In the alien catacombs of Rainshadow, there are creatures whose compelling songs lure the unwary to ...

---

Illusion Town

/ Science Fiction Romance

A new adventure begins on Harmony… With its opulent casinos and hotels, the desert city of Illusion Town is totally unique -- and will take you on a thrill ride you'll never forget. Hannah West isn't the first woman to wake up in Illu...

---

Guild Boss

Welcome to Illusion Town on the colony world of Harmony--like Las Vegas on Earth, but way more weird. Living in this new, alien world doesn't stop the settlers from trying to re-create what they've left behind. Case in point--weddings are ...

---

Sweetwater and the Witch

Welcome to the world of Harmony, where -- despite its name, things are anything but -- danger lurks just beneath the surface in this new novel by New York Times bestselling author, Jayne Castle. If there's something Ravenna Chastain knows, it's w...

---

People in Glass Houses

Dive into the alien world of Harmony in this new novel by New York Times bestselling author Jayne Castle. His name is Joshua Knight. Once a respected explorer, the press now calls him the Tarnished Knight. He took the fall for a disaster in the Un...

---

---
Award-Winning Books by Jayne Castle
Amaryllis
1996 Romance Readers Anonymous Award -- Best Alternative Realities or Time Travel Romance
Siren's Call
2015 All About Romance Reader Award -- Best Science Fiction Romance
Frequently Asked Questions (FAQ)
Jayne Castle has published 39 books.
The next book by Jayne Castle, People in Glass Houses, will be published in May 2024.
The first book by Jayne Castle, Vintage of Surrender, was published in January 1979.
Yes. Jayne Castle has 5 series.