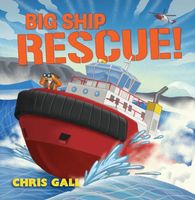 Newest Release
Bibliography:

14 Books - 1 Series

First Book:

May 2006

Latest Book:

January 2022

Rating:
Full Series List in Order
Dinotrux (Jun-2009)
Revenge of the Dinotrux (May-2012)
Dinotrux Go to School (Jul-2014)
Meet the Dinotrux (Jan-2015)
Dinotrux Dig the Beach (Jun-2015)
Book List in Order:
14

titles
---

There's Nothing to Do on Mars

When Davey Martin's family moves to Mars, he discovers that there's nothing to do--at least until he and his robot dog Polaris learn to seize the spirit of adventure. It's not until they've zipped around the planet on his flying scooter--climbing Mar...

---

---

Substitute Creacher

The troublemaking students of Ms. Jenkins' class arrive at school one day to discover a substitute creacher has come to put a stop to their monkey business! He regales them with mind-boggling stories about his former students who didn't follow the ru...

---

Revenge of the Dinotrux

THE DINOTRUX ARE BACK... AND LOOKING FOR A SNACK! Millions of years ago, DINOTRUX ruled the earth. But in the present day, people rule them! Their rusty fossils have spent decades stuck in a drafty museum surrounded by screaming kids, and now they...

---

Awesome Dawson

EVERYTHING CAN BE USED AGAIN! That's Dawson's motto. He collects junk that people throw away and turns it into something STUPENDOUS. But when Dawson uses his skills to create a machine to do his chores for him, he discovers he might have invented som...

---

Dog vs. Cat

Dog and Cat do not get along. But when they're forced to share a room, they agree to be on their best behavior...until Dog won't stop sniffing. Cat won't stop primping. Dog won't stop howling. Cat won't stop scratching. And when it comes to the litte...

---

Dinotrux Go to School

Today is the first day of school. The Dinotrux are nervous! What will they eat for lunch? Will their teacher be nice? But the Dinotrux don't need to worry. They can help each other. And school isn't scary. It's fun, especially when you are part dinos...

---

Meet the Dinotrux

In this beginning reader, Dozeratops wants to meet new Dinotrux. But they are on the other side of the river. Can the mighty monsters work together to build a bridge? Find out in this friendship adventure, where you will learn about ten of these part...

---

---

Dinotrux Dig the Beach

Surf's up in the third picture book about the Dinotrux! Fed up with steamy summertime Jurassic jungles, the mighty monsters are getting hot and grumpy, and they need a vacation.... Time to roll on down to the beach! Tyrannosaurus Trux might be ab...

---

---

The Littlest Train

In this endearing story of a tiny toy train, the creator of the hit series Dinotrux now breathes life into more than a half-dozen trains that climb, haul, chug, zip, and zoom. In a small room, down a short flight of stairs, there lives a little to...

---

Big Rig Rescue!

Chris Gall gives truck books a fresh set of wheels in a bright story of wreckers, tools, towing, and teamwork.When a semi-truck crashes in the snow, Big Orange is ready. With a crane, chains, a webbing strap, outriggers, and a winch, Orange will get ...

---

Big Ship Rescue!

Chris Gall gives boat books a fresh coat of paint in a bright story of tugboats, tools, and teamwork. Oh no! The Goliath has wrecked in a storm. First the crew has to be rescued, then the ship has to be made safe, refloated, and winched off the rocks...

---
Frequently Asked Questions (FAQ)
Chris Gall has published 14 books.
Chris Gall does not have a new book coming out soon. The latest book, Big Ship Rescue!, was published in January 2022.
The first book by Chris Gall, Dear Fish, was published in May 2006.
Yes. Chris Gall has 1 series.