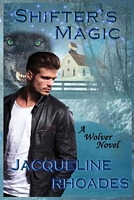 Newest Release
Bibliography:

17 Books - 3 Series

First Book:

May 2012

Latest Book:

July 2017

Rating:
Full Series List in Order
1 - Guardian's Grace (Mar-2013)
2 - Guardian's Hope (May-2012)
3 - Guardian's Joy (Jul-2012)
4 - Guardian's Faith (Dec-2013)
1 - Preston's Mill (Jan-2014)
2 - Changing Times (Feb-2014)
1 - The Alpha's Mate (Feb-2013)
2 - The Alpha's Choice (Feb-2013)
3 - The Alpha's Daughter (Jun-2013)
3.5 - Rabbit Creek Santa (Dec-2013)
4 - Wolver's Gold (Jun-2014)
Book List in Order:
17

titles
Guardian's Hope

A world turned upside down… Hope Parsons has heard about the evil of demons since she was a child in the little isolated community where she grew up. Demons were part of the outside world; demon sex, demon drink, demon music, demon woman. According...

---

Guardian's Joy

Running from an unknown past… JJ Justice has spent her adulthood lost and alone and vulnerable to the haunting of a past she can't remember. It's no wonder she feels different from other people and not surprising that she chose the police force...

---

The Alpha's Choice

Fairytales do come true… Katarina Bennett stopped believing in fairytales a long time ago. Prince Charming doesn't exist. Careful planning is what makes dreams come true and that's what she's spent her adult life doing. Now those plans have fallen ...

---

The Alpha's Mate

Welcome to Rabbit Creek.... City girl Elizabeth Reynolds hopes to find peace and contentment in the small Appalachian town of Rabbit Creek. Okay, so the bucolic cottage she's rented turns out to be a dilapidated cabin without phone service, but the...

---

Guardian's Grace

Grace Masters always dreamed of a family she could call her own and always knew that for her, those dreams would never come true. Yet here she is, in an old Victorian home, living and loving under the cover of night. Who knew the source of her lifelo...

---

The Alpha's Daughter

There is a balm in Gilead, to heal the wounded soul… Jazz Phillips is on the run, fleeing from a fate most females in her pack accept as their lot in life; an arranged mating, something Jazz thought wasn't in her future as the Alpha's daughter and ...

---

Guardian's Faith

Physically and emotionally damaged by the horrors of her past, no one is more surprised than meek and silent Faith Parsons when she feels compelled to stow away in the van of the taciturn Liege Lord, Lucien ad Toussaint and travel to his House of Gua...

---

Rabbit Creek Santa

It's Christmas! Things are going well in Rabbit Creek. Elizabeth has taken her duties as the Alpha's Mate to heart and as the story opens, that heart is breaking for the loneliness and isolation of one of her pack. It's Christmas Eve and no one shoul...

---

Preston's Mill

Discover Hidden Mountain… When her disastrous marriage ends in the most humiliating way, Meg Hanson doesn't know what to do or who to turn to. Unhappy with her life as it was and unwilling to become what her mother and sister envision, she retreats...

---

---

Changing Times

Return to Hidden Mountain… Lorelei Stewart has always accepted her role as the town tramp's daughter and has earned her fast and loose reputation. She's a hard woman who pays her way and asks for nothing, but times change. Pregnant and overburdened...

---

Wolver's Gold

Finding gold where you least expect it… In the modern world, it's not easy to hide an entire Wolver pack in plain sight, but the Gold Gulch pack has found a way. By day, Gold Gulch is a tourist attraction, where visitors can experience life as it...

---

Guardian's Patience

Short and round, she dresses like a gypsy in vibrant and sometimes clashing colors. She's been known to dye her hair to match her mood. She does a Good Deed every day and smiles at everyone she meets. But underneath her happy-go-lucky exterior, Patie...

---

Wolver's Rescue

There's a downside to living in a secret society. Someone has to ensure it remains that way. 'Bull' Bulworth is that someone. His current assignment: track a young man who has an unrecognized wolf inside him and eliminate the problem before the...

---

---

Wolver's Reward

Fate has played River for a fool. Again. He thought he'd earned the respect of a decent and admirable wolver pack. He was grateful for it. He was content...until they took it all away, and left him alone and angry. Again. Yet Fate rewards him with an...

---

---

Shifter's Magic

Magic is found in the heart... For Olivia Dawson, there's nothing magic about the holidays. They're only a convenient excuse to return home to her wolver pack where she can lick her wounds before she moves on. She won't have to admit the truth. She w...

---
Frequently Asked Questions (FAQ)
Jacqueline Rhoades has published 17 books.
Jacqueline Rhoades does not have a new book coming out soon. The latest book, Shifter's Magic, was published in July 2017.
The first book by Jacqueline Rhoades, Guardian's Hope, was published in May 2012.
Yes. Jacqueline Rhoades has 3 series.