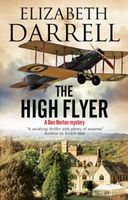 Newest Release
Bibliography:

20 Books - 3 Series

First Book:

January 1979

Latest Book:

April 2016

Rating:
Full Series List in Order
1 - The High Flyer (Apr-2016)
1 - Chinese Puzzle (Sep-2006)
2 - Russian Roulette (May-2007)
3 - Czech Mate (Oct-2007)
4 - Dutch Courage (Nov-2008)
5 - French Leave (Sep-2009)
6 - Indian Summer (Oct-2010)
7 - Scotch Mist (Nov-2011)
8 - Spanish Inquisition (Oct-2012)
1 - At the Going Down of the Sun (Mar-1985)
2 - And in the Morning (Dec-1986)
Book List in Order:
20

titles
---

The Gathering Wolves

Russia 1919.At the height of the Russian Revolution thousands of White Russians are fleeing the horror of Red Moscow. Former enemies became friends, old allies became hostile.One of the main routes of escape is the railway which heads north through h...

---

At the Going Down of the Sun

This family epic, set during World War I, follows the fortunes of three brothers and the women who loved and waited for them. One, heir to the exquisite family home of Tarant Hall in Dorset, will be driven to the Front by accusations of cowardice....

---

And in the Morning

The Sheridan family fought for king and country through the Great War, when two of the brothers were killed in action. Now, two days before Christmas 1939, the one who survived against all odds faces another world war along with his family. Many year...

---

The Flight of the Flamingo

1929, Sheenmouth Abbey. Leone Kirkland, daughter of a Marine Aviations tycoon, leads a life surrounded by males and aviation. When her father brings home an young orphan, Leone hopes to find a friend in him. However, the Kirkland males once aga...

---

---

We Will Remember

In 1946, members of the Sheridan family--David, a pilot scarred by Japanese torture in Sumatra; his mother, Marion, widowed by the war; and his sister, Vesta, a noted war artist--struggle to rebuild their lives in the wake of the devastation of war. ...

---

Vitorious Passion

Soon after Victoria Castledon marries Major Charles Stanford, she discovers how unprepared she is for the demands of marriage. In distress she turns to the dashing renegade Hugo, igniting a sibling feud which will follow the trio to the battlefields ...

---

Unsung Heroes

Randal Price: a dashing, charismatic leader whose marriage to a beautiful woman is buckling. Maggie Spencer: a shapely blonde with a chip on her shoulder. Dave Ashton: a likeable loner whose tragic past still haunts him. For one year, these three peo...

---

---

Flight to Anywhere

This sequel, complete in itself, takes up the story of 646 Helicopter Squadron, in the air and on the ground.

Dashing Flight Commander Randal Price is back in charge, miraculously walking again after his near-fatal accident, but with his marriage i...

---

Shadows Over the Sun

Intrigue in the Far East
When Nick Hawkwood goes to Singapore to stay at the residence of James Wellnut, the new Defence Advisor, it isn't long before he discovers the real reason behind his old friend's invitation. Wellnut's predecessor disappear...

---

Chinese Puzzle

A new case for detective Max Rydal Two members of a British regiment are murdered by the lethal injection of an unknown toxin: a senior officer in possession of NATO secrets vanishes from a high-security base in Germany. Is he the killer or the third...

---

Russian Roulette

The first in a new crime series by an ever-popular authorMajor Leo Bekov had as many enemies among fellow officers as he had admirers among their wives. Good-looking, charismatic and fluent in several languages, he was set for great things, until his...

---

Czech Mate

A new investigation for military policeman Max Rydal - Head of 26 Section Special Investigation Branch, Max Rydal, and his deputy, Sergeant Major Tom Black, are called to investigate a brutal attack on a young boy at a fancy-dress party. Meanwhile, s...

---

Dutch Courage

A Max Rydal Military Mystery - The truth must be told; blinkers removed from eyes. Thats the message sent anonymously to Sam Collier, a helicopter pilot decorated for bravery in Afghanistan. When a campaign of harassment is then mounted against his w...

---

French Leave

A Max Rydal Military Mystery - During an intense heatwave, the West Wiltshire Regiment engage in a military exercise â€" but at its conclusion, Private John Smith is missing. Smith's sergeant is adamant he's gone AWOL, but then the Special ...

---

Indian Summer

A Max Rydal Military Mystery - Basking in the warmth of an Indian summer, the British Military in Germany hold an Open Day to ease the stress of constant movements of personnel to and from war zones. Entertainments include medieval knights, jousting,...

---

Scotch Mist

November fifth. Soldiers and their families gather to celebrate with a fireworks display and a giant bonfire, but delight turns to fear when it explodes to send flaming debris over the spectators. A battalion of Drumdorran Fusiliers has marched in th...

---

Spanish Inquisition

Max Rydal faces a terrible dilemma when one of his own men is accused of a heinous crime... Following the final performance of Carmen by the amateur operatic group on the military base, there's a party for the cast and crew. In the early hours ...

---

---

The High Flyer

Twelve years after World War I, former Flight Sergeant Ben Norton must discover the truth behind his wartime colleague's death. 1930. The Lance family, major shareholders in Marshfield Aviation, watch in horror as their prototype fighter fails t...

---
Award-Winning Books by Elizabeth Darrell
At the Going Down of the Sun
1986 RT Reviewers Choice Award -- Historical Romance Set during WWI
Frequently Asked Questions (FAQ)
Elizabeth Darrell has published 20 books.
Elizabeth Darrell does not have a new book coming out soon. The latest book, The High Flyer, was published in April 2016.
The first book by Elizabeth Darrell, The Jade Alliance, was published in January 1979.
Yes. Elizabeth Darrell has 3 series.