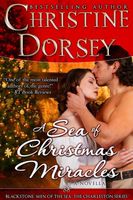 Newest Release
About the Author
Christine Dorsey was born in Hagerstown, MD, but learned early (at 4 months) that staying in one place for long was not in the cards. She started school in Japan and had crossed the US by car before she was eight. As fate would have it she returned to Maryland and met the boy who had lived next door to her when she was born, the summer before her senior year of high school. They dated through college and married after graduation. That was forty-four years, three children and four grandchildren ago...and they are still going strong. Perhaps that's where she gets the inspiration for her "happily ever after" stories.

Christine has been a stay-at-home-mom, a teacher and, of course, a best-selling author. Her son-in-law suggested she share her books on e-books, so she is, with the help of many new friends, joining the 21st century. But she still loves playing around in history with her characters, and writing stories that had Romantic Times call her, "one of the most talented authors of the genre!"
Full Series List in Order
1 - Sea Fires (Sep-1992)
2 - Sea of Desire (Apr-1993)
3 - Sea of Temptation (Oct-1993)
4 - Sea of Miracles (Nov-1993)
4.5 - Sea of Christmas Miracles (Nov-2012)
1 - Traitor's Embrace (Mar-1990)
2 - The Captain's Captive (Sep-1991)
1 - My Savage Heart (Apr-1994)
2 - My Seaswept Heart (Nov-1994)
3 - My Heavenly Heart (May-1995)
1 - The Renegade and the Rose (Sep-1996)
2 - The Rebel and the Lily (Aug-1997)
3 - The Rogue and the Heather (Apr-1998)
Book List in Order:
21

titles
---

Traitor's Embrace

IN THE HEAT OF THE NIGHT Even though haughty Elizabeth Lancaster wasn't his type of woman, there was something about her that fascinated Major Alexander Knox. He wanted to caress her smooth skin, to entwine himself in her willowy limbs, to los...

---

By the Book

STARTING OVER When Charlotte Handley left the luxurious Richmond mansion of her ex-husband and moved to a small house in colonial Williamsburg, she vowed to establish her newfound independence. Her daughter Elizabeth, however, had other things in ...

---

Wild Virginia Nights

UPPITY FEMALE BOSS A lady boss! Mining engineer Nicholas Colton would never have sunk so low if the loyal Englishman hadn't been doing an old friend a favor Now he was stuck playing nursemaid to an American wench who had a bad habit of reminding him...

---

Bold Rebel Love

She yearned to betray him Fiona and her clan wanted no part of the revolution that was sweeping the Colonies. Fiercely loyal to the Crown, the spirited Scottish beauty was willing to risk her life spying on Colonel Zeke Kincaid, an arrogant Amer...

---

The Captain's Captive

HE NEEDED HER SECRETS American captain Jonathan Knox relentlessly sailed the seas in search of the British ship that held his brother captive. He hadn't meant to waste time taking prisoners from his latest conquest, but when he learned -- the lo...

---

Kansas Kiss

DEFIANT PASSION Young Samantha Lowery cautiously examined the handsome Confederate officer she'd wounded. A band of ex-Rebel marauders had sworn to drive her from her land, and she was certain this man was one of them. Although she was mesmeri...

---

Sea Fires

A RECKLESS DESIRE Spirited, impetuous Miranda Chadwick arrived in the untamed New World prepared for any peril. So when the notorious pirate Gentleman Jack Blackstone kidnapped her, she was certain she could somehow make the insufferable golden-hair...

---

Sea of Desire

DEFIANT CAPTIVE The daughter of a debt-ridden English gambler, Lady Merideth Banistar was shocked to discover her father had been selling information to the American revolutionaries. But now he was dead, and his murderer--the notorious colonial priv...

---

Sea of Temptation

Outraged at the injustices of war, spirited New York heiress Felicity Wentworth had done the unthinkable: stolen behind enemy lines to attempt a daring rescue of a runaway slave's children. Now only one man could help her complete her mission -- ...

---

---

Sea of Miracles

Margaret Lewis believes that desperate times call for desperate measures. So when she learns that Scrooge-like businessman Thomas Blackstone is going to foreclose on her orphanage, she decides to do something drastic--and kidnaps him. How could she h...

---

My Savage Heart

Left impoverished after the death of her father, English born Caroline Simmons journeys across the Atlantic to marry a man she's never met. But the dark, fierce looking stranger waiting at the dock is not her would be husband. He is Wolf MacQuaid...

---

A Proper Victorian Wedding

WELCOME TO A WORLD OF HEARTS AND FLOWERS, SATIN AND LACE...ARISTOCRATS AND ADVENTURERS, PENNILESS HEIRESSES AND IRRESISTIBLE ROGUES...MATCHES MADE IN HEAVEN AND MARRIAGES MADE RIGHT HERE ON EARTH... Meet Eleanor Fiske, who secretly yearns for A PR...

---

My Seaswept Heart

LIFE IS WILD... Anne Cornwall had journeyed with a daring band of colonists to seek a new life on the remote island of Libertia. But her tropical paradise turned savage when an infamous French pirate ravaged her home, seized her family's gold and v...

---

My Heavenly Heart

Ebenezer, an apprentice angel, screws up when he allows Lady Rachel Elliott, ward of George III and lady-in-waiting to Queen Charlotte, to drown. As Rachel's soul waits in the traditional dark tunnel with the radiant light at the end, the angels tell...

---

Deja Vu

New Orleans belle Eugenie de Valliers rejected her lover because her family didn't approve. But a magical gift from a voodoo priestess gives her the chance to live her life again. Will she make the right choice the second time around?...

---

---

The Renegade and the Rose

The Renegade... As the notorious Scotsman called the Renegade, fierce outlander Keegan MacLeod stikes terror in all who date oppose him. Obsessed with revenge against Foxworth Morgan, the Englishman who destroyed his family and dispatched him to the...

---

The Rebel and the Lily

Christine Dorsey's historical romances capture the adventure of long-ago times and the passion of heroes and heroines who lose their hearts to love. Now, she brings us the exciting second book in the trilogy featuring a renegade Scot, a rebellious I...

---

Sumptuous Bliss

With a recipe from Queen Victoria's personal chef, lovely and headstrong Cinnamon is determined to bake her own wedding cake. But when she meets the dashing sea captain Ian McGregger--and forgets about her betrothed--things really start to heat up....

---

---

The Rogue and the Heather

The entwined fates of a renegade Scottish beauty and a handsome British rogue come full circle. In the mists of a bygone age, even the dark shadow of war cannot destroy a love destined to outlast time.... Death and duty had called him home, but a...

---

Sea of Christmas Miracles

/ General Fiction

A special Christmas treat, Sea of Christmas Miracles is a novella, that wraps up the Charleston series in a shiny silver bow. Thomas Blackstone, son of Felicity and Devon Blacstone from Sea of Temptation has the tables turned on him when he is kidna...

---
Frequently Asked Questions (FAQ)
Christine Dorsey has published 21 books.
Christine Dorsey does not have a new book coming out soon. The latest book, Sea of Christmas Miracles, was published in November 2012.
The first book by Christine Dorsey, Traitor's Embrace, was published in March 1990.
Yes. Christine Dorsey has 4 series.