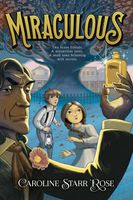 Newest Release
Bibliography:

6 Books

First Book:

January 2012

Latest Book:

August 2022

Rating:
Book List in Order:
6

titles
---

Blue Birds

It's 1587 and twelve-year-old Alis has made the long journey with her parents from England to help settle the New World, the land christened Virginia in honor of the Queen. And Alis couldn't be happier. While the streets of London were crowded an...

---

Over in the Wetlands

Publishing in time for the tenth anniversary of Hurricane Katrina, here is a beautiful read-aloud about animal families preparing for an impending storm in their bayou habitat. Journey to the Louisiana wetlands and watch as all the animals of ...

---

Jasper and the Riddle of Riley's Mine

Hoping to strike it rich, two brothers escape an abusive father and set out on a treacherous journey to Alaska during the Klondike Gold Rush. Desperate to get away from their drunkard of a father, eleven-year-old Jasper and his older brother Melv...

---

Ride On, Will Cody!

According to legend, Will Cody (later known as America's greatest showman, Buffalo Bill) rode for the Pony Express at the age of fifteen. His most famous ride, recounted in this lyrical verse story, covered 322 miles, required 21 horses, and took ove...

---

Miraculous

A traveling medicine show promises to cure all, but two kids learn it takes more than faith in the miraculous to fix things that are broken.Thirteen-year-old Jack knows what cured his baby sister when his family thought she might never get well&mdash...

---
Award-Winning Books by Caroline Starr Rose
Blue Birds
2015 New Mexico-Arizona Book Award -- Juvenile
May B.
2012 New Mexico Book Award -- Juvenile
2012 New Mexico-Arizona Book Award -- Juvenile
Frequently Asked Questions (FAQ)
Caroline Starr Rose has published 6 books.
Caroline Starr Rose does not have a new book coming out soon. The latest book, Miraculous, was published in August 2022.
The first book by Caroline Starr Rose, May B., was published in January 2012.
No. Caroline Starr Rose does not write books in series.