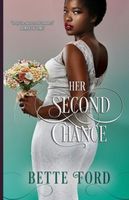 Newest Release
Bibliography:

14 Books - 3 Series

First Book:

January 1995

Latest Book:

November 2018

Rating:
Full Series List in Order
1 - Mama's Pearl (May-1996)
2 - Island Magic (Jul-2000)
1 - For Always (Jan-1995)
2 - Forever After (Dec-1995)
3 - After Dark (Oct-1997)
1 - Her Second Chance (Nov-2018)
Multi-Author Series List
For Always
(Jan-1995)
Forever After
(Dec-1995)
All the Love
(Jan-1997)
After Dark
(Oct-1997)
One of a Kind
(Feb-1999)
Island Magic
(Jul-2000)
When a Man Loves a Woman
(Mar-2002)
Book List in Order:
14

titles
For Always

High school counselor Heather Gregory is ready and willing to fight uphill battles with her students. She knows what's right and is prepared to stand up for what she believes in. When powerful Detroit attorney Quinn Montgomery comes into her offi...

---

Forever After

Forever His Haunted by shameful family secrets, Diane Rivers struggled long and hard to make a new life for herself. A successful career woman at last, her hard-won independence came at a price: building a future with the one man she desired most--m...

---

Mama's Pearl

in A Mother's Love - 1996

Once, Sarah Dean and Kurt Rogers were high school sweethearts. But circumstances beyond their control forced them to go their separate ways. Now, the secret Sarah has harbored for so long is about to be revealed as Kurt returns to rekindle their long...

---

All the Love

Falling in love with photojournalist Ray Coleman, her brother's best friend, Amber follows his travels and prays for his safety, until he returns home injured, but their budding romance is tested by a shocking crime. Original....

---

After Dark

THEY WERE ON OPPOSING TEAMS From the moment she met him at an exclusive Detroit restaurant, Taylor Hendricks knew Donald Williams was far from ordinary. The basketball superstar and prominent businessman was tall, commanding, and too gorgeous to be ...

---

One of a Kind

BEING FRIENDS WAS NOT ENOUGH... When legal secretary Anthia Jenkins went through tough times, her friend Dexter Washington, director of a Detroit community center, was there for her. She could never have handled her teenaged son's troubles without D...

---

Island Magic

With much diligence and patience, Cassandra Mosely turned a family rooming house into a popular California inn. But now she desperately needs a break from work--and from a long-standing relationship with wealthy businessman Gordan Kramer. Hoping to g...

---

When a Man Loves a Woman

Haunted by her parents' tragic relationship, successful designer Amanda Daniels is desperately afraid her hasty marriage to rancher Zachery McFadden will lead to nothing but heartbreak. She agrees to give their union a try for one year. But to her ...

---

Unforgettable

Who needs love? Not Anna Prescott...she says. A smart, successful woman of substance, she is willing to be a friend to Gavin Mathis, who plays pro football for the Detroit Lions and is the finest specimen of the African-American male she's ever lai...

---

---

An Everlasting Love

Brynne Armstrong knew she would love Devin Prescott until the day she died -- a hot, sweet, over-the-moon kind of love that comes once and stays for a lifetime. But she walked out of his life, without a warning or a word, driven by a dark secret she ...

---

Can't Say No

Funny, sexy, and hot, ex-NBA star Ralph Prescott is Vanessa Grant's dream lover. He's also a notorious, no-good player—the wrong kind of man for a woman with big responsibilities. But at a mutual friend's lavish wedding, passion and curiosity get t...

---

Can't Get Enough of You

NO REBOUNDS. . . Jenna Gaines has her Ph.D., a great teaching job at her alma mater, everything she ever wanted in life . . . almost. Once upon a time she wanted Scott Hendricks, but the NBA called and he left her to become a hoops star. Now his ca...

---

Can't Stop Loving You

TEMPTATION IN PARADISE Smart, sexy, successful Laura Murdock never mastered the fine arts of loving and trusting. Taking a well-deserved vacation from her work at a Detroit women's crisis center, she's prepared for three glorious weeks in the Virg...

---

Her Second Chance

Her Second Chance is the long-awaited contemporary African American romance from Romantic Times Career Achievement Award winning author, Bette Ford. A fiercely independent woman... Trenna McAdams's main goal in life is independence. After a tragic (...

---
Award-Winning Books by Bette Ford
When a Man Loves a Woman
2002 RT Reviewers Choice Award -- Multicultural Romance
Frequently Asked Questions (FAQ)
Bette Ford has published 14 books.
Bette Ford does not have a new book coming out soon. The latest book, Her Second Chance, was published in November 2018.
The first book by Bette Ford, For Always, was published in January 1995.
Yes. Bette Ford has 3 series.