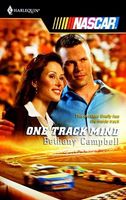 Newest Release
About the Author
Sally McCluskey was born and raised in Omaha, Nebraska, as an only child. She attended college beginning as a chemistry major, after quickly switching her major to English. She obtainded a B.A. from Wayne State Teachers College, and an M.A. in English from the University of Arkansas. She met her husband, Dan Borengasser, while both were graduate students at Northern Illinois University, where she obtained a Ph.D. in English.

Sally started to taught and in her spare time wrote, but after marriage, they move to an area where teaching jobs were scarce, and she turned to writing full time. She wrote poetry, articles, short stories, and contributed to textbooks, but finally decided to try a romance novel at the urging of her mom and aunt, both avid romance fans. To Sally's amazement, Harlequin bought her story "After The Stars Fall" and published it in 1985 under the pseudonym Bethany Campbell. Since also wrote as Lisa Harris. She has has won three Romance Writers of America RITA Awards, three Romantic Times Reviewer Awards, a Maggie Award, and the Daphne du Maurier Award of Excellence.

Today, she lives with her husband in Northwest Arkansas. Her husband Dan Borengasser, vice-president of Ozark Film & Video Productions, also writes, and has had several short films and plays produced.