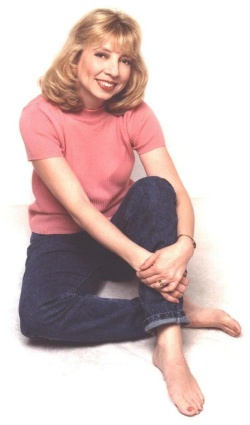 Bibliography:

23 Books - 8 Series

First Book:

August 1989

Latest Book:

February 2013

Rating:
About the Author
Teresa Medeiros is the author of over twenty romance novels. Her books have been on all of the bestseller lists including Publishers Weekly and the New York Times. Medeiros was just 21 when she wrote her first novel and now has over seven million books in print in seventeen different languages.

She released her first contemporary women's fiction novel, Goodnight Tweethart, about a man and woman who fall in love on Twitter. It was released in January 2011. She is a Rita finalist, two-time PRISM winner and received the Waldenbooks Award for best-selling fiction twice. She was also chosen by Affaire de Coeur magazine as one of their favorite romance novelists. Medeiros is a member of the Romance Writers of America Honor Roll, Kentucky Romance Writers and Novelists, Inc. She lives in Kentucky with her husband and their cats.

Full Series List in Order
1 - Shadows and Lace (Sep-1990)
2 - Lady of Conquest (Aug-1989)
1 - The Pleasure of Your Kiss (Jan-2012)
2 - The Temptation of Your Touch (Feb-2013)
1 - After Midnight (Sep-2005)
2 - The Vampire Who Loved Me (Oct-2006)
1 - A Kiss to Remember (Jul-2001)
2 - One Night of Scandal (Aug-2003)
1 - Charming the Prince (Apr-1999)
2 - The Bride and the Beast (Jun-2000)
1 - The Devil Wears Plaid (Aug-2010)
1 - Some Like It Wicked (Aug-2008)
2 - Some Like It Wild (Apr-2009)
1 - Breath of Magic (Feb-1996)
2 - Touch of Enchantment (Jun-1997)
Multi-Author Series List
The Bride and the Beast
(Jun-2000)
Fairest of Them All
(Jun-1995)
A Kiss to Remember
(Jul-2001)
Book List in Order:
23

titles
Lady of Conquest

MORTAL ENEMIES, FATED LOVERS. Wielding a sword called Vengeance, Gelina O Monaghan could stand alone against the mightiest warriors of ancient Ireland-until she lost her heart to the one man she hated the most . . . Corm of the Hundred Battles,...

---

Shadows and Lace

PRISONER OF PASSION Rowena's drunken father wagered her life in a game of dice--and lost. Now, for one year, she must offer her services to the one man she feared most: Sir Gareth, the Dark Lord of Caerleon! More monster than man, Gareth had been ...

---

Heather and Velvet

SHE WAS AN INNOCENT LASS One moment lovely Prudence Walker was living the life of a dutiful orphan; the next she was lying in a highwayman's arms. Wounded in a foiled robbery attempt and thoroughly drenched from a storm, the dreaded Scot bandit se...

---

Once an Angel

SLEEPING BEAUTY The last thing Justin Connor expected to find washed, up on the wild shores of New. Zealand was a young woman asleep on the sand, curled like a child beneath the moonlight. Though fiercely protective of the haven he had found on this...

---

A Whisper of Roses

A DARING WARRIOR... As she peered over the edge of the gallery, Sabrina Cameron trembled at the sight of the sun-bronzed giant striding into view. But she never recognized the stranger ... not until the moment she found herself surrounded by arms of...

---

Thief of Hearts

AN INNOCENT BEAUTY Prim and pampered, Lucinda Snow knew little of men and nothing of danger, until the fog-shrouded night she found herself abducted - and at the mercy of the legendary Captain Doom. Ruthless and mocking, tender and virile, the not...

---

Fairest of Them All

She was rumored to be the fairest woman in all of England. But Holly de Chastel considered her beauty a curse. She had already turned away scores of suitors with various ruses, both fair and foul. Now she was to be the prize in a tournament of eager ...

---

Breath of Magic

An enchantress from seventeenth-century Massachusetts collides with a future beyond her imagining...and with a handsome cynic who's about to learn a lesson in the power of love. AN EXQUISITE ENCHANTRESS LOST IN TIME Arian Whitewood hadn't qui...

---

Touch of Enchantment

A LOVELY SCIENTIST WITH NO TASTE FOR MAGIC Heiress Tabitha Lennox considered her paranormal talents more a curse than a gift. So she dedicated her life to the cold, rational world of science. Until the day she examined the mysterious amulet her mo...

---

---

Nobody's Darling // My Sweet Darling

Dear Reader, I never enjoyed being a wanted man until the day Miss Esmerelda Fine marched into the Tumbleweed Saloon and pointed her derringer straight at my heart. Who would have guessed some duke's granddaughter---an awfully pretty one at that--...

---

Charming the Prince

Dear Reader, My enemies know me as Lord Bannor the Bold, Pride of the English and Terror of the French. Never in my life have I backed down from any challenge or betrayed so much as a hint of fear--until the war ended and I found myself a reluctan...

---

The Bride and the Beast

Dear Reader, I'd been prowling the crumbling ruins of Castle Weyrcraig for so long that I could no longer remember if I was man or beast. Then one stormy night the superstitious Highlanders of Ballybliss decided to leave a helpless virgin bound to...

---

A Kiss to Remember

AWAKENED BY A KISS Laura Fairleigh needs a husband. If she is to keep a roof over her siblings' heads, the prim rector's daughter must wed by her twenty-first birthday. When she finds a mysterious stranger with the face of an angel and the body of...

---

One Night of Scandal

Proper decorum has never come easily to Carlotta Anne Fairleigh -- not even tonight, when the lovely, impetuous miss is finally making her debut. As she waits to make her entrance, she can't help wondering about the darkened house next door, the supp...

---

Yours Until Dawn

Gabriel Fairchild's valor during battle earns him the reputation of hero, but costs him both his sight and his hope for the future. Abandoned by the fiancee he adored, the man who once walked like a prince among London's elite secludes himself in his...

---

After Midnight

The eldest and most sensible of the three Cabot siblings, Caroline is naturally concerned that her sister Vivienne has lately been keeping company with the infamous Adrian Kane, Viscount Trevelyan, the enigmatic nobleman whom most of the ton firmly b...

---

The Vampire Who Loved Me

Julian Kane is back in town. Once, as a girl of seventeen, beautiful, headstrong Portia Cabot saved the cursed life of the dashing vampire Julian Kane-who marked her forever, then left to go in search of his soul. He returns five years later to f...

---

Some Like It Wicked

Some like it dangerous . . . Highland beauty Catriona Kincaid cares nothing for propriety--or even her own safety--when she storms the grounds of Newgate Prison. Determined to return to Scotland and restore her clan's honor, she seeks the help of...

---

Some Like It Wild

It was to be her greatest masquerade . . . Pamela Darby needs a man--preferably a Highland brute with more brawn than brains. Determined to save her sister from selling her virtue, the resourceful beauty requires a strapping specimen to pose as a...

---

---

The Devil Wears Plaid

Emmaline Marlow is about to wed the extremely powerful laird of the Hepburn clan to save her father from debtor's prison when ruffian Jamie Sinclair bursts into the abbey on a magnificent black horse and abducts her in one strong swoop. Though he is ...

---

Goodnight Tweetheart

@WhatTheHeckHappenedToMyLife Abigail Donovan has a lot of stuff she should be doing. Namely writing her next novel. A bestselling author who is still recovering from a near Pulitzer Prize win and the heady success that follows Oprah's stamp of appro...

---

The Pleasure of Your Kiss

Some pleasures are worth any price... Legendary adventurer Ashton Burke has roamed the globe for ten years trying to forget the spirited woman he left behind in England. His devil-may-care pursuits are interrupted, though, when he reluctantly agre...

---

The Temptation of Your Touch

Hell hath no fury like a bridegroom scorned... Maximillian Burke has always prided himself on being the man every mother would want her daughter to marry. But after his scoundrel of a brother makes off with Max's bride, Max discovers it's more sat...

---
Award-Winning Books by Teresa Medeiros
The Bride and the Beast
2000 RT Reviewers Choice Award -- Scottish Historical Romance
Fairest of Them All
1995 RT Reviewers Choice Award -- Historical Love & Laughter
One Night of Scandal
2003 RT Reviewers Choice Award -- Historical Romance of the Year
Some Like It Wild
2009 RT Reviewers Choice Award -- British Isles Historical Romance
Frequently Asked Questions (FAQ)
Teresa Medeiros has published 23 books.
Teresa Medeiros does not have a new book coming out soon. The latest book, The Temptation of Your Touch, was published in February 2013.
The first book by Teresa Medeiros, Lady of Conquest, was published in August 1989.
Yes. Teresa Medeiros has 8 series.