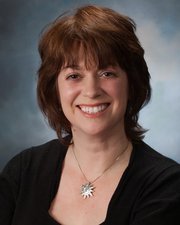 Kristan lives with her family in a small Connecticut town that boasts a wonderful library, a great agricultural fair, a really good ice cream stand and not much else. She is the mother of two lovely kids and the wife of a brave firefighter who is, perhaps more importantly, a fantastic cook. Pets include a cheerful Lab mutt, two cats and the occasional, short-lived beta fish.

Previously a copywriter, Kristan began writing fiction when her children graced her life with simultaneous afternoon naps. Writing, she found, was infinitely more satisfying than folding laundry, and so began her first novel. Kristan holds a BA in English from the College of the Holy Cross, which enables her to identify dangling participles and quote many great novels.

Kristan and her crew spend as much time as possible at the family home on Cape Cod, where they shiver in the Atlantic, ride bikes, swat horseflies and don't catch any fish.

Book List in Order:
22

titles
Out of the Clear Blue Sky

From New York Times bestselling author Kristan Higgins comes a funny and surprising new novel about losing it all—and getting back more than you ever expected.   Lillie Silva knew life as an empty nester would be hard after her only child ...

---

Pack Up the Moon

Every month, a letter. That's what Lauren decides to leave her husband when she finds out she's dying. Each month, she gives Josh a letter containing a task to help him face this first year without her, leading him on a heartrending, beautifu...

---

Always the Last to Know

Sometimes you have to break a family to fix it. From New York Times bestselling author Kristan Higgins, a new novel examining a family at the breaking point in all its messy, difficult, wonderful complexity. The Frosts are a typical American fa...

---

Life and Other Inconveniences

From the New York Times bestselling author of Good Luck with That comes a new novel about a blue-blood grandmother and her black-sheep granddaughter who discover they are truly two sides of the same coin. Emma London never thought she had anything...

---

Good Luck with That

New York Times bestselling author Kristan Higgins is beloved for her heartfelt novels filled with humor and wisdom. Now, she tackles an issue every woman deals with: body image and self-acceptance. Emerson, Georgia, and Marley have been best frien...

---

Now That You Mention It

New York Times bestselling author Kristan Higgins welcomes you home in a funny, emotionally charged must-read novel about the complications of life, love and family One step forward. Two steps back. The Tufts scholarship that put Nora Stuart on t...

---

On Second Thought

Following in the footsteps of her critically acclaimed novel If You Only Knew, multi-bestselling author Kristan Higgins returns with a pitch-perfect look at the affection -- and the acrimony -- that binds sisters together Ainsley O'Leary is so re...

---

Anything for You

Before you get down on bended knee... ...you should be pretty darn sure the answer will be yes. For ten years, Connor O'Rourke has been waiting for Jessica Dunn to take their on-again, off-again relationship public, and he thinks the time has com...

---

If You Only Knew

The drama, hilarity and tears of sisterhood are at the heart of the thoroughly captivating new novel by New York Times bestselling author Kristan Higgins -- a funny, frank and bittersweet look at marriage, forgiveness and moving on Letting go of ...

---






---

In Your Dreams

EVERYONE LOVES JACK HOLLAND, BUT EMMALINE NEAL NEEDS HIM. Her ex-fiancé is getting married in Malibu and, obviously, she can't go to the wedding alone. In Manningsport, New York, tall, blond and gorgeous Jack Holland is practically a cottage ind...

---

Waiting on You

IS YOUR FIRST LOVE WORTH A SECOND CHANCE...? Colleen O'Rourke is in love with love...just not when it comes to herself. Most nights, she can be found behind the bar at the Manningsport, New York, tavern she owns with her twin brother, doling out ...

---

The Perfect Match

What if the perfect match is a perfect surprise? Honor Holland has just been unceremoniously rejected by her lifelong crush. And now -- a mere three weeks later -- Mr. Perfect is engaged to her best friend. But resilient, reliable Honor is going ...

---

The Best Man

SOMETIMES THE BEST MAN IS THE ONE YOU LEAST EXPECT… Faith Holland left her hometown after being jilted at the altar. Now a little older and wiser, she's ready to return to the Blue Heron Winery, her family's vineyard, to confront the ghosts of h...

---

Somebody to Love

New York Times and USA TODAY bestselling author Kristan Higgins is back with a hilarious and heartwarming new story about a rich girl who discovers that a little hard work may be just the thing she needs.... After her father loses the family fortu...

---

Until There Was You

She's having serious prom-night deja vu... Posey Osterhagen can't complain. She owns a successful architectural salvaging company, she's surrounded by her lovable, if off-center, family and she has a boyfriend -- sort of. Still, something's missing....

---

My One and Only

Just when she thought she had life and love all figured out... Divorce attorney Harper James can't catch a break. Bad enough that she runs into her ex-hubby, Nick, at her sister's destination wedding, but now, by a cruel twist of fate, she's being f...

---

All I Ever Wanted

One Happily-Ever-After Rocking Chair… and no sign of any forthcoming babies to rock in ol' Georgebury, Vermont. For Callie Grey, turning thirty means coming to grips with the fact that her boss (and five-week fling) is way overdue in his marriage ...

---

The Next Best Thing

Lucy Lang isn't looking for fireworks. She's looking for a nice, decent man. Someone who'll mow the lawn, flip chicken on the barbecue, teach their future children to play soccer. But most important: someone who won't inspire the slightest stirrin...

---

Too Good To Be True

How far would you go to get over a guy? When Grace Emerson's ex-fiance starts dating her younger sister, extreme measures are called for. To keep everyone from obsessing about her love life, Grace announces that she's seeing someone. Someone wonderf...

---






---

Just One of the Guys

Being one of the guys isn't all it's cracked up to be... So when journalist Chastity O'Neill returns to her hometown, she decides it's time to start working on some of those feminine wiles. Two tiny problems: #1--she's five feet eleven inches of r...

---

Catch of the Day

THIS CATCH OF THE DAY COULD BE THE DISH OF A LIFETIME! First Date a la Maggie Take one lovelorn diner owner (me) A generous helping of nosy local gossips A dollop of envy at married sister's perfect life A splash of divine intervention (my matchm...

---

Fools Rush In

Millie Barnes is this close to finally achieving her perfect life . . . Rewarding job as a local doctor on Cape Cod? Check. Cute cottage of her very own? Check. Adorable puppy suitable for walks past attractive locals? Check! All she needs is for...

---
Complete Series List in Order
A Blue Heron Novel
1) The Best Man (Mar-2013)
2) The Perfect Match (Nov-2013)
3) Waiting on You (Mar-2014)
4) In Your Dreams (Oct-2014)
5) Anything for You (Jan-2016)
Cambry-on-Hudson
1) If You Only Knew (Aug-2015)
2) On Second Thought (Feb-2017)
Gideon's Cove, Maine
1) Catch of the Day (Oct-2007)
2) The Next Best Thing (Feb-2010)
3) Somebody to Love (Apr-2012)
Mackerly, Rhode Island
1) The Next Best Thing (Feb-2010)
2) Somebody to Love (Apr-2012)
Award-Winning Books by Kristan Higgins
All I Ever Wanted
2010 All About Romance Reader Award -- Best Chick Lit/Women's Fiction
Catch of the Day
2008 Rita Award -- Contemporary Single Title
If You Only Knew
2015 All About Romance Reader Award -- Best Novel with Strong Romantic Elements
Just One of the Guys
2008 All About Romance Reader Award -- Best Chick Lit/Women's Fiction
Now That You Mention It
2018 Rita Award -- Novel with Strong Romantic Elements
On Second Thought
2017 RT Reviewers Choice Award -- Mainstream Fiction
Too Good To Be True
2010 Rita Award -- Contemporary Single Title