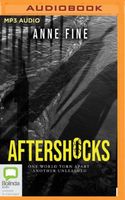 Newest Release
Bibliography:

94 Books - 1 Series

First Book:

January 1882

Latest Book:

February 2023

Rating:
Full Series List in Order
1 - The Summer House Loon (Jan-1978)
2 - The Other, Darker Ned (Jan-1979)
Book List in Order:
94

titles
---

---

---

---

The Summer House Loon

The story of Miss Ione Muffet who meets a stranger in her summer house who is pining with partially unrequited love for her father's secretary. Anne Fine's other books include "The Granny Project" and "The Other Darker Ned". "The Summer House Loon" w...

---

---

The Granny Project

Anne Fine's story of how one family looks after their aging grandmother. The book contains a sensitive and funy playscript suitable for classwork and school production, accompanied by resources including background material and lively activities.Wh...

---

---

The Country Pancake

Like an angel, Miss Mirabelle stepped into the lives of the children of Wallisdean Park School. Enchanting she may be, but Miss Mirabelle still ends up in big trouble. The author is a previous winner of the Smarties Prize and the Carnegie Medal....

---

---

Alias Madame Doubt

Miranda's three children thoroughly enjoy their huge, overdressed baby sitter/cleaning woman who is actually their father in disguise, and they dread the day when their mother discovers Madame Doubtfire is really her ex-husband....

---

My War with Goggle-Eyes

Kitty conceives a strong dislike for her mother's new boyfriend, whose conservative views on politics and manners contradict everything her mother has taught her to believe, and to whom she assigns a none-too-flattering nickname...

---

The Worst Child I Ever Had

Three babysitters, Mrs Mackle, Flora and Jeff, sit in the park and remember the worst children they`ve ever had to look after. Mrs Mackle`s memories centre around Susan Solly whose interest and obsession with snails led Mrs Mackle to proclaim her the...

---

Alias Madame Doubtfire

Miranda's three children thoroughly enjoy their huge, overdressed baby sitter/cleaning woman who is actually their father in disguise, and they dread the day when their mother discovers Madame Doubtfire is really her ex-husband....

---

---

---

---

Flour Babies and the Boys of Room 8

Despite the scorn of the other boys in Room 8 about the assignment to care for their "flour babies"--bags of flour that must be kept dry, mud-free, and safe from harm--Simon, a clumsy misfit, begins to enjoy caring for his "baby."...

---

In Cold Domain

This is a comic novel about a family. Four children persist in visiting their mother at Cold Demesnes - much to her irritation. Indeed, whenever any of them cross her, she pulls out yet another plant from the beautiful garden which is the emblem, for...

---

Flour Babies

Participating in a class assignment that calls for the students to watch over flour sacks as if they were babies, Simon learns much about his own family life, including why his father walked out on him. Reprint....

---

---

Same Old Story Every Year

Somehow Mr Kelly always gets the job of putting on the school nativity play which he does extremely well, if reluctantly. This year, Mr Kelly and his class, and especially Maya, combine to put on a show which is truly a triumph....

---

---

Step by Wicked Step

Gathered together during one long, stormy night, five youngsters spend their time relating stories about their different families--feuding parents, off-the-wall sister, new stepmother--and learn valuable lessons about family, relationships, and perso...

---

---

Only A Show

Anna is thrown into a panic at school when the teacher announces that each member of the class must do a five-minute show on Monday morning. Everyone except Anna seems to have ideas but Anna can't think of anything to do. She worries all through thew...

---

---

Bad Dreams

The thrilling story of a young girl with an extraordinary power. Melanie is less than happy when her teacher asks her to help Imogen, the new girl in their class, to settle in. Mel would rather have her nose in a book than in a conversation. But as s...

---

Stranger Danger

Joe learns his safety rules but gets a bit confused. Does this mean he can't ask the name of the puppy he meets in the street? Does this mean he can't be polite back when strangers are friendly? There's one amusing blunder after another as slowly but...

---

All Bones and Lies

Colin is in many ways an ideal citizen, holding down a responsible job, taking care of his elderly mother, and trying to keep his family together. But no one in his life knows about his other—much more secret—life, that involves a garden shed, a ...

---

Taking the Devil's Advice

Spending the summer with his ex-wife and his children was never going to be a good idea. Perhaps Oliver should have expected the autobiography he was writing to be constantly sabotaged? But then Oliver was a philosopher, always happier with abstracti...

---

---

Crummy Mummy And Me

'I don't think my mum's fit to be a parent, really I don't.' How would you feel if your mother had royal-blue hair and wore lavender fishnet tights? But Minna's whole family (including her mum's punk boyfriend, Crusher Maggot) is a bit unusual. Being...

---

Goggle Eyes

Kitty Killin is not only a good storyteller, but also the World's Greatest Expert when it comes to mothers having new and unwanted boyfriends. Particularly when there's a danger they might turn into new and unwanted stepfathers......

---

Roll Over Roly

When Rupert's parents go to Great Uncle Perry's funeral, Rupert spends the day with his Great Aunt Ada, along with his unruly puppy, Roly. Great Aunt Ada is determined to teach Rupert some manners. Rupert thinks the day is going to be awful until hem...

---

Jennifer's Diary

Jennifer has a diary and Iolanthe doesn't. But Iolanthe does have a vivid imagination and a gift for writing stories. When she sees empty pages in Jennifer's diary, she can't help herself - they're clearly waiting for tales much more exciting than he...

---

The True Story of Christmas

Everyone knows the story of Christmas. Decking the halls with boughs of holly. Hanging stockings by the chimney with care. Chestnuts roasting on an open fire. Then there's the true story of Christmas. And Ralph Mountfield is smack in the middle of ...

---

An Interview with Anne Fine

Have a one-to-one with the very best authors in contemporary children's fiction, as Anne Fine, Michael Morpurgo, Jacqueline Wilson and J.K. Rowling answer questions about their childhood, relationships, how they began to write and where they get thei...

---

Raking the Ashes

Written with Anne Fine's trademark wit, insight and dark humour, this is a perceptive portrait of a complex family: Geoff, his two children and Tilly, the stepmother, who gradually finds herself an outsider in her own home. Geoff's refusal to fac...

---

Notso Hotso

Why do bad things happen to good dogs? It's a dog's life for Anthony. Not only is he lacking the respecthe deserves from the neighborhood dogs and cats, but anskin condition has him frantic and frazzled. And just whenAnthony thinks things can't get w...

---

Diary of a Killer Cat

The hilarious confessions of a ferocious felinePoor Ellie is horrified when her cat, Tuffy, drags a dead bird into the house. Then a mouse. Before long, another apparent victim arrives though the cat-door. Can softhearted Ellie get her beloved pet to...

---

---

---

Press Play

Nicky, Tasha, and Joe's mom leaves for work early one day and she leaves instructions for them on a cassette-player—all they have to do is press play! Nicky and Tasha must get themselves ready for school and get baby Joe ready for playgroup without...

---

Frozen Billy

Ever since their mother was wrongfully imprisoned, Clarrie and her brother, Will, have been forced to live with their negligent uncle in England. Uncle Len works as a ventriloquist in the nearby music hall, and although he and his dummy, Frozen Billy...

---

Return of the Killer Cat

When Ellie tells Tuffy the family is leaving for the week, Tuffy couldn't be more thrilled. A whole blissful week of rolling around in the flower bed and lounging on top of the TV? Tuffy can't wait! But the cat sitter the family procures doesn't unde...

---

Bill's New Frock

A classic children''s story from one of our best-loved authors, former Children''s Laureate Anne Fine. The Modern Classics edition features new illustrations and bonus material.Bill Simpson wakes up to find he''s a girl, and worse, his mother makes h...

---

How to Write Really Badly

When Chester Howard starts at his new school Miss Tate sits him next to Joe, the writer from hell. Chester refuses to believe that Joe has learning difficulties and persuades him to change his project from how to write neatly to how to write badly....

---

Jamie and Angus Stories

"Sentimental in only the right ways. . . .A perfectly charming collection." THE HORN BOOK (starred review) The moment Jamie sets eyes on Angus in the toy shop, with his silky coat and forlorn gaze, he knows they belong together. On Christmas morning,...

---

Saving Miss Mirabelle

Lancelot's lovely teacher, Miss Mirabelle, is in big trouble. She's told a giant whopper and unless she can come up with a brilliant plan, she's going to look very, very silly. Can Lancelot help this damsel in distress?...

---

The Road of Bones

Yuri grows up in a country where no freedom of thought is encouraged -- where he is told what to cheer for and who to believe in, where even the neighbours are encouraged to report any dissension to the authorities. But it is still a shock when...

---

The Killer Cat Strikes Back

'Okay, okay. So stick my head in a holly bush.' Tuffy knows what he likes. And he doesn't like the 'art' that Ellie's mum brings home from her new classes. So what's a cat to do? A few scratches here just happen to shred a painting. A nudge there som...

---

Jamie and Angus Together

This is a collection of delightful stories about friendship from the 2001-2003 Children's Laureate.Once best friends, always best friends. That's the way it is with Jamie and his toy Highland bull, Angus. Join them as they tackle a lively play mate, ...

---

---

The Killer Cat's Birthday Bash

Okay, okay. So spank my furry little bum. I held a party. It was my birthday. How was I supposed to know it wouldn't be the only party around town on that dark and dreary Halloween night? So things ended up in a bit of a mess. (Well, more than a mess...

---

Our Precious Lulu

The final straw in the ongoing rivalry between Geraldine and her stepsister comes when Lulu gloatingly gets herself pregnant, much to the silent horror of Geraldine who's been trying to do the same for five years. Anne Fine's spiky, funny and utt...

---

Eating Things On Sticks

A hilarious tale of a vacation on a remote British island where the week's highlight is the annual fair with its Eating Things on Sticks competition! Harry is in trouble. He's burned down the family kitchen so now has to spend a week of his summer...

---

The Stone Menagerie

Ally really doesn't want to go with his mum on her weekly visit to his fragile aunt at the hospital — until he discovers a hidden garden in the grounds where a young homeless couple have made themselves a home. Suddenly Ally discovers a new way o...

---

Jamie and Angus Forever

A collection of stories about Jamie and his toy highland bull, Angus. It lets you join them as they have fun at Jamie's birthday party, think up some new ways to cry, and deal with a rather naughty pet gerbil....

---

Killer Cat's Christmas

The Killer Cat is back for Christmas! A much-loved classic by Anne Fine. So go on, ask me. 'Dear, dear Tuffy. Why was your Christmas so horrible?' Well. I couldn't climb the tree. I couldn't touch the dangly decorations. And Ellie made me part of her...

---

Friday Surprise

What happens when Bryce turns the tables on all the adults? Bryce is fed up with tests. So far this week he's had a spelling test, a swimming test, and even a test on his bike. So, on Friday, Bryce decides to surprise the adults with his own test....

---

---

---

The Twelve Dancing Princesses

This beloved fairy tale about the princesses who secretly dance their slippers into pieces each night is brought to life in this dazzling Little Golden Book from 1954. Breathtaking illustrations by the inimitable Sheilah Beckett have been digitally r...

---

Under a Silver Moon

Will Prince Haroun find the key to good health? In a hot, faraway land, two baby boys are born under the same silver moon: Haroun, the son of the sultan, and Akil, the son of the gardener. As children they play together until one day Haroun has to le...

---

Big Red Balloon

A charming school story starring a child in a wheelchairPip's class is sending big red balloons off to celebrate their school's 100th anniversary. Each balloon has a tag that asks those who find the balloons to tell the class how far they'd gone...

---

How Brave is That?

Tom has to pass his exams to join the army but uniform woes keep getting in the way! A classic Fine tale of bravery and friendship from a bestselling author of great repute.Tom wants to join the army, but he has to pass his exams first! When he turn...

---

---

On Planet Fruitcake

This is a classic, funny school story from former Children's Laureate Anne Fine. Philip has an incredible imagination, and when he lets it run riot in school one day it really gets his classmates thinking. Purple cows ...brains in pots ...a clever an...

---

---

Hole in the Road

You want to know how it happened? The answer is – the way it always does. I have a really good idea. And it turns into trouble. Will and Luke are bored. When they hear about the student parade going through town, Will spots an opportunity for misch...

---

The Killer Cat Runs Away

Tuffy doesn't feel wanted at home any more. His owners just don't appreciate him. So what if he broke the new TV? Got fur on all Dad's clean clothes? Ate Tinkerbell the kitten's special kitten-food? All accidents! But they're making such a fuss!So Tu...

---

---

---

---

Under the Bed

There's never been anything scary under the bed since I was born, and there is nothing scary now. I really believe that. I keep believing it for about five minutes. Then I get less sure. Mum, Dad, Harry and Nana are at their wits' end. How can the...

---

Tales from Weird Street

The children of Weir(d) Street are lazing about one sunny day when they challenge each other to tell stories of all the odd goings-on in their neighbourhood. A grandfather's guilt at the long-ago death of his twin brother, a young waiter whose rude c...

---

Blood Family

Shortlisted for the Carnegie Medal, this dark and gripping novel tells the tragic story of a smart, sweet child poisoned by circumstance as he struggles to escape the horrors of his childhood. Edward is four years old when he is locked away with h...

---

Magic Ball

A warm and funny story about a boy who hates having to choose! From one of the nation's favourite children's authors, former Children's Laureate Anne Fine. Perfect for children learning to read.Green shirt or blue shirt? Feeding the ducks or going on...

---

The Angel of Nitshill Road

Until the angel came, Penny, Mark, and Marigold were bitterly unhappy. Barry Hunter was bullying them and everyone at Nitshill Road School knew it. But the angel brings a clever solution...life at school is going to be very different from now on....

---

PramBusters!

When the rain threatens to ruin the fun at summer camp, Malik and his friends are tasked with inventing a pram that any baby would love. But when ideas start flowing, tensions run high and it turns out that not everyone agrees on exactly what a baby ...

---

---

---

---

A Remarkable Ear

Beloved and award-winning author Anne Fine returns with a touching, musical story of patience, practice and courage.Everyone''s always telling Will to stop making so much noise. That is, until he meets music teacher Mr Brand. He thinks Will''s not ju...

---

---

---

Scared of a Rainbow

Collins Big Cat supports every primary child on their reading journey from phonics to fluency. Top authors and illustrators have created fiction and non-fiction books that children love to read. Levelled for guided and independent reading, each book ...

---

Aftershocks

Aftershocks explores the ways in which grief can affect not only individuals, but communities at large from award-winning author, Anne Fine.A family mix-up means Louie has to tag along with his engineer father and his team as they head for a routine ...

---

---

Anneli the Art Hater

A classic children's story from one of our best-loved authors, former Children's Laureate Anne Fine. Anneli hates art. She doesn't like looking at it or thinking about it, and when the paints come out in the art class at school, she just can't s...

---

Chicken Gave It to Me

In an eye-opening story by the author of My War with Goggle-Eyes, a chicken gives Andrew and Gemma a scratchy-looking book that she has written, telling about her life in horrible, stuffy little cages....

---

Ivan the Terrible

"It''s Ivan''s first day at his new school and Boris is told to look after him and translate for him because Ivan can only speak Russian. When Ivan starts greeting people as ""lowly shivering worms"", Boris realizes that he''s going to have his work ...

---

Loudmouth Louis

Everyone knows that Louis is a loudmouth, he never stops talking and drives everyone crazy. No one believes him when he announces that he's going to do a sponsored silence to raise money for the new school library. But Louis is determined, just for o...

---

The More the Merrier

Christmas comes but once a year. Luckily . . . The Christmas holiday is, traditionally, a time when families gather together. In Ralph's case this means ten or more relatives coming to stay, including assorted aunts and uncles, nutty Great-Aunt Ida (...

---

Round Behind the Ice-House

Cass has always been there for Tom, her twin - racing off to laugh with him in the old, abandoned ice house or planning how to foil Jamieson, the farm's creepy pest-killer. But now Cass is a teenager, she is changing - she wants her privacy and feels...

---

---

The Tulip Touch

From the first day of their friendship, Natalie falls under the spell of bad-girl Tulip--telling lies to classmates, talking back to teachers, and playing evil tricks on people--but when Natalie tries to get away from the menace, she knows that Tulip...

---

Up on Cloud Nine

Ian's best friend, Stolly, is up on cloud nine. He's in the hospital, unconscious, and hooked up to machines. The question Ian is trying to answer is: How did Stolly end up there? In a way, Stolly's always been on cloud nine, living life by his...

---
Award-Winning Books by Anne Fine
Diary of a Killer Cat
2006 Parents Choice Award (Spring) (1998-2007) -- Recommended
2009 Louisiana Young Readers' Choice Award -- Grades 3-5
Flour Babies
1992 Carnegie Medal -- Children's
Jamie and Angus Stories
2003 Boston Globe-Horn Book Award -- Fiction & Poetry
The Tulip Touch
1996 Costa Book Award -- Children's
1998 Children's Books of Distinction Award -- Fiction
Frequently Asked Questions (FAQ)
Anne Fine has published 94 books.
The next book by Anne Fine, Next to Alice, will be published in February 2023.
The first book by Anne Fine, Goggle-Eyes, was published in January 1882.
Yes. Anne Fine has 1 series.