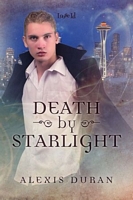 Newest Release
Bibliography:

8 Books - 2 Series

First Book:

June 2014

Latest Book:

July 2017

Rating:
Full Series List in Order
1 - Betwixt and Between (Jun-2015)
1 - Touch of Salar (Jun-2014)
Book List in Order:
8

titles
---

---

Blood of Salar

/ Romance

M'lan, headmaster of the order of Ka'alar, and Jamil Jarka, king's assassin, find their impossible love challenged to the utmost as a rebellion sweeps them apart, sending Jamil on a dangerous mission to assassinate the rebel leader, General Cha...

---

Betwixt and Between

/ Romance

Reporter Ian Evers, obsessed with magical creatures since childhood, never experiences satisfying proof that the magical realm actually exists until he falls into an entrapment spell set by a handsome but dangerous elf. Barely escaping with his soul...

---

Curse of Salar

/ General Fiction

In the kingdom of Jahar, the rule of mages has been overthrown. Prince Dezra Luzan is being held prisoner in the ancestral palace. In order to stay alive, he pretends to be a drug-addicted wastrel, trusting no one, not even his lovers. Into his lonel...

---

Gryffon Hall

/ General Fiction

Fated to be born the useless fourth son of the Lord of Glimmerveen, Wryler dreams of getting married and escaping the rustic confines of his father's castle. A wealthy merchant's son seems to hold the key to Wryler's safe if somewhat dreary future. H...

---

---

Death by Starlight

/ General Fiction

In Betwixt and Between, Ian and Zeke fought a battle against the queen of the dark realm in order to be together. Now, just when they think they might settle into as normal a life as elves living among humans might be able to expect, a new enemy thre...

---
Frequently Asked Questions (FAQ)
Alexis Duran has published 8 books.
Alexis Duran does not have a new book coming out soon. The latest book, Death by Starlight, was published in July 2017.
The first book by Alexis Duran, Touch of Salar, was published in June 2014.
Yes. Alexis Duran has 2 series.