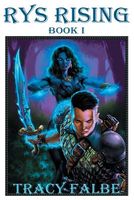 Length:

4 Books

First Book:

August 2011

Latest Book:

October 2012

Genres:

Epic Fantasy

Rating:
Rys Rising Series in Order (4 Books)
Book Descriptions for series: Rys Rising
Rys Rising

Book - 1


In this passionate epic told from many angles, the young outlaw Amar becomes a dreaded warlord, the terror of kings. His ambitions blind him to the trivial diversions of mere female company until he must block a treaty marriage between two powerful t...

---

Savage Storm

Book - 2


Filled with righteous rage, Dacian and Onja spread violent chaos across two realms. In the tribal kingdoms of the west Onja sees a whole civilization that she must harness if the rys are ever to destroy the hated tabre of Nufal. No longer hobbled by ...

---

New Religion

Book - 3


Believing the frontier to finally be free of savages, Cruce Chenomet returns home ready to enjoy life. The pleasures of love beckon him toward happiness, but a hostile world denies him the peace he craves. The rys monarchs Dacian and Onja continue to...

---

---
Frequently Asked Questions (FAQ)
There are 4 books in the Rys Rising series.
The Rys Rising series does not have a new book coming out soon. The latest book, Love Lost (Book 4), was published in October 2012.
The first book in the Rys Rising series, Rys Rising, was published in August 2011.
The Rys Rising series primarily falls into the Epic Fantasy genre.