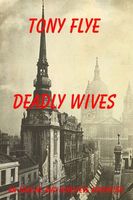 Newest Release
Bibliography:

18 Books - 1 Series

First Book:

June 2014

Latest Book:

December 2017

Rating:
Full Series List in Order
1 - Death in the Primrose Hotel (Aug-2014)
2 - Death in Amish Country (Sep-2014)
3 - Death in Divorce (Dec-2014)
Book List in Order:
18

titles
---

Death in the Primrose Hotel

/ Mystery

Vanessa, along with her husband Jake a D.C. private investigator, while on a tour of the about to be demolished Primrose Hotel, stumble on a skeleton with a bullet hole in the center of his forehead. The curious thing about the skeleton is it is l...

---

Death in Amish Country

/ Mystery

Jake sitting in his office reading the paper as he usually does each morning, gets a call from a Marine Corps buddy, Gordon, a new member of the Old Order Amish Church. He called from the Lancaster County, Pennsylvania jail. He stands accused of m...

---

Death in Divorce

/ Mystery

Sixteen hours after winning her divorce from her cheating husband, Blanche Bickers was found, by her maid, naked in her bed and dead, with a raw bullet hole in the center of her forehead. With no eyewitnesses to the murder and only forensics evide...

---

Victory in Defeat

/ Historical

Victory in Defeat, A Story of Salvation in the Civil War is the story of the Harcourt brothers, Matthew and Luke, who fought both physical and spiritual battles during the Civil War from First Manassas to the stone wall at Gettysburg. This is the...

---

Death in the Movies

/ Police/Detective/Law Enforcement

A hundred pound Klieg light falls from a light bar thirty feet above a movie sound stage at a D.C. filming location, crushing a driver, Jerry Blackwell, to a gruesome, bloody and horrible death. The medical examiner first ruled the death was accid...

---

---

Deadly Wives

/ Mystery

Adaline and her sister, Genevieve, living in Victorian London, are the new brides of Lord Cedrick's twin sons Addison and Garrett. Weeks later Lord Cedrick is brutally murdered in his sleep, his throat cut from ear to ear. The Scotland Yard detect...

---

---

---

The Captive

The Captive is the story of the red headed Bridget O'Keefe, a twelve year old Irish immigrant, the daughter of Irish immigrant farmers, captured in an Indian raid on her family's farm. A raid which saw her father savagely scalped and butchered and...

---

Deadly Double

Deadly Double, An Adaline and Genevieve Adventure, is a finely crafted, multifaceted and intertwined mystery dropped into our Victorian detective sisters, Adaline and Genevieve Halverson's lap.An unidentified man who happens to resemble his target fi...

---

Deadly Sleepwalker, An Adaline and Genevieve Adventure

"I found a severed head in my bed this morning when I woke up and I don't know how it got there," is the opening sentence uttered by SIR EDWARD COLEGRAVES in the new, brilliantly written Adaline and Genevieve Adventure, Deadly Sleepwalker...

---

Death in the Embassy

How do you prove that something did not happen? How do you prove a negative? This is the conundrum facing Jake Curtis and Vanessa Malone as they tried to prove their beautiful client, Isabella Patrillo, didn't murder her ex-husband. Alberto Patril...

---

Death in the Gilded Cage

Death in the Gilded Cage is the story of two women. One a ruthless, greedy, determined and known only through her anonymous diary entries. The other Marjorie Withers, the middle aged hostess at The Gilded Cage nightclub. The Diarist teams up with...

---

Death in the Smithsonian

The beautiful, statuesque, blond Crystal O'Shea, the owner of a chain of high end dress stores, hires Jake Curtis and his wife Vanessa Malone to investigate the theft of valuable diamond necklace which turned up missing after a party she hosted at...

---

Forsaken

FORSAKEN LONG SUMMARY"Forsaken," the sequel to the best selling Civil War Christian novel "Victory in Defeat," takes place immediately after the Confederate surrender at Appomattox. It is the continuing story of Matthew and his brother, Lu...

---

Jan's Anguish, A Love Story

Jan is a woman whose mother polluted her daughter's mind for half of Jan's life with her sexually repressive, distorted and demented views on love and sex since their first mother daughter talk when Jan was thirteen. Jan's mother attitude towards mar...

---

Stories of Death, Horror and Murder

""Stories of Death, Horror and Murder" is a collection of a baker's dozen twisty short stories written to thrill, surprise and shock you. "Death on the Levee" takes place twenty years before the Civil War on the St. Louis riverfront with the stabbi"...

---
Frequently Asked Questions (FAQ)
Tony Flye has published 18 books.
Tony Flye does not have a new book coming out soon. The latest book, Deadly Wives, was published in December 2017.
The first book by Tony Flye, The Blushing Bride, was published in June 2014.
Yes. Tony Flye has 1 series.